Teaming Up
Georgia colleges and healthcare providers are partnering to reduce worker shortages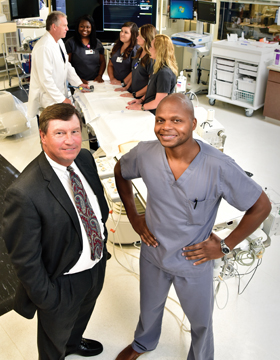 Georgia, like the rest of the country, is grappling with a serious shortage of healthcare workers, and the situation is only getting worse. Roughly one in 10 of the state's residents is 65 years old or older, and the group of seniors is expected to increase by more than 61 percent by 2030.
This aging population, which requires more healthcare services, coupled with the growing general population and a significant shortage of physicians mean more nurses, nurse practitioners, physician assistants and healthcare technicians than ever are needed – now and in the foreseeable future.
Educating these workers doesn't happen in a vacuum, and increasingly the state's colleges and healthcare employers are collaborating to build a bigger pool of highly trained professionals with the most-needed skills. Their efforts have produced some unique and mutually beneficial partnerships.
"There remains an incredible demand for healthcare professionals, which is why more of our students are enrolled in the health sciences than any other career field," says Matt Arthur, commissioner of the Technical College System of Georgia (TCSG). "These [healthcare industry] partnerships ensure our colleges produce the skilled workforce the industry needs. It's a win-win."
---
Rural Solutions
"Our job is to increase the number of providers available to meet the healthcare needs," says Melissa Garno, associate chair in the School of Nursing at Georgia Southern University. "We educate nurse practitioners who can provide services that we have not had anyone to provide."
She's speaking specifically of those in Georgia Southern's psychiatric mental health nurse practitioner (PMHNP) program, which has graduated 14 since its inception in 2015. It's one of the nursing school's four advanced degree tracks for experienced registered nurses (RNs) who aim to provide a higher level of care, including diagnosis and treatment of illnesses.
Georgia Southern launched the PMHNP program in response to requests from state healthcare agencies. And in 2015, it was funded with a $1.6-million grant from the U.S. Health Resources and Services Administration (HRSA), which helps address the healthcare needs of rural, underserved and economically disadvantaged populations. Last year the program got a huge boost with an additional $2.9 million in HRSA grants.
"In rural parts of southeast Georgia, we do not have enough physicians to provide most specialties of care – especially behavioral health," Garno says. "Nurse practitioners can fill that gap."
Telemedicine training, which gives nurse practitioners the skills they need to remotely treat patients, is increasingly important to the program. "Telehealth is really unique to us," says Garno. "It's a growing trend in Georgia, and it's serving the rural parts of the state. We've been bringing the telehealth experience to all [nurse practitioner] students in all tracks, but the psych mental health program initiated that push."
The program has also expanded partnerships with health centers and community-based facilities where nurse practitioner students can train and potentially be hired upon graduation. One of these is Pineland Behavioral Health and Developmental Disabilities, which has more than 30 locations in Appling, Bulloch, Candler, Evans, Jeff Davis, Tattnall, Toombs and Wayne counties. This nonprofit helps patients of all ages who have mental illness, addiction and developmental challenges.
"It was very forward thinking for Georgia Southern to apply for the grant to get the psychiatric certification and partner with us [for] the hands-on experience," says June DiPolito, executive director of Pineland. "Their students do a lot in the time they're here. It gives us more medical coverage, and that experience ends up being invaluable to them. It's helped us with the shortage, and now they are better trained in mental health issues and substance abuse."
---
Outside-the-box Thinking
The shortage of nurses at all levels of the profession is well publicized, but North Georgia has felt the dearth of licensed practical nurses (LPNs) most acutely. Typically, LPNs are sought after in facilities outside the hospital, such as nursing homes. They have fewer responsibilities than RNs, require less education and training and their duties complement RN's.
North Georgia Technical College, with campuses in Blairsville, Clarkesville and Toccoa, conducted an employment needs assessment in 2016 and found a strong demand for LPNs in Union and Towns counties, particularly in long-term care facilities. The college's only LPN program at the time was 90 miles away, on the other side of the mountains in Toccoa.
"We had just started the RN program in Blairsville," says Mindy Glander, vice president of academic affairs at North Georgia Tech, "but that didn't help the nursing homes where they can't afford to pay RN salaries for every nurse. We had a brand-new nursing wing on campus, so the facility was not the issue. Funding for faculty positions [for LPN instruction] was where we were struggling."
Union General Hospital in Blairsville and its affiliate, Chatuge Regional Hospital in Hiawassee, proposed partnering with the college. Each committed $50,000 per year to fund faculty on North Georgia Tech's Blairsville campus, which would graduate LPNs who could work at two Union General-owned nursing homes and other outpatient facilities in the area. The Blairsville campus admitted its first cohort of 15 LPN students last fall. They graduated this past summer, and another 20 are enrolled now.
"I can promise you that it's much cheaper for us to do that [fund LPN faculty] than to pay overtime and agency fees to fill the gaps," says Julia Barnett, chief nursing officer at Union General. "And we have a better-quality staff."
Glander says one of the LPN program's big advantages for students is that it's part of Gov. Nathan Deal's Strategic Industries Workforce Development Grant, which means students can enroll 100 percent tuition-free. In addition, she says, "Most of our graduates have work lined up before they cross the stage [at graduation]."
With one nursing home having up to 15 open LPN jobs at any given time, Barnett says Union General will continue to support faculty for North Georgia Tech's program.
"Thinking outside the box doesn't always come easy, but when we work together, beautiful things like this can happen that benefit both of us and the community," she says.
---
Responding to Needs
Southern Regional Technical College has a similar arrangement for the RN programs at its Tifton, Moultrie and Thomasville campuses. According to Craig Wentworth, Southern Regional president, hospitals in those locations each help fund a full-time nursing faculty member. "That shows the collaboration and the partnership and the buy-in from those respective hospitals," he says.
But when it came to responding to the need for cardiovascular (CV) technologists, who assist physicians in diagnosing and treating cardiac and blood vessel disorders, Southern Regional took a different approach. "Tift Regional Medical Center came to us [two years ago] and asked if we would be willing to set up a [CV tech] program," recalls Wentworth. "The thing that's neat for us is that their director of the cath [cardiac catheterization] lab and one of their cardiologists are teaching classes for us."
In addition, he says, "We're using their cath lab for the lab and clinical portion of the training, so we solved the issue of having to build a lab."
Wentworth says the intent of the partnership was to build a pool of well-trained employees for Tift Regional and South Georgia. "There's not that many programs around," he says, "and it's difficult to find already-trained CV techs."
"Having this program helps to grow our own talent," says DeMarius McRae, Tift Regional system director for the cardiovascular service line and one of the two Southern Regional CV tech instructors. "People who are already in the area, we can bring into our facilities to work."
Without a pipeline of CV techs, McRae says hospitals sometimes have to import travel techs, where "you pay a premium to an agency to send someone here to work."
In addition, he says, "If we don't have the staff, we're not able to provide care to patients in the community."
He says the advantage of him and Tifton cardiologist Dr. Paul Murray teaching the Southern Regional students is, "we can make sure they get the education necessary for them to be successful. We know what's needed in the profession, so we can cater to those needs in the classroom, in the lab and in the clinical setting."
McRae says the first year of the program, which will graduate five in December, has been "highly successful." The next group of seven started in August.
"Like many of our technical colleges, we're very responsive to business and industry needs," says Wentworth. "It's not just us, all 22 of our technical colleges do a great job responding."
---
Creating Opportunities
The demand for physician assistants (PAs) is also increasing due to the shortage of primary care doctors in Georgia's rural communities and in busy urban areas. PAs perform exams, order tests, make diagnoses and treat patients under supervision of a licensed medical doctor.
However, in order to train the much-needed PAs, there have to be clinical sites willing to take students. According to Jill Mattingly, chair and clinical assistant professor at Mercer University's Department of Physician Assistant Studies, a lot of competition exists among the state's PA programs for the available training sites. She says her staff has to be creative in finding places for second-year students to do their five-week clinical rotations in disciplines like family practice, women's health and pediatrics.
Mercer's Atlanta-based PA program, which graduated its first class in 2010, partners with Piedmont and WellStar health systems for many of the clinical rotations its 60 students need each year. But she's also reached out to nonprofits and even international sites for training.
"I started a partnership with Good Samaritan Health Center of Gwinnett and brought students there to work as volunteers," she says. "They [Good Samaritan] developed a Thursday evening clinic so our students could come and actually see patients." Once that began in 2013, she says the PA program added the nonprofit facility to its regular roster of clinical rotation sites.
"It has grown into opportunities for first-year students to be in a clinical setting once a week, but it's also turned into a setting for second-year students to do their five-week clinical rotations," she says. "And now it's become a research hub where we partner doing research on cervical cancer and oral health. We've grown this into a partnership that helps the underserved community in Gwinnett and helps train our PAs."
Good Samaritan Health Center exclusively serves the poor and uninsured in north Metro Atlanta. It's the area's only safety-net clinic offering medical, dental, mental health, pharmacy and health education services under one roof. Patients are predominantly Hispanic, and more than half are employed.
The health center now takes 20 Mercer PA students a year, says Executive Director Greg Lang. "They come through the clinic, work with our staff and volunteers, and learn the detailed, hands-on medicine of taking care of poor and uninsured people, many of whom are immigrants who've had very little healthcare in their life," he says. "These are folks who have complications because of medical conditions that have been unattended for many years."
Lang believes Good Samaritan is helping Mercer elevate the caliber of its PAs. "We teach them how to practice medicine in a context of very limited resources," he says. "Everyone who walks in the door is trying to figure out how to fund their healthcare with what little resources they have. That's why we only ask them to pay for things that are essential or are going to make a difference in their lives."
In addition to Good Samaritan, Mercer PAs are getting exposure to patients from the Middle East, Africa and Southeast Asia three days a month at Grace Village medical clinic in Clarkston, which is an epicenter of refugee resettlement. "We see this being another area for research, especially in global health," says Mattingly.
She's also arranging for her PA students to do rotations in Puerto Rico and abroad in countries like Madagascar, Peru and Haiti.
"We're a young program," she says, "so everything we do is new. We're like a willow – we bend to whatever is happening in the medical world. We've got to know we can stay on the wave of what is going to be needed."
Remaining ahead of the curve in healthcare is difficult, but fortunately, effective education-industry partnerships in Georgia continue to emerge to meet the growing need for skilled workers.