Georgia Fare: Pie in the Sky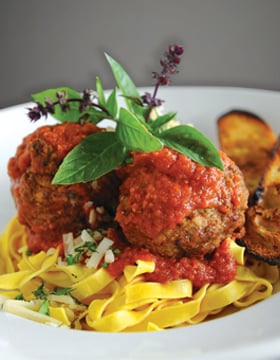 This time of year, Clayton is often clogged with traffic from the annual pilgrimage of Atlantans headed to the North Georgia Mountains to buy apples and cider, rummage through the antique and junk shops and, of course, see the beginnings of the beautiful fall foliage.
These slow-moving, scenery-gawking "leaf peepers" are the bane of folks who want to get from one place to the other, but what's a trip to the mountains without taking in the gorgeous views and a little local color?
I've been coming to Clayton since Highway 23 was a winding two-lane blacktop and the main eatery was the Clayton Cafe, a venerable meat-and-three that still serves up fried chicken and slow-cooked vegetables, along with hearty, eggy breakfasts.
Over the years, this little mountain town's downtown started to reflect the folks it was beginning to attract: Well-to-do retirees from urban areas, young people in search of the great outdoors and creative types drawn by the opportunity to make something new. When blended with hardy locals who were wellsprings of Blue Ridge foodways, Clayton's restaurant scene began to hop.
Today, Clayton boasts a number of worthwhile dining establishments, from barbecue and burgers to farm-to-fork fine dining. Fortify's opening in 2014 (by owner Jack Nolan and chef/owner Jamie Allred, formerly of the Lake Rabun Hotel) marked a watershed moment – it was the town's first true fine-dining establishment that also focused on the produce and meats sourced from surrounding farms. A Georgia Trend Silver Spoon winner in 2015, Fortify went on to establish itself firmly in the community, while still open only Wednesdays-Sundays.
In 2016, the folks behind Fortify bought a former storefront next door and opened Fortify Pi, a pizza spot that, unlike its fine-dining sister establishment, is open almost all day, almost every day, and focuses on a short menu of pizzas, a couple of pastas, paninis, chicken wings and housemade ice creams and desserts.
Specials are more ambitious, including dishes like stuffed eggplant and beef-and-chorizo pizza. The focus on local farms and producers, however, remains.
The result is one of the best pizza places I've been to anywhere in recent years. The space has a utilitarian feel, with a few smart touches – the brick walls painted crisp white, linoleum tile floors, aluminum "submarine" chairs and a garage-door style window that opens to the sidewalk. A shaggy "chandelier" of various Edison bulbs on red cords hangs in one corner; a column filled to the ceiling with firewood for the pizza oven and a smoker stand near the end of the bar.
A long window at the back reveals the cooks at work in the kitchen. A chalkboard lists available craft beers and ciders, most from Georgia and North Carolina, as well as the day's ice cream flavors. The wine list is an interesting, affordable mix of local wines (Tiger Mountain, 12 Spies) and solid picks from further beyond, including the tasty Fleur de Mer dry French rosé.
On a Saturday midafternoon, the place was doing a good business – I can imagine big crowds and long waits at peak times on weekends during the busy season. But if you manage to get in, it's worth it. The young, helpful and knowledgeable waitstaff are good at keeping an eye on refilling glasses and taking away dirty plates.
Somebody here is clearly a math nerd – Pi is not only short for pizza pie but also the mathematic symbol for the number that begins 3.14 and carries on forever, without repeating. It's also the name of one of the restaurant's special pizzas, with house-made tomato sauce, Heritage Farm pepperoni, house-made meatballs and sausage, roasted piquillo peppers, fresh tomatoes, garlic, basil and pesto swirl.
We tried another, more autumnal combination – duck confit with white sauce, local portobello mushrooms, spinach and the house mozzarella. Both were fantastic. The crust (made from Anson Mills and 00 flours) was thin at the center and rolled thick at the ends. Bubbly and charred from the wood-fired brick oven, it had the sturdy elasticity of real Neapolitan-style pizza, even as the 3.14 was piled so high with ingredients it resembled a thick-crust style. The local pepperoni had a sharp freshness, along with the mellow acidity of the house-made sauce.
For me, however, the real standout was the duck-mushroom pie, a thinner concoction with white sauce and covered with the house mozzarella, so white, melty and dotted with lightly browned specks that it looked like toasted marshmallows. The thin crust allowed the mellow, earthy flavors of the duck, portobellos and sautéed spinach to stand on their own.
If I'd gotten nothing but pizza, I'd be raving, but Pi does a number of things very well. The house-smoked chicken wings, for example, with "comeback" sauce, ranch or blue cheese; the big, moist house-made meatballs with fettuccine and marina.
Small details add up – the salads are fresh and crisp-edged, without a dot of brown anywhere; the house-made dressings, particularly the Caesar, are delicious; toasted croutons and even a long-stemmed artichoke are standard ingredients in the Greek salad, along with the perfunctory black olives, tomatoes and cucumbers. Then there was the house-made ice cream. The day's specials included a subtle peach flavor and Mounds, after the coconut-chocolate candy bar. Lord have mercy. Again, these alone would have brought me back to Pi.
I hope its symbol predicts its future, and Pi can go on forever, never repeating itself.
---
Fortify Pi
69 N. Main Street, Clayton
706.782.0079 or fortifyclayton.com
Hours: 11 a.m. to 9 p.m. Tuesdays-Sundays
Parking: Free on street
Dress Code: Fresh off the hiking trail
---
More Hot Spots in Clayton
Universal Joint
If you're familiar with the Atlanta-based burger-and-tots joints in Oakhurst, Lawrenceville and College Park, you've got the idea: a big, sprawling patio, with live music, craft brews and friendly service.
---
Rumor Hazit
On holiday weekends, this big rambling house with a beach theme and shady porch at the end of Main Street often offers what the other mobbed spots don't: a tranquil lunch, including very good sandwiches. Try their signature Grouper Reuben.
---
Clayton Cafe
A recent update has transformed this mainstay for fried chicken, waffles, biscuits and more, now also serving steak dinners as well as specials like The Elvis – peanut butter and banana on fried Hawaiian bread.
facebook.com/bonniesclaytoncafe
---
The Wicked Pig
Follow your nose to this barbecue spot, smoking its pork, wings, ribs and more over hickory wood and serving them with nine regional sauces. The specialty cocktails include the Georgian Old-Fashioned with Moonrise Distillery bourbon.
---
Grapes & Beans
Focusing on wine (grapes) and coffees and espresso (beans), this little cafe with a charming trellised patio serves soups, sandwiches, salads, hummus and more, often using local and organic ingredients.