Neely Young honored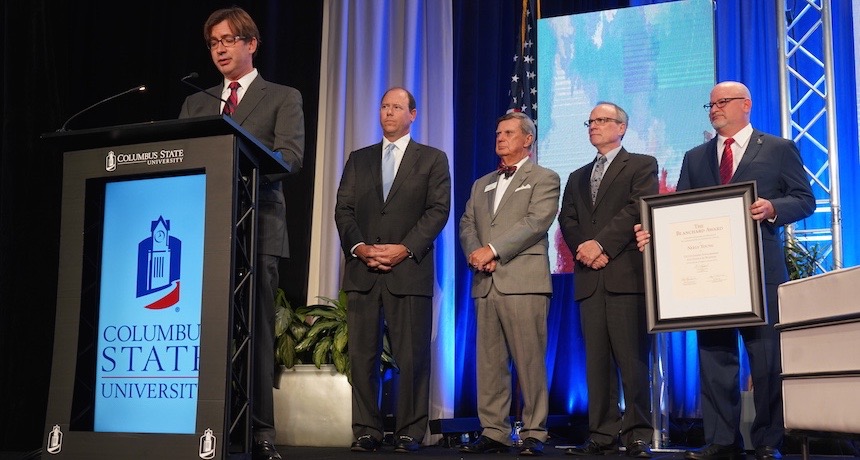 Georgia Trend Publisher Emeritus Neely Young was honored during the recent Jim Blanchard Leadership Forum in Columbus, which was hosted by the Leadership Institute at Columbus State University (CSU). Young received the 10th Annual Blanchard Award for Outstanding Stewardship and Ethics in Business.
In addition to being an award-winning columnist, Young is a former newspaper publishing company CEO and former co-owner of Georgia Trend. He retired in 2017. The Blanchard Award recognizes him as an outstanding steward of business ethics and corporate responsibility.
A video tribute to Young includes accolades from such Georgia notables as former Gov. Roy Barnes; former Sen. Saxby Chambliss; former Rep. Buddy Darden; former UGA Athletic Director Vince Dooley; Chris Durand,with the Salvation Army in Atlanta; David Hudson, Georgia Press Association; Dink NeSmith, Community Newspapers; and Maria Saporta, the Saporta Report.
Congratulations, Neely!
Video produced by Richard Warner.
Pictured from left: Ben Young, Neely Young's son and current Georgia Trend publisher and editor-in-chief accepting the award on Neely's behalf; Billy Blanchard, director of Jordan-Blanchard Capital and Jim Blanchard's son; Ed Helton, assistant vice president of leadership development at CSU; Todd Groce, president and CEO of the Georgia Historical Society; and Chris Markwood, president of CSU.
Photo provided by Columbus State University.
Do you follow us? Find us on Facebook, Twitter and Instagram.