Dalton|Whitfield County: Investing in the Future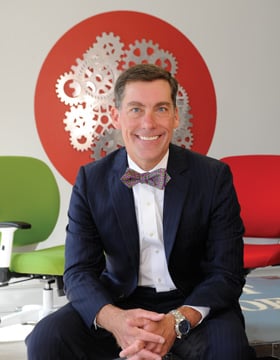 The word of the day is investment," declares Rob Bradham, president and CEO of the Greater Dalton Chamber of Commerce.
It's a word you'll find on the lips of many here in this Northwest Georgia community that straddles I-75. It reflects a growing belief that this small city and region, which was built on the innovation of carpet industry pioneers in the last century, can create a new and prosperous reality in this one.
The future and the present belong to those willing to work for it. Dalton has historically been a manufacturing town – a place where people know how to make things. So the announcement that Hanwha Q CELLS Korea would build a solar panel manufacturing plant here was good news indeed. The Korean company will produce high-performance and high-quality photovoltaic modules at the new facility, which is scheduled to open in 2019.
The new plant occupies some 800,000 square feet of land in the Carbondale Business Park. The company announced it will be hiring more than 500 workers as a result of the $150-million capital investment, according to Carl Campbell, vice president of economic development with the chamber and executive director of the Dalton-Whitfield County Joint Development Authority.
Once it's up and running, the plant will not only be the company's first manufacturing facility in the U.S. but also America's largest solar module factory.
The company picked Dalton not just for its manufacturing heritage, but also recognizing that the community could get the plant up and running quickly.
"The most important piece that allowed us to start the conversation is that we had a site that was graded and ready to go and was ideal for their project," says Campbell. "Our community preparedness was the winner."
The graded site in the business park was part of an effort to compete for another relocation deal. That project didn't work out, but local officials knew the site would come in handy when negotiating with companies that needed a similar location.
"That made it all work," says Campbell. "The willingness to have a site that was ready to go and the ability to move fast won the situation."
To sweeten the deal, the county threw in tax abatements and local incentives totaling about $15 million.
Along with the new plant, Whitfield County has celebrated the renewed vigor of the carpet and floor-covering industry. Long known as the "carpet capital of the world," the collapse of real estate and homebuilding markets a decade ago devastated local carpet makers.
Now companies like Shaw, Mohawk and the Bob Shaw-founded Engineered Floors have been ramping up production. The industry has changed in the last 10 years. For one thing, companies took the downturn as an opportunity to improve and modernize production. That meant more high tech and fewer workers. Companies have also shifted from making traditional carpet into other floor-covering products.
Among these products is luxury vinyl flooring. These non-wood, non-ceramic plank and tile floor coverings can mimic wood and are hard to distinguish from real wood flooring, owing to innovations in design and production technology.
---
Downtown Renaissance
Local leaders have not been content to leave the future of their community to fate. The chamber is in the midst of implementing a five-year strategic plan it calls Believe Greater Dalton. The goal is to capitalize on the county's resources and foster an improving quality of life that will draw more people to the area.
The plan grew out of a study conducted by the University of Georgia's Carl Vinson Institute of Government that pinpointed areas that were lacking, as well as areas that citizens wanted addressed.
The plan was jumpstarted by the discovery that 62 percent of Whitfield County workers making more than $40,000 lived somewhere other than the county. A big chunk of the local workforce was making the drive from Chattanooga or the northern Atlanta suburbs. They were also spending their wages outside the county. Getting more of them to live in Dalton would be a big shot in the arm to the local economy.
The new plan is focused on creating more reasons to move and stay here. The most tangible efforts are reflected in a greater diversity of local attractions – more retail, more restaurants. There's a stepped-up effort to build more housing – an area in which Dalton has struggled. Putting more money into economic development to attract new business and upgrading education so there is a trained workforce for those companies are also on the agenda.
Along with these concrete initiatives, local officials want to create a strong sense of community pride. The hope is to generate more enthusiasm for home as other quality-of-life issues improve, according to Bradham.
"In the last year and a half we've had a tremendous amount of investment, and that mostly has taken the form of locally owned retailers and locally owned restaurants opening in downtown," says Bradham. "The vibrancy of our downtown is already increasing."
"We've been kind of enjoying an upsurge of activity in downtown for the last couple of years," says George Woodward, interim director of the Downtown Dalton Development Authority. "I'm not sure that it was intentional. It wasn't part of a plan. But we did see a lot more activity with more restaurants being opened up, more events taking place in downtown."
The entertainment got a boost with the opening of Burr Park, which Mayor Dennis Mock calls "the new centerpiece of downtown Dalton."
The park, which hosts summer concerts and other events in its amphitheater, was made possible by local resident Jeanne Burr. She donated $1 million to support the arts in Dalton by helping to provide a performance venue. In return, the city designated the former site of the Lee Printing building on Hamilton Street as a permanent park.
"It's a gathering point for downtown Dalton, and it's driving a lot more folks downtown. And that creates more reason to have more restaurants and more businesses downtown," says Mock.
The downtown development authority, which once had to work hard to attract people to the area, now has something of the opposite problem.
"We've got plenty of events," says Woodward. "We've got more restaurants. Now we need to look at parking, zoning, whether the district ought to be expanded – and if so what should the new boundaries be and why?"
Local business owners agree that downtown Dalton is enjoying a renaissance. Kasey Carpenter, who opened the Oakwood Café in 2004 and more recently launched Cherokee Brewing and Pizza Co., sees the resurgence first hand.
The Oakwood was a reclamation project of a restaurant that had been in the city from about 1946 till it closed in 2001. Its closing left a void that needed to be filled.
"When the economy is good, downtowns tend to flourish," says Carpenter. "It gets a little bit tougher when the economy toughens up. In the next recession, you'll see some retraction. The key is just to develop businesses that have that kind of staying power through recession."
Right now the economy is good and getting better. So much so that the city is about to get an addition it hasn't seen in decades – a downtown hotel. Carpenter is renovating an old bank building into what he says will be a 31-room boutique hotel.
"We've got a pretty good hotel market being on I-75 anyway," says Carpenter. "So if there's a way to funnel those people downtown, they go out and spend their money downtown, that will be a win for all of us."
Dalton is also giving a boost to its business community with the unveiling of the Dalton Innovation Accelerator (DIA). This startup incubator is located in the historic, six-story Landmark Building on Hamilton Street. The space, which was once the Dalton Hotel, is now an office building. Here entrepreneurs with great ideas will get not only office space, but also support in the form of advice and counseling from both established business leaders and academics from local colleges.
Barrett Properties, which owns the Landmark Building, donated space for the accelerator.
To get the initiative off the ground, the city hosted its first PitchDIA contest. The winner turned out to be a middle-school-age entrepreneur – Tripp Phillips. His invention, Le-Glue, a water-soluble adhesive for Legos, took first place in the inaugural contest, winning $5,000. His company, which already sells its product on eBay, Etsy and Amazon, became the first occupant in the accelerator.
"Dalton's story is an entrepreneurial story," says Bradham. "Modern tufted carpet was invented here in Dalton. Then it went from a cottage industry into a multibillion industry today that is still centered around Dalton. The headquarters of the major floor-covering companies are all within a 60-mile radius of Dalton, and the vast majority of the manufacturing of carpet happens within that 60-mile radius."
---
Strong Business Ties
Fostering business innovation and in particular making sure local residents have access to the training they need has gotten a boost from the city's two colleges – Dalton State College and Georgia Northwestern Technical College.
Dalton State has been renovating and expanding its campus while adding new educational programs aimed squarely at meeting the needs of business and industry. It recently added a program in logistics and supply chain management.
"That's targeting new employment arising from the new inland port coming to nearby Murray County," says President Margaret Venable. "Then our other newest program is health and wellness."
This program helps graduates fill roles in many different areas, including the pharmaceutical industry, medical centers, clinics, community health centers, government health departments, fitness and wellness centers, and the health insurance industry.
"There's a need to produce more healthcare field employees besides doctors and nurses," says Venable. "There are so many healthcare jobs that don't require a lot of specific training, but just require a general understanding of anatomy and physiology and health- and medical-related topics."
A series of building projects has transformed the 50-year-old campus. These include the renovation and expansion of Gignilliat Memorial Hall to house the Wright School of Business, renovation of the Pope Student Center and construction of Peeples Hall, which houses the College's School of Science, Technology and Mathematics.
The modernized home for the business school is designed to enhance students' education by giving them the facility they need to learn the skills of teamwork and carrying projects through to fruition.
"We have a really strong tie to the business community," says Marilyn Helms, dean of the Wright School of Business. "Business people tell me they need [students] to have more social skills. They know the fundamentals of business, but they have to work together.
"One of the things we worry about is we educate them deep within that major, but we don't want them in a functional silo. We want to make them knowledgeable," she adds. "Maybe I'm a finance major, but I also have to think about logistics and other areas at the same time. We want them work ready so they jump into their careers."
Dalton and Whitfield County have also found that it's increasingly attractive to visitors as well. The county's hotel/motel tax revenue is up more than 6 percent from 2016 – the eighth year in a row tax collections have increased. There's also a brand-new 100-key Holiday Inn Express getting ready to open along the interstate.
"That means things have been really good in the hotel world," says Brett Huske, director of Tourism at the Dalton Convention and Visitors Bureau.
All these developments are a good indication that Dalton and Whitfield County have become places that people and businesses want to call home.
---
Gathering Places
Downtown Dalton is rocking these days. It has a host of new shops and restaurants and has even captured a big-city trend – breweries and distilleries.
Chuck Butler was the first when he opened Dalton Distillery in 2015. Brewing a moonshine recipe developed by his father, master distiller Raymond Butler, he found a following among a growing number of people willing to travel for craft spirits.
A family-owned and operated distillery that started from scratch, it distills small batches of whiskey using only certified non-GMO Georgia grains. Sunflower seeds (65 percent) are added to corn mash (35 percent) and pumped through a 200-gallon state-of-the-art still to create the gluten-free spirit. It's a recipe that's been handed down through the Butler family for generations and honed by Raymond Butler as a way to make their libation unique.
"The main thing is that in any type of industry … you have to find your niche," says Chuck Butler, about their sunflower-infused spirits.
Dalton Distillery was soon followed by two craft breweries. Kasey Carpenter, who owns the venerable Oakwood Café, opened Cherokee Brewing and Pizza Co., which serves food along with its craft beer.
Dalton Brewing Co. opened earlier this year with a motto of "Good Beer Engineered." The founders of this brewery included two engineers – industrial and electrical – and gave new life to a long-abandoned historic building downtown. (For more about the new breweries and brewpubs popping up around the state, see "Cheers!" on page 22.)
"We wanted to be a catalyst for other things to happen in downtown Dalton," says co-owner Deanna Gray Mathis. "So we just decided this was our part. We were founded not just to make a profit but to be something cool for the community. We wanted to be a gathering place for the community."
In fact, Carpenter welcomed the new entry to the brewing market, seeing synergy rather than competition.
"I think it's more that we complement each other," says Carpenter. "We do a lot more food than they do. People go over there after work and [drink] a couple of beers and then come over to our place to eat dinner and have a few more." – Randy Southerland