Collaboration and Compassion
Navicent Health has become a catalyst for quality care in central and southern Georgia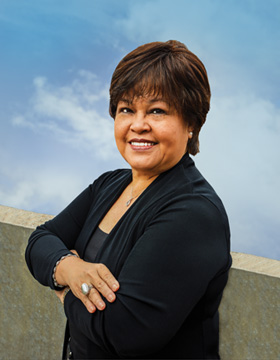 Located in the heart of Georgia, Navicent Health is a powerhouse when it comes to economic impact, and it's the lifeblood of its region's healthcare. In the 24 years since incorporation as a nonprofit, the former Central Georgia Health System has become one of the area's largest employers.
Rebranded four years ago, Navicent provides the full spectrum of acute, outpatient and primary care, along with home health, rehabilitation and hospice care in more than 30 locations. These include the Beverly Knight Olson Children's Hospital, the only pediatric hospital in the region; The Medical Center, Navicent Health, which is Mercer University's primary teaching hospital; and Carlyle Place, the area's first retirement community to offer care through later life stages.
The organization has made great strides in its quest for excellence in patient care, and much of its success is due to a mantra of collaboration, not competition. This is evident in the many partnerships the system has formed with other healthcare entities and community organizations. The vision for these cooperative relationships comes from Dr. Ninfa Saunders, Navicent Health president and CEO, who has left an indelible mark on the region's healthcare since her arrival in 2012.
"It is our intention and it is our passion to continue to meet the needs of the community, not only in illness, but also in health," she says. "We are [also] committed to play an integral part in guarding and enhancing our region's economic viability."
---
Groundbreaking Alliance
Soon after she came to Macon, Saunders was instrumental in forming one of the nation's largest collaboratives of independent, unrelated hospitals, health systems and physicians. Called Stratus Healthcare, this voluntary alliance of 10 health systems pools resources to help manage residents' health in 50 Georgia counties and reduce costs by improving coordination of medical services.
"We pride ourselves in being industry thought leaders and setting examples for other hospitals and health systems as we seek ways to remain viable in a changing industry," Saunders says. "One of our first steps toward innovation was to co-found Stratus. This collaboration was groundbreaking at the time [2013] – we were among the first to realize that we needed to move from a competitive to a collaborative framework in order to thrive."
"One of the unique things about us is that we're all different sizes," says Stephen Kardon, Stratus Healthcare executive director and CEO of TC2 Health, a Medicare-oriented subset of Stratus, which was added to the collaborative in 2016. "Navicent is the only academic medical center, but every [Stratus member] has an equal vote and an equal say [in how the organization operates]. We're all trying to do the same thing."
Kardon says Stratus and TC2 are similar in that the organizations "focus on how to take care of patients outside the doctor's office or the hospital." For example, a pharmacist and a medical practice might team up to understand why a patient isn't taking medications as prescribed. If affordability is the issue, the drugs may be changed to a less expensive alternative. Or, after a patient is discharged from the hospital, the Stratus or TC2 team will follow up to make sure that patient sees his or her primary care physician within 14 days to reduce the likelihood of readmission.
Stratus and TC2 also concentrate on chronic conditions, such as diabetes, kidney disease and chronic obstructive pulmonary disease (COPD) to "come up with initiatives to standardize and improve quality of care," says Kardon. One such effort Navicent is piloting is an app for COPD patients that prompts them to answer questions daily about their medications and how they're feeling. If the patient has an issue, it's dealt with immediately.
"At the end of the day, the question is, 'Is the patient better off because of us?'" says Saunders. "If we can't answer that, we haven't done a whole lot. But I can tell you that the quality metrics of Stratus are outperforming a lot of hospitals in the state and nationally. We were the first collaboration of this kind that was not a merger or acquisition, and Stratus is now being replicated across the country."
---
Removing Barriers
According to Saunders, access to health services remains challenging throughout Navicent's service area, especially in low-income neighborhoods. She says nearly half of residents in Bibb County live below the poverty level. In addition to healthcare access challenges, there are disparities in health outcomes based on demographics such as race, ethnicity, economic status and language, among others. Improving health equity, which is the resolution of these disparities, and increasing access to care are among the system's primary goals.
Navicent routinely measures demographics, identifies disparities in outcomes and takes action to resolve them, says Dr. Roy Gilbreath, senior vice president and chief system of care integration officer. In addition, the system trains employees and staff to respect and understand cultural differences, includes people of different cultural backgrounds in leadership positions and develops community partnerships to bring care to the most vulnerable patients.
Within the past six years, Navicent's health equity efforts have been successful in reducing the medical center's readmissions for heart failure, COPD and diabetes patients and in resolving specific disparities for African-American patients, who previously were readmitted at a higher rate for these conditions, Gilbreath says.
Along with reducing readmissions, the system is working to keep community residents as healthy as possible and out of the hospital in the first place.
"Navicent has always been interested in services that were health-education and health-promotion oriented," says Elbert McQueen, senior vice president of post-acute services and physician relations. "But over the last three years, we have really ramped up what we can do to take care of patients before they ever come to the hospital, with the idea that maybe they won't have to. But also, what can we do to make sure they have their social needs met so they can comply with the care plan given to them?"
Navicent formed the Healthy Communities umbrella of partnerships with a variety of organizations to help provide health services in areas where residents can easily get to them. Partners include First Choice Primary Care, which are federally funded health centers serving the uninsured and the underinsured; the Macon-Bibb County Housing Authority, which provides not only low-income housing, but also health screenings and education; Meals on Wheels, where Navicent trains volunteers to take vital signs to monitor recipients' health; and several faith-based organizations that encourage oversight of church members' health status.
In addition, Navicent partnered with Mercer University School of Law and Georgia Legal Services to develop MedLaw, a program that provides free legal services for issues that impact individuals' health status, such as asthma resulting from a landlord's neglect of mold or air conditioning problems.
---
Serving Patients Close to Home
Much of Navicent's primary service area is rural, and in the past few years, some hospitals in these small communities have struggled financially. Navicent supports local healthcare options to benefit patients and the economic viability of their communities, Saunders says. Toward that end, the system has rescued two hospitals in neighboring counties.
In 2016, the 25-bed Monroe County Hospital was in a dire situation and having a hard time making payroll, according to CEO Lorraine Smith. The hospital board brought in a team from Navicent to evaluate the critical access facility, and the team presented two options: close the hospital or get funding from the county to pay off debt and finance much-needed construction and capital equipment. In a straw poll, close to three-quarters of the county's residents voted to save the hospital. "The whole community came together and decided to increase the tax millage rate so the hospital could stay open," Smith says.
Navicent took over management of the hospital, including bringing in Smith. "We have worked diligently at this hospital to improve efficiency, raise patient census and minimize losses," Saunders says. "We are pleased to report that the taxpayer dollars have been well spent."
Last summer, the former Oconee Regional Medical Center in Milledgeville was also in trouble. In fact, it was bankrupt and up for sale at auction. Navicent had enjoyed a close relationship with the facility for years, and after considering the significant number of patients transferred to Macon from that community, the system bought the hospital. Navicent began running the renamed Navicent Health Baldwin in October.
"We saw it as an opportunity to help a rural community near Macon," says Rhonda Perry, executive vice president and chief integration officer for Navicent Health, "and to really be able to keep patients that shouldn't have to go to Macon in Baldwin County. It was an opportunity for us to truly set up a system of care for the patients and help them keep their healthcare local."
Like Monroe County, Baldwin County has a large percentage of Medicare, Medicaid and uninsured patients, all of which creates reimbursement challenges for local physicians. "Slowly but surely we're committing a lot of dollars to physician recruitment and working to find services that the hospital can provide at the highest quality and starting to really build their outpatient services," Perry says.
She says Navicent is most proud of the Baldwin facility being recently honored by the Georgia Hospital Association (GHA) for achieving the highest level attainable for quality and safety improvements, such as reducing hospital-acquired conditions and re- admissions.
To better serve the region's children, Navicent has embarked on construction of the new Beverly Knight Olson Children's Hospital in Macon. Saunders says it was a difficult strategic decision because 60 percent to 70 percent of the children are on Medicaid. "This is not going to be a money-making situation," she says, "but we're the only children's hospital in the area." She adds that it's important to have a facility unlike the current one, where children don't have to be treated in an adult emergency room, operating rooms and diagnostic units.
"We decided that if we could depend on philanthropy to raise the money, we'd build it," she says. Navicent raised two-thirds of the estimated $82-million price tag and will continue to fundraise to pay off the borrowed remainder. In a vote of confidence, employees donated $2 million to get the project started. The new hospital, which will open in early 2019, will be 160,000 square feet – more than double the current size – and will serve children from 55 counties.
---
Continuing Advancements
Looking to the future, Navicent is constantly exploring ways to do things differently. In 2015, it launched the Center for Disruption and Innovation with Mercer University to fuel innovation, improve care delivery, foster continuous process improvement and train future healthcare leaders.
"It's important to understand what's coming at us," says Christopher Cornue, chief strategy and chief innovation officer, of the center's work. "We have the ability to disrupt care delivery, so we constantly make sure we're prepared for what's ahead. Innovation is the means by which we do the disruption."
In addition to process improvement initiatives, the center has worked to develop innovations that will positively impact care delivery. For example, the Code4Care project with area high school and college students resulted in an app that provides information to families while their loved ones are in surgery and recovery.
One of the system's recent success stories is the International Organization for Standardization (ISO) 9001:2015 certification recognizing the commitment to quality care at several of Navicent's hospitals and outpatient facilities.
In the ongoing quest to improve quality and reduce healthcare costs, Navicent recently signed a letter of intent to merge with Atrium Health, North Carolina's largest hospital system. Details are still being worked out, but the merger would allow Navicent to become a regional hub for Atrium, benefiting from its resources and expertise.
"Navicent Health is well positioned for the future," says Saunders. "We have taken innovative and strategic steps to ensure our continued viability and growth."
---
Navicent Health At A Glance
• 970 beds throughout the system, including:
* Beverly Knight Olson Children's Hospital
* The Medical Center, Navicent Health (a nationally verified Level 1-designated Trauma Center that incorporates the Luce Heart Institute and the Peyton Anderson Cancer Center)
* Medical Center of Peach County
* Navicent Health Baldwin
* Carlyle Place (retirement community)
* Pine Pointe (hospice care)
* Rehabilitation Hospital
• Monroe County Hospital, Navicent Health Partner
• More than 12,000 employees
• Generated $1.6 billion in revenue in 2016
• Provided more than $95.5 million in uncompensated care in FY2017
Source: Navicent Health, navicenthealth.org