Moving Along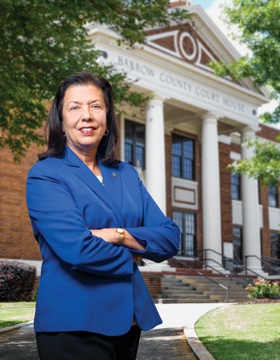 In a fast-growing county, it makes sense to have a commitment to transportation and road improvements that will make the lives of current and future residents more efficient and more pleasant. Barrow County, northeast of Atlanta, one of the nation's top 100 fastest-growing counties, is working to stay ahead of traffic, provide shopping and retail, and keep the folks coming into the area moving right along.
In May, the Georgia Department of Transportation (GDOT) started construction on the first and second phases of the $90-million West Winder Bypass, which will connect Hwy. 316 to State Route 211 and I-85 – and, it is hoped, help alleviate traffic in downtown Winder, the county seat. In 2017, the county received a $1.1-million grant from the State Road & Tollway Authority to complete the county portion for the bypass.
Also underway is the first of four new interchanges planned along 316 in Barrow that will create an overpass at the congested Hwy. 81/Loganville Hwy. intersection. There, big-box stores and national and regional retailers and restaurants have lined up on both sides of 316 as a stop for commuters, students and visitors heading to and from the University of Georgia, and as a shopping and entertainment destination for residents from neighboring Walton, Oconee and Gwinnett counties as well as Barrow's rising population.
"The GDOT investment in 316 really is going to transform Barrow County. Over the next eight to 10 years, Barrow County will be positioned on the most sought-after economic development corridor in the state," says Commission Chair Pat Graham. "It's that link between Athens and Atlanta. And I think we've got a lot of available land in the corridor."
"We've got momentum," says Harold Webb, chair of the Barrow County Chamber of Commerce and vice president at Regions Bank in Winder. "There's real physical evidence of homes being built, businesses either expanding or improving or updating."
The county also is in the midst of creating a comprehensive plan, which is scheduled to be adopted in October. Graham says priorities identified by citizens in the comprehensive plan process align with some of the projects that will be funded by a new 1-cent Special Purpose Local Option Sales Tax (SPLOST) that was passed by voters in 2017 and takes effect in July. The SPLOST is expected to raise a total of $56.6 million over five years for recreational amenities, public works, and road maintenance and resurfacing projects, according to county manager Mike Renshaw.
Meanwhile, business expansions by companies including Solvay USA, Progress Container, Schuetz Container Systems, Olympic Steel and Petco continue. Plus, existing businesses announced $49.2 million in capital investment and the creation of 183 jobs in 2016, according to the county.
---
Stay and Shop
Retailers like Target, Publix and Belk have staked positions on one side of 316 in Barrow Crossing. On the opposite side, a 12-screen movie theater and chains including Longhorn Steakhouse, Taco Bell, Chick-fil-A, Wendy's and Dunkin Donuts are part of The Gateway at University Parkway and Barrow Landing, which county officials say have been approved for 2.1 million square feet of retail.
"People don't have to leave this county to do their shopping," says Winder Mayor David Maynard.
All this retail is having an impact on the county's bottom line, as well. Graham notes the county has seen steady and consistent growth in its sales tax, in the 7 percent to 8 percent range year after year.
Retail, offices, medical practices and other businesses continue to plant along 316, known locally as University Parkway. Recent announcements include HomeGoods, ULTA, Applebee's, IHOb, RaceTrac, BodyPlex and a campus of 12 Stone Church. A Holiday Inn Express opened there last year. It joins a new Hampton Inn and Suites at Chateau Elan off I-85. The brand is still to be announced for a hotel under construction on state routes 211 and 124, Graham says.
The Exchange Apartments opened about 100 units in The Gateway on 316 this winter. In 2017, 523 residential permits with a value of $71.4 million were pulled by the county and its municipalities, Renshaw says. National builders that have moved into the community include DR Horton and Ashton Woods.
"The one dynamic that overshadows everything is the growth," says Tommy Jennings, president of the chamber. "Those rooftops are just like a magnet."
---
Water Relief and Recreation
Another key infrastructure update is Winder's new 5-million-gallon groundwater storage tank, which was finished late last year. The tank and pump station on Rockwell Church Road were funded by a $9-million loan from the Georgia Environmental Finance Authority.
The water is pulled from the lake at 1,816-acre Fort Yargo State Park, but that's not the lake's primary purpose. Fort Yargo had 407,125 visitors in fiscal year 2017 and is the state's eighth most-visited park, according to the Georgia Department of Natural Resources' (DNR) State Parks and Historic Sites Division.
Work is in progress on a new park entrance off Ga. 81 and a 6,000-square-foot visitor center, which is part of a $4.2-million public investment, according to DNR. Both are expected to open next year.
Fort Yargo, which is known for its 20 miles of mountain biking trails, and also has a disc golf course, group shelters and pavilions, had a $41.2-million economic impact in fiscal year 2017, according to DNR.
Barrow County plans to use $7.4 million in SPLOST funds to lease 37 acres of Fort Yargo to expand the 66-acre Victor Lord Park. Upgrades include five artificial turf fields for sports such as soccer and lacrosse, construction of an eight-court tennis complex with a pro shop and an expanded parking lot, a splash pad and a dog park, Renshaw says.
---
Downtown Redux
Leaders in Winder are looking at developing more greenspace and parking downtown. The chamber seeks to move its office out of the converted railroad depot in downtown, where trains come through 26 times a day, Jennings says. The trains pose a challenge to downtown development – and traffic.
Boutiques such as The Dwelling Home, The Rustic Rack and Drunken Gypsy have joined the thriving downtown lineup. Bistro Off Broad ushered upscale farm-to-table fare into the downtown area in one of the buildings renovated by Wes VanKirk, owner of VanKirk Electric.
VanKirk also is transforming the former BrandBank building into a space that will include a first-floor restaurant and offices on the other three floors.
"All the new stuff, when we look down 316, that's great, but at what cost to the history and to what was there," VanKirk says. "It has to be a mix, and at this point, the city and the county have the opportunity to dictate what type of growth, so it's going to be a combination of what you see on 316 and historic downtown."
---
Around the County
The city of Auburn plans to break ground in 2019 on a new town center on U.S. Highway 29/Ga. 8., on nearly 15 acres across the railroad tracks from the current city hall and police department, says Mayor Linda Blechinger.
Schmit+Associates and the city's Downtown Development Authority are partnering on the project, which is funded by a $2- million SPLOST, says the city's community development director, Alex Mitchem.
Also in Auburn, a private, 130-acre mixed-use development, Auburn Station, expects to have nearly 300 single-family residential lots and commercial/office space.
"There's a great deal of excitement in the city," Blechinger says.
Recent updates in downtown Auburn include Whistlestop Park and Whistlestop Shops, nine tiny cottage-style buildings. The concept is designed to help home-based businesses overcome the first step of an investment in a storefront, Blechinger says. The stores offer gifts, ice cream, baked goods, coffee and more.
In the part of Braselton that sits in Barrow County, Green4U Technologies, a provider of electric vehicles (EVs) and EV technologies, plans to invest up to $26 million and employ 200 to 250 people in five years, says co-founder and chair Don Panoz, who also founded Braselton's Château Élan Winery and Resort (See below) The company plans to make 50 to 60 new hires by the end of 2019.
The company has completed prototype testing of its Neighborhood Electric Vehicles (NEVs), which are meant to replace golf carts for transportation in neighborhoods or other non-golfing applications. The NEVs look like small cars with amenities including windows, doors, climate control and reclining seats and will be available soon for purchase, according to the company. Green4U is awaiting approval from Braselton to extend sewer lines for new production buildings, Panoz says, and Braselton is seeking a $1.2-million grant. Green4U plans to double its production space, he says.
The former Barrow County Medical Center became Northeast Georgia Medical Center (NGMC) Barrow when it joined the Northeast Georgia Health System in 2017. In 2016, the hospital generated $73.3 million in revenue and provided 496 full-time jobs, according to a report by the Georgia Hospital Association.
In the past year, NGMC Barrow President Chad Hatfield says the facility has gone through "the most significant change in the history of our organization," which includes $6.7 million in new equipment. "Integration with NGMC has been a perfect way to bring our extensive network of health delivery system[s] close to home for Winder and surrounding county residents," he says.
---
Revving up the Workforce
All this activity means a need for employees – today and in the future. Sims Academy of Innovation and Technology and Lanier Technical College's Barrow Campus each do their part to train the workforce.
Located just off 316 is Sims Academy, which opened as one of the state's college and career academies in 2014. Sims Academy had about 1,200 students in grades nine through 12 for the 2017-2018 school year and hopes to add another 500 students for the 2018-2019 school year, says Douglas Blackwell, principal and CEO.
Automotive and culinary arts are among growing program areas, says Blackwell. Partners include Chateau Elan and Akins Ford, a dealership that's been in the county for 50 years and recently expanded.
"We're always looking to get our students out in the workforce for real-world experience before graduation," Blackwell says.
Sims and the adjacent Lanier Tech campus, along with plans to convert Russell Middle School into a Center for Innovative Teaching, which will include educational opportunities and experiences for teachers, students and the community, are among the strides that the school system has made, Webb says. Lanier Tech, which opened in Barrow in 2015, provides dual enrollment opportunities for high school students.
In 2016, Lanier Tech added a 10,000-square-foot mechatronics lab in Barrow for training in mechanical engineering, information technology, electrical engineering and computer control.
Backing up to Lanier Tech is the Park 53 Industrial & Technology Complex on 316 and Hwy. 53, which is Georgia Ready for Accelerated Development (GRAD) certified. The industrial authority used a $500,000 grant to extend the entrance road into the 275-acre park.
The area is also home to Innovation Amphitheater, a 1,500-seat facility owned by the county and school system that opened in 2017 and features acts and events, such as the Charlie Daniels Band next month.
"The thinking in Barrow County, it used to be is that any business is good business," VanKirk says. "Now they can afford to be choosy about what they want as far as projects and have the opportunity to create what they want."
---
Local Flavor
Local and Luxurious
Alongside I-85 in Barrow County is a sight most people wouldn't expect to see in Georgia – the 16th-century-style Château Élan Winery and Resort. Since it opened in 1984, it has grown to be one of the county's largest employers, and it started 2018 with new ownership when founder Don Panoz sold Château Élan to Wheelock Street Capital, a Connecticut-based real estate investment firm.
Wheelock plans to spend $20 million on updates to Château Élan, including its 394 rooms, common areas, spa, winery and golf clubhouse. The resort draws more than 800,000 visitors annually, has 350 full-time employees and a yearly economic impact of $45 million.
The enhancements will feature more resort-type offerings for guests, says Joe Velasquez, director of sales and marketing. He adds that Château Élan also plans to grow its meetings and international and sports-team markets.
"In the past everybody knew it as a romantic getaway for people who are local within Georgia and then also a great spot to do a meeting," he says. "Now, what we want to do is continue to have a romantic getaway but at the same time be able to have some more offerings for families. We're not going to turn into a family resort, but still have offerings for families to enjoy the resort."
"It is clearly an integral part of the community with a lot of people that either work here, know somebody who works here or has been part of Château Élan over the … 30-plus years," says Interim General Manager Glenn Tuckman.
A golf clubhouse renovation was due to be complete in June, he says, and the tennis center will be upgraded with refinished courts and new permanent courts for pickleball, a paddleball sport. Updates to the guest rooms could start in late 2018, he says.
"The way the renovation is being done is in small pieces so that no group or guest is inconvenienced by anything," Tuckman says.
The property has two championship golf courses, a par-3 golf course and a Pelz golf school, which along with the clubhouse are managed by Troon Golf. HEI Hotels & Resorts manages the resort, which includes a winery and tasting bar, seven restaurants, a European-style spa, and its AAA Four Diamond inn and conference center.
The renovated Debussy Ballroom, which is part of 40,000 square feet of convention center space, reopened in May. The resort hosts about 140 weddings annually, and weekends typically attract folks driving in from Georgia and nearby states.
The 95-room Hampton Inn & Suites that opened in 2017 on the resort property provides an overflow venue for the resort and an alternative for guests seeking more moderately priced accommodations, Tuckman says.
It's a little bit of French countryside come to Georgia. – Lori Johnston