Columbus: Thinking and Acting Big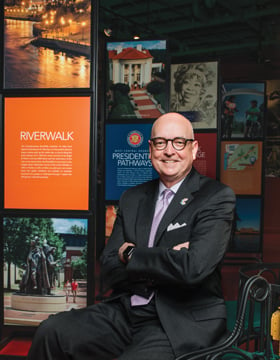 A river city with a whitewater rapids course and riverwalk. An arts center with multiple theaters downtown. A military town. A college town. Headquarters to three big companies.
How would you define Columbus? Locals say that because this West Central Georgia city is all of that and more, it's thriving – but it hasn't always been easy to tell a succinct story. "We have so many angles to who we are," says Brian Anderson, president and CEO of the Greater Columbus Georgia Chamber of Commerce. "And we continue to reinvent ourselves so we can compete."
With about 200,000 residents, Columbus is the second-largest city in Georgia – but it acts bigger than it is, says Anderson. "We've created a quality of life here that competes with anybody our size, maybe bigger," he says. And the city sees itself on a path that could turn it into the Asheville or Greenville of the future – mid-sized cities with vibrant downtowns, cultural offerings and good jobs that draw educated residents and appeal to tourists as well.
That's not to say there aren't challenges. In just one week this spring, the city saw 55 jobs added at financial technology (FinTech) company InComm – but was rocked by the announcement that NCR is closing its two plants in Columbus, resulting in the loss of more than 1,000 jobs. It's a huge blow that caught local leaders by surprise. But they noted that there would be placement resources available for the employees who are impacted and expressed hope that many will find jobs with other companies in Columbus.
To bolster the city's economy and help insulate it from such unexpected cutbacks, leaders want to better tell the city's story with a new logo and tagline – Columbus Georgia: We Do Amazing. It's a nod to the diversity of the city's residents as well as its various identities. Peter Bowden, president and CEO of the Columbus Convention and Visitors Bureau, calls on his days as an English major to say why he thinks it works: "'We do amazing' is a complete sentence in itself, and it could also be the start of 'We do amazing food' or conventions or education or [whatever the finish]."
Columbus is also at the epicenter of The Valley Partnership, a chamber-led effort to create a regional joint development authority to boost trade and commerce opportunities. The Valley Partnership includes Cusseta-Chattahoochee County, Harris County, Marion County, Muscogee County, Talbot County and the city of West Point, working together to foster public-private partnerships that will enhance businesses, communities and the region's quality of life.
---
Top Talent
Patty Watson, senior executive vice president and chief information officer at TSYS, moved her family from Dallas, Texas, to Columbus two years ago. Obviously her new city is a much smaller town. But she says that having the AFLAC, Synovus and TSYS headquarters all here is pretty impressive for a city this size.
TSYS is the second-largest employer in Columbus (Fort Benning is the biggest), and Watson says there are advantages to locating a FinTech company outside of Atlanta. "People in Columbus tend to stay in Columbus," she says. A decades-long partnership with Columbus State University (CSU) began when TSYS needed mainframe developers and now includes the TSYS Center for Cybersecurity, securing the talent that the company needs.
"Sometimes when I'm in Atlanta, I feel like we're in hand-to-hand combat over talent," Watson says. "[In Columbus] when you find the talent, they stay with us a long time. You don't have the constant turnover you face in Atlanta."
A strategic plan – Columbus 2025 – identified five target areas for the city's growth and prosperity. "Talented, educated people" was one of them. Acknowledging the strengths of its higher education institutions, including CSU and Columbus Technical College, and that the K-12 school system does a good job of graduating students, the plan also focuses on early childhood education. "If [kids] don't come into kindergarten somewhat prepared and able to become reading capable by third grade, you will never reach your fullest potential," says Anderson.
Watson agrees. The partnership between TSYS and CSU is critical – the two entities work together on designing curriculum – but before college is just as important. "Studies show that children who are not exposed to technology are intimidated [by studying] technology in college," she says.
Through a new program called the TSYS Education Council, company employees work with area high schools to expose students to tech through career days, teaching students how to code and job shadowing. The company has also partnered with Pluralsight, which offers online tech training, to allow teachers free access, and is offering externships for teachers to work in TSYS offices this summer.
"It's not just about the program we have at the high school or the program with Columbus State," Watson says. "It's about building the bridge between the schools and the colleges to help us with the pipeline."
Workforce has the biggest impact on where a company decides to locate, says Brian Sillitto, senior vice president of economic development and workforce for the chamber. So the strategic plan's aim to create a "cradle-to-career" partnership to bring together education, training, business and social services makes sense. So does mining the talent at Fort Benning, where soldiers who are exiting the Army make up a highly trained contingent that can translate their military skills into the civilian workplace. Finally, says Sillitto, the city wants to attract new talent.
"I think we're doing a good job of that," Sillitto says, ticking off all the city has to offer, especially in downtown (locals call it Uptown) where CSU's RiverPark campus is home to the art and theater departments, which include art galleries, two theaters and a space science center. Uptown also boasts the RiverCenter for the Performing Arts, where CSU's Schwob School of Music resides, the Springer Opera House and an entertainment district that includes a number of great places to eat and drink. Soon it will also include 226 more places to live. The mixed-use Rapids at Riverfront Place will feature multifamily housing and some 15,000 square feet of retail and restaurant space.
Pace Halter is president and chief operating officer for W.C. Bradley's real estate division, which is developing the property. The Rapids is the first phase of the larger Riverfront Place project that encompasses about 7.5 acres over two city blocks, he says. Housing is key. "There seems to be a strong desire to move back to downtown, and Columbus is no different," he says. "With the strong presence of Columbus State in Uptown, a lot of the residential that exists is student-housing related. Other than a select few … over-retail housing opportunities, there's really not a lot of downtown multifamily housing there."
Becca Zajac, vice president of marketing and community relations at Uptown Columbus, a private nonprofit that supports development in Uptown, agrees the housing will help fill a big void. "One of the biggest struggles we have in Uptown – and we've heard it for at least five years – is the lack of residential units," she says.
W.C. Bradley, with headquarters in Columbus, has been at the forefront of the city's downtown development, and "when they announced this investment, we were jumping with excitement," Zajac says. The Rapids is projected to be move-in ready in 2019.
Anderson says he doesn't think there's a single building for lease or sale along Broadway in Uptown that isn't already marked for some kind of development. "So now that Broadway is done, we're saying, 'How do we activate First Avenue?'"
Other areas of the city are using the Uptown model to goose their revitalization strategies. In Midtown, for example, a "road diet" will reduce the number of lanes on 13th Street and add on-street parking to encourage pedestrian and bike activity and help fill vacant storefronts.
"There is no doubt that a clear vision and strategy to revitalize our Uptown area allowed our public/private partners to know how they could best help the effort," says Columbus Mayor Teresa Tomlinson. "Having an organization to spearhead the task is essential, too. The same innovative planning and outside-the-box thinking has been employed to revitalize Midtown through our partner Midtown Inc. We are also employing the same strategy in our City Village and Liberty districts, so watch for big things there."
---
Military Muscle
Fort Benning is the region's biggest economic engine, generating an impact of more than $4.8 billion annually, and that's not just spending on the post. Most of the base's nearly 40,000 uniformed and civilian personnel live in the community, buying or renting homes, enrolling their kids in local schools and becoming involved in nonprofit and civic organizations. The base also supports an additional 39,000 jobs throughout the region.
Last year, more than 600 new soldiers and civilians arrived to staff the U.S. Army's headquarters for the Security Force Assistance Brigade and the Military Advisor Training Academy, which advise, train and assist partner nations' military security forces.
A substantial number of soldiers are also students at CSU, which has earned a reputation as a military-friendly school. The university has an enrollment office on the base where students receive counseling about financial aid, the GI Bill, transcripts and testing – a sort of one-stop-shop of resources these soldiers need to help them further their education. In addition, CSU has programs to help soldiers transition to civilian life and encourage them to remain in the area to add to the talent pool.
---
Getting Startups Started
Several existing companies expanded last year in Columbus, including Pratt & Whitney's $386-million investment that will create more than 500 jobs over three to five years, and German gun manufacturer Heckler & Koch's new factory that added about 80 new jobs. Late in the year, Hamilton Relay, a Nebraska-based company new to Columbus, announced it would open a telephone captioning call center early this year that will bring about 150 jobs over 18 months.
"2017 was a great year, especially as it relates to new jobs and investment on the expansion front," says Sillitto. "Where we want to improve is in our ability to attract new companies." To that end, he's targeting aerospace and food manufacturing. "We're going to try to leverage the success Pratt & Whitney has demonstrated … not only new companies that may be looking to expand, but suppliers of Pratt & Whitney that may have outgrown where they are located or find that it makes sense to be closer as a supplier."
Although it's home to two Fortune 1000 companies (Aflac and TSYS), city leaders are quick to point out that Columbus has a history of entrepreneurship. But it's lagged in creating the kind of entrepreneurial environment that encourages people to start their own companies.
One of the areas of focus in its Columbus 2025 strategic plan is creating "an enterprising culture" – Sillitto describes it as "economic gardening, or growing your own." Frank Braski, who started the entrepreneurship center ColumbusMakesIT and RiverCity Foundry, a business accelerator for startup ideas, took on the position of chief entrepreneurial officer with the chamber last July.
Braski notes that the very fact that Columbus' homegrown companies like Aflac, TSYS, Synovus and W.C. Bradley are so successful may have dampened the entrepreneurial restlessness a bit. "They've been such great employers that the majority of the people who tend to get frustrated and say 'I'm going to go out and do this on my own – I can make it better' – are frankly well paid and content," he says.
But he sees plenty of room to foster an entrepreneurial culture in Columbus, starting with what he calls a "first-stop shop" in a highly visible location on Broadway that will offer networking and events for entrepreneurs. And he sees plenty of opportunity in Columbus, too. Both he and Anderson mention Fort Benning's robotics and drone programs as fertile ground for entrepreneurs.
Mayor Tomlinson puts it even more succinctly: "We intend that the next Google or Amazon will be started in Columbus, Georgia."
---
Local Flavor
Destination: Adventure
Uptown Columbus is a draw for tourists, especially those who love outdoor adventures, thanks to its adjacency to a whitewater rapids course on the Chattahoochee River and a dual zip line that starts in town and ends across the river in Phenix City, Ala. The zip line, owned and operated by the same nonprofit that oversees the 2.5-mile whitewater course, has been so successful that it was expanded in 2017 so people could make a round trip back from the Alabama side of the river.
The rapids course has been open since 2013 after 13 years of construction that involved removing two dams. About 30,000 people shoot the rapids each year, and many are from out of town, says Becca Zajac, vice president of marketing and community relations at Uptown Columbus. The course is hosting two national water events this year: the US Freestyle Kayaking Championship and the World Paddleboard Championship.
What makes the whitewater course so appealing is that it's in the middle of an urban environment. In fact, it's the longest urban whitewater course in the country. "We have one of the best kayaking [courses] in the Southeast," Zajac says, noting that in many other courses you'd be out in the wilderness. "The best factor about our riverfront is you can go rafting, zip lining, kayaking, paddle boarding. And there's really nowhere else you can go from kayaking, walk a block or two, and you're at a four-star restaurant [Epic Restaurant]."
Columbus is becoming more of a leisure destination, says Peter Bowden, president and CEO of the Columbus Convention and Visitors Bureau. The city hosted 1.9 million visitors who spent about $346 million in 2017, according to the CVB. The whitewater course is a big part of the CVB's pitch to visitors, but it doesn't stop there.
"We promote Columbus as an outdoor adventure destination adjacent to an urban core," Bowden says. "We talk about hiking and biking and picnicking along the river walk. And we challenged ourselves to redefine what adventure really means, so [it] could be art, food, entertainment … we have so many things to offer visitors, no matter what they're into."
One of the pillars of the city's strategic plan is "connected and vibrant places." Building on the success of the river walk, there are plans to extend and connect trails throughout Muscogee County, eventually providing a linked network – the Dragonfly Trails – that helps connect Columbus neighborhoods. Even more reason for those who love the outdoors to come to the River City. – Kenna Simmons