Brunswick|Golden Isles: Building for the Future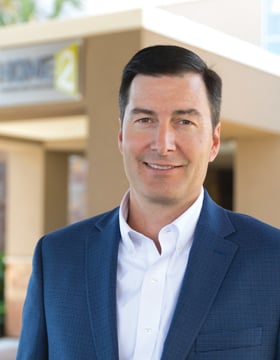 Rows of luxury vehicles fill massive lots while waiting to be loaded onto ships at the Port of Brunswick, which the Georgia Ports Authority (GPA) plans to increase to a capacity of 1.4 million vehicles annually. A few miles away, once-aging hotels are now active construction sites on Jekyll Island, Golden Isles restaurants are busy and parking spots are filled along the St. Simons waterfront.
It's all business along Georgia's coast, despite being battered by Hurricane Irma in 2017 and an ice storm at the beginning of 2018.
"If I had to describe our county, it [would] be resilient," says Bill Brunson, chair of the Glynn County Board of Commissioners. "From Hermine to Matthew to Irma to a significant ice storm, I think our county has fared well."
Flooding and storm surge from Irma damaged more than 900 properties across Glynn County, with about $25 million spent on repairs and clean up, Brunson says. But he adds that within 48 hours of the storm hitting on Sept. 11 last year, the county's borders reopened.
"I think that should speak positively to an industry that wants to come here," he says. "Our county government is prepared to deal with it, and now we've got a lot of experience."
The state also is investing in the area. The Georgia Ports Authority has spent $25 million at the Port of Brunswick to increase roll-on/roll-off space and plans to spend another $20 million in the next 18 months to increase capacity.
"When you're in a community like Glynn County and you put $45 million into it, it's huge [for] economic development for the whole area," GPA Chair Jimmy Allgood says.
---
Beach Bound
Tourism – Glynn County's top industry sector – continues to flourish, with more hotel rooms on the way, along with infrastructure updates.
The Golden Isles Convention and Visitors Bureau (CVB) reports 2.9 million overnight visitors to Brunswick, St. Simons Island, Little St. Simons Island and Sea Island in 2017, which was 7.5 percent ahead of 2016, says Scott McQuade, CVB president and CEO. Visitors contributed $1.4 billion to the annual economy in 2017, and the tourism sector employs an estimated 15,000 people annually, according to the CVB.
"We ended 2017 with another all-time record year in tourism," he says, giving credit for much of that to hosting the HGTV Dream Home in 2017. It brought St. Simons exposure "beyond what any tourism director could ever dream of affording," McQuade adds.
In 2018, 550 new hotel units are expected to break ground across the islands and the mainland. New Jekyll Island hotels include a 107-room Home2 Suites by Hilton, which started construction in March. The Jekyll Ocean Club opened in July 2017 with 40 rooms. (Read the review of Jekyll Ocean Club restaurant Eighty Ocean Kitchen and Bar on page 88.)
And older hotels on the island have been sold or upgraded, including the 73-room Quality Inn, which is undergoing a renovation. The Beachview Club Hotel, purchased by the Holiday Inn Resort, is being remodeled and should open by summer, Jones Hooks, Jekyll Island Authority (JIA) executive director, says.
The JIA, a self-supporting state agency, estimates the island's visitation reached 3.5 million in 2017. Sales at the beachfront Jekyll Island Convention Center, which opened in 2012, reached $3.95 million in 2017, up from $2.98 million in 2016, according to the JIA. The center hosted nearly 145,000 attendees and was responsible for 55,000 hotel room nights on the island last year.
"Our island visitation numbers continue to increase, as well as the convention center revenues, as well as the admittance to the Georgia Sea Turtle Center, as well as the historic district museum," says Hooks. "There's affirmation there of the additional revitalization efforts being a good return on the investment."
The total revitalization investment on Jekyll Island is $299 million, which includes $76.3 million in public funding and $222.6 million in private investment, since 2008, according to the JIA. The state's fiscal year 2019 budget includes $1.6 million for improvements to Jekyll Island parks.
About a million dollars worth of budgeted projects were postponed because the JIA had to move or change its emphasis to recovery efforts after the hurricane, Hooks says. In addition, shoreline erosion on the north side of the island, which is the focus of a $4-million project, was exacerbated by Irma, he says.
But, the island turned what could have been an even bigger loss of tourism revenue to success with its two-day Merry Shrimpmas festival. The festival consolidated the November tree lighting and the canceled Shrimp and Grits festival (due to Irma) and won three Kaleidoscope Awards from the Southeast Festivals & Events Association.
Tourists aren't the only ones coming to Jekyll. New homes are also springing up on the island. The Cottages at Jekyll Island, a development on the north end of the island, has sold more than 90 percent of its 122 units. Ocean Oaks on the south end of the island includes sustainable features in its building, such as use of local materials, passive solar heating and cooling, and native drought-tolerant landscaping, in its 32 single-family and four duplex homes.
"We're excited about showcasing Jekyll," Hooks says. "We're getting back to what we usually do and can do well. If we can just avoid another hurricane, it will be a great thing."
He adds that even in spite of the hurricanes, not one acre of undeveloped land has been developed; new construction uses existing development footprints. This is in line with legislation passed in 2014 that mandates only 1,675 of the island's 5,847 acres can be developed.
"We've torn down old things and built new things in [their] place," he says. "That's major for Jekyll Island."
---
Expansions and Enhancements
The Sea Island Co., owned by the Anschutz family, embarked in late 2017 on $25 million in upgrades, including six new ocean-view cottages on the western side of The Lodge (its boutique hotel with 43 rooms), an oceanfront pool and pool house, a golf performance center and a putting course. The changes are expected to be complete in November, when the Sea lsland Golf Club hosts the RSM Classic, an official PGA Tour event. The Sea Island Plantation Course is expected to undergo a renovation by Love Golf Design and to reopen in October 2019.
Sea Island's The Cloister, which has 265 rooms and suites (including 63 rooms added in 2016), continues to enamor guests and the hotel industry, receiving in 2018 its 10th consecutive Forbes Travel Guide Five-Star Award. Its Georgian Room (one of nine restaurants on Sea Island) also is a Forbes Five-Star recipient.
"Winning even one Forbes Five-Star award in any given year is a rare privilege, given their exacting standards that emphasize graciousness, thoughtfulness and personal service for our guests and members," says Scott Steilen, president and CEO of Sea Island Co. "I am humbled and honored to work with a team that has set another world record by winning four awards for 10 consecutive years."
---
Airport Arrivals
On St. Simons Island, a new 88-room Home2 Suites by Hilton property was running at 88 percent occupancy as of March, says Bart Johnson, general manager. The hotel is connected to the new fixed-based operator (FBO) terminal that opened in 2017 at McKinnon St. Simons Island Airport, which has two runways. The hotel-general-aviation airport complex is unique, says Robert Burr, executive director of the Glynn County Airport Commission.
The Glynn County Airport Commission manages McKinnon St. Simons Island Airport and Brunswick Golden Isles Airport; the state operates Jekyll Island Airport. The Brunswick Golden Isles Airport recently expanded its aprons, or ramps, and a master plan has been completed.
"We have ample land for our current tenants that are growing and our future tenants that we have prepared for. We're set up for economic growth," Burr says.
In 2015, Gulfstream Aerospace Corp. finished a $26-million expansion at the Brunswick Golden Isles Airport, which has nearly 250 employees at Gulfstream's facilities there, says John "Jay" Neely III, vice president of law and public affairs.
"The possibilities for avionics and aviation expansion is really big because we have what I consider the best airport outside of Atlanta. It's an 8,000-foot runway, and we have plans to go to 10,000 [feet] at Brunswick Golden Isles Airport," says Woody Woodside, president of the Brunswick-Golden Isles Chamber of Commerce. "Plus, we have the general aviation at our McKinnon St. Simons Airport."
---
Preservation Gift
The St. Simons Land Trust announced in March that it has purchased a 1.42-acre property on Frederica Road that was proposed as the site for a dollar store or other type of commercial establishment. The island, which has a permanent population of around 14,000, continues to face development pressure, says David Pope, the trust's executive director.
The acquisition, as well as other recent ones, such as the Mediterranean-style Mildred Huie Museum property that will become protected greenspace, are thanks in large part to a $4-million challenge grant from The Anschutz Foundation.
In March, The Canopy Campaign: An Overarching Strategy to Preserve St. Simons South to North, was launched to raise $8 million to meet the challenge and purchase properties already under contract and under consideration on the island, Pope says.
The trust's goal is to protect 2,000 acres, which is about 20 percent of the island. Currently, it holds about 1,000 acres, with several properties under contract, Pope says.
"Without the intervention of the land trust, essentially all of the significant developable property on St. Simons Island would be sold for development," Pope says. "We're really not kidding when we say we have to get with it."
Also on St. Simons, the Coastal Georgia Historical Society continues its capital campaign for the World War II Home Front Museum. The museum, which could open in late 2018, is planned for the Historic Coast Guard Station as part of an improvement to the beach access area that is expected to reach up to $5 million, McQuade says.
---
Changes and Milestones
Coastal Pines Technical College, the state's 2017 Technical College of the Year, is planning to expand its manufacturing curriculum to meet the needs of local business and industry in Brunswick, says President Glenn Deibert. Enrollment has grown to more than 600 students, in part due to dual enrollment programs with area high schools. The Brunswick campus opened in 2015 and offers neuromuscular massage therapy, paralegal studies and many other programs.
Brunswick is also home to the state's second-oldest high school, Glynn Academy, which is undergoing a major renovation, funded by a 1 percent Education Special Purpose Local Option Sales Tax (E-SPLOST).
A milestone this year is the 80th anniversary of the Georgia-Pacific (GP) Brunswick Cellulose mill. A 2016 impact assessment by the College of Coastal Georgia found that the Brunswick mill – Glynn County's largest manufacturing employer – generated $514 million in output and employed about 540 workers. Since 2005, GP has invested about $700 million in state-of-the-art process equipment and manufacturing improvements.
Collections began in 2017 for a 1 percent SPLOST that is expected to raise $71.5 million by 2020 for infrastructure projects that include addressing drainage issues, repaving and fixing roads, and intersection improvements, such as roundabouts on St. Simons Island. In addition, $15 million of SPLOST funds were allotted for the Brunswick-Glynn County Joint Water & Sewer Commission projects, Brunson says.
"We're going to be pushing for more initiatives to be taken by our elected leadership to place a lot more emphasis on infrastructure improvements" such as sewer-water issues, Woodside says.
---
Small Businesses Welcome
Large manufacturers like Gulfstream and GP may get most of the press, but Glynn County also supports its small businesses, both new and those that have been around for a while.
Since 1975, the Hostel in the Forest has offered rustic lodging (think treehouses) on its 133 acres in Brunswick and hosts special events as a spiritual retreat. The hostel, which features composting toilets, outdoor hot showers and organic soaps, is an ecologically sustainable alternative to a hotel for people who want to get off the grid and close to nature.
New business owners in the city include Richland Rum's Erik and Karin Vonk, who say there's a welcoming environment for entrepreneurs. They opened a second location of their Richland, Ga.-based distillery in March in a restored, nearly 7,000-square-foot building in downtown Brunswick. Richland Distilling Co. distributes rum in 15 states and nine countries, Erik Vonk says, and has been honored with a Georgia Globe Award as one of the state's fast-growing exporters.
Vonk expects at least 50,000 visitors – and possibly twice as many, according to some consultants – in the first 12 months at the Brunswick location.
"There's an environment that is desirous of having you there, which is fantastic," he says. "While on the other hand, it just feels good to know that what you're doing helps a little bit with economic development."
---
Local Flavor
Dolphin Adoration
While relaxing on the beach may be the primary goal when planning a trip to the Golden Isles, more and more people are also looking to spend time on the water. And Capt. Phillip Kempton thanks the dolphins for a stellar 2017 and what's shaping up to be a strong year for his business – Jekyll Island Boat Tours – in 2018.
"Even with the hurricane, we've done better than we've ever done in the past," says Kempton. "This time of year [spring], we're doing better than we've ever done this time of year before."
He credits the Jekyll Island Authority's marketing efforts and the ability to do advance online bookings for his company's revenue growth of 20 percent in 2016 and 28 percent in 2017.
Another reason for the boom in business, he says, are guests in new hotels and at the Beach Village, which is drawing folks to new restaurants like Jekyll Island Seafood Co. and Sunrise Grill (expected to open before the summer), and the nearby Eighty Ocean Kitchen and Bar in the Jekyll Ocean Club hotel.
But it's those graceful, Instagram-worthy aquatic animals that get much of his praise. His two boats, which hold 49 people each, sell out frequently because of the fascination with dolphin sightings among visitors and school groups.
"It's that magic word – dolphin," says Kempton. "I have tried over the years, so many times, to do all these different things other than what we call dolphin tours."
He joined the company in 2003 and became owner in 2015. Over the years, he's noticed more customers are first-timers to Jekyll Island and from out of state. The demand on Jekyll Island is keeping him busy enough that he's stopped running tours out of St. Simons Island, which is about 45 minutes via boat.
Another tour operator, SouthEast Adventure Outfitters, which has been based in the area since 1994, has two- and three-hour eco-cruises with dolphin sightings that depart from St. Simons; it also has a location in Brunswick. The Brunswick-Golden Isles Chamber of Commerce named SouthEast the 2015 Small Business of the Year in Glynn County.
Dolphin-sighting voyages (Atlantic bottlenose dolphin are often spotted) are top of mind for those planning trips to the area, tour operators find. Right at the start of 2018, a customer called Kempton after discovering no dates for July cruises were online because Kempton hadn't put them on the schedule yet.
"People are booking so early. It's almost nuts," Kempton says. – Lori Johnston