Spotted in Georgia — Helen-to-Hardman Trail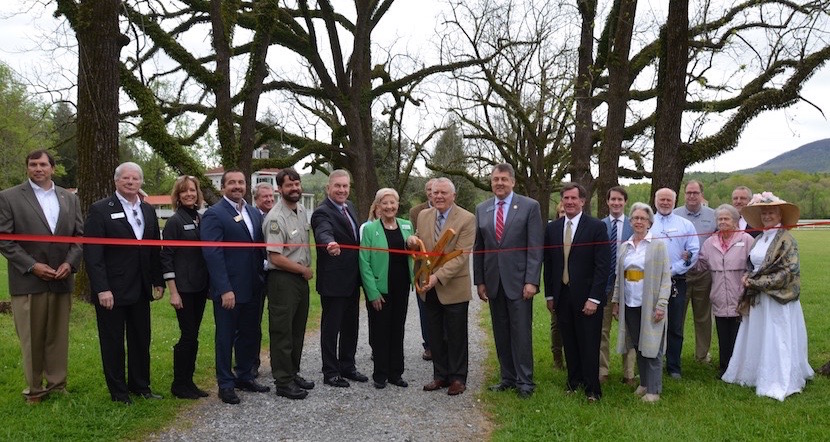 Gov. Nathan Deal cut the ribbon opening the Helen-to-Hardman Trail at the Hardman Farm State Historic site in Sautee Nacoochee last week. The trail, just under a mile, winds along the Chattahoochee River between Helen and the Hardman Farm.
"I know that this trail will continue to grow in economic impact and continue to educate our youth," Deal said at the event. He also thanked members of the Hardman family for their generosity in allowing the state to maintain and enhance the historic farm and members of the Helen city commission and White County commission who worked together to make the trail possible. He commended members of the DNR who have worked to create the trail. "You have given all of us a sense of pride in what our Department of Natural Resources does."
Photo: From left, William Bagwell, Department of Natural Resources board chair; Jeff Ash, mayor of Helen; Cinnamon Spurlock, Helen city commissioner; Travis Turner, White County commission chair; Lee Landress, Helen city commissioner; Will Wagner, general manager, Smithgall Woods State Park and Hardman Farm State Historic Site; state Rep. Terry Rogers; Judy Holloway, former Helen city commissioner; First Lady Sandra Deal; Helen City Manager Jerry Elkins; Gov. Nathan Deal; state Sen. Steve Gooch; former Helen Mayor Helen Wilkins; DNR Commissioner Mark Williams; Davis Knox; Shell Hardman Knox; Steve Fowler, Helen city commissioner; Tom Johnson, president of the board of Friends of Georgia State Parks; Geneva Elwell, Helen city commissioner; James Hamilton, assistant director Georgia State Parks and Historic Sites; and Kate Griffith, president, Friends of Hardman Farm.
Photos by Linda Erbele.