Perimeter Area: Where Atlanta Meets for Business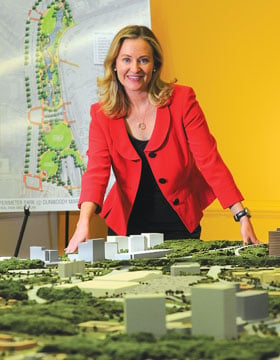 If you've ever sat at a dysfunctional traffic light, you know how important it is that lights are operating efficiently. The Perimeter Community Improvement Districts (PCIDs) understand this, too – so it's the kind of project the organization has taken on for the Perimeter area.
In fact, at a recent meeting of traffic engineers from the Perimeter Transportation Operations Program, that was the topic under discussion – replacing the outdated, underground fiber that controls traffic lights. It may not be exciting, but for an area that's home to thousands of businesses and their employees, it's essential to keep folks moving.
"That technology is changing all the time. As people ride through the district, even though it may not always seem that way, we actually put a lot of time and money into making sure the signals are timed correctly," says Ann Hanlon, executive director of the PCIDs. These self-taxing districts in DeKalb and Fulton counties collect voluntary payments from commercial property owners to fund infrastructure improvements and enhance the quality of life in the Perimeter area.
Replacing fiber that was more than 15 years old at a cost of around $3 million is just one example of the type of collaboration the PCIDs oversee: the state Department of Transportation funds the program, and the two counties administer it in partnership with the cities of Dunwoody, Brookhaven and Sandy Springs.
Since the district is comprised of two counties, and by law a CID must be contained within a single county, the PCIDs have two nine-member boards: one for Fulton and one for DeKalb. Current board chairs are John A. Heagy III of commercial real estate firm Hines for the Central (DeKalb) Board and Steve Slifer, vice president of UPS, for the Fulton Perimeter Board.
With 80 percent of its market space occupied by 5,000 companies, including Fortune 500 firms like UPS, Newell Rubbermaid and First Data Corp., more than 123,000 employees move through what Hanlon refers to as "the district" daily. One of the state's largest job centers, growth in the Perimeter is bringing changes, and the PCIDs hope to make them all positive. (The opening of the Mercedes-Benz headquarters and progress on the second of State Farm's office towers next to the Dunwoody MARTA station are just two of the most recognizable additions.)
---
Boosting Transportation Options
No discussion of Metro Atlanta starts without addressing the elephant in the room: traffic. "We've got people coming into this market to work from all areas of the region," notes Hanlon. "The CIDs' role is really to help our local governments and our regional partners find a way into the district and out of the district more easily."
The PCIDs operate Perimeter Connect, a Transportation Management Association (TMA) funded by the Atlanta Regional Commission, the Georgia Department of Transportation (GDOT) and the CIDs. Perimeter Connect offers free commuting consulting to the CIDs' employers and property managers with the goal of improving air quality and reducing traffic congestion in the region. In addition, Perimeter Connect provides gas cards for carpoolers and bike riders, free shuttle service from MARTA stations and other perks. Recent additions to the State Road and Tollway Authority's Xpress bus routes are bringing employees from Sugarloaf Mills and Town Center to Perimeter Center, increasing transportation options.
Machelle Clarke Pellegrini, an administrator with State Farm, regularly works with Perimeter Connects to deliver route information to the 7,200 State Farm employees at the company's Perimeter headquarters. The company provides employees a commuter benefits package, and a bridge from State Farm's campus to the Dunwoody MARTA station is under construction.
GDOT's Major Mobility projects are offering hope for clogged traffic in the next few years. In one of the largest construction projects in the history of the state, the $800-million I-285/Ga. 400 interchange reconstruction project is scheduled for completion in 2020-2021. The PCIDs has contributed to that and other nearby road improvements.
"This is all going to fit within the state's larger plan," says Hanlon, describing the dedicated and managed lanes the state envisions for reduced road problems. "It's going to fix a lot of traffic problems here and in the marketplace but also going to do a lot to relieve congestion statewide."
---
Creating a Downtown
Nowhere has the change in the Perimeter area been as drastic than in Sandy Springs. The Roswell Road corridor has evolved from the sleepy farm-to-city transport route it was as recently as the 1980s.
"If you think of Roswell Road as American Pie [the now defunct landmark '80s restaurant that hosted rock bands and drink specials just north of I-285] – you will think you've landed on Mars seeing it now," says Andrea Worthy, economic development director for the city of Sandy Springs.
The heart of the community was always there, but hard to pinpoint. When asked to locate "downtown Sandy Springs," Atlanta area residents incorrectly pointed to the iconic King and Queen buildings near I-285/Ga. 400, according to the city's website.
The new city center, City Springs, scheduled to open soon, is a $229-million, 15-acre city government and cultural center at Roswell Road and Mount Vernon Highway. It will effectively give Sandy Springs that downtown, and much more. The state-of-the-art building will include city government offices, meeting space and a regional arts facility with a bar and rehearsal space that will be home to the City Springs Theatre Co., headed by Georgia native and Broadway star Shuler Hensley. Folks will find greenspace, along with 275 apartments, 19 townhomes, shops and restaurants nearby.
The focus on quality of life in the area (the city gives 20 percent of its budget to capital improvement projects with the goal of improving mobility) in turn attracts more investment, Worthy points out. "We are a community of corporate headquarters, and companies are different than 20 years ago. It used to be logistics/real estate – now the No. 1 question is 'can I get the workforce I need? Will they be happy?'"
---
Village to Highrise
Celebrating a move into a new $8-million, 45,000-square-foot City Hall on Ashford Dunwoody Road early this year, officials in Dunwoody are proud of the community's progress.
Besides new local government offices, the 2-million-square-foot State Farm construction project has continued to "impact our market," says Michael Starling, director of economic development for the city of Dunwoody. 'We worked with them as they leased their first building," he says, adding that the city helped with rezoning and a tax abatement.
Looking ahead, Starling says Trammell Crow Co. and a joint venture partner recently announced a project on a 3.94-acre site also connected to the Dunwoody MARTA station. It's called Twelve24, a 16-story office tower featuring retail, a hotel and restaurants. Staffing and services company Insight Global has already signed a lease for 60 percent of the tower.
Livability – parks, walking trails and public amenities – has always been important in Dunwoody. A proposed project called High Street would bring 3,000 residential units to a 42-acre space between Perimeter Mall and Cox Communications. "It becomes a new center of gravity," says Starling, who compares the project to Avalon in Alpharetta, but "three times the size."
High Street would have a park in the center and retail and entertainment next to where thousands work every day. "People are looking for a sense of place and walkability – it's a very big project, but we're hoping it will get started later this year," he says.
---
Medical Profession at Work
With the addition of Northside Hospital's administrative offices to the Perimeter Summit office park in Brookhaven, the city gained 1,100 workers, 400 of them new. The hospital signed a long-term lease for nine floors at 101 Summit Boulevard (owned by Seven Oaks Company). It joins tenants like IBM/Watson, The Weather Company, Autotrader and Verizon.
"We get a lot of inquiries about the Perimeter Summit development, which was completely renovated and redesigned," says Shirlynn Brownell, director of economic development for the city of Brookhaven. The location is near two MARTA stations, I-285 and Ashford Dunwoody Road and a Hyatt Regency.
Ease of transportation, however, remains a top attraction. Housing options in Brookhaven are expanding, especially near Dresden Road and Oglethorpe University. "Having access to so many different MARTA stations, a city bike plan – people don't want to sit in traffic for hours," says Brownell.
---
Project-oriented Planning
The PCIDs will release a new master plan later this year. The boards approved $188,000 for planning and design engineering consultants Kimley-Horn and Associates to create the master plan and project list. Previously discussed projects as well as new ideas will be included in the plans. "In the end, we should have a prioritized list that the PCIDs could help build over the next five to 10 years. I am thrilled to see how this next generation of projects unfolds in our market," Hanlon says.
Since the PCIDs generate close to $7 million annually, "it's important that we have a very clear, transparent plan for how we are going to invest those dollars in the district," says Hanlon.
"I think we'll probably see a mix," Hanlon adds. "Some truly traditional road projects, some parks, trails, sidewalks; the truth is we need a blend of them all, right?"
---
LOCAL FLAVOR
Whirling Wood and Metal
What do you get when you combine a dart competition with a little Game of Thrones-style self-defense? Hatchet throwing as entertainment, a popular Canadian game brought to the Perimeter by Bury the Hatchet on Roswell Road in Sandy Springs.
Open only a few months, the venue is the concept of the people who also own Mastermind Escape Games in Sandy Springs. (Escape Rooms, which have grown in popularity in the past five years, lock participants in a maze or room and require code-breaking or clue-following in order to escape before a certain amount of time.)
Hatchet throwing is popular in Canada for corporate team-building as well as for young professionals and families, making the Perimeter location the perfect fit, says Melanie McLean, marketing manager. "The owners really like Sandy Springs – there are a lot of families in the area and a demand for unique things to do."
Each $40, 2-hour session begins with a 20-minute safety training led by an "axe master," a professional who has been trained not only in wielding a hatchet but also in safety guidelines. The wooden targets are at the end of lanes similar to bowling, and each lane can accommodate groups of up to 10. In addition to fences between the throwing lanes to protect participants, there are strict rules about axe handling – the axe must be placed in a stump instead of handed off, for example – and retrieving after throws. The instructor stays with the same group, encouraging them and keeping score of target hits.
And while technology does play a role in tracking/sharing scores (axe masters use iPads to digitally share scores on screens mounted in the facility), one of the business' main expenditures is more rustic: they use plenty of soft wood for the round targets, which must be changed out frequently.
Physical strength and size are not a requirement, says McLean.
"It's a finesse thing rather than a power thing," says axe master Manny Infante, one of 15 employees at the location. "People love it."
A hand-eye activity that gets teens out from behind their video games and iPhone screens is appealing to parents as well, and ages 14 to 17 are welcome with adult supervision.
While not currently offering food or alcohol, the space has picnic tables and groups are welcome to bring their own snacks or have food delivered. Leagues for teams of hatchet throwers are starting soon, with designated evenings of Thursday and Sunday for the groups to compete.
Bringing the sport south where outdoor activities reign is a challenge, but the business is garnering praise from customers looking to try something a little different that's not as aggressive as it sounds. "We're getting them over the hurdle that it's a strange Barbarian activity," laughs McLean. – Amy Bonesteel