Elbert County: Doing the Right Things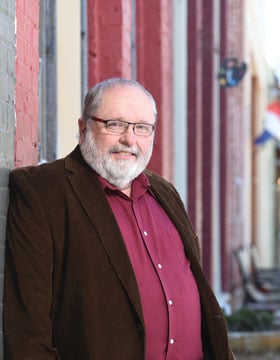 Growth is evident throughout Elbert County. The four-lane widening of Highway 72, which was expected to open by late April, provides a streamlined, faster route to Athens. Athens Technical College's Elbert County Campus – also along that roadway – will open an $800,000 science lab for summer classes.
And in downtown Elberton, a new four-story hotel with modern interiors offers a place to stay and a new upscale restaurant for dates, celebrations or business deals.
The Highway 72 expansion, which is part of an $82.9-million Georgia Department of Transportation project from Athens to the South Carolina line, joins investment by the county and city of Elberton that leaders hope will attract more jobs.
"I think that we're, as a community, doing the right sorts of things to attract business and to have some successes," says L. Jackson McConnell, CEO of Pinnacle Bank, which has about 95 of its 230 employees in its Elberton headquarters. "I'm hopeful that over time, that's going to pay off."
In March 2017, The Samuel Elbert Hotel & Conference Center opened in a long-vacant and previously dilapidated 1925 building on the south side of the downtown square. The city of Elberton spent $5 million to rehabilitate the 27-room boutique hotel, which includes The White Plate Restaurant and Bar, and created about 15 jobs.
"The reason we did this project was not only to save that building, but we had a need in our community for quality lodging for both business and personal travel," says City Manager Lanier Dunn. "And we just wanted to kind of jumpstart our downtown."
The Tudor-style hotel joins a renovated theater and courthouse on the square in Elberton, which is known as the Granite Capital of the World.
"When the city bought the hotel downtown and refurbished it, that was a huge boost for us. I know that the granite industry, we utilize that hotel extensively when we have people come to town," says Chris Kubas, chair of the Elbert County Chamber of Commerce and executive vice president of the Elberton Granite Association.
Rusty Warner, who joined the Development Authority of Elbert County, Elberton and Bowman in 2016 after serving as the head of the Norcross Economic Development Department, says the public investment should encourage developers, investors and companies. It sends a signal: If we believe in ourselves, why shouldn't they believe in us?
Several new businesses opened downtown in 2017, including Home Sweet Home, an artisan market, ice cream and coffee shop in a former cotton warehouse, and the Time Capsule, a 5,000-square-foot space that hosts weddings, reunions, meetings and other events, including a recent prom for adults.
"What defines your town is the nontraditional things that you don't see everywhere," says Kubas. "We are starting to build those nontraditional events and features that I think will ultimately attract people."
The city hopes those include folks who want to live on the square in Elberton. Four upstairs apartments in a renovated building owned by the development authority, Dunn says, are expected to be available by the end of this year.
---
Finding an Edge
In 2017, Elbert County began fully funding the local development authority; a half-mill tax increase is expected to generate about $250,000 a year for economic development efforts, says Elbert County Board of Commissioners Chair Tommy Lyon.
In addition to the Athens Tech, roadway and downtown improvements, Warner says lower land and property prices will entice businesses.
The authority is looking into a spec building in Elberton Industrial Park, which is GRAD (Georgia Ready for Accelerated Development) certified. The park has four tenants – Bubba Foods (maker of Bubba Burgers), plastics products company MollerTech, Monument Warehouse and Hailo USA's wind turbine component facility – and about 100 remaining acres.
The spec building would give the county a bit of an edge, Lyon says, since it's not on a main thoroughfare like I-85.
The county also is spending about $1.2 million this year for the operations of Elbert Memorial Hospital, which has 200 full-time and part-time workers. A five-year affiliation and management agreement with AnMed Health out of Anderson, S.C., recently ended.
"We are actively searching for not just a partner, but the right partner," says Daniel Graves, chair of the Elberton-Elbert County Hospital Authority. "However, we can't assume anything, so we are fully preparing to proceed independently if we have to."
The hospital is the third-largest public employer in the county with a $6-million annual payroll, Graves says, and a $28-million-plus economic impact. Graves is optimistic that the widening of Highway 72 will make the hospital more appealing to doctors.
"We now have four-lane access," he says. "[Now] those healthcare providers in the west [towns such as Athens] are much more interested in what we have to offer in a healthcare community because they can reach us better."
---
Readying the Workforce
Lyon is concerned, however, that the number of jobs in Elbert County has dropped from 9,600 in 2007 to about 6,800 last year. The labor force in the county is 8,205, according to 2016 data from the development authority
To equip the labor force and attract business, Athens Technical College is investing in its Elbert County campus, which opened in 1997 and has recently turned around enrollment trends. The 47-acre campus on Highway 72 offers nine programs, including welding, diesel equipment technology, industrial systems technology, practical nursing (LPN) and cosmetology.
"Our mission is workforce development," Athens Tech President Andrea Daniel says. "That campus creates access for students. We work closely with the industry there to meet the need."
An $800,000 science "mega lab," which uses three classroom spaces, will be open for summer classes. Previously the campus did not have a science lab, which Daniel says will grow the options for students. The lab is going to be tremendous in training workers sought by companies that use science in an industrial setting, Kubas says.
In 2017, the campus had 440 students from 30 counties, including Metro Atlanta's Gwinnett and Cobb counties, and enrollment is expected to surpass that this year, Daniel says.
Prior to summer 2016, the campus had 11 terms (spring, summer and fall) of enrollment declines. She credits the increase to factors including the HOPE Career Grant, which offers free tuition in programs of study with a high need for workers, a new marketing campaign, guidance from its industry advisory council and advisers encouraging students to take more than one class at a time.
Daniel says she thinks Athens Tech is a main factor attracting business to the area, and the economic development authority is even located on the campus. Last year, the Elbert campus provided training to 72 companies from the retail, granite, banking, hospitality, government and industrial sectors. The campus also offers Georgia Quick Start training, the nation's No. 1 workforce training program, which is available free to qualified employers.
In addition, about 50 students from Elbert County Comprehensive High School are enrolled in the Dual Enrollment Program with Athens Tech.
The Elbert County School District, which has 3,100 students, including pre-K, also is home to the only granite technology pathway in the state, says Superintendent Chuck Bell. He adds that there's a strong working relationship with the granite industry and Elberton Granite Association.
"We're really appreciative [of] them because they've been able to help us with some of the technology that we need to be able to prepare young people to step in and serve in those roles in the local industry," he says.
The school system also is spending a projected $1.6 million on new lighting at the Granite Bowl – the high school stadium – and for a track and field facility at Elbert County Middle School that will serve the high school teams.
---
Modernizing the Infrastructure
In 2017, the city completed a $1.6-million upgrade to its wastewater treatment plants, which included a new digester. That followed a $1.8-million upgrade to Elberton's water filter plant in 2015.
The water plant improvements modernized several systems, replacing those that were decades old with new systems, Dunn says. The sewer plant improvements didn't increase capacity but were process improvements to make the treatment more efficient and have resulted in energy savings on electricity of about $60,000 per year.
"When you look at a long-term investment, Elbert County has got it," Graves says. "We've got tons of land that can be purchased at an affordable price. We have nearly unlimited water."
The city plans to extend its water infrastructure toward the Madison County line and to the north, taking it all the way to the city of Bowman along Highway 17, Dunn says. Eventually, county leaders hope that the widening of Highway 17 will connect Elberton to I-85.
The city of Elberton also has operated municipally owned broadband since 2001 and continues to expand it to rural areas, Dunn says.
"We've got a very robust utility system here that the city maintains, as well as a fiber-optic internet service that they have available, which is just very unique to a small town like this," Kubas says. "The internet speed that we have here, … it's equal to anything you'd find in any large metropolitan area."
In addition, Elberton is extending natural gas mains to serve poultry farms.
"The city is able to have natural gas customers, the county has the tax base and, of course, the grower has operational cost savings," Dunn says.
Bowman, which is the county's other incorporated city, also has its own water and sewer. New Mayor Mark Berryman says he hopes to upgrade the town's park and revive its Memorial Day picnic. The county also is home to the 2,500-acre Richard B. Russell State Park and Arrowhead Pointe Golf Course at Lake Richard B. Russell, and hosts bass fishing tournaments.
"This place is beautiful. There's so much to offer here," says Michel Bernardin, president, CEO and founding partner of Davis Systems, an innovator and manufacturer of data center servers and related hardware and firmware.
The company moved from Wyoming and is renovating a plant on Thirteen Forks Road with plans to hire five people in 2018.
"The cost of living is fairly low. The property values are reasonable," he says. "The attraction is the lakes … the history that's in the area."
---
Stable Bedrock
Granite has long been a rich part of the county's history. Its vein of granite runs 35 miles long, six miles wide and two miles deep, according to the Elberton Granite Association.
In February, Matthews International Corp. announced that it acquired Elberton-based Star Granite & Bronze for $41.2 million. Star's revenues were about $31.3 million and it had about 200 employees, as of year-end 2017.
"[It] gives you an example of the magnitude of that industry here locally," school superintendent Bell says.
Kubas, whose association has 68 members, describes the granite industry as stable. Manufacturing and technology advances, such as computer-aided design and cloud-based technology, have reduced manpower, time and labor, he adds.
The industry drives other businesses, such as tools and parts, that serve the granite companies and other sectors, Pinnacle Bank's McConnell says. In the last year, he's seen more commercial loan activity among existing manufacturing companies for equipment, improvements to shipping and loading docks and factory additions.
"They're adding on and building and expanding," McConnell says. "There's more of that going on than there has been."
Putting those necessary pieces of the puzzle in place is leading to continued growth in this Northeast Georgia county.
---
LOCAL FLAVOR
It's Showtime
From date nights to stage debuts, the restored Elbert Theatre has continued to add entertainment options since it reopened in 2001. The 1940s Art Deco-style theater now is a cinema, playhouse, event space and spot for summer camps and field trips.
The marquee touts everything from current movies to live musicals and plays by community volunteers.
In 2017, 18,015 people attended shows, movies and performances at the 398-seat theater and its arts center, which opened in 2015 off the downtown square. The live performances are volunteer run, and last year, 3,468 volunteers contributed nearly 7,500 hours.
"It's huge because right now it's pretty much the only nightlife available in town other than family events like sports or dance classes," says Director Toni King. "It gives people a chance to get out and have fun within their community, instead of going out of town."
In 2017, the theater hosted 133 showings of 33 films, from kids' flicks to religious fare to R-rated movies. Movies are shown on weekends when there are no live theater performances; in 2017, the theater hosted 12 productions with 39 performances.
The theater and arts center also host auditions, rehearsals, meetings, conferences, concerts and summer camps. Rentals include birthday parties, baby showers, political receptions and dance recitals. Another connection is with local schools – Christmas field trips for elementary schools brought in 2,500 people in 2017.
King recognizes that small local theaters struggle to keep the lights on and attract patrons, and she credits the relationship between the city and the Elbert Theatre Foundation, which spearheaded the fundraising effort to renovate the property.
The city-owned theater's operating budget is $187,834 this year. The city, which owns the theater, receives revenue from the movie tickets ($7.50 each), while the foundation uses the proceeds from live events (typically $11 for adults and $9 for kids for theatrical performances) for programming and physical improvements and can focus on the artistic quality of the productions.
"That is a huge piece that makes our situation work, which I've found is very unique," she says. – Lori Johnston