Albany|Dougherty County: Developing a Destination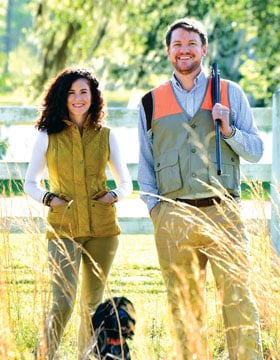 Addressing aging infrastructure and continued development of an extensive trails program are at the top of the to-do list in Albany and Dougherty County these days. And slowly but surely, Albany's long-defunct downtown is showing some real potential, with a number of new ventures that are bringing people together in an area that has struggled to make a comeback.
Strengthening relationships with expanding business and industry in the area is also a priority as is wooing potential partners in economic development. February's 30th Annual Georgia Quail Hunt, formerly the Fall Feather Hunt, was a perfect opportunity to do that. Twenty-seven site selection professionals, along with state officials and the county's economic allies, made the trip to Albany for the event.
"We're able to show them a different part of Georgia than they may normally see while passing through Atlanta," says Justin Strickland, president of the Albany-Dougherty Economic Development Commission, regarding the event that combines the tradition of quail hunting in the South with potential economic partnerships. "It's a great experience for someone who's never quail hunted, and it's a great way to build rapport with prospects and people who are learning more about Georgia."
Aside from the hospitality and the camaraderie built through the Georgia Quail Hunt, it's also an opportunity to highlight regional assets and the support businesses that locate in Dougherty County can expect, says Albany Area Chamber of Commerce CEO Bárbara Rivera Holmes.
"It really showcases the state-wide support that is offered for economic development and for business prospects," she says, noting attendance each year by the governor and lieutenant governor as well as state chamber of commerce and economic development leadership.
This year, Dougherty County is also the host community for the Young Gamechangers, an annual program of GeorgiaForward that brings together a select group of 50 of Georgia's most innovative thinkers under age 40. Participants are charged with studying the community and developing recommendations for resolving some of the more persistent challenges, says Holmes.
The current group will focus specifically on downtown redevelopment, government efficiency, workforce development, and recreation and tourism. They'll make three visits before a final trip in August, at which time they will present their recommendations, says Strickand.
---
Continued Recovery
Though it's been nearly 18 months since deadly tornados blew through Southwest Georgia, recovery for many is far from over. The county partnered with the state to submit a $100-million request for congressional funding for purposes of community development, infrastructure improvements and economic development to address the harm that continues to flow from the storm devastation, says Chris Cohilas, chair of the Dougherty County Commission. The funds are part of a $200-million federal aid request submitted by Gov. Nathan Deal on behalf of the state.
"To have a governor submit a $200-million request, a million of which is for a single county, is a big deal, and we're hopeful that the allocation to Georgia is significant and to Dougherty County is significant because we have needs to meet," he says, adding that other state elected officials also supported the request for funding.
In late December 2017, the Albany-Dougherty Payroll Development Authority approved a five-year payment in lieu of taxes (PILOT) agreement to assist Coats & Clark North America in redeveloping its North American distribution center destroyed in last year's tornado. The company has manufactured yarn in Albany for nearly 70 years.
The 370,000-square-foot distribution center is expected to become operational this month. Investment in the new facility is estimated at $14 million and helps to secure more than 300 jobs in Albany and Dougherty County, says Strickland.
Another long-term Dougherty County industry leader, Procter & Gamble (P&G), recently strengthened its operations with the addition of 70 technicians at its distribution center, says Strickland. Like Coats & Clark, P&G also lost a distribution facility to the tornado last year. The damaged facility was located separate from the manufacturing building, however, the new distribution facility is under construction and will be attached to the plant, says Strickland. "We're starting to see the first of their new warehouses open up, which gives them a better logistics model," he says of the decision to connect the two facilities.
---
Streets of Old
A large Special Purpose Local Option Sales Tax (SPLOST) project will soon be underway in Albany, where many streets are in dire need of resurfacing. In fact, more than 60 percent of the city's streets are currently identified as being in poor or very poor condition, says Sharon Subadan, city manager, whose goal is to get the streets elevated to good or very good condition.
"This is the biggest allocation the city has ever put into resurfacing," she says of the six-phase $17.5-million project. The city leveraged the state's Local Maintenance Improvement Grant (LMIG) funding and SPLOST VII, passed in November, which will account for $10 million. Phase I includes the resurfacing of 52 streets in all wards of the city, says Subadan.
As the resurfacing project gets underway, Albany residents will be introduced to Benny the Penny, the city's new SPLOST mascot. To keep taxpayers abreast of how their one-cent sales tax is being spent, signage featuring the Benny the Penny caricature will appear in areas where SPLOST projects are underway.
Beneath the streets lies another problem: a half-century-old sewer system drastically in need of updates, says Subadan. To remedy the precarious situation, the city of Albany received a $15-million loan from the Georgia Environmental Finance Authority (GEFA) to be paid back with SPLOST funds, she says.
"People care about sewer when it fails, but my job is to care about it all the time," says Subadan. "[The sewer lines] run on the east and west side of the Flint River, and if they were to fail, fines would be in the neighborhood of $50,000 a day. A failure would result in raw sewage running out into the Flint River, and the EPA would take a very, very dim view of that."
---
On the Right Path
Much to the relief of local leaders, last fall's SPLOST VII funding will advance several components of the Flint River Trails Plan, says Cohilas. "It's an important project for Dougherty County because it will increase connectivity between citizens, create economic development, better connect the community to itself and provide alternative forms of transportation."
As part of the trails project, Dougherty County will soon break ground on a connector from nearby Albany State University to the Riverfront Trail in downtown Albany. To make the $1.79-million project possible, the University System of Georgia Board of Regents partnered with the county and requested funding from GEFA, which awarded $750,000. The county will fund the remainder.
Mayor Dorothy Hubbard says the trail system will provide students – and all residents – additional accessibility throughout Albany and the county. "The students will be able to walk the trail to downtown or walk to other areas where they'll be able to get off and go to Chehaw [Park] or to the landing out there, and then it will go on into Lee County and to Sasser in Terrell County. It will give us a long trail with a number of trail heads where people can get off and see things and enjoy things and get some exercise as well."
In addition to improving students' and residents' physical development, the area is focused on growing its workforce, with the goal of attracting new businesses, thanks to a supply of skilled manufacturing workers. Training and corporate outreach programs at the college level include Albany Technical College's recent Employer Workforce Outreach event designed to help students better understand the skills and attributes employers look for in employees. Southern Regional Technical College works with corporations to ensure a match between workforce needs and graduating students. And last year, Albany State University announced it would better align its academic programs with the needs of employers going forward.
Programs aren't limited to college students, however. The Albany-Dougherty Educational Collaborative works with both local colleges and public schools to help improve student readiness for local jobs.
---
Increasing Vibrancy
Albany's downtown is humming with activity, due in part to $5 million the city has dedicated to downtown renovations. The area is already benefiting from the opening of Pretoria Fields brewery last fall and recently celebrated the opening of The Flats at 249, the first significant downtown residential offering, which began leasing apartments early this year. Later this year, the city will seek bids to redevelop the former Water, Gas and Light building for additional housing in the heart of downtown.
"All the studies show [that] more people living in your downtown increases the vibrancy of your downtown, the success of the downtown [and] the success of the businesses that are downtown," says Subadan.
In addition, Front Street Market, the city's recently established commercial development encompassing 10 properties, already has several new businesses committed. The Albany offices of Flint Riverkeeper will be joined there by Kayak Attack Adventures, a canoe and kayak rental company, as well as Renaissance Art Café, a paint and sip concept.
Build out will soon begin on an adjoining city-owned space to house The Flint, a 10,000-square-foot seafood restaurant and event space slated to open by year's end. The restaurant is the second Albany venture for Glenn Singfield, chef and co-owner of the successful Albany Fish Co. on the city's west side. He expects to employ 30 to 40 people at the new location.
Visiting downtown Albany during the February quail hunt, Chris Clark, president and CEO of the Georgia Chamber of Commerce, said he could see a change and that Albany is becoming a destination where young talent wants to go.
"I think Albany has figured out what many communities need to figure out, which is you have to be a talent hub," Clark says. "You have to be about a quality of life where young men and women – not just baby boomers, not just Generation X – but really millennials and zoomers [boomers with zip, ages mid-50s to mid-60s], want to live, work, play and pray."
---
LOCAL FLAVOR
Songs of Freedom
Albany played a large role in the Civil Rights Movement in the 1960s. From marches attended by Martin Luther King Jr. to Albany natives in movement leadership roles, much of the story of Civil Rights can be told from this area of Southwest Georgia.
Today that history is shared with younger generations through the efforts of the Albany Civil Rights Institute (ACRI). One of the most memorable methods for sharing the story of the Albany Movement is the music of the Freedom Singers.
Formed in the early 1960s as a means for raising money to advance the work of the Student Non-Violent Coordinating Committee and to encourage people to involve themselves in the movement, the Freedom Singers originated at Albany State University, then known as Albany State College, with original members Rutha Harris, Bernice Johnson, Cordell Reagon and Charles Neblett.
In 1963, the group set out on tour, performing for audiences at high schools, colleges, small music venues and private parties. Their performances included traditional freedom songs such as We Shall Overcome and Ain't Gonna Let Nobody Turn Me 'Round, as well as original songs by SNCC members. They performed with Mahalia Jackson and at the famed Newport Folk Festival, where they sang backup for Bob Dylan.
"Songs of the Civil Rights Movement played a very important role during the movement. I'm continuing to keep the songs alive so that people will hear them and know why we sang those songs," says Rutha Harris, who still leads the Freedom Singers. She also formed a Junior Freedom Singers group for children ages 7 to 18.
"They are learning about the songs also," she says, of the children who perform along with their elders. "It's important to keep them aware because there are a lot of people who just didn't know about the Albany Movement per se."
Today, the restored 1906 Mt. Zion Baptist Church, on the campus of the ACRI, is home to the Freedom Singers, where they engage visitors monthly through an oral history presentation filled with dynamic testimony of the Albany Movement marches and arrests, narrating the stories with emotionally charged performances of freedom songs. – K.K. Snyder