Agri-trailblazers
Businesses along six separate highways are joining forces to lure travelers to Georgia Grown foods and wine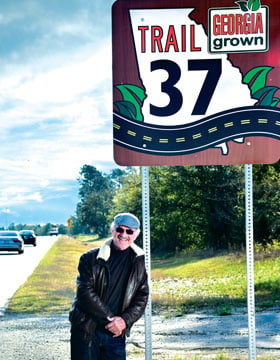 The growing popularity of locally produced foods and beverages – from fruits and vegetables to craft beers and wines – is attracting more visitors to family-owned farms, restaurants and stores.
Agritourism, as it's known, is the intersection of agriculture and tourism, which are Georgia's two biggest economic generators. In fact, the University of Georgia (UGA) College of Agricultural and Environmental Sciences (CAES) estimates that agritourism has a $133-million impact on the state's economy.
The challenge has been how to steer potential agritourists off the interstates and into the countryside to sample homegrown products and help breathe new economic life into rural communities. To address that issue, roughly six years ago, two separate initiatives among ag-business owners began to take shape in the northern and southern parts of the state to organize routes, or trails, visitors could follow to get to local goods. These collaborations have now yielded six trails, each covering hundreds of miles and incorporating dozens of ag-related attractions.
"In South Georgia, it started with three wineries that were a good distance apart and wondered how they could get people to come," says Cindy Norton, agritourism manager at the Georgia Department of Agriculture. "There were a lot of other farms around them that people were going to, so they combined as one group so they could all work together."
Norton says the group, which became the Highway 37 Trail Association, figured out the model for subsequent trails, which are known by the state highway number that each trail follows.
"Once they come up with a plan and know what highway they want to use, I get involved along with the Georgia Department of Economic Development's Tourism Division, local chambers and development authorities," Norton says.
The group draws up bylaws and guidelines governing what will be on the trail for approval by the Georgia Grown Commission. Generally it's a "pay to play" arrangement where each member pays a small association fee, which supports the cost of marketing the trail. "A few hundred dollars to pay for brochures [advertising each trail stop] to go into every visitors' center in the state is a reasonable amount most farms can afford," adds Norton.
A local state representative then introduces a resolution to the legislature recommending formalization of the trail and authorizing the Georgia Department of Transportation to erect and maintain signs designating the highway a Georgia Grown Trail.
---
A Win for Everyone
Trail 37, established in 2013, was the first officially branded Georgia Grown Trail. It stretches over 157 miles through Clay, Calhoun, Baker, Mitchell, Colquitt, Cook, Berrien, Lanier and Clinch counties in South Georgia. According to Jerry Connell, president of the trail association and former president of the Adel-Cook County Chamber, "A lot of work went into creating 37, and then it became an easy thing to do a 41 or a 301 because we took all the paperwork and all the details and handed them over."
As the most mature of the trails, 37 has been the most heavily marketed. In 2015, the trail received the Bill Hardman Tourism Champion-Product Development Award from Gov. Nathan Deal. Connell, who volunteers his time to help manage the trail, is a huge advocate of its benefits.
"The whole idea is to get people off the interstate and into the countryside so small towns can get some activity and visitors can see where their food comes from," he says. "There's a day's worth of things to do on each side of Adel, which is where trails 37 and 41 converge."
One of those activities is visiting Georgia Olive Farms, established in 2009 by the family of state Rep. Jason Shaw of Lakeland. The farm was instrumental in helping to get the olive industry started in Georgia, and it was Shaw who introduced Trail 37's legislative resolution.
He says the idea for producing olive oil grew out of his study abroad experience in Italy as a UGA student. "The olive oil we buy here just does not taste like that," he says.
After working with an olive-growing consultant, the farm's first batch of trees produced in 2011. Since then, progress has been rapid, including attracting new investors, planting additional acres, building a state-of-the-art mill that processes two tons of olives per hour and opening the farm to tours by appointment.
As far as being part of Trail 37, Shaw says, "It's a win-win for everyone. It helps the farm families generate additional revenue and helps the state as a whole from revenue generated by agritourism."
---
Hands-on Experience
According to Norton, Trail 41 had legislation passed in 2014, but it took a couple of years before it launched, complete with signs and brochures. "The process was slow, but we're committed to making sure the trail association remains a strong organization," says Monica Simmons, president of the Cordele-Crisp Chamber of Commerce and an ardent trail supporter.
She says agritourism trails are a tool that can be used to promote surrounding communities. "They bring folks in to spend money at the trail stops, stay in our hotels, eat in our restaurants and shop," she explains. As evidence of its value, Trail 41 also received the Bill Hardman award in 2016 for tourism promotion along its 12-county corridor.
The trail encompasses parts of U.S. 341 beginning in Forsyth and picks up U.S. 41 from Perry to south of Valdosta. Most trail stops are minutes from the main road, offering farm produce as well as agriculture-related museums.
Lane Southern Orchards is one of the stops near Fort Valley. Established in 1908, Lane is the nation's largest peach and pecan grower, according to Wendy Barton, marketing and public relations director. "We also grow strawberries, blueberries, blackberries, scuppernongs, muscadines, apples and kiwi," she adds.
Lane hosts more than 375,000 visitors each year who stop to pick fruit, buy fruit products at the roadside market and enjoy signature dishes like cinnamon pecan French toast at the property's restaurant. They are able to see the peach packing process via a catwalk elevated above the conveyor belt.
Barton says the agritourism trails have "solved the age-old dilemma of where's the good stuff and how do I get there.
"The trails and the brochures do the homework for visitors," she says. "These are people who want to know where their food comes from – they want to touch it and pick it. They want the hands-on experience, and that's what we offer them."
"Marketing as a team rather than as a single attraction or farm has made these groups successful," says Amanda Peacock, GDEcD tourism project manager for the state's Southwest region. "Many may not have thought about agritourism as part of their business model before the trail concept was adopted but now have diversified to include tourism."
---
Unrealized Potential
The U.S. 301 trail, launched in 2015, runs north from Charlton County at the Florida line in southeast Georgia through Screvin County at the South Carolina border. Its 32 stops include a bed and breakfast, state parks and public fishing areas, the Okefenokee National Wildlife Refuge as well as farms and ranches.
Not far off U.S. 301, about six miles from Glennville, is Watermelon Creek Vineyard, owned by Charles and Deborah Tillman. The 296-acre homestead has been in Tillman's family since the early 1800s, and he believes it's the state's oldest single-family farm. With a background in civil engineering, real estate and seminary, he was an unlikely vintner who became inspired on a Sonoma, Calif., vacation. "I thought, well I can talk and Deb likes to drink wine, so this might be a good fit," he recalls.
Tillman planted three acres of muscadines in 2007 under the tutelage of a wine consultant. In May 2012, the winery opened two weeks after Deborah left her pharmaceutical sales job. "We didn't know anything about credit card machines or retail stores," she says.
Despite their inexperience, the Tillmans have been successful and now specialize in nine muscadine and two blueberry wines. "We want to focus on what grows locally," Deborah says.
During the past three years, they've volunteered their Tattnall County winery, which includes a retail tasting room, restaurant and meeting space, for representatives from eight counties to gather in support of the 301 Trail. However, since the chamber director who originally headed the initiative took another job, the trail has been without a leader.
"We had a nice brochure and our website looked great, but the trail hasn't had a chance to get any momentum," Tillman says. "I don't know what the potential really is."
---
Early-stage Development
Last year, the Georgia legislature approved a resolution forming Trail 1, which follows U.S. 1 through nine counties from Waycross to Augusta. There are 44 stops along the trail, and its organizers have recently finalized their printed brochure to guide tourists.
"Before we started meeting [about forming a trail in 2016], I saw the Georgia Grown signs near Tifton and a light bulb went off in my head," says Kevin Ellis, executive director of the Bacon County Development Authority. "I thought, 'Hey, we can do this, too.' Within two or three months we had a draft of the resolution ready to submit to the legislature."
According to Ellis, the trail includes businesses that align with agritourism, such as small family farms, as well as historic downtowns, lodgings and small communities. With Alma designated as the Blueberry Capital of Georgia, The Blueberry Barn was a natural fit.
Ann Wildes, owner, operator and "one-woman show," opened The Blueberry Barn in 2013 because previously, "people came to Alma and they could see blueberries growing, but they couldn't find products to buy." Her store sells all things blueberry, from locally made jams, jellies and syrups to candies and kitchen accents. "If a local crafter has something blueberry related, I will put it in the store and see how it goes." She also takes orders for pies, cobblers and muffins, which she makes herself.
The branded Georgia Grown signs have yet to be installed on Trail 1, and Wildes thinks when those go up, "they will help get people to come this way and then to stop and see what we have."
Much like Trail 1, Trail 17, which follows State Road 17 from Kingsland at the Florida line to Savannah at the South Carolina line, is in the early stages of development. A resolution to formally dedicate it as a Georgia Grown trail passed the legislature this session.
---
Joining Forces
In the early 2000s, several North Georgia counties printed a simple map of places to visit along the Highway 515 corridor, funded by an Appalachian Regional Commission grant. "The map gave us the idea for a trail of sorts that would take people north, winding on and off the main road," says Candace Lee, president of the Towns County Chamber of Commerce.
The idea led to creation of a database of farms open to the public and other farm-related attractions. Subsequently, it became an extensive brochure of North Georgia Farm Trail stops in which businesses pay to be included.
"The North Georgia Farm Trail isn't an official Georgia Grown trail via the Department of Agriculture," says Janet Cochran, tourism project manager for the state's northwest region. "It's the effort of five counties – Towns, Union, Fannin, Gilmer and Pickens."
However, Cochran says the GDEcD and the agriculture department assisted in the trail's formation, provided input and made sure the trail is included in the state's list of agritourism assets.
"We are agritourism at its most crystal clear," says Eric Seifarth, president of Crane Creek Vineyards near Young Harris. "The trails bring people out of Atlanta, Greenville and Chattanooga." He says the combined efforts of 30 wineries, with help from the North Georgia Farm Trail, have made the region "wine country."
Crane Creek is a sizable operation, producing 4,000 to 4,200 cases of wine each year and attracting a substantial number of visitors. Joining forces with other businesses has certainly increased sales. "By ourselves, we might see 12,000 or 13,000 people a year, but being part of a larger group triples or quadruples the number of people we see," he says.
"Agritourism is such a unique opportunity to connect with the consumer," says Georgia Agriculture Commissioner Gary Black. "The Georgia Grown Trails are doing more than just selling products; we are building relationships. When visitors stop at one of the sites along the trails, they are learning about the products, how they are made, and who's making them."
Clearly, in the realm of agritourism, Georgia is a trailblazer.