Georgia's 2018 Manufacturers of the Year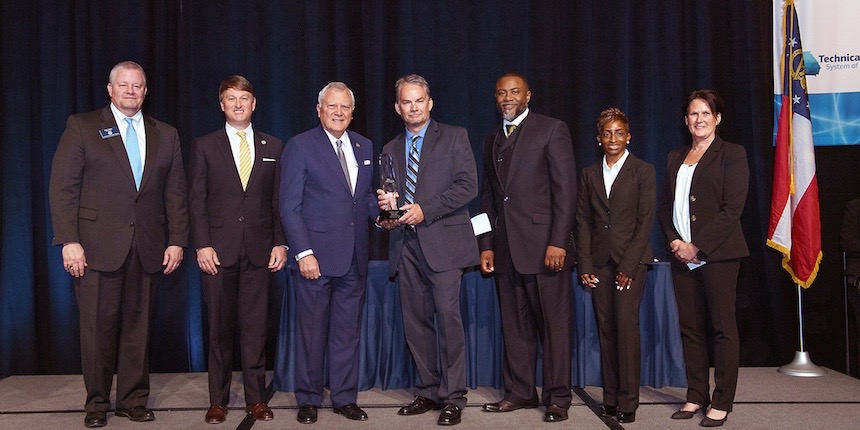 At the 24th annual celebration of Manufacturing Appreciation Week (MAW) in Georgia this week, Gov. Nathan Deal named the three 2018 Manufacturers of the Year. Alpharetta-based Metcam, which fabricates sheet metal assemblies and components for OEMs (original equipment manufacturers), received the award for the category of 150 or fewer employees. In the 150- to 500-employee category, NIBCO in Greensboro won for producing valves, fittings and flow control products for residential and commercial markets. Pratt & Whitney's Columbus aircraft engine operation took the top award for companies with more than 500 employees.
In speeches at the annual luncheon, all three companies credited the Georgia Quick Start workforce-training program and their local technical colleges with helping to develop high-performance employee teams dedicated to quality manufacturing.
Also at the event, 12 students from elementary, middle and high schools around the state received scholarships for their entries in the MAW Student Design Contest, which promotes awareness of manufacturing's importance to their local communities.
To learn more about how Georgia's technical college system is preparing students for manufacturing and other careers, be sure to check out this month's Georgia Trend feature "Not Your Daddy's Vo-Tech School."
Photo, from left: TCSG Commissioner Matt Arthur, Georgia Department of Economic Development Commissioner Pat Wilson, Gov. Nathan Deal, NIBCO Plant Manager Doug Purnell, Packaging Supervisor Chris Moore, Continuous Improvement Coordinator Tiffany Smith and Environmental, Health and Safety Manager Brenda Moody
Photo courtesy of the Technical College System of Georgia (TCSG).