Best flavors of Georgia chosen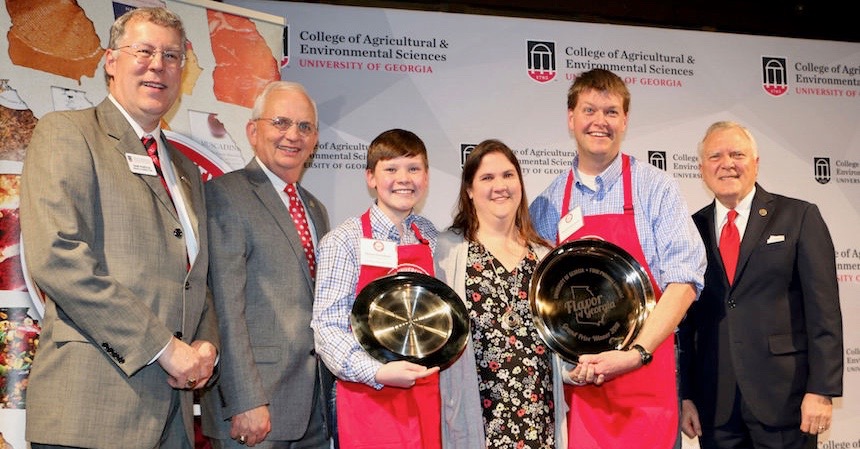 The University of Georgia's Center for Agribusiness and Economic Development recently announced the winners of its annual Flavor of Georgia Contest, which provides state food businesses with a chance to showcase their products. A team of grocery buyers and food industry experts rated more than 125 products on criteria including flavor, market potential, innovation and use of the Georgia theme. This year's grand prize winner is Goodson Pecans of Leesburg for its Honey Cinnamon Pecan Butter.
Goodson Pecans was one of 33 finalist products representing the best of the best in Georgia-made foods. Winners of individual categories were:
Finalists' Choice Award and Honey Category: Creamed Honey from L. Franklin's Healthy Honey, Statesboro
Barbecue Sauces: Sorta White BBQ Sauce from Lane's BBQ, Bethlehem
Beverages: Blueberry Citrus Tea from Olympus Greek Mountain Teas, Lawrenceville
Confections: Brown Butter Crunch Gelato from Honeysuckle Gelato, Atlanta
Dairy Products: New World Chocolate Milk from Rock House Creamery, Newborn
Jams and Jellies: Wild Elderberry Pepper Jelly from Fairywood Thicket Farm, Fairburn
Meat and Seafood: Applewood Smoked Bacon from Pine Street Market, Avondale Estates
Condiments and Salsas: Sourwood Balsamic Vinegar from Built by Bees, Atlanta
Sauces and Seasonings: Cajeta from Bootleg Farm, Springfield
Snack Foods: Sugar and Spice Cashews from High Cotton Co., Sandy Springs
The Flavor of Georgia Contest has helped entrepreneurs spread the word about their products, many of which have been placed in regional and national grocery chains. Category winners receive an award, membership in the Department of Agriculture's Georgia Grown program and bragging rights.
Photo, from left: UGA College of Agriculture and Environmental Sciences Dean and Director Sam Pardue; Georgia Agriculture Commissioner Gary Black; Drew, Melody and David Goodson of grand prize winner Goodson Pecans; and Gov. Nathan Deal.
Photo provided by UGA Center for Agribusiness and Economic Development.