Georgia Fare: C. Ellet's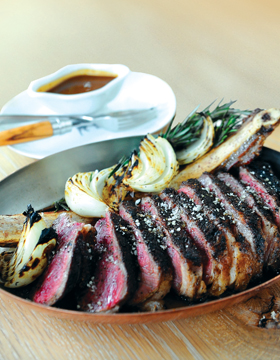 I first stumbled into C. Ellet's, the latest from Atlanta Chef Linton Hopkins (Restaurant Eugene, Holeman & Finch), last September, slathered in sunscreen and ready to cheer at my first-ever visit to a Braves game at the new SunTrust Park. Despite lively crowds at The Battery Atlanta's other eateries (see opposite) and throngs of folks roaming the promenades, C. Ellet's casual Club Room was completely empty. By the time we left, impressed with the space, the service and the stellar sustenance of the month-old establishment, only two other couples had joined us.
My next visit was late on a cold Monday night in February, when the stadium was dark. I wanted to try C. Ellet's more upscale Dining Room, where I expected to find a similarly thin crowd. Nope: Packed.
With its dual-service concept and emphasis on flat-out delicious food, C. Ellet's has hit a home run – emphasis on the "home." Until relatively recently, Cobb County was never really known as a dining destination, in spite of its wealthy, sophisticated demographic.
Hopkins unlocked the formula that gets locals out of their homes and business types out of better-established area steakhouses, even in midwinter. The well-dressed, well-heeled clientele – largely men on my visit, some clearly talking shop – would have been at home at places like Chops and Bones. And C. Ellet's food – particularly the steak – holds its own with the best that intown Atlanta has to offer.
My first visit was enough to convince me a return would be in order. Both the Club and Dining Rooms are beautiful spaces, in muted yellows, blues, tans and greys, and a wall finish that suggests both impressionist art and subtle decay. Baseball glove-soft leather lines booths and stools.
In the Club Room, TVs hide behind mirrors, invisible unless the game is on. Hopkins' hallmark cocktail program and wine list are in good working order here – our pre-game, pink-tinged Margarita Sidecar (Reposado and Anejo tequila, with Triple Sec and lime) went beautifully with a few plump, succulent Royal Red shrimp from Georgia, served shelled and chilled with horseradish-spiked cocktail sauce, for $2.75 each.
The small but perfect lobster roll sports a generous garnish of fresh dill and tarragon, as well as a few pink, pickled onion slivers over knuckle and claw meat in mayonnaise, in a split bun. The onion rings are as bodacious as the lobster roll is refined – crisp, puffy, golden rings that look like small doughnuts, served with an herbaceous remoulade covered in snipped chives and a sprinkle of cayenne.
The dinner visit, however, was what convinced me that C. Ellet's is going to be more than a pretty good choice if you happen to be going to the game. Here the business-suited staff seem to take inordinate pride in their work, offering detailed explanations of sourcing, flavor profiles and wines.
Our menu listed 18 steak options, not including sauces and old-school additions like "Oscar" (lump crab and hollandaise), from the 7-ounce Coulotte from Washington state ($24) to the 22-ounce bone-in cowboy ribeye from Texas ($60). Other specialties include a 14-ounce, bone-in Frenched center-cut filet ($71) and the 38-ounce Tomahawk ribeye ($135).
We began by splitting the iceberg salad with blue cheese and Pine Street bacon – a chilly, bracing mix, not overly drenched in dressing. The tender cowboy ribeye arrived with a thick crust, perfectly to order at medium rare, a whole roasted garlic clove adorning the top. It was delectably fatty at the edges – I wanted to pick the thing up by its bony handle.
The Skuna Bay salmon, raised in a seawater hatchery off Vancouver Island, was described by our server as both "farm-raised and free-range." A thick, subtly smoked filet sat in a pool of celery root, covered in enoki mushrooms, a harmonious trio of earthy flavors.
Sides also shone – roasted Brussels sprouts featured jewel-toned pomegranate seeds for contrast and crunch; the creamed spinach may be my favorite anywhere. With only a touch of cream under its toasted breadcrumb topping, it's buttery and succulent without ever losing its spinachy soul. The mac and cheese is a thick, four-cheese cream-fest with rigatoni under its browned crusty top. And while I liked our dessert, a soft, caramelized apple tarte tatin that emphasized the fruit, I missed the crunch of crust of the traditional style. However, the buttermilk ice cream on top was incredible.
There were a few missteps. The salmon arrived cool to the touch. We received the spinach instead of our order of Brussels sprouts. But both errors were addressed swiftly and professionally – the salmon, whisked away and returned within minutes, piping hot, but miraculously, still medium rare; the Brussels sprouts appeared quickly as well. The manager, having observed both problems, insisted on removing all the sides from our bill.
The new stadium may yet prove to be boon or bane for its home county. Budget shortfalls have plagued lawmakers since its construction. But as C. Ellet's shows, all Cobb County diners ever needed was a really good restaurant to show that if you build it, they will come.
---
C. Ellets
2605 Circle 75 Parkway, Ste. 400 (The Battery Atlanta, at SunTrust Park), Atlanta
678.996.5344 or c-ellets.com
Hours: Club Room: Lunch and dinner daily. Dining Room: Dinner nightly.
Parking: Valet available on game days. Two free hours in Red Deck on game days, otherwise four free hours.
Dress Code: Casual in the Club Room – think ball caps and shorts – with more business attire in Dining Room.
---
7th Inning Stretch
Speaking of peanuts, hot dogs and Cracker Jacks, check out these other dining options at The Battery Atlanta, next to SunTrust Park.
Achie's and First & Third Hot Dog and Sausage Shack
Chef Hugh Acheson (Five & 10, Empire State South) has two spots at The Battery – the bare-bones but delish beer, sausage and hot dog spot First & Third, and the sit-down Achie's, in the Omni Hotel, featuring flounder tartare with peanuts and "Achie Jacks."
Omnihotels.com/hotels/Atlanta-battery/dining/achies
---
FEED Fried Chicken & Such
Chef Marc Taft, of Marietta's Chicken and the Egg, serves up all kinds of Georgia fried chicken, with hot varieties including the "Cluck'n Inferno."
---
Terrapin Taproom
Athens' Terrapin Beer plays ball with Atlanta's Fox Bros. Bar-B-Q for treats like Frito Pie and BBQ nachos with Three Strikes You're Stout brew.