Forsyth County: Setting Records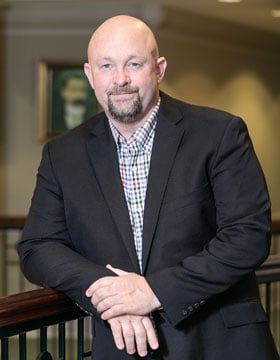 Troy Brumbalow listens as his GPS gives driving directions through Forsyth County on a winter day, but the system will soon offer Cumming's new mayor more options for getting around. As the state's fastest-growing county, more roads and transportation improvements are on the horizon.
Add to that more high schools and Class A offices, hotels, shopping, dining and homes already underway, along with an economic development strategic plan.
In fact, Forsyth County is expected to nearly double its population, reaching 430,301 residents by 2040. That's an annual growth rate of 4.3 percent, according to projections from the Atlanta Regional Commission.
Brumbalow's GPS also could map new destination points in Cumming if the businessman, who defeated 47-year incumbent Mayor H. Ford Gravitt last Novem- ber, succeeds in his ambitious plans to create a new city center and develop downtown Cumming as a walkable destination.
"We have all kinds of options. It's really endless," he says. "It just takes the vision to make it happen."
Brumbalow's plan for Cumming dovetails with county leaders' efforts to make Forsyth appealing to new and expanding businesses and grow its commercial tax base. Currently, 71.8 percent of the tax digest is residential (including exemptions), with 28.2 percent of property taxes paid for by nonresidential property, according to the county.
Businesses continue to relocate and invest in Forsyth, which is one of the state's wealthiest counties, with $91,842 in 2016 median household income, according to the U.S. Census Bureau.
"We are certainly the wealthiest county in the state of Georgia when it comes to median family income, and that gives us some capacity to control our destiny I think," says Eric Johnson, who moved from Florida to Forsyth for the county manager position in 2017.
In 2016, 30 announcements totaled $148.4 million in capital investment and 828 jobs. In 2017, 28 new and existing companies announced plans to spend $167.5 million in capital investment and create 1,364 jobs, according to the Cumming-Forsyth County Chamber of Commerce.
"We've officially had a record year," says Robert D. Long, vice president of economic development for the chamber.
---
Relieving Roadways
Major transportation projects should help alleviate congestion for people trying to get to school, work and recreation within the county and as they commute elsewhere. In 2014, Forsyth County passed a $200-million general obligation bond for transportation projects, which when leveraged with state and federal funding will contribute to approximately $400 million of transportation projects in the county over the next eight years, says Commission Chair Todd Levent.
The county has about 200 miles of roads under construction, according to the chamber. A $47-million project is widening Ga. 400 – which bisects Forsyth – from the McFarland Parkway interchange to Ga. 369/Browns Bridge Road, according to the Georgia Department of Transportation. The interchange at 369 will be the new Exit 18.
"It's almost like a switch went off, and now we have lots of folks looking north," Long says. "The challenge we have is finding sites with infrastructure in the northern part of the county, but the interest is there, which is good."
When Ga. Highway 20's widening is complete, it will connect I-85 to 400 and essentially serve as the northern arc for Metro Atlanta, Long says.
"We're playing catch up on transportation from my perspective, certainly in the south part of the county, and we've got to do a better job of forecasting the growth and getting ahead of the curve," says Dennis T. Brown, who took office in 2017 as the District 2 county commissioner.
---
Envisioning Growth
The county, which revised its comprehensive plan in 2017, has hired a consultant to develop a five-year economic development strategic plan by this summer in partnership with the chamber, the Forsyth County Development Authority, Forsyth County Schools, Lanier Technical College and the public.
"There is a renewed focus by our county commission on broadening and enhancing the commercial investment in our community," says James McCoy, CEO and president of the Cumming-Forsyth County Chamber of Commerce, which has about 1,000 members. "It's the first time we've done anything quite like this."
Long says there are opportunities for advanced manufacturing in northern Forsyth, while he expects south Forsyth to attract technology office-driven projects and corporate headquarters.
The county approved moratoriums on residential zoning and land disturbance permits in order to revamp the comprehensive plan, which adjusted the unified development code, Levent says.
"Everybody knows what the playing rules are now, and we are moving forward," he says. "Density will be better aligned next to four-lane and six-lane roads, where they should be to maintain and better manage the traffic for those higher-density areas."
One argument for a proposed new south Forsyth city of Sharon Springs, a bill sponsored by state Rep. Todd Jones (R-South Forsyth), is to manage the growth of undeveloped areas within the proposed city limits. The city would have three initial services – planning and zoning, code enforcement and solid waste management – but Johnson, the county manager, says the county can address those needs and has called the proposed incorporation unnecessary.
Levent also opposes the effort, saying he believes it will cost taxpayers within the city and outside the city additional money.
---
Offering Talent
Last year, Sports Warehouse, a California-based supplier of sports and outdoor equipment, chose Forsyth for a $20-million investment in an e-commerce fulfillment and distribution center that would create 342 jobs.
"The reason we're the most affluent county in Georgia is because we have people who are highly educated, talented, very skilled people that live in our community," Long says. "We're trying to create opportunities for these folks to find jobs and employment opportunities closer to home."
But the chamber's data shows 75.3 percent of residents commute out of Forsyth for employment.
"We're trying to make that tough transition from … a bedroom community to a more fully realized community," says Commissioner Laura Semanson, whose District 5 includes the eastern portion of Forsyth. "Where we're not always having to drive out of county to do things, and that's going to include employment opportunities."
The chamber in late 2017 hired Scott Evans as its senior project manager for technology, as it seeks to grow that sector's employment in the county.
Healthcare has been a top area for job growth, driven by Northside Hospital, which already is the county's largest private-sector employer (2,400 workers), according to the chamber. New investments include Northside Medical Office Building V in Cumming, a $50-million project with 250 jobs.
---
Educating with Innovation
In 2017, Forsyth County Schools' (FCS) graduation rate rose to 94.5 percent. Its College and Career Readiness Performance Index (CCRPI) score is the highest overall score of any county school system in the state, and second only to Jefferson City Schools.
Currently the 7th largest system in Georgia, FCS expects to grow from 48,000 to around 55,000 students in the next five years, says Superintendent Jeff Bearden. A bond vote expected in May would include projects for more new schools, he adds.
"We are very much in a state of growth and construction, not only home construction, but road construction throughout the county," he says. "So that obviously has a huge impact on us."
Two new high schools are expected to open in fall 2018. Denmark High School, named after pediatrician Leila Denmark, will hold 2,500 students at capacity. The $80-million traditional high school will offer special programs, such as animal sciences, which is new to the county.
The Alliance Academy for Innovation of Cumming and Forsyth County, a partnership between the school system, city of Cumming, the county, Lanier Tech, the University of North Georgia and the chamber, will have five schools – aerospace and logistics, criminal justice and law, healthcare and first responders, hospitality and design, and mechatronics and energy. The academy, which cost about half as much as a traditional high school, Bearden says, will include flight simulators and a mock courtroom.
"We need a high school like this in our county to make sure that we are addressing the needs of our community in terms of preparing students for college and careers that we know are going to be available in our county," Bearden says.
At the end of 2017, more than 600 students had applied for the central Forsyth school, which will have 1,200 students at capacity.
"We know we hit a need here just based on the interest without even opening the doors," Bearden says.
---
More to See and Do
At Ga. 400 Exit 12 for McFarland Parkway, the first phase of the $370-million, mixed-use Halcyon development by RocaPoint Partners and The Georgetown Co. could open in 2018.
Halcyon will have 500,000 square feet of office and retail space, a luxury dine-in movie theater, two hotels and 690 residential units (single-family units starting in the $600,000s, townhomes starting in the $480,000s by Monte Hewitt and Edward Andrews Homes), 300 luxury apartments and 160 active adult apartments by Greystar. RocaPoint Partners principal Patrick Leonard says he expects brokerage houses, service businesses, software firms and technology companies to be among those locating in the office portion.
The Market Hall is 100 percent leased, with restaurants including Gu's Dump-lings, FEED Fried Chicken & Such and Kilwins. Restaurants and shops MidiCi Neapolitan Pizza, CT Cocina & Taqueria, Co-Op Community Table + Bar, Totally Running and Walking and RW Design & Exchange are slated for the restaurant and retail village.
Also underway at Halcyon is an extension of Big Creek Greenway, which will add about 0.75 miles to the trail that runs 9.6 miles through the county, as well as a paved lighted parking lot, trailhead and restrooms.
"You look at what the BeltLine's done in parts of Atlanta, and obviously we'd like to replicate that kind of experience out in the suburbs," Leonard says.
Long adds that Halcyon provides much- needed Class A office space.
"I think it's really going to be a catalyst project. We're going to see benefits to other areas of south Forsyth as it's successful," Long says.
The development authority has also approved $38.5 million in taxable revenue bonds for The Stables Motor Plaza, a retail center in south Forsyth.
In Cumming, Brumbalow sees plans for a city center as a catalyst as well. Two days after he was elected, he says zoning requests were put on two pieces of property in the city limits. Both of them have commercial aspects to bring shopping and dining, which he says shows there's interest among the community in the city- center idea.
"What we're looking at as a city center is just being the first step in the big picture of what we want for the downtown area," he says.
Semanson says the level of citizen engagement has increased, which has helped shape the community.
"I think we're trying to reach out and really kind of build up Forsyth County 2.0," Semanson says. "Where do we go coming from this bedroom community that was very rural in look and feel to how we embrace growth? But at the same time make sure that it brings a positive impact to the county."
---
Local Flavor
The Next Chapter
This month the expanded and renovated Sharon Forks Library is expected to reopen as a 38,000-square-foot facility with more space for collaborative learning, programs and a growing collection. The branch in south Forsyth is one of four in the county system, which has the highest number of items (11.47 per person) checked out per capita in the state.
"This community is so focused on education that they really recognize the value of reading and public libraries," says Anna Lyle, director of the Forsyth County Public Library.
The Sharon Forks branch, which had just 20,000 square feet before, boasted the highest circulation in the state, she added. More than 1 million of the 2.47 million books (digital and print) checked out in Forsyth during fiscal year 2017, which ended June 30, 2017, were from that branch, according to the system's data.
The $7.2-million Sharon Forks project used special purpose location option sales tax (SPLOST) money, impact fees and a state construction grant of $2 million. The larger branch will offer more study rooms and conference areas, double its meeting room and expand its collection of 105,506 items by about 14,000 new items, particularly children's books. It also is adding books in four Asian languages – Hindi, Mandarin Chinese, Tamil and Telugu – to reflect the diversity of the community in which the branch is located. "There's so many Asian languages spoken in Forsyth County," Lyle says. "It was a challenge to narrow it down."
Although some libraries struggle to attract teens, Lyle says teen involvement is so strong that the Sharon Forks expansion includes a teen area that will have collaborative and independent learning spaces and more room to hang out and read.
In FY 2017, 651,000 people visited all four branches, including more than 100,000 people attending programs, such as puppet shows, multicultural activities, crafting events, collaborative problem-solving activities for teens and tweens like "escape the room" programs, and traditional story times that often incorporate STEAM (science, technology, engineering, arts and math) elements.
"I think we do a good job in providing products that people want, but we're also in a community where people are looking for educational opportunities," she says. "Parents and other caregivers can bring their children to programs where they're having fun, but they're also being educated and they're also being exposed to literature." – Lori Johnston