Making a wish come true with virtual reality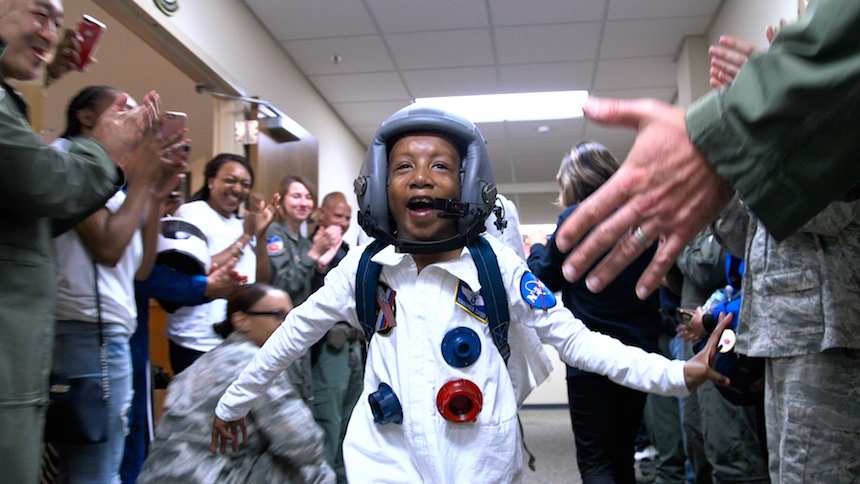 Seven-year-old Zayden Wright, from Augusta, was born with a congenital heart condition and has had more than 40 echocardiograms, six heart catheterizations and four open heart surgeries in his short life. When Make-A-Wish Georgia, an organization that grants wishes for children with life-threatening medical issues, stepped in and asked him what he'd wish for, Zayden said he wanted to go to Saturn in a red rocket ship.
A team of tech experts, including TRICK 3D, an Atlanta-based 3D animation and virtual reality (VR) studio, and a former NASA astronaut worked with Make-A-Wish Georgia to make Zayden's seemingly impossible wish come true. The team used the boy's own creativity and imagination as the basis for creating an exclusive VR experience in which Commander Zayden blasts off, sees endless stars along the way and encounters friendly aliens on Saturn. The experience included an astronaut-training program to prepare Zayden for his mission. He virtually blasted off in May and recently Make-A-Wish America awarded its Georgia chapter and TRICK 3D this year's Wish Innovation Award for exceptional creativity and ingenuity in fulfilling a child's wish.
At the recent Make-A-Wish Georgia Wish Ball, it's annual fundraiser, Zayden and his parents challenged donors and supporters to complete the next mission of funding another child's wish. With their help, the chapter raised more than $220,000 in 10 minutes.
Featured photo: Commander Zayden in his space suit is ready for blast off.
Photos courtesy of TRICK 3D.