Academic Entrepreneurs
The Georgia Research Alliance helps transform lab investigations into livelihoods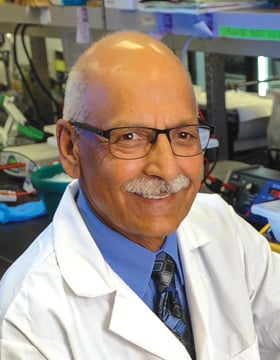 Colleges and universities across Georgia are doing a lot more than providing degree-worthy educations. Within the hallowed halls of academic institutions, there are specialized laboratories where faculty, students and industry professionals are exploring innovative solutions to some of the world's most pressing problems in the fields of science, medicine and technology.
Transforming such lab investigations into viable businesses is one of the goals of the Georgia Research Alliance (GRA). GRA partners with universities to develop pathways for bringing research to the marketplace. Providing consultative tools, startup expertise and access to venture capital, the GRA is instrumental in launching successful companies.
Michael Cassidy, GRA's president and CEO and co-founder of the GRA Venture Fund LLC, a private investment fund for financing commercial endeavors, has noted changes in the way research is done, changes that led to the creation of the GRA.
"In the past, a solo researcher would take on a small problem as a career objective. But now there are bigger problems to solve, creating a need for large, collaborative teams," he says. "And that's why we were set up, to be a bridge builder that reaches across campuses, disciplines and geography."
GRA helps attract and funds endowed chairs at its member universities: University of Georgia, Augusta University, Mercer University, Emory University, Clark Atlanta University, Georgia Tech, Georgia State University and Morehouse School of Medicine. It also provides funding for other universities, such as Kennesaw State (KSU), through its GRA Ventures program for things like technology equipment and startup development. Its recruitment efforts have attracted distinguished, top-tier researchers through its Eminent Scholars Program. Cassidy says these scholars – now numbering 65 statewide – generate more than a quarter of Georgia's entire research portfolio, which amounts to more than $2 billion annually.
A new Distinguished Investigators program recruits rising stars who are younger and relatively new to their research careers. Two researchers making a name for themselves include University of Georgia's Dr. David Bertioli, who is conducting genetic and genomic research on peanuts; and Emory University's Dr. William Wuest, who is working on novel therapeutics for bacterial biofilm eradiation.
---
Much-needed Resources
Scott Jackson, GRA Eminent Scholar in Plant Functional Genomics and director of UGA's Center for Applied Genetic Technologies, is working on developing a pest- and disease-resistant peanut with higher nutritional value and greater crop yields. His work will have a direct economic impact on Georgia and help feed growing populations around the world.
"The beauty of GRA is that they help defray the large infrastructure and startup costs associated with these technologies, because they are expensive," Jackson says. "The investment by GRA allowed me to move here and be much more productive. And it's not just the scholar they are funding; we have 20 or so faculty and graduate and post-doctoral students right now collaborating across UGA's Tifton campus and around the world."
According to Cassidy, most incubator accelerators prefer associating with established companies that are already generating revenues. "We fill a gap by providing grants and loans for companies in very early-stage development."
Georgia is the South's fastest-growing state in terms of research volume. This has given rise to what Cassidy refers to as academic entrepreneurs who are looking to take their ideas out of the lab and launch them into the marketplace.
"Launching a startup with a nascent technology is not an easy process," he says. "We have a database of over 100 professionals in diverse business disciplines who we can pair up with scientists."
One of those scientists is Carbice Corp. founder and CEO Baratunde Cola, who had been conducting research while on the Georgia Tech faculty for more than 15 years. A grant boosted his product – a thermal nanomaterial that mitigates overheating microchips, thus increasing their performance and reliability at an affordable cost – into advanced prototyping, while a GRA loan accelerated the business.
Cola says the company, currently consisting of five employees and 11 consultants, just received investment money to buy capital equipment and eventually open a production facility and recently closed a $1.5-million seed round to forward commercialization. Carbice should be in full production mode as early as 2018. Cola expects to initially produce a quarter-million units a year.
"Every chip on the market today is operating at an 80 percent maximum capacity," Cola says. "Operating at 100 percent capacity is impossible because of overheating. Think about your phone or laptop getting overheated: we solve the problem."
Conceivably, Cola's product has the potential to make a tremendous reduction in the electricity used to power large data centers. "In cloud storage buildings, 60 percent of the electrical power is blowing cold air in and taking hot air out," he says. "The greater sustainability of our products means you can have a smaller building, use less chips and do the same amount of computing."
Cola also acknowledges his colleagues and interns at Georgia Tech as well as their exceptional physical resources as major contributors to the ease of ramping up his business.
"Georgia Tech has some of the best equipment in the world available to both faculty and private industry at competitive user rates," he says. "We need more entrepreneurs to share their ideas with university centers such as ours to help catalyze new businesses; even our own faculty isn't aware of all the resources here."
Clark Atlanta University's Center for Cancer Research and Therapeutic Development, host to the largest prostate cancer research program in Georgia and one of the largest in the nation, also relies on GRA funding. GRA Eminent Scholar Dr. Shafiq Khan joined the faculty in 2004 and leads the center, which is producing information about how the disease develops and progresses. It is also educating students and Ph.D. candidates.
Khan's research is focused on the genetic, lifestyle and diet factors that may reduce prostate cancer in the African-American population, in which diagnoses are frequently made at advanced stages.
The center, like nearly all research programs across Georgia, is constantly on the lookout for additional funding sources to maintain its 40+ employees, sophisticated equipment and supplies.
"No one source can provide all of your funds. We're spending about $1,000 a month per person just to buy chemicals and supplies," Khan says. "In fact, most of our time as scientists goes into finding money and employing other people to perform experiments in the lab." Some $39 million in grant money – much of it from federal sources such as the National Institutes of Health (NIH) – has come into the center in the last 10 years.
---
Access to Venture Capital
At schools such as KSU, research is growing in significance. Associate Vice President for Research and Professor of Biochemistry Jonathan McMurry has developed a novel cell-penetration peptide technology that can deliver molecular cargos into cells. The system offers hope for treatment of many diseases, including cervical cancer and cystic fibrosis.
With support from the GRA and the KSU Research and Services Foundation, McMurry's company, New Echota Biotechnology, KSU's first incubator company, has filed several patents. Through the GRA Ventures program (with a portfolio of some 170 active startups) and other sources, the company seeks to land a venture capital deal to expand its therapeutic investigations. Research is also devoted to a genome editing technology whereby disease genomes can be "rewritten" and alter the action of viruses.
KSU recently was officially elevated in status as a doctoral research institution with moderate research activity by The Carnegie Classification of Institutions of Higher Learning. The designation applies to institutions that award at least 20 research/scholarship doctoral degrees a year. This milestone is significant because it opens the door for more faculty research grants, greater support for doctoral students and further development of KSU doctoral programs.
KSU takes advantage of its comparatively small scale by giving students hands-on experiences. "People are impressed with our lab; we have a half-million-dollar microscope, and because we can be more flexible, we even train undergraduates on how to use it," McMurry says. "Our students are performing cutting-edge stuff in an environment where they get hands-on training and interact with faculty. The advantage is that KSU graduates students who are ready for serious research endeavors."
In the last five years, the school has pushed 30 patents into the pipeline, McMurry says. "Our efforts toward commercialization are nascent but active," he says. "A couple of faculty are involved in companies, and a half-dozen are expected to launch next year that will need incubator space."
The GRA recently made a grant to Dr. Tanja Link, KSU assistant professor of criminal justice, to develop a comprehensive, cloud-based platform to help reduce recidivism and dropout rates for people recently released from the criminal justice system.
There's another benefit of KSU's smaller scale, says McMurry. "I'm in the lab wearing gloves. I'm running instruments. I'm a lab rat; I like doing experiments. That's an attractive feature for many faculty – you actually have the thrill of discovery as you look through the microscope and see the images and data coming out of the instruments. This makes research at KSU more fun than other schools."
Targeted medication delivery is the focus of DD Therapeutics, an up-and-coming company formed by three Mercer University College of Pharmacy scientists in Atlanta. A recent recipient of GRA Phase 1 funding that will explore the viability of commercialization, the company is developing new transdermal and nanotechnology drug delivery that will improve clinical outcomes over oral dosing.
Similarly, at Mercer's Savannah campus, SynPloid Biotek LLC, formed by two Mercer School of Medicine professors, is working on genetic drug delivery that may directly attack cancerous tumor cells while not harming healthy normal tissue. The research is currently funded by two grants from the NIH and a U.S. Department of Defense Advance Research Program Award.
"The whole concept of treating specific diseases by giving medications based on an individual's genetic makeup and metabolism is a hot area for research in Georgia and nationwide," says Dr. Wayne Glasgow, Mercer's senior vice provost for research and dean of graduate studies. "It avoids rounds and rounds of treatment by trial and error."
---
Emerging Roles
As enjoyable and exciting as academic exploration and discovery can be, it still takes a strong talent pool to achieve optimal results. Georgia Tech's School of Electrical and Computer Engineering is in the late stages of recruiting for what will be GRA's first Eminent Scholar in cybersecurity who will assume a leading role in its Institute for Information Security and Privacy. The selectee is expected to be one of the top cybersecurity researchers in the world.
Georgia Tech is already making critical breakthroughs in cybersecurity with a two-pronged approach. A team of engineers and computer scientists at the Georgia Tech Research Institute are conducting applied research primarily on behalf of the federal government. "We have a highly skilled group of cyber-warriors who are helping protect U.S. interests from attacks," says Dr. Steven McLaughlin, the Steve W. Chaddick School chair and professor in the School of Electrical and Computer Engineering.
The other component is more academic. Spread across multiple disciplines such as electrical engineering, computer science, international affairs and public policy, some 250 Ph.D. students and professors are working on a broad array of projects, including one $17.3-million project funded by the Department of Defense that focuses on attribution. The goal is to devise approaches to identify cyberattack methodologies and unique attack characteristics to help tap sources and eventually lead to deterrence.
McLaughlin notes that because of the increasing sophistication of our adversaries, it is critical to remain on the cutting edge of cyber research. "We have to be ready for many possible attacks, as much as hundreds of millions from their networks. We have to be right all the time, whereas our adversaries only have to be right once or twice.
"One of the things attackers do is disguise themselves by taking over a computer that takes over another computer and another, so it's difficult to find the source," he adds. "Our technical group is devoted to determining where a cyberattack originated. The work we do is really important for both individuals and the security of the U.S. government."
GRA's investment in cybersecurity will round out what is already a strong regional cybersecurity ecosystem. "Atlanta is recognized as a cyber hub," McLaughlin adds. "Our incoming Eminent Scholars, coupled with Georgia Tech's research expertise and all the new startups and intellectual property across Georgia, will provide the human capital piece that will maintain cyber research as a top economic development engine for the region."
The University of Georgia's Institute for Cybersecurity and Privacy also conducts extensive research on network, web and mobile device security. Georgia Tech and UGA have each been designated as a National Center of Academic Excellence in Cyber Defense Research, jointly by the National Security Agency and Department of Homeland Security. Just 71 institutions have achieved the designation. Monetary support comes from several agencies, including the National Science Foundation, as well as through industry partners such as Intel and Cisco Systems.
Augusta University, fortunate to be sharing its campus with the new $60-million Georgia Cyber and Innovation Training Center that is under construction, is looking forward to the new innovation space at the Center. Dr. Christopher McKinney, associate vice president of the university's Office of Innovation Commercialization, expects the space to be strongly supportive of early-stage startups.
"We will have new faculty in the cyber area to ensure we are building new companies and products that are commercially viable," he says. "It's additive, because we are still conducting a lot of excellent biomed and medical device research, but this adds a whole new level."
Reaching that level owes much to GRA grants over the years. "Another thing GRA brings to the table besides money is assisting our faculty to transform their focus from academic thinking to business thinking," says Dr. Carl Clark, director of the Office of Innovation Commercialization. "That's crucial for a company spinning out brand new into the working world."
---
Working Together
McKinney has observed that Georgia universities are collaborating more than ever before, sharing equipment, lab space and intellect. "Research involves a mix of people and relationships," he says. "It's really a people business; it's not a lone wolf activity. It's a people thing."
Reaching across state and national boundaries is also crucial to maximize the benefits of research, particularly in healthcare. The Morehouse School of Medicine was recently selected to join the NIH All of Us Research Program as part of the SouthEast Enrollment Center (SEEC) network. The program engages more than 25 institutional collaborators across the United States. In its role, Morehouse will gather data from 1,000 Georgia participants to help address health disparities among ethnically diverse populations.
At Georgia State University, millions of GRA dollars have enabled eminent scholars and professors to engage in potentially life-saving research such as developing a drug targeting the Ebola virus, improving magnetic resonance imaging (MRI) contrast agents, reducing tumor growth in lung cancer and studying the role of enyzmes in diabetic vascular disease.
Dr. James Weyhenmeyer, GSU's vice president for research and economic development, says that research funding sources today are focusing on making sweeping, positive changes in what they term grand challenges. "They are not looking for a particular sliver of a problem, but at getting holistic solutions that will have a large impact on the health and welfare of the world," he says.
In the six years since Weyhenmeyer arrived at GSU, strategic research investments from external sources have skyrocketed in the school's grants and contracts portfolio. In five of those years, according to Weyhenmeyer, the portfolio increased by more than 20 percent, representing a swifter pace of growth than for any other research institution in Georgia.
"GRA has impacted faculty all across our campus. GRA picks up the mantle and moves an incredible amount of talent into the state of Georgia," he says. "The impact is recognized not just in Georgia but nationwide."