2017 Silver Spoon Awards: Hunger Games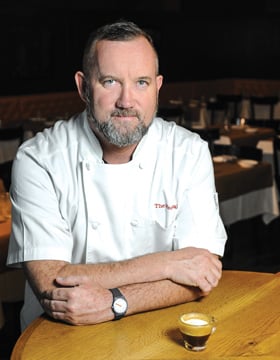 Now it begins in earnest: As the state's dining scene continues to heat up, restaurants are battling for customers like never before. So far, it has been a diner's dream. In areas like Midtown or the newly dubbed Upper Westside in Atlanta (or in fact, anywhere along its booming BeltLine), in downtown Macon and in Savannah's emerging Starland neighborhood, it seems there's a new place every few blocks. Most seem to have Wi-Fi, potent beverages and cleverly reinvented features in repurposed buildings, like Cotton & Rye's bank vault or Epic's old red brick cotton warehouse, on Columbus' riverfront.
The new Braves stadium and its Battery Atlanta development in Cobb County features new restaurants and fast-casual concepts from some of the state's best chefs – Hugh Acheson, Linton Hopkins, Ford Fry, the Fox Bros. barbecue group, Atlanta-raised celebrity chef Todd English and more – in an area Acheson has diplomatically described as "underserved." Affluent Cobb County is far from being a food desert, but it has, up until now, been something of a dining desert.
The newer restaurants reflect who we've become: People who cook less and eat out more. Young people in particular have little inclination – or time – to spend at a stove, especially when they have myriad options for eating, drinking or just hanging out within steps of their urban (or suburban) doorways. Thus the need for more "everyday" meals and fewer "special occasion" restaurants.
Still, there are indications the fast-casual concepts from big-name chefs (Bantam & Biddy from Shaun Doty; H&F Burger and Hop's Chicken from Hopkins; even a food truck from Ford Fry) may have peaked: Take, for example, Doty's decision to close one of his fried chicken shacks and open classic French brasserie The Federal in its place. It's on my list as one of this year's best restaurants.
As ever, it's the enterprising entrepreneurs who leave the biggest impressions, even when they don't make this Top 10 list. At Donna Chang's in Athens, diners line up for cleverly reimagined Chinese-American classics. In Brunswick, a local couple brings South Georgia's agricultural bounty to healthily, stealth- ily delicious plates in a small storefront called The Farmer & The Larder.
Food Terminal in Chamblee is a kind of miniaturized pan-Asian Ponce City Market, with handmade noodles and expertly crafted Malaysian, Chinese and Thai dishes in one noisy food hall. On St. Simons, NANCY offers pristine fare as an adjunct to clothing and home goods shopping, with a refined, carefully edited menu.
In Savannah, Narobia's Grits & Gravy and Sly's Sliders and Fries pack in the crowds – and the flavor – with deceptively simple concepts from humble kitchens. At Nacoochee Village Tavern in Helen, you can escape standard tourist fare with the chef's specials or indulge in house-made pizza and red-sauce Italian fare with local wines. On Jekyll Island, a new restaurant, Corsair, attempts to add new, locally sourced dimensions to a languid scene. Cotton Calf Kitchen manages to bring a wry, dry steak-and-martinis Rat Pack vibe … to Braselton.
It's exciting. Some food writers believe that we're now, as a country, enjoying a Golden Age of Dining, with a combination of chef-centered independent restaurants, increasing demand for better food and the slump of corporate-driven restaurants like Applebee's. But no Golden Age lasts forever, and there are signs that this one may be winding down – including those popular real estate-restaurant partnerships.
In Tucker, a huge Ponce City Market-style live-work-play development anchored by a food court was voted down. In Savannah, the ahead-of-its-time The Florence, the Acheson-helmed pizzeria in a similar real estate-restaurant combo, closed in June. The Luminary, the French restaurant that gave Atlanta's Krog Street Market some much-needed grown-up gravitas, also closed that month. The closest alternative to its level of culinary ambition there now comes from Ticonderoga Club.
So enjoy this Golden Age while it lasts. And never underestimate the resourcefulness and creativity of Georgia's chefs and restaurateurs. As we celebrate fresh upstarts and new beginnings of the state's best with Silver Spoons, we must also pay tribute to those who have gone before … and are sometimes still going.
This year, I'm honoring our state's Silver Foxes, 10 longtime restaurant success stories that have somehow survived decades of volatile business environments to become the places that families return to year after year to celebrate everything from a first haircut to a first grandchild. I can only hope to age as gracefully.
---
Silver Spoons 2017
(in no particular order)
Staplehouse
Atlanta
The restaurant reservation I most want now has a degree of difficulty that nearly rivals The French Laundry. Still, the singular experience is worth it – incredibly fresh, inventive fare from one of the sweetest staffs you're likely to encounter.
541 Edgewood Ave. SE
404.524.5005
staplehouse.com
---
The Federal
Atlanta
Shaun Doty's fans now have a place to find all his greatest hits – the chicken liver, the pork schnitzel, the French onion soup – but also steaks, pristine salads and frites, expertly executed in partnership with co-chef Lance Gummere.
1050 Crescent Ave.
404.343.3857
thefederalatl.com
---
Epic
Columbus
One of the state's most attractive and comfortable dining rooms, paired with peerless service. The fare aims at a "pow" moment – like the blowtorched, smoky Old-Fashioned Girl cocktail – and often achieves it with layers of unexpected subtlety.
1201 Front Ave.
706.507.9909
epiccuisine.com
---
Bacchanalia
Atlanta
The new digs look more intimate and casual, but the staff carry themselves with the same jovial formality. The favorites arrived intact – like that crab fritter – along with a long wine and cheese list unrivaled in Georgia.
1460 Ellsworth Industrial Blvd. NW
404.365.0410
starprovisions.com
---
The Georgian Room
Sea Island
I keep wondering how long the state's most ambitious high-end dining experience can survive, holding on long after more famous rival Atlanta destinations (Seeger's, the Ritz-Carlton Dining Room) shuttered. Perhaps, I hope, long enough for it to find a whole new audience.
100 Cloister Drive
855.714.9201
seaisland.com
---
The Grey
Savannah
Chef Mashama Bailey is not only one of the state's best chefs, but the whole experience at this transformed, Deco-era bus station points a way forward for Southern restaurants.
109 Martin Luther King Jr. Blvd.
912.662.5999
thegreyrestaurant.com
---
Greyfield Inn
Cumberland Island
If you've ever considered going to Cumberland Island, now may be the time to go, while Chef Whitney Otawka is still there. It's pricey, but remember that the inn's nightly fee includes three meals a day, for two – and meeting the kind of folks from around the world who end up at her dinner table at this historic Cumberland outpost is almost worth the trip in itself.
904.261.6408
greyfieldinn.com
---
Umi
Atlanta
My favorite for both special occasion sushi and celebrity spotting. The best Japanese/French-inspired desserts you'll ever taste, from co-owner and pastry chef Lisa Ito. For a real splurge, top it all off with after-dinner beverages at sister speakeasy Himitsu a few doors down.
Two Buckhead Plaza, 3050 Peachtree Road NW
404.841.0040
umiatlanta.com
---
Ember
St. Simons
At last, this sweet little island, long a bastion of old-style country cooking (see Silver Foxes Bennie's Red Barn and The Crab Trap), seems to have the critical mass to support this kind of fun, yet ambitious contemporary "farm-to-fire" bistro, focusing on local, seasonal produce and meats cooked on (and in) wood fire.
70 Retreat Village
912.434.9384
emberf2f.com
---
Five & 10
Athens
When it comes to Hugh Acheson's first restaurant, you need to go at least once a year. The pioneer in local, seasonal and inventive is still going strong.
1073 S. Milledge Ave.
706.546.7300
fiveandten.com
---
Silver Foxes
Daphne Lodge
Cordele
Family-owned since 1952, the Daphne Lodge makes lots of standards special – the house salad with its trio of house-made dressings, she-crab soup, crisp onion rings – but most of all, its justifiably famous fried catfish.
Highway 280 West
229.273.2596
daphnelodge.com
---
Nino's
Atlanta
With the closure of longtime rival Alfredo's just down the road, this Cheshire Bridge mainstay is even more crowded with fans of its authentic, old-school Italian dishes. Try any pasta, especially with porcini mushrooms or veal, specialties since 1968.
1931 Cheshire Bridge Road NE
404.874.6505
ninosatlanta.com
---
Bennie's Red Barn
St. Simons
Known for its steak and seafood since 1954, Bennie's also serves up dynamite fried chicken.
5514 Frederica Road
912.638.2844
benniesredbarn.com
---
Last Resort Grill
Athens
Opened as a music club in 1966 and as a restaurant at its present location only since 1992, Last Resort still earns its status in part because of the influence of chef/owner Melissa Clegg, a behind-the-culinary-scene force who first hired Hugh Acheson. Its menu is a list of comfort food that doesn't pander and time-tested favorites – like meatloaf, posole (pork and hominy stew) and especially praline chicken – on the menu for 25 years.
174/184 W. Clayton St.
706.549.0810
lastresortgrill.com
---
The Crystal Beer Parlor
Savannah
Starting as a grocery (and likely, a speakeasy), the Crystal Beer Parlor was quick to open as a bar soon after Prohibition ended in 1933. The thick, creamy crab stew is good, but mostly it's just fun to sit in this cool old bar, all its curlicues and wood booths intact.
301 W. Jones St.
912.349.1000
crystalbeerparlor.com
---
The Back Burner Restaurant
Macon
There is nothing better than a neighborhood French restaurant that really works – and this one does, now with new owners in its 20th year. Lunch is always a special treat and a great way to try signature dishes like trout almondine.
2242 Ingleside Ave.
478.746.3336
backburnermacon.com
---
Bones
Atlanta
Since 1979, Atlanta businesspeople have celebrated their successes at Bones with giant steaks, genteel service and, of course, the legendary grits fritters.
3130 Piedmont Road NE
404.237.2663
bonesrestaurant.com
---
Café Alsace
Decatur
The little French-Alsatian restaurant that could has now lasted 20 years, surrounded by one of the Atlanta metro area's hottest dining scenes – Decatur Square. It is still a little island of calm, with great country paté, späetzle and sauerkraut.
121 E. Ponce de Leon Ave.
404.373.5622
cafealsace.net
---
The Crab Trap
St. Simons
Need a fried seafood fix? This is the place to go, but what brings me in every time is the crab soup – a brothy, buttery delight, served since 1975.
1209 Ocean Blvd.
912.638.3552
crabtrapssi.com
---
The Breakfast Club
Tybee Island
A trip to Tybee isn't complete without breakfast (perhaps the PMS omelet, with parmesan, mushrooms and spinach) at The Breakfast Club among locals and fishermen. Open since the early 1980s, The Breakfast Club also boasts of having helped cater JFK Jr.'s wedding breakfast on Cumberland Island.
1500 Butler Ave.
912.786.5984
thebreakfastclubtybee.com