North Fulton County: High-tech, High Powered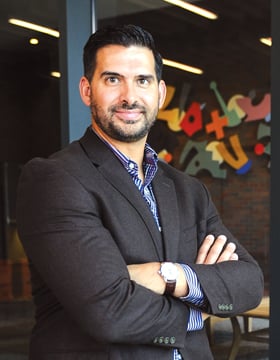 They started out as the very epitome of bedroom communities, places where C-level executives and their families established home bases as they commuted to and from jobs inside or near the Perimeter. But that was a long time ago, at least in Atlanta years.
Now Alpharetta, Roswell, Milton and Johns Creek are economic engines where boardrooms drive high-tech clusters in healthcare, financial technology, cybersecurity and information technology.
Look around North Fulton, and you'll see lots of orange barrels and a few cranes – even in downtown Roswell, where the first crane ever to make an appearance in the historic district looms over a small mixed-use development being constructed along Canton Street.
Mixed-use projects are also in the works in Alpharetta, where the success of Avalon continues with Phase III – a hotel and conference center – slated to open in 2018 and a Class A 228,000-square-foot office building opening this year.
"That's the first speculative office building built outside the Perimeter in over 15 years," says Peter Tokar, economic development director for the city of Alpharetta. Anchored by Microsoft, the building is already 95 percent committed, according to Tokar.
Hotel Avalon, a luxury hotel connected to the 65,000-square-foot Alpharetta Conference Center, will open in January. Tokar says that's a game changer for all of North Fulton, where businesses have been clamoring for a conference center close to home.
"I've talked to a lot of corporations that are less than thrilled to take all of their employees or stakeholders either to the Perimeter or downtown for conference facilities," he says.
Several hotels are coming to Roswell, too – two business-suite hotels are planned for Westside Parkway near Mansell Road. And a luxury boutique hotel with a restaurant and spa is set for the city's historic district.
Office development or redevelopment is on the drawing boards in Milton and Johns Creek. Major companies in the nearby area, like Verizon and Alcon, along with Emory Johns Creek Hospital, are helping to create clusters of tech innovation that both cities are marketing. A 2016 strategic economic development plan for Johns Creek identified six industries: high-technology, IT, software, financial services, medical technology and professional services.
It also flagged Technology Park, a sprawling business park built in the 1980s, as an underused asset that needed some updating. "What will allow us to keep the integrity of our community, but also redevelop in a way that makes us competitive?" asks Courtney Bernardi, CEO of Johns Creek Advantage, a public-private economic development organization. "It's a hard balance sometimes." The city is currently working on an updated comprehensive land use plan and a transportation plan with some improvement for Tech Park, which should help answer those questions.
It's made a little more complicated by the fact that Johns Creek doesn't have a downtown to provide a real sense of place. The city has purchased a new building in Technology Park that will be the city hall – and a catalyst for redevelopment of the park. But Bernardi says there's no answer to the downtown question yet.
"Does Johns Creek need one area that would be considered downtown, or do [we have] a multitude of activity nodes throughout our community?" she says. "We're really looking at that to see what makes the most sense."
Neighboring city Milton has a downtown, home to a new city hall, and a corporate and retail node along Highway 9 and Deerfield Road. The city is working to pinpoint retailers that would be a good match for its demographics. The Deerfield area is also home to Verizon's Southern headquarters and Philips Healthcare, and Milton's Economic Development Manager Sarah LaDart says the city is also recruiting companies from out of state to relocate there.
The biggest challenge, she says, is that only 15 percent of Milton is zoned commercial, so it's important to maximize the land use while preserving the city's heritage. Like her colleagues in Johns Creek and Alpharetta, she's focused on healthcare IT and cybersecurity.
But Milton is also trying to get its homegrown entrepreneurs to stay there. The city worked with five business leaders to launch a small business incubator called The Engine, located in the Deerfield Corporate Center. The startups are in the business-to-business, software as a service (B2B SaaS) field, which LaDart says is a "sweet spot" for the city. SaaS firms license software subscriptions to businesses and host them centrally.
"We have venture capitalists who are investing their money in New York and Silicon Valley, so why not have our Milton venture capitalists investing in Milton ideas," she says.
---
The Three Ts
It's a perennial challenge anywhere in Atlanta, and especially in North Fulton: tackling traffic, transportation and transit. There are a number of road projects poised to address congestion, many helped along by passage of the Transportation Special Purpose Local Option Sales Tax (T-SPLOST) in 2016.
And it requires a regional approach, says Bethany Usry, vice president of economic and talent development for the Greater North Fulton Chamber of Commerce. "That's vitally important on things that cross city boundaries, like infrastructure and transportation," she says.
A new exit at McGinnis Ferry and Georgia 400 (just over the line in Forsyth County) will be complemented by widening the road from 400 to Emory Johns Creek Hospital. "Then you'll have east-west connectivity from 400 to 85," says state Sen. Brandon Beach, who is also president and CEO of the North Fulton chamber and president of the North Fulton Community Improvement District (CID). He points out that congestion hits the east-west routes as well as the more familiar north-south ones.
In addition to being a partner in the McGinnis Ferry improvements, Johns Creek has a long list of T-SPLOST transportation projects. They include widening Medlock Bridge, State Bridge and Jones Bridge roads, and partnering with Alpharetta to widen Haynes Bridge Road.
The city is in the process of prioritizing the projects, says Tom Black, public works director for Johns Creek. "We'll have $82 million over five years, but we won't have all of it today," he says. "So the city council is looking [to see] which of these projects should go first."
In the meantime, the city has worked to wring out the maximum efficiency from its traffic systems, improving signal timing, installing flashing yellow arrows (it was the first city in Georgia to do so) and fielding its own HERO trucks to help clear streets after accidents or breakdowns. "We've had several demonstration projects in Johns Creek," says Tom Udell, deputy director of public works for traffic. "We're always looking for the next best way of doing things."
You could say the same in Roswell, where Steve Stroud, executive director of Roswell Inc., admits, "Traffic is a way of life." Roswell Inc. is a public-private partnership with the city for economic development. T-SPLOST plans include the construction of Big Creek Parkway, a new road to take some of the congestion off Holcomb Bridge Road, and improvements to State Route 9 from the Chattahoochee River to Roswell's historic district.
But even with the T-SPLOST money, there's only so much capacity that can be added. Transit is the other big topic. If you're north of the North Springs MARTA station, says Milton's LaDart, lack of public transit can sometimes mean you don't even get in the game for a big corporate relocation. Beach ticks off a list of companies in Metro Atlanta that have moved close to MARTA stations: Mercedes, NCR, State Farm, Pulte Homes.
Although legislation Beach sponsored in 2017 that would have allowed Fulton voters to decide on a tax for MARTA expansion never made it out of the Senate, he says the people are ahead of the politicians. (A smaller, Atlanta-only MARTA tax got a green light from the legislature and voters.) "In the poll we did, 58 percent of the people in North Fulton said they would like to vote on the opportunity to have transit come up to Windward Parkway," he says. "People are tired of sitting in traffic. They are tired of not having options."
---
Putting the Urban in Suburban
Alpharetta's Tokar jokes that he has the perfect solution to transportation issues: Just live and work in Alpharetta.
The city is trying to make it easier to get around without getting in your car. The Alpha Loop, touted as Alpharetta's version of the Atlanta BeltLine, will be a 3-mile inner loop, 5-mile outer multiuse path that connects the downtown City Center development with Avalon and Northwinds office park. "That route strategically goes through office, residential and commercial development," says Tokar.
Multi-use paths are not just a response to congestion – they're also prompted by a changing workforce that values walkability (and bike-ability). This workforce may live in the 'burbs, but they're seeking more of an urban experience.
In Alpharetta, that's fueling the mixed-use City Center development around City Hall, where Data Scan will anchor a new office building, and a smaller live-work-play development on Devore Road that will have some office space but mostly be focused on restaurants and retail. Tokar says that at least 14 restaurants have opened in Alpharetta since 2012, all of them chef-driven and not chains.
In Roswell, that's standard operating procedure. Stroud says that the city is not a large employment hub like Alpharetta but it has several hospitals, the GM IT Innovation Center and a number of restaurants. Hospitality is a big focus for the city.
"We have about 200 restaurants that are independent, family owned or chef-driven, which is one of the largest concentrations in the metro area," says Carisa Turner, director of communications and public relations for Roswell Inc. A fourth brewery is set to open this year, and there's a well-developed entertainment and retail area in downtown.
Roswell, too, views trails and paths as part of its transportation network. "In Roswell, transportation includes bicycle. It includes pedestrian," says Stroud. "We're really trying to connect properties so you don't have to go on the main thoroughfare."
The Sun Valley Drive extension, for example, bypasses Alpharetta Highway and will have bike lanes, sidewalks and a multi-use path. It complements the redevelopment of an old shopping center that will include about 300 apartments and connect to GM.
These efforts aren't the only evidence that the workforce is changing, and workforce development is another area where a regional approach is critical, says Usry. She adds that the North Fulton Chamber has zeroed in on technology and healthcare, identifying the top five job titles in each discipline that recruiters were seeking. (Software developers and nurses topped the lists.) It also formed a Talent Coalition to bring together education and business interests. Coalition members have been involved in plans for a new STEM-focused (science, technology, engineering and math) high school campus in Alpharetta that will open in 2020.
Beach is also looking to the future to keep North Fulton competitive. In addition to workforce training and transit, he's looking at 21st-century infrastructure. "We have to make sure we're on the cutting edge … that we have the right fiber, the right sensors, the right cell towers," he says, to support new technology like driverless cars. Otherwise the region may have a different kind of traffic jam.
With North Fulton leaders taking such a collaborative approach, however, you can bet the future will run smoothly.
---
LOCAL FLAVOR
Bikes and Brews
Bicycles. Coffee. Beer? That's what's on tap (pun intended) at Whitetail Bicycles & Coffee Shop in downtown Milton.
Owner Shaune Huysamen says it's pretty common where he's from (South Africa) to hang out in a bike shop and have coffee. And it's a growing trend in the U.S., too: The National Bicycle Dealers Association did a survey in 2013 and found 12 percent of bike shops offered a coffee bar while 5 percent served beer.
Huysamen knew he wanted to open up in Milton – an avid cyclist and former resident of 16 years, he recognized the need for "a little neighborhood bike shop" and was determined to find the right spot. "I didn't want to be in a strip mall," he says.
One night he spotted an old building in the Crabapple area, close to City Hall and several new shops and restaurants. "We think it's about 123 years old," Huysamen says, and it had been a country store and a rug shop at different points in its retail life. Huysamen loved the exposed brick and high ceilings – perfect for the ambiance he envisioned.
He had to move fast, though. The owner already had multiple inquiries about the building. So Huysamen, who's also a regional director for TriBridge Residential, an Atlanta-based firm that invests in and manages multi-family developments throughout the Southeast, put a quick business plan together and convinced the owner that a bike shop was the way to go. He opened a few months later in May 2016.
Serving coffee – Stumptown brand – was a given. Beer was a little harder. At first, the city of Milton couldn't accommodate his request because he didn't have a kitchen and serve food. But economic development manager Sarah LaDart worked with the city to create a limited tap license, allowing Whitetail and others to have four taps as long as they serve beer from breweries within 50 miles. "It'll open up the door for quite a few businesses," says Huysamen. "I'm pretty excited about it."
Whitetail caters to both serious cyclers and more casual riders, with bikes ranging from high-end custom builds in the five figures to more affordable options. Huysamen makes a point to carry some brands that are American made. (Most bikes are made in Taiwan, he says.) The shop services all brands, and Huysamen says that people who are very serious about cycling appreciate the one-on-one service. And the coffee shop is a draw for the more general riders.
Local beers on tap won't be a big income producer, Huysamen says, but he admits to having downed a few brews at the shop after his own rides. Now it'll be something he can share with everyone. – Kenna Simmons