Gwinnett County: Gearing up for Growth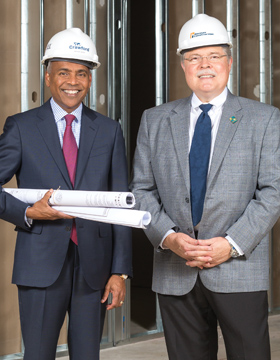 Folks who say bigger is better could have been talking about northeast Metro Atlanta's Gwinnett County. Gwinnett has 16 cities and has been one of the fastest-growing counties in the country for years. With a recent focus on recruiting company headquarters and helping local businesses expand – not to mention an influx of every flavor of international cuisine – it looks like the growth will continue well into the next decade.
---
Strategic Development
One of the main drivers of commercial growth is Partnership Gwinnett, a public-private organization devoted to bringing business and investment into the county. The group launched its third five-year strategic plan, Gwinnett 3.0, in January, with goals focused on three areas: business development (create jobs), talent development (quality and quantity) and community development (especially redevelopment and transportation).
The overall goal is to continue increasing the net tax digest, says Partnership Gwinnett 3.0 Chair Mike Levengood. The net tax digest plummeted from $29.4 billion in 2009 to $23.5 billion in 2013 because of the recession, but rose to $27.5 billion in 2016, he says.
With the steady flow of new and expanding business announcements coming out of the county these days, it's easy to believe those numbers will continue to rise.
Peachtree Corners, Gwinnett County's newest and largest city, has lured a second major Atlanta company OTP. In Atlanta parlance, that's outside the I-285 perimeter that circles the city.
In 2015, Level 3 Communications, a Colorado-based provider of global communications services, moved its regional headquarters from Midtown Atlanta to Peachtree Corners' Technology Park Atlanta. Now, it's Crawford & Company being attracted to the city's urban amenities and favorable business landscape.
In March, the insurance claims management provider announced it would move its global headquarters along with 500 jobs from the Perimeter area to a Peachtree Corners building formerly occupied by Fiserv. The move represents a $15-million investment over three years.
"We are very excited about the move to Gwinnett County and believe that the new workspace will continue to build Crawford's momentum as a global company on the move," says Harsha V. Agadi, Crawford & Company president and CEO.
Crawford was founded in Columbus in 1941 and has been an Atlanta fixture for decades. Leaders considered options inside and outside I-285 before deciding on Gwinnett. They chose Peachtree Corners because of its ability to attract technology companies and incubators; its live-work-play community that appeals to top, diverse talent; and an affordable building near public transportation that they could redesign.
But they're not coming to suburbia, insists Peachtree Corners Mayor Mike Mason. "A common misperception about Peachtree Corners is that it's a bedroom community in the 'burbs," he says. "We've never been a bedroom community. We are a major regional jobs hub."
He backs that up with two points: One, bedroom communities typically don't have commercial areas like Technology Park Atlanta; and two, workers commute daily into Peachtree Corners, not out.
"When the city was formed in 2012, the population was just under 40,000 and we had roughly 36,272 jobs," he says. "Our 2016 population was 42,773, and we had 41,646 jobs."
"We are thrilled with the decision of Crawford & Company to come to Gwinnett," says Charlotte Nash, Gwinnett County Board of Commissioners chair. "It's a statement about the quality of our workforce and Crawford & Company's view of what the future of Gwinnett County looks like."
---
Life Sciences Gains
"Crawford & Company's decision is especially meaningful to Gwinnett because the company is so closely identified with Atlanta," says Nick Masino, chief economic development officer at Partnership Gwinnett. "But," he quickly adds, "in the last year other headquarters moves also surged, especially in the life sciences with a decision by Boehringer Ingelheim [BI] to move its U.S. animal health headquarters to Gwinnett."
BI, based in Ingelheim, Germany, became the world's second-largest animal health company after acquiring Georgia-based animal health multinational Merial early this year in what Masino calls "the world's biggest animal health science deal of the year."
Immediately afterwards, BI began moving its U.S. animal health executive leadership from St. Joseph, Mo., to Duluth. BI makes familiar brands such as Heartgard and FRONTLINE.
"Establishing our headquarters in the Atlanta area will fuel our ability to stay more closely connected to our international operations," says Albrecht Kissel, U.S. president for Boehringer Ingelheim Animal Health, which had $4.6 billion in revenue in 2016. "After being in Duluth for seven months, it has become clear the decision was right, and we are seeing the benefits we expected."
"Having a multi-billion-dollar international company such as Boehringer Ingelheim locate their U.S. headquarters in Gwinnett, and specifically within the Gwinnett Place CID, demonstrates that the area's strategic location, its strong infrastructure and talent assets are clear benefits to business enterprises as they consider site selection," says Leo Wiener, chair of the Gwinnett Place Community Improvement District (CID) board of directors and president of Ackerman Retail.
AmerisourceBergen's move within Gwinnett was a second major life-science win. The company, a $146-billion global human and animal pharmaceutical products business with headquarters in Valley Forge, Pa., expanded its Gwinnett footprint by relocating from Suwanee to Buford with a $40-million-plus investment in a 340,000-square-foot distribution facility.
"Buford continues to be a vibrant business community, providing Ameri-sourceBergen with the workforce, support and resources necessary to remain competitive in the U.S. and around the world," says Buford City Manager Bryan Kerlin.
Buford has seen a number of other recent developments as well. Automotive supplier Carcoustics is creating 200 jobs in a new $6-million facility, and the city is the new corporate headquarters for trade show products and services provider Displayit.
Gwinnett's other cities are also sharing the wealth. National Compressor Exchange, a compressor manufacturer, opened a new U.S. headquarters in Norcross; and sports apparel and equipment company Shuma Sports moved into Lawrenceville.
In the Gwinnett Place CID, UK-based advanced manufacturer M&I Materials opened a new U.S. headquarters and receipt and label solutions provider Iconex located its corporate headquarters. Elsewhere in the county, integrated computer systems creator Trenton Systems relocated its corporate headquarters to the Lawrenceville area; and Liftmaster, which manufactures garage door and gate openers, relocated its distribution facility to the Gwinnett Village CID.
---
Urban Amenities
By 2040, the Atlanta Regional Commission predicts the 436-square-mile Gwinnett County will add 490,600 people.
"We've got to be looking at lots of infrastructure improvements to accommodate that growth," Nash says. Those include developing a transit plan and expanding or creating dense activity centers.
"These new activity centers will enable Gwinnett to offer quality-of-life amenities necessary to attract and retain young professionals who are the key to sustaining Gwinnett as a vibrant and thriving world-class community," says Dan Kaufman, president and CEO of the Gwinnett Chamber of Commerce.
The most dramatic of what Kaufman calls co-located developments – various combinations of residential, commercial, retail, entertainment, sports and recreational activities – will be a public-private project at Duluth's Infinite Energy Center. The Gwinnett Convention and Visitors Bureau is overseeing a master plan to redevelop the site into what Liz Gillespie, a partner and vice president of marketing for North American Properties (NAP), calls "a true downtown for county residents."
NAP is developing the private portion of the project, which is expected to include a dense mix of retail, entertainment, offices and multifamily and single-family housing. Separately, Concord Hospitality, out of Raleigh, N.C., will develop a Marriott property.
In the public portion, the county will expand and upgrade the Infinite Energy Center, partly with Special Purpose Local Option Sales Tax (SPLOST) funds totaling almost $70 million dollars. Exhibition space and meeting rooms will be added, and existing convention spaces, the arena and performing arts theater will be upgraded.
"The project is a game changer for the whole county," Nash says.
"It will be a catalyst for more dense, urban-style development in the Sugarloaf CID," adds Alyssa Davis, the Sugarloaf CID's executive director.
Nearby, urban-style redevelopment is revamping downtown Duluth. Projects include investments of $300 million in residential and commercial/retail projects including Parsons Alley, Sugarloaf Market, District at Duluth and Marketplace Village, which are among several projects generating 186,000 square feet of new retail space and 1,272 residential units.
"None of this would be possible without city leadership that had the courage to allow the staff to literally reach for the stars to bring in development," says Chris McGahee, Duluth economic development manager.
"Duluth has made substantial investments in public infrastructure, which has sent the message to private investors that Duluth is a forward-thinking place to live and work," says Duluth Mayor Nancy Harris. "Our vision is to continue bringing urban amenities to a suburban city."
Other cities creating their own urban feel by developing or enhancing town centers include: Peachtree Corners, where Fuqua Development is creating a $103-million, 250,000-square-foot town center; Suwanee, where Terwilliger-Pappas is developing a nearly $50-million, 240-unit apartment mixed-use project called Solis Town Center; and Lawrenceville, where Richport Property Development is creating City View, a $20-million, 7.5-acre, urban-style, live-work project just off the town square.
In Peachtree Corners, Echo Lakeside is contributing to Gwinnett's transformation with new apartments designed for the millennials who make up almost a quarter of the city's workforce. This urban-edgy community will be a wish-come-true for tech companies and city officials alike.
"We're providing a class of housing for millennials that doesn't exist in Peachtree Corners, and it's definitely needed," says Brand Properties CEO Brand Morgan, whose company is developing Echo Lakeside. The development will include a boat dock, hiking/biking trails and a cyber café.
"We have a lot of single-family homes, but not housing that appeals to the young workforce, which typically fills jobs in Technology Park," Mayor Mason adds.
Sounds like just the thing to attract the employees needed to keep the jobs engine humming across this bigger-is-better county.
---
LOCAL FLAVOR
Seoul of the South
The huge international population in the Duluth area of Gwinnett has delivered a growing number of restaurants featuring cuisine from around the world.
"There are 13 Mexican, two French, two Caribbean, two Italian and two Colombian restaurants in the Gwinnett Place [Community Improvement District] alone," says Glenn Wisdom, CID operations director.
In fact, 51 percent of restaurants in the area are international, with the top ethnicity Korean – at 20 percent. To introduce hotel owners to Korean cuisine, Explore Gwinnett, the Gwinnett Convention and Visitors Bureau marketing brand, began tours of some of the restaurants in 2016.
"We initially started our food tours to help educate our local hoteliers and the public about the Korean cuisine and culture in Gwinnett," says Lisa Anders, executive director of Explore Gwinnett. "Our 2016 tours were offered to media and tourism professionals only."
As word spread, the Seoul of the South tours opened up to the public in 2017. A trolley delivers tour participants to four Korean restaurants in the Gwinnett Place area – the stops vary from tour to tour. Along the way, the tour guide, South Korea native Sarah Park, provides information about Korean culture.
"It has been such a pleasure having this opportunity to share Korean culture and cuisine with so many energetic and inquisitive participants," Park says. "People who attend one tour want to return on the next one with family and friends. It is a terrific outing that is perfect for groups while staying fun and personal."
Harue Food & Café, which counts Korean fried chicken – often referred to as KFC – among its specialties, fries its birds twice, which makes them crunchier and less greasy than the Southern version. Honey Pig serves up Korean barbecue, in which thin pieces of beef, pork or chicken are cooked on gas grills built into the center of the dining tables.
But KFC and barbecue aren't the only dishes on offer. "There's more to Korean food than just Korean barbecue, and our menu introduces a variety of authentic and traditional Korean dishes to those who haven't tried it yet," says Christy Yi, who with her family owns Jang Su Jang, which was on June's Seoul of the South tour.
The tours introduce participants not only to Gwinnett's international food experience, but also provide a glimpse into the future, says Li Wong, chairman of the Georgia Asian Times newspaper. "The food is reflective of what America is going to be," he says, "very multi-cultural and multi-ethnic." – Tom Oder