Douglas|Coffee County: Business is Brewing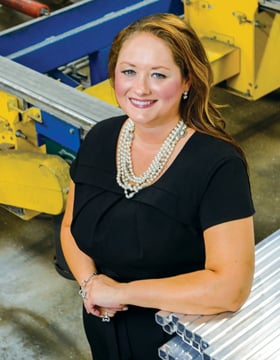 When it comes to business and economic development in our state, the "wins" that get local leadership excited are relative to the size of the region. Therefore, it's easy to see why the small rural community of Coffee County takes great pride in additions like new industrial parks, a college campus expansion and more retailers – wins that even much larger counties would tout. In fact, significant progress is being made in attracting retail and industry to southeast Georgia's Coffee County, a place where they like to say "business is brewing."
---
A Regional Hub
"In the past, people might have said we're in the middle of nowhere because we're so far from the interstate, about 50 miles," says Andrea Taylor, president of the Douglas-Coffee County Chamber of Commerce and Economic Development Authority. "But we like to say 'we're in the middle of everywhere' because we're strategically located amongst four interstates – 75, 95, 10 and 16. We're located about the same [driving] time span from all of those."
The last few Special Purpose Local Option Sales Tax (SPLOST) referendums passed by Coffee County voters have included funds for the Economic Development Authority. Most recently, funds were allocated for the development of two industrial parks, including one on property purchased with $1.8 million raised through a capital campaign, says Taylor.
Adding infrastructure to a second Perimeter West Industrial Park is also ongoing, she says, boosted by a 2016 $500,000 OneGeorgia grant, which uses funds from the state's Tobacco Master Settlement Agreement to partner with rural communities in economic development.
"Until a few years ago when we did that capital campaign, we were really out of inventory," says Taylor.
In addition, while private companies build the majority of spec buildings in the state, they rarely build them in rural areas because of the length of time it takes to sell them, she says. "Here, [the development authority] has built four spec buildings, all of which are occupied, with the exception of the newest one built a couple of years ago."
The county's diverse industry base includes agriculture, poultry processing, distribution and logistics, and what Taylor refers to as a "niche industry," the cargo trailer industry. Most mobile home manufacturers in Coffee County went out of business a decade ago, but about a half dozen have since found success as manufacturers of lightweight, enclosed cargo trailers for hauling equipment, vehicles, etc.
"I would almost be willing to say we have to be the cargo trailer capital of the world because of the number of facilities we have here building cargo trailers," says Taylor. "If you pass one on the interstate, you can pretty much bet it was made in Douglas-Coffee County. I'll see the logos, and almost every one I see has a logo from one of the cargo trailer companies here."
Also on the grow is Elixir Extrusions, a manufacturer of aluminum extrusions and fabrication, which announced mid-year plans for creating 100 jobs in a new anodizing facility it is constructing so it can anodize its own products rather than sending them elsewhere for the process, says Taylor. Elixir purchased land from the development authority and is investing $8 million in the project. "Those are high-quality, well-paying jobs, higher than the average for this area," she says of the new positions.
---
Not Just Peanuts
Eighteen months after opening its doors, Premium Peanut, which bills itself as the largest peanut shelling operation in the world, announced plans this summer for a couple of expansions. A $14-million investment will be used to construct a filtered crude peanut oil facility, and Premium will soon move to a year-round 24/7 shelling schedule.
Together the expansions will add 80 positions to the current roster of 115. A job fair held over the summer brought 400 applicants in a single day for those new positions, says Taylor, whose chamber facility hosted the event. The peanut oil facility is slated for completion by March 2018.
"The U.S. is an importer of [peanut] oil, so there was room in the market for another oil crushing plant," says Lee Taylor, vice president. "This is a way for us to gain more value for our shareholders, our growers. We're able to get top dollar for every peanut our growers produce, and it's another way to expand the U.S. market. It opens the market up and gives us a chance to get every drop of money out of the peanut for our growers."
Premium, a grower-owned facility that combined seven South Georgia peanut buying points, began operations in January 2016. Since then, another two buying points were added with a 10th scheduled to be added in 2018, says Lee Taylor.
The growers are the stockholders and this year began receiving dividends, "which is really unheard of so soon in a startup like this," he says. "[The growers] are now able to plan. For years they never knew if they were going to have a place to sell their crops or not. This is a guarantee for them. They can plan, they can invest in more irrigation, more and better equipment, more manpower, they can rent more acreage. They know that they always have an outlet for their peanuts."
---
Education for Everyone
Last year saw completion of a 65,000-square-foot expansion to the Coffee County campus of Wiregrass Georgia Technical College (WGTC), where mobile buildings had been housing the overflow for some time. The expansion included the county's new career academy, which had about 200 kids enrolled this past year, says Brandy Wilkes, associate vice president for academic affairs. A $3-million grant from the Technical College System of Georgia paid for the career academy.
WGTC itself enrolled 850 students in fall 2016, she adds, up substantially from the previous fall. Allied health remains the most popular offering, driven in part by a strong partnership with Coffee Regional Medical Center. The emergency medical technician (EMT) program recently became a full-time offering, and diesel mechanics and machine tool technology were also added last year, all in response to feedback from area business and industry.
"We have a fabulous partnership with our businesses and industries to not only serve on our advisory committees and make sure what we're teaching is relevant to their workforce, but they also hire our graduates or partner with us on internships," says Wilkes. "They help us fulfill our mission."
Another example of WGTC's efforts to partner locally to provide a qualified workforce is the program at the CoreCivic correctional facility in Nicholls, Ga., that provides training in diesel mechanics and welding to incarcerated students who meet college entry requirements. The program recently completed its first year, and more than 60 students were trained in these two fields, both of which have excellent job outlooks in the state. Students who leave the facility with these certifications are better equipped to obtain stable employment, reducing the chances that they will return to prison, says Wilkes.
Enrollment is also up at South Georgia State College – now under the leadership of veteran college administrator Ingrid Thompson-Sellers – where 2,500 were enrolled in associate and bachelor degree programs last fall from 102 Georgia counties and 365 high schools. The college also operates a campus in Waycross. Thompson-Sellers says they're exploring the addition of three bachelor's degrees in education, allied health and technical/engineering.
Founded in 1902, the college has an economic impact on the surrounding community of $65.3 million annually, as determined by a study commissioned in 2015 by the University System of Georgia, she says. The college's entry program partnerships with Valdosta State University and Georgia Southwestern State University allow students to complete developmental studies and required high school curriculum, then enter one of the universities as a sophomore once they've earned 30 credit hours of college core curriculum while maintaining a 2.0 GPA.
"We pride ourselves on our access mission," says Thompson-Sellers of the entry program. "Students are able to gain access to our institution irrespective of their prior experiences in college that maybe have not been successful, or if they're coming out of high school and they're not quite ready for that big university. We have smaller class sizes and have a community for those students so they get good attention and a solid academic foundation."
---
Retail Recruiting
While the county has always focused on recruiting industry to the area, there is more attention these days on attracting new retail. Among those efforts is a project of The Jones Co. of Waycross, which purchased a prime piece of property for the creation of a retail development. The Plaza is slated to open in early 2019, says Taylor.
Included in Coffee's most recent SPLOST were renovations to the county courthouse and the construction of a $12-million centralized sports complex for use by the community and the high school, says Douglas City Manager Terrell Jacobs. Phase I, slated for completion by 2019, includes three football fields, four baseball/softball fields, a batting and pitching cage, a concession stand, bleachers, score-boards, lighting, a playground, a half-mile paved walking trail and additional parking, says Jacobs.
Mayor Tony Paulk was elected to a four-year term in November 2015. His focus these days is on reducing the city's footprint with regard to property. The city plans to renovate and expand city hall to "make it a little bit more modern and customer friendly and to incorporate numerous offices in one location, sort of the one-stop shopping," says the Douglas native who previously served as mayor in 2004.
They're also relocating city services such as maintenance, public works and utilities to a single location outside of the city limits, opening up three to five properties the city hopes to market and sell at fair market price.
"It gets those mounds of dirt out of downtown Douglas," Paulk says, "the equipment, the trucks, haulers, cleaners, all those things from downtown City Hall, making that area more aesthetically pleasing."
For 30 years, Douglas has been a Main Street City, designated by the Georgia program that assists economic development and community revitalization. Douglas is currently focused on bringing housing to the downtown area by encouraging property owners to consider renovating existing buildings for lofts. Main Street is also working toward renovating and updating downtown streetscapes, says Pattie Merritt, program coordinator.
In addition to overseeing the Main Street Program, Merritt also heads tourism efforts, promoting such attractions as General Coffee State Park, the Heritage Station Museum and the World War II Flight Training Museum, the most intact of the remaining flight schools, she says. Between 5,000 and 10,000 cadets trained there during World War II and for years have returned for an annual reunion.
"Unfortunately, we're now down to about five who are able to visit," says Merritt, regarding what is likely to be the last year for the reunion.
With these and other projects creating buzz, Coffee County is living up to its mantra.
---
LOCAL FLAVOR
Broxton Rocks
It's hard to believe that there exists a 10-foot waterfall in Georgia's Lower Coastal Plain, but you can find one in northeast Coffee County's Broxton Rocks Preserve. So rare and special is the property that it's overseen by The Nature Conservancy. In fact, Broxton Rocks is full of anomalies. In addition to the falls, the site also includes rare pitcher plant seepage bogs and the single largest outcrop of sandstone (about four miles long) in the Atlantic Coastal Plain, dating from the Middle Miocene era, 5 million to 23 million years ago.
Threatened or endangered species are among the roughly 530 plant species here, some once thought to be extinct. They include both filmy and shoestring ferns as well as Georgia plume, green-fly orchid and silky creeping morning glory. In fact 22 species here are considered rare, including the largest and only protected population of the rare succulent herb grit portulaca, an otherwise Cuban species. Centuries of erosion have carved fractures and cave-like recesses in the sandstone, creating the perfect environment for much of the thriving flora and fauna, including about 100 bird species.
The longleaf pine ecosystem that is home to the preserve is being restored by The Nature Conservancy.
"With its weathered rock and whispering wiregrass, Broxton Rocks Preserve is a unique cultural and ecological wonder tucked away in Coffee County," says Jared Teutsch, director of conservation for The Nature Conservancy in Georgia. "The preserve's 1,650 acres is part of the larger Broxton Rocks Conservation Area, which is protected and managed by the collective efforts of The Nature Conservancy, local landowners, Coffee County, the Georgia Department of Natural Resources, Georgia Forestry Commission and other partners. Working together, we strive to achieve the restoration and long-term management of this special place."
The site is open by appointment, with very few exceptions. Hikers can access a one-mile trail that extends from the preserve gate to the falls during the months of June, July and August. The entire preserve opens to the public every Easter Sunday and on select dates for tours and work parties.
Jim Cottingham, retired now from South Georgia College as a professor of education and psychology and former vice president of student affairs, grew up visiting Broxton Rocks and taking groups of scouts there before it became a preserve. Today he serves as a tour guide for the spring and fall trips, averaging 15 to 20 visitors, many seeing the site for the first time.
"[Visitors] range from families coming in from here and there and a smattering of locals and then from most any place in the state," he says.
"I think the whole thing is just an incredible natural diversity. The unique plant and animal associations are just really marvelous," says Cottingham.
Know before you go: If visiting the falls via the one-mile trail June-August, please note that there are no restrooms and the trail is not ADA equipped or stroller-friendly. To sign up for a tour or for information about visiting Broxton Rocks, call 404.873.6946 or email tncgeorgia@tnc.org. – K.K. Snyder