2017 Georgia's Top 100 Public Companies
The companies on this year's list generated $453.5 billion in total revenue in 2016 and reflect Georgia's status as a great place to do business. Plus a look at four CEOs who are running some of the top companies in the state.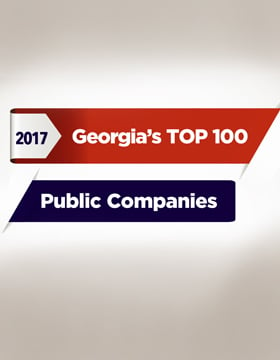 When you think about successful businesses in Georgia, The Home Depot, UPS or Coke may pop first to mind. But with the state's business climate continuing to be ranked No. 1, there is so much more here.
In addition to these three high-ranking companies, this year's Top 100 Public Companies list includes banks; retail operations; bioscience, logistics and technology firms; and more – everything our state needs to continue to thrive and positively impact the lives and livelihoods of our residents.
In all, the Top 100 Public Companies posted $453.5 billion in total revenue for 2016. According to the Georgia Department of Economic Development, this year's list includes 17 Fortune 500 and 30 Fortune 1000 companies with global headquarters in Georgia.
Thirteen new companies made the list, including No. 30, GMS, a Tucker-based distributor of gypsum wallboard and suspended ceiling systems.
This year's top 10 didn't change much. In fact the first eight spots stayed the same, while the next two shifted up one. Veritiv, Georgia's only Fortune 500 company with a woman at the helm, slipped from No. 9 to No. 11, which allowed SunTrust to move from No. 10 into the No. 9 spot and Mohawk to move up one to No. 10.
Georgia Trend's 2017 list of Georgia's Top 100 Public Companies is determined by S&P Global Market Intelligence and is based on data supplied for 2016.
Like last year, we talked with the CEOs of four of the Top 100 companies to gain insight into the stories behind their success. These leaders generously shared information about their businesses, their leadership styles and their influences. The profiles were written by Ellen Berman. Comments were edited for space and clarity.
Read on to learn more about these leaders who continue to make Georgia a great place to do business, followed by the complete Top 100 list. – Karen Kirkpatrick
---
David Abney
Chair and CEO, UPS
Atlanta
UPS is a global leader in logistics that transports packages and freight, facilitates international trade and deploys technology to manage costs and enhance business efficiency. About 12,000 UPSers work in Metro Atlanta alone. In its 2016 Corporate Sustainability Report, UPS committed to a 2025 goal to reduce greenhouse gas emissions from global ground operations by 12 percent.
What are you optimistic about in your industry?
We're seeing massive growth in e-commerce shopping, and it continues to accelerate along with the need to transport goods transacted via e-commerce channels. Worldwide retail e-commerce sales are projected to top $4 trillion by 2020. During the 2016 holidays, UPS's average daily volume exceeded 30 million packages on more than half of the available shipping days.
Expansion in international trade is also enormously promising for us. In our first quarter of 2017, export package volume grew more than 14 percent. Meantime, these two growth drivers are converging. Global cross-border e-commerce is projected to grow at an average of 22 percent from 2015 to 2020 compared to 15 percent for U.S. e-commerce. For UPS, that translates into fantastic opportunities.
What concerns you?
While I'm very optimistic about growth in international trade, it's also an area that concerns me. The free flow of goods, especially internationally, is the lifeblood for our continued success. So I'm very concerned about the health of existing agreements and the future global trade agreements – including those with bi-lateral, multi-lateral and regional terms. UPS's cross-border services, customs services and our ocean and air-freight services all depend on healthy approaches to trade and the free flow of goods across borders.
What's the best business leadership advice you ever received?
One of my early managers at UPS believed in me more than I probably believed in myself at the time. He held me to a higher standard than I even held for myself. He told me that you have to believe in yourself. I learned from him how true that is – when you believe in yourself, it will cause you to carry yourself in a different manner and to lead yourself and others to success more often, and more consistently.
What's the best thing about doing business in Georgia?
It's impossible to list just one thing that makes Georgia great for doing business. Georgia is committed to the logistics industry, and we have leveraged access to the Savannah and Brunswick ports and Class 1 railroads.
Both Georgia and the city of Atlanta continue to support infrastructure improvements. They also offer a diverse, highly skilled talent pool from major colleges and universities including Georgia Tech, Georgia State University, More-house College and UGA; access to international travel; an extensive highway system; excellent quality of life for employees (great schools, affordable housing, easy access to culture and entertainment); and a global reputation as a world-class business hub. We are grateful that Mayor Reed and Gov. Deal work well together, for the benefit of our community.
Our recently announced $400-million investment in a new 1.2-million-square-foot regional package and sorting hub on the west side of Atlanta will create more than 1,000 new jobs. It's UPS's latest investment in this state, and likely not our last.
---
Jeffrey C. Sprecher
Founder, Chair & CEO, Intercontinental Exchange
Chair, New York Stock Exchange
2017 Metro Atlanta Chamber Chair
Atlanta
The Intercontinental Exchange (ICE), with headquarters in Atlanta and New York City, launched in 2000 as an energy swaps market and has grown organically and through acquisitions into a network of 12 global exchanges that includes the New York Stock Ex-change. ICE also provides risk management services for global markets. ICE Data Services is a leading global provider of financial market data.
What are you most optimistic about in your industry?
I'm most optimistic about how technology is creating efficiency and market transparency, which drive more investment and risk management opportunities.
What are you optimistic about in regard to the Metro Atlanta Chamber?
There is a strong commitment from regional business and policy leaders to ensure we remain a leading area for business. We have many assets in the metro area to support that objective, such as our higher education system, diverse range of industries, leading airport and port access, and Southern hospitality. I also see a lot of potential for us to continue to advance by helping to address issues incumbent on a fast-growing region, along with remaining on the forefront of technological change.
What concerns you in both your industry and your MAC role?
I'm probably most concerned about burdensome regulation that limits market-based price signals and capital formation, which are the foundations for economic stability and growth.
[At the chamber,] we have a lot of competing priorities as we work to contribute to our region's growth. Managing growth is a good problem to have, but it's a matter of prioritizing and allocating scarce resources. One example is the need for our transportation system to keep up with our growth. Another is ensuring our education system serves our community in a way that creates opportunity for our growing population. And we need to continuously build on our efforts to support the technology and entrepreneurship communities to help drive jobs.
What has been your focus for MAC?
One of the reasons I accepted the chair's role was because Atlanta served me well in building my company from a tiny, nine-person startup into a Fortune 500 company. So I want to give back by continuing to make this a world-class region for companies and their employees. And to do this, bringing business leaders and policy makers to the table helps raise awareness of potential risks and opportunities as we manage through this growth.
What's the best business leadership advice you ever received?
I got a lot of "advice" when I started out that my ideas wouldn't work or that they carried too much risk. Fortunately, we ignored much of that.
What business-related book would you recommend to other business leaders and why?
Steve Jobs, the biography by Walter Isaacson, was pretty influential for me at a time that our industry was going through change, following the financial crisis. It's a reminder that embracing change and looking at things through a new lens is really the only way to grow.
What's the best thing about doing business in Georgia?
One of our best assets is that it's relatively easy to do business in Georgia. My company operates in over 30 major cities around the world, so I have a lot of context for that. And I'd be remiss if I didn't mention that the high caliber of people who live and work here makes me proud to be a Georgian.
---
M. Troy Woods
Chair and CEO, Total System Services Inc.
Columbus
Total System Services (TSYS) provides global payment services, from issuer processing and merchant acquiring to prepaid program management. In 2016, TSYS processed more than 25.5 billion transactions and generated $4.2 billion in revenue. The company was named one of the 2017 World's Most Ethical Companies by Ethisphere magazine.
What are you optimistic about in your industry?
In our industry when you think about the secular trends that continue to move cash to electronic payments, it's clearly favorable to our industry. Payment disruptors like Apple Pay and integrated service providers and person-to-person payments are favorable. I think continued consolidation in the industry is favorable, and we hope to continue to grow with consolidations. The growth of e-commerce is also extremely important in our business.
What concerns you?
Overregulation concerns us. The Consumer Financial Protection Bureau is a rogue agency that is out of control with very little accountability. There has been a lot of good rhetoric out of Washington about rolling back regulations, but time will tell. Regulation can be stifling.
Also, this whole area of cybersecurity and information security and the possibility of a breach is critical. Probably not a week goes by that you don't read about a cyberattack. There's an increasing level of sophistication with our adversaries.
We're also concerned about global tensions. Since we are a global player, that can affect consumer confidence and travel and, of course, the economy.
Another thing is the continuing need to find qualified talent; it's competitive out there, and you have to be on your toes starting at the college level, showing employees a growth path with your company. For the future, we want to grow and retain talent. And we have to continue to find ways to grow organically.
What's the best business leadership advice you ever received?
Don't try to make everybody happy. That would be the top of my list. You just can't do it; it's great to get 100 percent buy-in on execution, but the bigger you get, you've got to gather the facts and listen to your trusted lieutenants and make a decision.
What business-related book would you recommend to other business leaders and why?
That's an easy one for me. I've read quite a few of them. Which book do I keep in my office and go to so much that it has dog-eared pages? The Outsiders: Eight Unconventional CEOs and Their Radically Rational Blueprint for Success, by William Thorndike. I've had several of my executives read it.
What's the best thing about doing business in Georgia?
There are a lot of things. The general business climate and business-friendly environment at both the local and state level are really good. We are taking advantage of Georgia's generous tax incentives. Being a right-to-work state is healthy and pro-business, and there are also great educational facilities here. We've had a great partnership with Columbus State University. Also, between 70 percent and 75 percent of all major credit card payment transactions flow through Georgia because of all the payment companies headquartered here. Of course I'm biased because I was born and raised in Georgia.
---
Ramesh Srinivasan
President and CEO, Agilysys
Alpharetta
Agilysys is a global technology company that serves the hospitality industry with solutions that improve efficiency, help attract more guests and improve their experience. These solutions assist with property management, inventory and procurement, workforce and document management. The company also delivers sophisticated analytics and mobile and wireless solutions.
What are you optimistic about in your industry?
This is a growing industry with a lot of opportunities for revenue growth. The technical needs of guests of hotels and restaurants are also growing, so in order to increase guest loyalty and improve service to their guests, our customers need to have the kinds of products we provide, maintain and upgrade. Our customers expect more and more sophisticated technology, which puts pressure on us to create more revenue growth.
What concerns you?
My main concern is the ability of technology vendors like us to grow in a scalable manner while also maintaining our profitability. You can easily talk yourself into investing tens of millions of dollars and not delivering to shareholders, so the trick is to balance disciplined growth while maximizing profitability. Another concern is how to balance execution with innovation. You have to do both; you have to enhance the products you already have and come up with new products – you can't be only an innovator or only a company that executes well.
What's the best business leadership advice you ever received?
I have had the good fortune of growing up with several mentors, including the founders of Manhattan Associates in Atlanta, and they taught me a lot about disciplined growth, how to execute and how to keep that balance of profitability and revenue growth.
I grew up through the engineering ranks and learned that the best way to achieve your goals is to help others achieve their goals. The main reason why my company is doing well is because my main focus has been on helping others achieve their goals, including customers, colleagues, all of our teammates and partners. Making them do well in life and become happier means I will do well in life.
What business-related book would you recommend to other business leaders?
I have several: Good to Great and Great By Choice, both by Jim Collins; Discover Your True North, by Bill George; and What Got You Here Won't Get You There, by Marshall Goldsmith.
What's the best thing about doing business in Georgia?
There is a great availability of technical and managerial and administrative talent here. We have customers on both coasts and in between. Since Atlanta is a wonderful travel hub it's easy to reach it from any part of the world, so travel is very easy.