Georgia Municipal Association honors Norton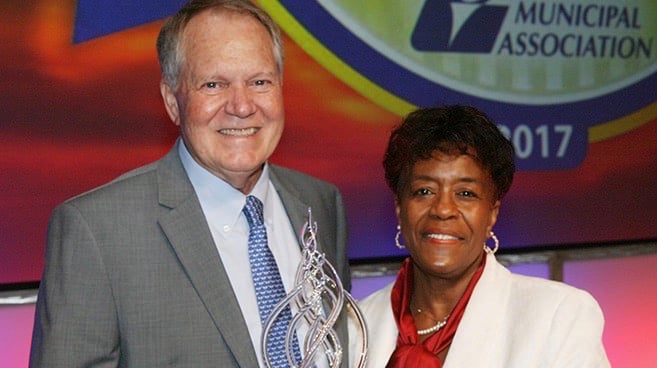 Congratulations to Lamar Norton, retiring executive director of the Georgia Municipal Association (GMA), for being honored with the Georgia Key Citizen Award at GMA's annual meeting in Savannah. The award, GMA's highest honor, has been presented to all former GMA executive directors as well as Georgia dignitaries, including state legislators, governors and other leaders.
During the award ceremony, Albany Mayor Dorothy Hubbard recognized Norton's 50-year service to the state and nation via the Navy, Georgia Power and GMA, a nonprofit that assists member cities with legislative advocacy and other consulting services.
In his 15-year tenure with GMA, Norton helped increase membership, which rose to 521 cities in 2016 – the highest-ever total. For the past five years, Norton has been featured in Georgia Trend's "100 Most Influential Georgians" and before the close of the 2017 legislative session, a Georgia House of Representatives resolution praised Norton and congratulated him on his retirement.
Photo courtesy of GMA. Albany Mayor Dorothy Hubbard, who is also GMA president, presents GMA's outgoing Executive Director Lamar Norton with the Georgia Key Citizen Award.