New Job, New Focus
Attorney General Chris Carr has a unique background in top-level politics and statewide economic development and an unusual challenge: He'll make his first run for office next year as a highly visible incumbent. He says he's ready.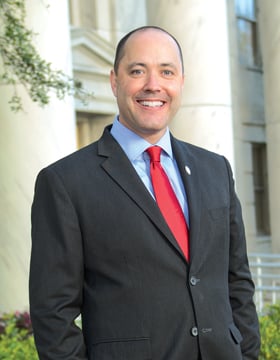 Chris Carr assumed the office of Georgia attorney general – one of the most powerful jobs in state government – last November when Gov. Nathan Deal appointed him to complete the term of Sam Olens, who resigned to become president of Kennesaw State University.
Carr, 45, spent the previous three years as Georgia's economic development commissioner and 10 years before that in Washington as deputy chief and chief of staff to Georgia Sen. Johnny Isakson, a Republican. He has a law degree from the University of Georgia but had not actively practiced for several years prior to his appointment.
He also has a campaign looming – his first as a candidate. Most incumbents have a little time to catch their breath once they are in office before the next election rolls around; Carr doesn't have that luxury but says he is up to the challenge.
"I'm fortunate to have been a part of other campaigns," he says in an interview with Georgia Trend at his Capitol Square office across from the Gold Dome.
"I know what I'm getting into. I know what it takes to be successful. I've got a lot of experience running campaigns, but I was not elected to this position. I know I will have to work."
After law school, Carr practiced with the Atlanta firm Alston & Bird, then was hired by the conservative Georgia Public Policy Foundation (GPPF) as vice-president and legal counsel: "I liked politics and public issues," he says.
He got his first taste of politicking when he was in between college and law school, working on Isakson's first Senate campaign in 1996.
"I was friends with Isakson's son, Kevin," Carr recalls. "When I heard he was running for Senate, I said, 'Can I help?' I stuffed envelopes and delivered yard signs." Not glamorous, perhaps, but he was hooked.
Isakson lost in the Republican runoff to Guy Milner; Democrat Max Cleland won the general election. But Isakson ran successfully for the U.S. House in 1999, when incumbent Newt Gingrich resigned. Carr worked on that campaign, then was campaign manager for Isakson's successful Senate run in 2004. "After the campaign, we staffed up, and I went to Washington. The experience was invaluable."
So Carr, Georgia's 54th attorney general, will run his first race as a candidate in 2018; party primaries will be held in the summer, and the general election comes in November.
Before that, he has a law department to run. Only three other people have occupied the office since 1981 – Mike Bowers, Thurbert Baker and Olens – all strong AGs who put their particular stamps on the office.
---
The AG's Job
Carr's view of the role of attorney general is straightforward. "The foundational responsibilities are to defend the Constitution of the United States and the Constitution and laws of the State of Georgia and represent the interests of the people of Georgia," he says. "The office represents the state's agencies and provides guidance to those agencies. We issue formal opinions and represent the state anytime it is involved in litigation, whether it is civil or criminal. We do a little bit of a lot of things, but we don't represent the legislative or judicial branches of state government."
It's not always a given that an attorney general will get along with the governor. Baker, a Democrat, clashed with Republican Gov. Sonny Perdue over the issue of who controlled the state's legal affairs. The Georgia Supreme Court ultimately sided with Baker, ruling that the attorney general, as a Constitutional officer and elected official, was in charge.
But Carr shakes his head when he is asked if he foresees any such conflicts with Deal, the man who appointed him.
"Thurbert's a great guy," Carr says. "I think that was a unique situation, a unique time in state government. This is a different administration, different conditions. My role is to represent the interests of the state."
He believes his previous work experience – including the time he spent as head of the state's Department of Economic Development, when Deal was his boss – will be a plus. "I've learned a lot from Gov. Deal and Sen. Isakson."
In terms of priorities, Carr says, "We'll continue efforts relating to human trafficking, prescription drug abuse and opiates, and open government." But he has at least one issue of his own to add, elder abuse.
Earlier this year, he was named to the Human Trafficking Committee of the National Association of Attorneys General (NAAG); and during the 2017 General Assembly session, he lent his support to HB 341, which strengthens efforts to prosecute traffickers and broadens the definition of trafficking to include patronizing and soliciting. The bill passed easily, with bipartisan support, in both the House and Senate.
"The Georgia General Assembly has taken a strong stand for human trafficking victims and a strong stand against perpetrators," Carr said after the bill's passage. "We remain confident that this bill will serve as a powerful deterrent for anyone who thinks they can engage in this modern-day slavery in our state."
A big part of fighting human traffickers, Carr believes, is raising public awareness of the prevalence of trafficking. It is a huge problem in Georgia.
"The Super Bowl, the Final Four – all those things coming to Georgia that we are rightfully proud of – we have to realize predators will take advantage of them," he says. The same logistical attributes that bring business – an international airport and an efficient system of roads and highways – make the state appealing to traffickers.
Carr says upholding Georgia's sunshine laws relating to open public meetings and open public records will be a priority for him, as it was for his predecessor. "We will continue to promote government that is open and transparent. This office has a trust and responsibility to make sure [open government] laws are followed. Our preference is to solve problems before they occur."
Carr is also carrying forward the AG office's existing efforts against prescription drug abuse. He's proud of the "We're Not Gonna Take It" video competition for high school students that his office co-sponsors with the Georgia Association of Broad-casters and the Healthcare Distribution Alliance. Students are invited to make 30-second videos aimed at teens, encouraging healthy lifestyles and highlighting the dangers of prescription drug abuse.
He announced this year's winner, Dunwoody High School student Peter Vuong, in a presentation at the school. "Peer influence is really important," he says. "It's not what the bald guy at the front of the room says, but what peers say." The winning entry will be shown on Georgia public television stations.
---
A New Priority
Along with all of the above, Carr is targeting elder abuse – in all its forms.
"Right after I took office, I went to a convention of state attorneys general, and Vernon Keenan [Georgia Bureau of Investigation director] and others from Georgia made a presentation on elder abuse. I learned a lot that I hadn't known, especially about issues of financial risk and theft – not just from caregivers, but from family members and strangers."
Those include identity theft and scams that bilk trusting seniors of their money, persuading them by various means – fraudulent phone calls, faked personal appeals – that a family member needs help, when that isn't so.
"We have an obligation to protect those most at risk," Carr says, promising "zero tolerance" for offenders. "It's not just in poor neighborhoods – Vernon says scams happen in Athens, Buckhead, Cobb County." His office is currently prosecuting a case, in conjunction with the local district attorney, against a Cherokee County man who stole nearly $90,000 from his adoptive father, including funds from a reverse mortgage that he had helped obtain, and used some of that to purchase a BMW.
The man has been indicted on counts of racketeering and exploitation of an elder person; the AG's office says he forged checks in his father's name and deposited them in an account for his own business.
Physical neglect by caregivers, in private homes or institutions, presents another set of problems; so does abuse of government programs, when Medicare, Medicaid, Social Security or veterans benefits are involved.
One tactic Carr believes will be effective: "Partnerships with local and federal agencies, teaming up to prosecute things like Medicare fraud or [theft of] veterans benefits."
His office will work with licensing boards when there is wrongdoing in facilities or by practitioners.
"The communication piece is important," he says, "raising awareness and bringing the message to chambers of commerce, nonprofits, churches – getting the word out."
So is involving the public, asking them to be vigilant and report anything suspicious: "Watch for behavior changes in the elderly, signs that something might be happening."
---
Water Wars
Not long after Carr took office, Georgia won a big round in its years-long dispute with Florida and Alabama over waters released from Lake Lanier; a special master recommended to the U.S. Supreme Court that Florida's request for a consumption cap on Georgia's water use be denied.
The special master's report said Florida had failed to prove the need for such a cap and indicated that the U.S. Army Corp of Engineers, which regulates the flow of water from Lake Lanier, should have been a part of the suit. The report also said the remedy Florida proposed would likely not have made a difference.
"That was a very positive message for the state," says Carr, whose department has directed Georgia's legal efforts in the water wars. "It was a great day for Georgia. It validated what Georgia has been doing to conserve water. The special master commended the state for its conservation."
The recommendation must be officially accepted by the U.S. Supreme Court, and there is always a chance Congress could weigh in or that additional lawsuits could be filed. But it feels like a victory.
"We still have a ways to go," Carr says. "We'll continue to be vigilant, but Georgians should feel good about it."
---
Economic Development
As much as he valued his time in Washington with Isakson, Carr, who grew up in Dunwoody and lives there now, says he was ready to come home three years ago when Deal offered him the top economic development job – for personal and professional reasons. "I have a daughter," he says, and the travel was difficult. "And it was a very partisan time in Washington." Congress wasn't accomplishing much, and he found that frustrating.
During his tenure as head of the Georgia Department of Economic Development (GDEcD), the agency worked on 1,069 projects throughout the state, representing some $14.4 billion in investment and more than 84,000 new jobs. In 2015, the department was recognized as the top economic development agency in the country, and Georgia had already been named three times in a row by Site Selection magazine as the best state in the country in which to do business.
Economic development is an unusual background for the state's top lawyer, and it does inform the way he does his current job, Carr says.
"From a common-sense perspective, I've seen the impact of laws and regulations, how they impact businesses and relate to Georgians on a day-to-day basis," he says. From the state perspective, "I've traveled around the state. I understand what's been successful. I'm not looking down from a 50,000-foot level at it. I know the issues."
He believes his familiarity with the state and its business and civic leaders is a benefit: "Relationships are critical."
Businesses and employers are drawn to the state for its stability, especially in regards to the legislative and regulatory processes, he says. "State and local government are partners, not adversaries."
---
Mentors, Connections
Carr says it was a very proud moment when Isakson paid tribute to him in a speech on the Senate floor as he was leaving Washington to take the Georgia economic development job. He was in the Senate gallery: "It was tough to listen to," he recalls.
Isakson praised him as a good friend and a savvy campaign strategist.
"I wish to pay tribute to a friend, a chief of staff, a leader, someone who has had a positive influence on my life, but most importantly has had a positive influence on his country," Isakson said.
"Chris joined me in 2003 for a great adventure – my race for the Senate. He guided us through a primary a lot of people said I couldn't win and a lot of people said I would never win without a runoff.
"We had to get 50 percent plus one in a Republican primary. We did that without a runoff because of Chris's leadership, his dynamics and his hard work in how he guided that campaign. We won the general election by 58.8 percent."
While Carr's selection as AG elicited a few comments about his lack of courtroom experience, the heavy-hitter business community quickly lined up behind him – no doubt seeing him as an ally in its strong opposition to any future efforts to revive so-called religious liberty legislation. He already has campaign donations from Delta, Georgia Power and Equifax, among others.
Carr's business and political connections will be a plus for his campaign: Having two of the state's most formidable political figures, Isakson and Deal, as mentors and supporters, is a key asset. During the time he spent at the Georgia Public Policy Foundation he worked with T. Rogers Wade, a veteran GOP adviser and former chief of staff to the late Sen. Herman Talmadge. Carr is married to Joan Kirchner Carr, who is Isakson's current chief of staff.
But when election time rolls around, it will be Chris Carr's name on the ballot. He is asked when his campaign for a full AG's term will begin in earnest?
"Last November," he laughs, "Nov. 1, 2016," the day he took office.
He is not intimidated by the prospect of being the candidate rather than the campaign manager. Nor is he discouraged by the post-2016 election divisions in the country that can present a challenge to campaigning and governing.
"Regardless of who's in office or the loudness of the messages, we all have a mandate," Carr says. "I can either be constructive or destructive. I can work to move past the destructive forces. I choose to be constructive. "
For him, that means bringing good ideas, using the office he holds and opportunity he has to make a difference.
Of the background noise and turmoil, he says, "That doesn't change who I am. I'm not going to change who I am and what we are doing here.
"It's a philosophy I've had since I got into public life. I'm a constructive individual. I want to find common ground and find ways to be successful."
In that regard, he says, he has learned from the best.