Lasting Impact
Six counties create distinctive programs for better access to jobs, healthcare, housing and safe streets.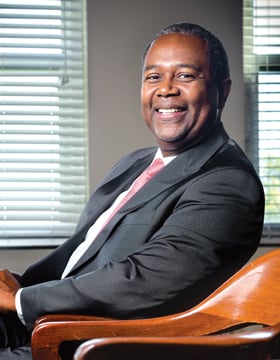 While the leaders of most counties are dedicated to improving the lives of residents, it takes visionaries with an unwavering commitment to create programs that make a huge and lasting impact. This year the ACCG, a nonprofit organization established to serve Georgia's county governments, selected six of the state's 159 counties to be honored as Georgia Counties of Distinction for their game-changing efforts. These initiatives include establishing safer, healthier and more livable streets; finding the most cost-effective ways to pave roads; expanding access to rural healthcare services; providing housing for homeless veterans; supporting the increased availability of new jobs in a growing market; and helping nonviolent drug offenders turn their lives around.
"We looked at each population category and focused on counties of specific distinction in both urban and suburban contexts," says Ross King, executive director of ACCG. "Our hope is that by identifying and promoting these counties, their programs can be replicated elsewhere around the state and beyond to benefit the maximum number of people." – MAD
---
Augusta-Richmond County
Transformational Movement
With hacking and cyber warfare making headlines every week, the need for more cybersecurity experts is huge. Thanks to $250 million worth of investment into the community, Augusta-Richmond County is poised to become a national epicenter for cybersecurity by 2020, boosting the region's economy in the process.
"This is really a transformational movement for our city, our region and, quite frankly, the state of Georgia," Augusta-Richmond County Mayor Hardie Davis Jr. says.
Davis joined Army leaders in November 2016 for a groundbreaking at the future U.S. Army Cyber Command head- quarters, a $180-million project at Fort Gordon. The installation already is home to the U.S. Army Cyber Center of Excellence, Cyber School and Signal School.
The first phase, totaling $85.1 million and 179,000 square feet, is slated for completion in 2018. A second phase is anticipated to open in 2019. More than 1,200 soldiers and civilians will occupy the Cyber Command facility by late 2020.
In summer 2018, the state's $50-million Georgia Cyber Innovation and Training Center, a 150,000-square-foot "cyber range and training facility," is expected to open. Augusta University will be home to the center, which will develop infrastructure and the workforce to defend the country against cyber threats.
The center joins cybersecurity curriculum at Augusta Technical College and courses for students in the Richmond County School System and Columbia County Schools.
"I don't think we can talk about economic growth and development without workforce development being the underpinning for that," Davis says.
Since the U.S. Army's announcement in 2013, Augusta has attracted defense contractors and companies paying higher wages, such as Unisys, which is bringing more than 700 information technology jobs to downtown Augusta by 2019.
The boom has sparked the construction of hotels and Class A office space, Davis says. Business incubators and mixed-use developments are also in the works.
"This is one of Augusta's finest moments," he says. "It really positions Augusta nicely in my mind to become the cyber technology capital of the nation." – LJ
---
Toombs County
Vision Becomes Reality
At a time when demographics and healthcare economics are stressing Georgia's rural hospitals, Vidalia's Meadows Regional Medical Center (MRMC) is in a spot as sweet as the region's famous onions. The roots of success for Toombs County's nonprofit and self-funded hospital stretch back to 2000.
That's when Meadows took a different approach from the typical rural hospital focus on primary care and began emphasizing specialty medicine. Since then, Meadows' medical system, which includes a cancer center and outpatient facilities, leapt to 1,100 employees from 376. Its 57 beds now average more than 80 percent occupancy, its ER treats 35,000-plus patients a year and the staff delivers almost 900 babies annually, according to President and CEO Alan Kent.
"If we've had a visionary idea, it's been to have a more regional than local focus," says Kent. "We are more remote from a tertiary care [highly specialized] hospital than most of the state. So, we tried to step into that gap."
Meadows did that by becoming what Kent believes is Georgia's smallest hospital providing a cardiac catheterization lab, medical and surgical specialties and maternal and pediatric services. As a result, Meadows, the only accredited hospital in Montgomery, Toombs, Treutlen and Tattnall counties, routinely recruits doctors from medical schools such as Emory, Vanderbilt and Dartmouth who want to practice their specialty without big-city hassles.
Meadows didn't travel the path to success alone. "The biggest thing we've done is we've been a community-based organization," says Kent. "When recruiting doctors and growing a hospital, it's a community event. And we have a very engaged community with outstanding leadership that extends way beyond the hospital." That community, he emphasizes, includes elected and appointed officials and business, civic and church leaders.
The hospital's success has numerous local benefits, says Toombs County Manager John Jones. "As one of the largest employers, MRMC provides residents an opportunity for a career in the medical field with pay above the local norm. In addition, our residents are provided a higher level of care that otherwise would require lengthy travel." – TO
---
Fulton County
Making Mobility Easier
In the closing scene of Back to the Future, Doc Brown turns to Marty McFly and says, "Roads. Where we're going, we won't need … roads." While Fulton County seemingly will always need roads, its 15 municipalities are taking a new look at the future of pavement.
They are doing that with projects that embrace the concepts of the National Complete Streets Coalition, a nonprofit dedicated to smart growth practices, and are funding them with a tax increase that voters approved in the 2016 Transportation Special Purpose Local Option Sales Taxes (T-SPLOSTs) and local funds – three-fourths of a penny countywide (and four-tenths of a penny in Atlanta). The tax is projected to generate $570 million to $655 million during the next five years, with a portion being used to fund pedestrian, bike, streetscape and landscape projects agreed on before the Nov. 8 vote.
The idea behind the program, which will also examine the role of buses and rail, says Fulton County Commission Chair John Eaves, "is to make mobility easier and more accessible, not just for car drivers and bike riders, but for pedestrians, children, seniors and those with disabilities."
Fulton's mayors and county commissioners agreed that the fairest way to finance the initiative among the munici- palities, including Atlanta as well as the county's populous northern suburbs, was to distribute sales tax monies based on municipal populations.
"That's the beauty of this T-SPLOST," says Eaves. "It was very localized. We have a big county, 77 miles long from Alpharetta in the north to Palmetto in the south. Given that each city has unique needs, each city developed its own transportation plans. So projects for Alpharetta and North Fulton are different from projects in Union City because they have different demographics."
Overall goals, says Eaves, are to relieve congestion; improve safety by coordinating car lanes, bike paths and sidewalks; connect communities and make them more livable and healthy; and boost economic development by adding walking and biking opportunities to employment centers that increasingly are locating along the backbone of MARTA's rail line – especially in light of the I-85 bridge collapse this spring. "This is an exciting time as government officials, business leaders and residents truly realize we must change the way we think of transportation," says Eaves. – TO
---
Muscogee County
Building Productive Lives
Muscogee County has become a leader in helping people build productive lives through the rigorous requirements of its accountability courts. These courts provide alternatives to jail time for nonviolent offenders who are struggling with drug or alcohol abuse, mental health problems and other concerns. To participate, an individual must commit to a multi-year program that mandates treatment plans, goal setting and ongoing drug screening.
The county's four accountability courts include Adult Drug Court, Juvenile Drug Court, Mental Health Court and Veterans Court. The effectiveness of these courts has led to plans for two additional courts in the near future – a Child and Family Support Court to handle child support payment issues and a Family Drug Court to provide substance abuse treatment for parents or guardians of children who are removed or likely to be removed from their custody.
Research shows that sending someone to prison costs substantially more than their participation in an accountability court. "Instead of $51 per day for prison, the Adult Drug Court program costs $13 per day," says Judge Frank Jordan Jr., who presides over the Adult Drug Court. "When participants come to us, about 70 percent are not employed, but upon graduation, 70 percent are gainfully employed. They've changed their lifestyle and become working, tax-paying citizens of the community."
But the benefits of accountability courts extend beyond cost savings to life-changing intangibles. "One thing I see is the re-establishment of family connections in many cases," says Judge Arthur Smith, who presides over Veterans Court. "The vets feel like they're making progress in life rather than floundering."
Participants often form strong bonds with the judges and feel extremely grateful for the opportunities that open up when they graduate from an accountability court program.
"It's a very emotional experience to go to one of the graduations and see people whose lives have been completely transformed," says Teresa Tomlinson, mayor of the consolidated Columbus-Muscogee County government. "It's not unusual to see grown men who've lived hard lives weep when they receive their diplomas." – MAD
---
Oglethorpe County
Paving Partnerships
When Oglethorpe County started doing their road paving in-house six years ago, they found an unexpected way to save money, create jobs and be a good neighbor.
"We did a little project – started paving one of our roads that went into Madison County," recalls Oglethorpe County Commission Chair Billy Pittard, who is credited with the idea.
That first small project that extended into Madison County from Oglethorpe county was done at cost. "When they realized how much they could save and the quality of workmanship that we provided," says Pittard, "they asked us to do more [as did Elbert County]." He says their target "net" profit margin was $20,000 per mile, and "we always beat that margin."
Former Madison County Commission Chair Anthony Dove likens the arrangement to repave five miles in his county with Oglethorpe as a "co-op" that board members were quick to approve. "The commissioners liked the idea. We got it for less than we would have with a private contractor," he says. With asphalt pricing high at the time, the good-neighbor option made financial sense.
The counties leveraged Local Maintenance & Improvement Grant (LMIG) funds from the Georgia DOT and Special Purpose Local Option Sales Tax (SPLOST) dollars for the roads, saving about $20,000 a mile through the partnership with Ogle- thorpe, says Elbert County Board of Commissioners Chair Tommy Lyon, who is also president of the ACCG. "After we saw the trial run into Madison County, we asked them to come over. I think we've been doing it for three years now, from about 5 to 10 miles a year."
As the Oglethorpe road crew did more paving, they discovered another benefit, says Pittard: they became much more efficient. "I estimate we've saved the taxpayers about a million dollars [in paving costs] over the last several years." The county put the money back into transportation infrastructure, refurbishing gravel on roads and upgrading equipment.
It's not a stretch to think that similar programs could be used for other county services in the future. "There are a lot of areas that have possibilities: 911 services and landfills are [a couple]. We have equipment that could pave for a half dozen counties and still have time left over," says Pittard.
"There are a lot of areas where county governments can get together," Lyon says. "Just because our tax base is inside county lines is not a reason not to work together." – AB
---
DeKalb County
Reducing Veteran Homelessness
Nearly 500 homeless veterans received housing in DeKalb County last year, making it the state's first jurisdiction to reach "functional zero" status according to the federal government.
Functional zero means the number of veterans being connected with permanent housing each month is greater than the number of homeless veterans within a community.
The county worked with the Housing Authority of DeKalb County, Decatur Housing Authority, local nonprofits and federal government agencies to identify who needed housing and to provide placement and services. On average, it took 90 days or less to permanently house veterans who accepted housing.
"We should do all we can to support the men and women who have served this nation honorably, especially those who found themselves to be homeless and without the ability to support themselves," says DeKalb County CEO Michael Thurmond.
To achieve functional zero, DeKalb had to demonstrate it had the systems and capacity to connect people with housing and ensure that veteran homelessness is "rare, brief and non-recurring," according to the United States Interagency Council on Homelessness (USICH).
USICH and the departments of Housing and Urban Development and Veterans Affairs called on cities, counties and states to commit to ending veteran homelessness by the end of 2015. In 2016, those agencies confirmed DeKalb's functional zero milestone.
The efforts focused on educating and assisting veterans and landlords. A system developed by the Housing Authority of DeKalb County and VA quickly identified homeless veterans or those about to lose their homes. They were referred to the VA's Community Resource and Referral Center or to a community agency, including Project Community Connections, Action Ministries, Travelers Aid of Metro Atlanta and Decatur Cooperative Ministry, that connected them to housing.
The United Way of Metropolitan Atlanta, the VA and the county also sponsored landlord training and housing fairs for veterans.
"We're a model, but we're also here to assist other counties and other jurisdictions who may want to do more to assist homeless veterans in their communities," Thurmond says. – LJ