Blackshear|Pierce County: Rising to the Occasion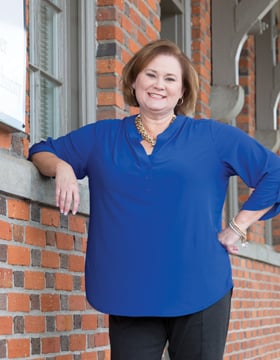 The sounds you hear in Blackshear and Pierce County these days are likely to be the noise of traffic coming into the area, bringing workers to the growing number of businesses.
"We used to consider ourselves a bedroom community, but it's not like that anymore," says Angela Manders, executive director of the Pierce County Chamber of Commerce. "A lot of folks from Ware County work over here."
Pierce County has a growing industrial base and a public school system that "is pretty much unmatched in the South," says Manders. "Our test scores are typically above others in the region and many times the state. We just have great leadership, and we have a standard of excellence that's just unheard of. That is definitely something that is a selling point for Pierce County."
There are currently about 25 out-of-county tuition students enrolled in the system. "Our district consistently maintains a CCRPI [College and Career Ready Performance Index] score that is within the top 10 percent of school districts within the state of Georgia," says Interim School Superintendent Judy Rowland. "I believe our high level of performance speaks to the reason why parents choose to pay tuition to attend our public schools."
Manders says the chamber, the Pierce County Industrial Development Authority and the school system work very closely together.
"We have an educational workforce development team, and we keep that conversation going," she says. The team also includes South Georgia State College and Coastal Pines Technical College in Waycross, with a result that Pierce County has more Move on When Ready (the state's dual enrollment program) students than any other school in the region. "We're very proactive about taking students on industry tours and college tours. That's a very important partnership that we have."
The school system is set to begin construction this summer on a new high school. The $30-million, 190,000-square-foot project is expected to welcome its first students in August 2019. A property-exchange agreement with the county will enable the school system to continue using its current athletic facilities and parking areas, says Assistant School Superintendent LeVance Gay. "It will allow us to leverage the investment we already had," Gay adds.
---
Broad Base of Employers
Industry in Pierce County runs the gamut from manufacturing to transportation to distribution. Gilman Building Products arrived approximately three years ago and operates a sawmill and a fingerjoint lumber facility with approximately 150 employees. Composite Research Inc., builder of Sundance skiffs and other small boats, added 30,000 square feet in 2016 with about 25 new employees, bringing their total to 60. Stewart Candy and Distribution, a distributor to convenience stores across a broad swath of the Southeast, is presently adding 60,000 square feet to its facility and will bring 30 additional jobs.
A coup for Pierce County, according to Industrial Development Authority Executive Director Matt Carter, was the recruitment of Southern Ionics in 2012. The company mines zirconium and titanium in Brantley and Charlton counties and ships the ore to a high-tech separation plant at Patterson in Pierce County. The capital investment on that project was more than $50 million, Carter says, and it took three years to bring it to full operation. "They're an awesome company for the community," he adds.
Southern Ionics Plant Manager Tim McKeon, a mining engineer, has been involved in a number of projects and says the Pierce County plant "is the best startup we've done." There had not been a mineral separation plant before in Georgia, and the question was whether the state had people capable of running it or training to operate it.
Applicants from a wide range of fields – from military veterans to HVAC, food service and medical labs – were interviewed, says McKeon, "and people have just done an excellent job" in transferring skills, with a strong work ethic and teamwork. The plant has experienced "incredibly low turnover," and the community has been the most welcoming of all the places he has worked, he says.
Other companies with dozens of employees include Progress Rail, a subsidiary of Caterpillar that builds locomotives; manufacturer Americana Tire; Ace Pole, which produces light poles; and a UPS shipping hub.
The county is working on getting its industrial park Georgia Ready for Accelerated Development (GRAD) certified, says Carter. In February, a groundbreaking was held for South Georgia Short Line LLC, which plans to construct a 10,000-foot rail turn-in for storage and potential transload – transferring shipments from one type of transportation to another – opportunities in the park. "Once that's done in 2017, that will be a great benefit for future expansions and new industries that need rail opportunities," Carter says.
The city of Blackshear is looking to add a new wastewater treatment plant that would also help in recruiting industry. Funding is currently being sought for the new facility, and if approved it should come online in about two years, according to City Clerk Susan Fowler.
---
Attracting Visitors
Blackshear's Main Street Manager and Economic Development Director René Bolden says recent additions to downtown include Larry's Giant Subs, which opened in February, and a new McDonald's with a double drive-thru. "This is big for Blackshear," she says.
In February, the old Dakki Shop Building was in the process of converting into a retail business called Lollygaggin', featuring home décor, antiques, custom farm furniture and more. The same business owners also own another antique store in Blackshear with plans to add a restaurant to that site.
"There have been other property sales in the community that I can't elaborate on at this time," Bolden adds. "But we are happy to say that Blackshear and Pierce County are growing."
Several streetscaping projects since the late 1990s and early 2000s have included new sidewalks, crosswalks, trees and streetlights. Most recently, the exterior of the city-owned former rail depot that houses the chamber and industrial authority offices was renovated through a $250,000 state transportation enhancement grant that required a city match. The building is on the National Register of Historic Places, with a goal to transform the former freight area into a community event space.
The downtown Comfort Inn hotel – "It's almost like a boutique," says Manders – is a useful tool the chamber has been able to leverage to grow the tourism industry. A number of local attractions are drawing visitors to the community for history, haunts, architecture and outdoor activities. Among them are the former Blackshear City Jail, a Gothic structure built in 1894 and known as "the hanging jail," although history doesn't record anyone ever being hanged there. E.L. Cravin's Haunted Funeral Parlor draws horror fans from a wide area to its downtown location every October, and the Satilla River Water Trail launched last September.
The chamber of commerce, Satilla Riverkeeper and the Georgia River Network partnered on the water trail project, Manders says, which is much like a hiking trail – with signage and access points all along the way. "That's a wonderful tourism product, a sustainable tourism product that we're very proud of." The local True Value hardware store seized the opportunity there to become a river outfitter.
About three and a half years ago, a geocaching project that Manders describes as "a high-tech scavenger or treasure hunt" conducted via a smartphone app was implemented by the city's Main Street program as a tourism product with 30 caches or containers hidden at attractions and businesses in the city and county.
"Ours is designed where you learn a lot of the history of Pierce County and Blackshear while you're doing it, and it [takes] a little more than a day, so you have to stay in the hotel to finish up," Manders says. In 2014, geocaching.org listed Blackshear's geocache at No. 5 of The 8 Most Amazing Geocaches for Beginners in the U.S.
Pierce County's repertoire of attractions also includes Bell Farms' Rabbiteye Winery (see Local Flavor, opposite page), which started operation in February 2016. Their forté is wine from blueberries, which the Bell family has grown for three generations.
Another noteworthy operation is Mossy Ponds, a Labrador retriever training center that offers on- and off-site services as well as dog shows that attract tourists, skeet shooting and an event venue with a lodge. It hosts events from weddings to political gatherings.
Just up the road from Blackshear is the town of Patterson. The one-time Patterson High School was reinvented as Eagle Station, home of the city hall, police station and an event center that hosts music concerts – country singer John Berry appeared there in March. The facility also houses a GED program and other community activities.
Interim County Manager Steve Layson sums up a general consensus about Pierce County, citing a positive atmosphere, the quality of the schools and a common bond of working together. He notes that before accepting the interim post he surveyed what was most wanted for Pierce County, and economic development was at the top of the list.
"If I were going to start a small business, this is where I'd want to be," he says.
---
LOCAL FLAVOR
Fermenting Sweet Blues
Like the old adage says about lemons and lemonade, if life hands you blueberries, make blueberry wine.
Rabbiteye Winery opened in February 2016 and is an outgrowth from Bell Farms, which has been cultivating blueberries in Pierce County since its inception in 1983. It is owned today by Rusty and Tarren Bell. The farm's primary business is selling blueberries frozen in 30-pound boxes that are shipped to Canada, Israel and South Korea, to name just a few global markets.
But while those blueberries were being packaged and shipped, Rusty Bell had also been making wine as a hobby for family and friends for over a decade. People liked it so much, Bell thought he was maybe onto something, and the family decided to install the winery as a new avenue for marketing their products.
"The process for making blueberry wine isn't really different from grapes," says Aaron Bell, Rusty and Tarren's son, who's also involved with the farm. "What is different is the extra health benefits. Through the fermentation of blueberries, the antioxidants remain in the wine. This was shown in a study by Mississippi State [University]."
"They have a little tasting room, they've won some regional and state awards, and it's an up-and-coming thing we're excited about," says Pierce County Chamber of Commerce Executive Director Angela Manders.
To make one bottle of wine, it takes at least 2 pounds of blueberries. The winery's products are made from three varieties of the rabbiteye blueberry (so named because its pinkish-red color as it starts to ripen resembles a rabbit's eye) – Brightwell, Powderblue and Tifblue Sweet. All three won awards at the 2016 Georgia Trustees Wine Challenge, with Tifblue Sweet taking a gold medal and the Monarch Award for Best Fruit Wine.
Currently, Rabbiteye Winery is its own distributor/wholesaler, and its wines are available at 17 retail locations across Southeast Georgia. If you're interested, check out this year's wine. The hard freeze in March ruined most of Rabbiteye's blueberry crop, which will have an impact on the availability of both wine and fresh berries in the future. But don't count Rabbiteye out yet.
"We hope to continue to grow in Georgia," Aaron Bell says. "There are definite plans to keep expanding." – David Shivers