Bainbridge|Decatur County: Changing the Game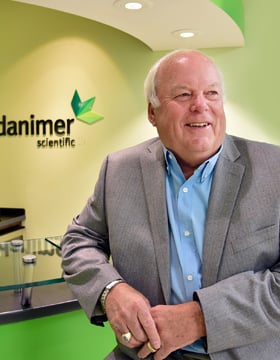 Southwest Georgia's Decatur County is gaining tangible momentum as a result of teamwork and shared leadership vision. Heads of city and county departments, along with elected officials, are focused on improving their challenged economy by diversifying offerings. Solar farms, biopolymer production and river barge transportation are part of the plan.
County Commission Chair Pete Stephens has spent his whole life in Bainbridge and has seen the county through ups and downs. The son of a farmer, he also farmed in Decatur County until retirement last year. "This is not what I planned for this stage in my life," laughs Stephens, about his position as a commissioner and his role in creating cohesion among local leadership.
"When two mules are pulling in different directions, it doesn't get the plowing done," says Stephens, who is encouraged that folks seem to be on the same page, pulling for the same positive outcomes. Supporting the local school system, shoring up the community hospital and growing viable jobs top the list.
Stephens estimates 1,200 manufacturing jobs were lost over the past two decades, and the local unemployment rate continues to hover above the state average. This adds urgency to local leaders' focus on attracting new business and industry.
"Those people moved out of the county or went to other jobs and would be willing to go back to work in manufacturing any day," he says.
But manufacturing jobs have been slow to return to Decatur County where, traditionally, about 60 percent of the economy has been agriculture-based followed by building trade-related companies that were hit hard by the Great Recession. Because of those changing trends, the county has sought to diversify and bring in some advanced manufacturing jobs, says Rick McCaskill, executive director of the Development Authority of Bainbridge and Decatur County.
"We have created quite a few manufacturing jobs through local expansions but have lost just as much through plant closings. So we've netted few new manufacturing jobs in the past few years," he says, noting that overall unemployment has gone from roughly 11 percent in 2011 to around 6 percent currently.
---
Expanding Green Manufacturing
One type of manufacturing tracking with recent trends in sustainability is Danimer Scientific, a producer of biopolymers – sometimes called bioplastics – from renewable biomass sources, including vegetable oil, various plant starches and by-products from trees. Some of Danimer's bioplastics are biodegradable and can replace everyday uses of petroleum-derived disposable plastics, such as packaging, carryout bags, food service items, toys and most personal and home products.
Danimer Scientific has operated in Decatur County since 2004, says Michael Smith, COO, and has expanded a number of times since then. The company currently employs 58 people and operates more than 200,000 square feet of state-of-the-art laboratory and manufacturing/testing space on 135 acres in the industrial park. The company also does research and development from its Decatur County location, as well as in a lab on the University of Georgia campus in Athens.
Danimer recently completed back-to-back expansions with investments of $1 million and $6 million, the latter scheduled for completion mid-summer. Together the expansions add another 16 positions.
But it was an announcement at the first of March that really has the Danimer Scientific team and community leaders pumped – a partnership with global food and beverage company PepsiCo Inc. to develop biodegradable film resins to meet PepsiCo's sustainable flexible packaging requirements, says Smith. The project, set for completion in 2020, involves a $100-million-plus investment in another commercial plant for Danimer in Decatur County, adding 30 to 40 jobs.
"This is not highly labor dependent by design … we automate everything we can so we have good-paying jobs that will be around for the duration," says Smith, adding that total employment will be up to 70 teammates by the end of this year and more than 100 by completion of the PepsiCo project.
---
Not One Size Fits All
Bainbridge City Manager Chris Hobby says many in the county are underemployed and need better job opportunities. At the same time, the county needs to present a trained workforce when potential business and industry come looking. Because education is such a huge part of that picture, Hobby is encouraged by the upcoming merger between Bainbridge State College and Tifton's Abraham Baldwin Agricultural College. (The merged school will retain the ABAC name.)
"Our school system does a great job of graduating kids; we've got an 87 or 88 percent graduation rate," says Hobby. "But we know only about a third of those kids are going to go on and finish a college degree. So what job skills do the others have that prepared them for the workforce?"
The Decatur County school system, with eight schools and 5,000 students, is under the leadership of Superintendent Tim Cochran, who arrived last fall. He's in conversation with community partners about the potential creation of the county's first college and career academy.
"We're looking at that, still in the infancy stages of that," says Cochran. "With the school systems going to charter and strategic waiver … there's a lot more flexibility in ways that we can construct our classes and our hours and our days. Across the state, we really all have the ability to do that, to serve those kids in those capacities with the dual enrollment and Move On When Ready [MOWR]."
Cochran says most school systems across the state have been doing some version of a college and career academy since the Technical College System of Georgia's MOWR and dual enrollment were launched. "It's putting it in a package that's a little easier to present," and creates a little more formality so that if any of the major partners change, the program remains cohesive within the school system, he says.
There are other signs of increasing economic activity, as well, Hobby says. "Our sales tax still isn't where it was even back in 2008, but a lot of different factors play into that. We think maybe there's finally a light at the end of the tunnel, so to speak."
While it's not at the end of a tunnel, there is another light that has Decatur County scoring big these days – sunlight. The county is currently home to two solar farms totaling about 1,200 acres and is bidding for more. Though there are no long-term positions associated with such ventures, as many as 600 temp workers were hired during construction of the first two.
"We're a good area for it because we're so far south, and we're pretty darn flat, so that makes it easy," says McCaskill, who helps connect solar developers with landowners, who benefit from very lucrative lease rates.
Actually, everyone in the county wins in the solar game, as it's already added more than $150 million to the county's tax rolls. The upside, says McCaskill, is that unlike the addition of other companies that impact tax rolls, solar farms don't require usage of public services such as law enforcement, the local hospital, and wear and tear on roads and bridges. "Once a solar farm is built, all they're doing is using your sunshine," says Hobby. "It's a lot [of money] coming in and almost none going out."
---
Free-Flowing Benefits
Taking advantage of the river is also a possible economy booster, says McCaskill. "We are a port, and the Georgia Port Authority has state docks here. We've been really handcuffed on river barge shipments because Florida won't allow dredging in the Apalachicola River in a small stretch that needs to be dredged for barge traffic."
One solution might be the shallow-water barge operation used recently by some local manufacturers, such as the one making bridge spans and enormous lock doors for dams. Its only option is to ship by barge.
McCaskill says several Decatur County companies along the river, including an asphalt company, would immediately double or triple their workforce if dependable barge traffic opens up year-round.
Many businesses that used to depend on the river now depend on rail. Decatur County has a tremendous rail system with a number of spurs and the ability to add spurs, says McCaskill. A rail yard is being added to the shortline railroad, Georgia Southwest, which could dovetail with work being done by Cordele Intermodal Services in nearby Colquitt County. "We're in the very early stages of putting that together," he says.
Today, Decatur County is leaning on revenue sources that were unheard of not long ago. From solar farms to sustainable plastics, reinventing an economy still trying to shake off the recession is an easier task to accomplish when there's a united front leading the way.
---
LOCAL FLAVOR
Angling to Win
Bainbridge and Decatur County boast a reputation for fine fishing thanks to the waters of the Flint River and those of sprawling Lake Seminole. So it makes perfect sense that some standout anglers would hail from this region, including the most accomplished female bass angler of all time.
A native of Bainbridge, Pam Martin-Wells grew up on the Flint. "From the first grade, as far back as I can remember, my parents would pick us up on a Friday from school and we'd come down to the lake and fish and camp all weekend," she says. "Fishing, hunting … if it's got to do with the outdoors, that's where I'm most comfortable."
As an adult, Martin-Wells began fishing competitively. In 2010 she became the first woman to qualify for the Bass Master Classic and make it through to the third and final day, where she finished 22nd out of 51 – the only female in the tournament – in a sport where women aren't always welcomed with open arms.
Her biggest tournament total was at a two-day Bassin' Gal event in the '90s on Sam Rayburn Lake in Texas, where she finished with 42 pounds and some ounces, including an 11-pounder, she says.
Today she's supported by a number of big sponsors, including the Bainbridge Convention & Visitors Bureau, whose ad wraps Martin-Wells' boat, a Legend V20. Additional sponsors include Legend Boats, Mercury Marine, Castaway Rods, Lowrance Electronics, Power Pole and Alabama author Linda Howard. The support allows her to fish the "season," roughly February through October, including team fishing the Alabama Bass Trail with her husband, Steven, and in the Lady Bass Anglers Association.
People tend to make a big deal out of women fishing in a male-dominated tournament, she says, but the bass couldn't care less. "The fish doesn't know if it's a man or a woman when they bite … I'm ultimately competing against the fish. If I do what I need to do to outsmart the fish, then that's all I can do."
Martin-Wells says a lot of preparation goes into fishing weeks before her boat hits the water. "Studying maps, articles, satellite images, you name it," she says. "You've only got a limited amount of time once you get to a tournament site to find and locate fish in 38 to 80,000 acres of water. Most of the time with maps, you can eliminate about 80 percent of the water."
When she isn't fishing about a dozen tournaments during the season, Martin-Wells and her husband operate a duck hunting and fishing guide service on Lake Seminole. – K.K. Snyder