Flavors of Georgia honored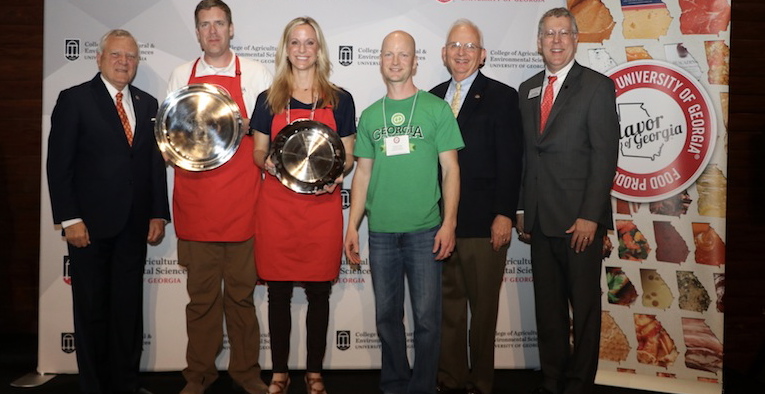 Chamblee-based Georgia Grinders, which makes handcrafted premium nut butters, walked away with the grand prize for its pecan butter in UGA's 2017 Flavor of Georgia Contest. The pecan butter also took first place in the Miscellaneous Products category.
The annual contest, which is conducted by the UGA Center for Agribusiness and Economic Development, is an opportunity for food businesses to spotlight their innovative and flavorful products. "We had 117 entries … and some of the toughest competition we've seen in the contest's 11-year history," says Sharon Kane, Flavor of Georgia contest coordinator.
From those entries, 33 finalists were chosen and winners named in 13 categories. In addition to Georgia Grinders Pecan Butter, winners were:
People's Choice Award: Carroll's Vidalia Onion and Cheese Smoked Sausage from Carroll's Sausage & Meats Inc., Ashburn
Barbecue Sauces: Wicked Que Georgia Vinegar Sauce from Neptune Industries Inc., Watkinsville
Beverages: Worryfree Tea from Biron Herbal Teas, Macon
Condiments and Sauces: Midland Ghost White Pepper Sauce from 4Saucerers, Columbus
Confections: Chocolate Covered Fried Peanut Cluster from West Foods Inc., Edison
Dairy or Related Products: Revolution Gelato Chocolate Fantasy from Revolution Gelato LLC, Atlanta
Honey and Related: Honey Pecan Crunch from Hahira Honey House, Stockton
Jams and Jellies: Satsuma Orange Pepper Marmalade from Fairywood Thicket Farm, Fairburn
Meat and Seafood: Carroll's Vidalia Onion and Cheese Smoked Sausage from Carroll's Sausage & Meats Inc., Ashburn
Sauces and Seasonings: Campfire Salt from Beautiful Briny Sea, Atlanta
Snack Foods: Toasted Sriracha Pecans from Goodson Pecans LLC, Leesburg
Along with their awards, statewide notoriety and bragging rights, winners receive membership in the state Department of Agriculture's Georgia Grown program.
Photo: From left, Gov. Nathan Deal, Harry and Jaime Foster and Travis Cole of Georgia Grinders, Georgia Agriculture Commissioner Gary Black and UGA College of Agricultural and Environmental Sciences Dean and Director Sam Pardue.
Photo courtesy of Merritt Melancon.