Metro Atlanta: Surging Ahead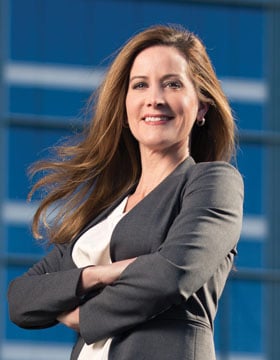 New landmarks, including SunTrust Park in Cobb County, and major infrastructure investments, such as the I-285/Ga. 400 interchange project, are part of a roster of projects leading Metro Atlanta's business community into the future.
Key efforts to redesign existing communities and create new corporate campuses are also poised to change the way the 20-county region lives, works and plays.
Conversations and blueprints for more transportation options and walkability join a stream of announcements in 2016 and early 2017 confirming companies' commitment to Metro Atlanta and new interest in the region. In 2016, Delta Air Lines signed a 20-year lease at Hartsfield-Jackson Atlanta International Airport, which is in the midst of a $6-billion expansion, and UPS committed to a $400-million hub in the Fulton Industrial corridor.
"The airport is probably one of the biggest economic engines in the country," says Al Nash, CEO of Select Fulton and executive director of the Development Authority of Fulton County.
Construction, business/professional services, logistics, healthcare and hospitality continue to be explosive sectors, says Tom Cunningham, chief economist for the Metro Atlanta Chamber. Nearly 70,000 jobs were added in Metro Atlanta in 2016, and job growth expands in all directions, he adds. The region has 5.69 million residents, which is expected to grow to 8 million residents by 2040, according to Atlanta Regional Commission projections.
Just a few of the recent announcements for Fulton County include Anthem establishing a $20-million IT services hub (1,800 jobs) and Honeywell moving its home and building technologies headquarters and a software development center (800 jobs) to Midtown Atlanta. Global Payments is expanding its R&D operations in Sandy Springs and moving its headquarters to Buckhead, a total of $220 million in investments. Also in Midtown, the second, $375-million phase of Technology Square broke ground last fall.
To prepare for more residents, a huge milestone is the start of construction on the I-285/Ga. 400 interchange improvement project, says John Heagy, chairman of the Perimeter Community Improvement Districts (PCIDs) and senior managing director for Hines, a global real estate investment, development and management firm. The PCIDs, which have more than 5,000 businesses and more than 123,000 workers, contributed $10 million to the $800-million project.
In 2016, voters frustrated with clogged roadways and seeking shorter commutes passed a city of Atlanta Transportation-Special Purpose Local Option Sales Tax (T-SPLOST), expected to generate about $300 million over five years, and a Fulton County T-SPLOST that adds a three-quarters of a penny sales tax, also over five years, for infrastructure.
Also last year, city of Atlanta voters approved a half-penny sales tax for 40 years that is expected to raise about $2.5 billion for MARTA. Corporations, notably State Farm and Mercedes-Benz USA, have chosen the Perimeter area because of its MARTA access.
"The common link that companies are talking to us about is, 'We love Atlanta, but we really love your linkage to MARTA.' That's terribly important," says Heagy.
An estimated $4 billion in new investments, including five Class A office buildings, is expected to be delivered in the Cumberland CID by 2018, and of that, about $2 billion will enhance public infrastructure. SunTrust Park, the new Atlanta Braves stadium, is sparking interest among businesses and investors in the Cumberland market, which has experienced a 229 percent hike in building permits in the past year.
"This is becoming a dynamic market," says Cumberland CID Executive Director Malaika Rivers. "It's incredibly exciting to now have Major League Baseball and this brand-new 60-acre-plus environment that I know a lot of Major League Baseball teams around the country are salivating to replicate."
Walkability is a win for communities inside and outside the Perimeter. Counties, cities and developers across Metro Atlanta are making major investments in creating that sense of place, including the mixed-use Pinewood Forrest development in Fayette County, whose development team includes Chick-fil-A's Dan Cathy, and the Jodeco Atlanta South mixed-use project planned in Henry County.
In Gwinnett County, which has 895,823 residents, hundreds of millions of dollars in developments are in the works to transform downtown areas such as Duluth, Suwanee, Norcross, Sugar Hill and Lawrenceville into walkable community centers. Fuqua Development, which recently completed Sugarloaf Marketplace in Gwinnett and Kennesaw Marketplace in Cobb County, has Peachtree Corners Town Center, a 21-acre mixed-use development, under construction.
"The suburbs are responding," says Nick Masino, senior vice president of economic development and Partnership Gwinnett for the Gwinnett Chamber of Commerce. "As these mixed-use developments are happening through the municipalities, we're going to see a surge of businesses occupying space in these downtowns."
In 2016, Gwinnett County tapped North American Properties, the developer of Alpharetta's Avalon, to help redevelop the 110-acre Infinite Energy Center complex in Duluth, which includes a mixed-use entertainment district. Earlier this year, an Embassy Suites opened next to the center.
Creating more trails and offering alternate modes of transportation is driving the development conversation in North Fulton, says Ann Hanlon, executive director of the North Fulton CID.
"People really want to be able to walk, not just within a development, but between developments," Hanlon says.
The CID is building a new connection to the existing Big Creek Greenway, which runs adjacent to North Point Parkway. Also in Alpharetta, Avalon's phase II – expected to open in the spring – includes 550,000 square feet of Class A office space and 90,000 square feet of retail/restaurants. Following that will be a 325-room hotel and conference center and 276 luxury rentals. The
Encore Parkway bridge over Ga. 400, which opened in 2016 as part of a $17.9-million corridor project, has attracted at least three new residential developments, Hanlon says.
"It's transformed from an area that was mostly retail to an area that's going to have people living there and people walking back and forth over Ga. 400 at all hours of the day," she says. "There's going to be a really healthy energy in that area."
The film and TV industry generated an economic impact of about $7 billion for Georgia in 2016. Fulton County's four studios include the new Atlanta Metro Studios, which took over Shannon Mall in Union City, while Fayette County is home to Pinewood Atlanta Studios, which is undergoing a major expansion that will make it the largest purpose-built studio complex in the U.S. outside of Hollywood, Calif. Other mega-studios include Eagle Rock Studios Atlanta in Gwinnett County.
Since Cherokee County signed up with the state's camera-ready program in 2011, it's seen a 464 percent increase in film prospects and snagged locations for movies such as the Oscar-nominated Hidden Figures, says Misti Martin, president of the Cherokee Office of Economic Development.
DeKalb County, which has three production studios – including newcomer Blackhall Studios – has created a Film, Music and Digital Entertainment Commission to help grow that sector in the county.
Throughout DeKalb, companies in 2016 announced $440 million in capital investment with about 4,800 new and retained jobs, according to the Decide DeKalb Development Authority. Job creators included Home Chef (a whopping 1,200 jobs by 2020), Task Force for Global Health and EGL Genetics Diagnostics, plus the $1-billion new hospital on North Druid Hills Road by Children's Healthcare of Atlanta. In early 2017, Sysnet Global Solutions, an Ireland-based cybersecurity and compliance solutions provider, announced plans to bring more than 500 jobs to Brookhaven.
"We hope to be close to as productive as we were last year," says Ray Gilley, president of Decide DeKalb Development Authority.
Gwinnett County experienced $84.5 million in announced relocation and expansion investments and 1,823 new jobs in 2016, according to Partnership Gwinnett. Some investments and job growth resulted from mergers and acquisitions, such as the Merial-Boehringer Ingelheim (BI) deal, which makes BI the world's second-largest animal health company.
This summer, Papa John's regional hub, adidas' Speedfactory facility and Jaipur Living's headquarters are expected to open in the Cherokee I-75 corridor. In the past three years, 1,500 jobs with $145 million in investment have been added in that area, which includes the Cherokee 75 Corporate Park, and helped turn around a blighted area, Martin says. Industrial and marine diesel engines company YANMAR's corporate training and customer experience facility and an expansion by Vanderlande, an automated material handling systems and service company, have also contributed to job growth.
Martin says that when her office surveyed 30 existing companies about growth, firms said they planned to invest $122.6 million and add 745 jobs from 2015 to 2018. Those companies have already exceeded those expectations by $45.7 million and 322 jobs.
"The new companies are awesome and they're global, and who doesn't want adidas to make the first shoes in the U.S. [in Cherokee County]? Obviously that is a great win for Atlanta and for Georgia and for Cherokee, but to see these existing industries exceed all of their projections, that's awesome," she says.
The Port of Savannah may be hundreds of miles from Metro Atlanta, but its expansion is having an impact on business – including distribution facilities – in the region.
"I think a lot of our industrial growth is continuing to be driven by the deepening of the Port of Savannah," says Charlie Moseley, executive director of the Henry County Development Authority.
Home and fashion brands such as Wayfair and Tory Burch plan to add more than 300 new jobs at distribution facilities expected to open in Henry in 2017, while Dollar General has announced a distribution center with approximately 535 jobs in Spalding and Butts counties.
Leaders also recognize that without workforce development, businesses will expand elsewhere. To ensure a talented pool of workers well into the future, counties are partnering with educators to create innovative workforce development programs.
Courtney Pogue, director of the Clayton County Economic Development Office, says his department continues to foster partnerships with Clayton State University, Atlanta Technical College and Clayton County Public Schools to ensure companies will continue to expand or locate in the area.
Leaders around the region are quick to agree. "We're 4.5 percent unemployment here," says Greg Wright, president of the Coweta County Development Authority. "We've got to do what we can to make sure we have a good talent pool coming up to help fill jobs."
Read About Individual Regions: