High-Tech Career Prep
Where education and industry intersect, TCSG remains at the forefront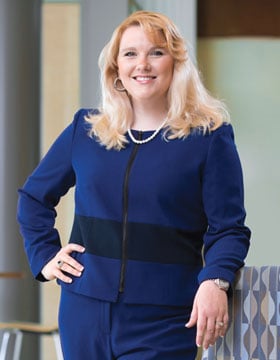 There is probably no Georgia public academic program that is making as much progress in bringing cutting-edge career preparation closer to prospective students than the Technical College System of Georgia (TCSG). Its 22 colleges and 85 campuses offer 600 associate degree, diploma and certification programs.
In addition, the college and career academy program, housed at TCSG, has 37 specialized schools that connect industry and education within a community. This program will soon expand to 40 schools with the December 2016 approval of $9 million in grants for new college and career academies in Chattahoochee, Tift and Worth counties.
Far from being complacent about its mandate, TCSG stays constantly abreast of workforce training needs across the state. And no one would dispute its influence in Georgia's recognition by Site Selection magazine for the fourth year in a row as the top state in the nation for business.
With TCSG Commissioner Gretchen Corbin at the reins working diligently to gain well-deserved support from the governor's office, TCSG is destined to remain at the forefront of the intersection of education and industry.
"What we do best is to educate students and trainees to be the best workers in Georgia, and we connect with employers to assure we give our students the best opportunities," Corbin says.
---
Rapid Responses
One of many examples of that connection is the recent introduction of a two-year Mercedes-Benz Technician Training Program at Gwinnett Technical College in Lawrenceville. The program is typical of the TCSG's focus on partner-based customization of curricula.
Mercedes-Benz USA equipped a special classroom at Gwinnett Tech with tools, training equipment and six vehicles as an adjunct to the school's current automotive technology program.
"We're nimble and quick," says Corbin. "It's not just a nice virtue to have; it's our responsibility. We bring instructors directly from industry, realizing that we are just the support mechanism. The content that we all remember most, as students, is only as good as the instructor in the classroom, and that's why we have the best-trained teachers on the ground at our colleges and on our Georgia Quick Start team."
Quick Start provides customized technical training free of charge to meet the workforce needs of qualified new and expanding industries in the state.
TCSG's swift response to advancing technologies is well demonstrated in the new Cybersecurity Center at Augusta Technical College. The program was launched three years ago after it was announced that nearby Fort Gordon would be the headquarters of the U.S. Army Cyber Center of Excellence. Cybersecurity is Augusta Tech's second most popular program next to nursing, but Dr. Terry Elam, Augusta Tech's president, predicts it will quickly outpace that program.
"We had been teaching some cyber courses in our networking curriculum for 15 years," Elam says. "After an analysis, we launched a two-year, five-semester associate's degree major in fall of 2015. We are averaging right at 200 students per term."
In part because of the program's popularity and success, in January 2017, Gov. Nathan Deal designated $50 million in funding to establish the Georgia Cyber Innovation and Training Center in Augusta. The center is a collaboration among TCSG, other statewide academic institutions, private industry, and state and federal agencies; it's designed to
establish cybersecurity standards and protocols and serve as a statewide incubator for cybersecurity companies.
While many soldiers from Fort
Gordon attend classes at Augusta Tech, the new program is not specifically designed for Department of
Defense employee training. Instead, Augusta Tech concentrates on civilian students who want to become "cyber warriors," according to Elam. It is
anticipated that the first graduates of the program will seek jobs in hospitals and healthcare systems, where
demand is particularly high – and not just at the local level.
According to Michael Brown, former CEO at Symantec, the world's largest security software vendor, demand for cybersecurity job placements is expected to rise to 6 million by 2019 on a global scale.
A special cyber lab that connects to a private network server allows each student to solve real-world security problems at dual computer screens. Students learn hands-on how to fight off or identify or in some cases repair or make pathways around constant cyberattacks.
Today, every business, organization, government office – and yes, every college and university – is vulnerable to cyberattacks. The effort to keep data secure is constant, and the techniques necessary to do so are becoming ever more sophisticated – matching the sophistication of hackers' methods.
"You have to make sure your doors are covered and you don't have
malicious intent or criminal activity to interrupt your operations," Elam says. "We all use networks and the cloud, and we no longer own the platforms we are all operating on. It's a constant battle."
Elam compares today's hackers with the moonshiners of yesteryear during the Prohibition era – with different
consequences, the worst case being an electrical or manufacturing grid shutdown.
---
Fostering Re-entry
In another first for the TCSG, Central Georgia Technical College (CGTC) was recognized as a Georgia Department of Corrections (GDC) 2016 Partner Agency of the year. The latter's focus on safety, security and recidivism reduction dovetails with the CGTC re-entry program's mission to help inmates contribute to Georgia's economic growth and development when they return to society. CGTC increases employability for inmates upon release by bringing vocational education into 15 prisons statewide.
CGTC saw a 9 percent increase in Georgia Department of Corrections
student enrollment from fall 2015 to fall 2016. In fiscal year 2016, CGTC served 1,271 offenders and awarded 871
technical certificates of credit to
offenders. Most popular among the industry certifications are the basic shielded metal arc welder, business and customer service technology, certified construction and air conditioning assistant programs.
"This is a great indication that we are offering more quality programming, students are satisfied and the perceptions of correctional education are changing within the facilities," says Brittany Lucas, CGTC director of re-entry programs. "There is much work that is still to be done, but we're on our way to truly reforming correctional education."
Logistical, safety and security challenges abound, especially due to the transport of lab equipment and for some programs such as diesel mechanics, heavy machines and specialized tools.
"Sometimes the movement to and from the facility is
difficult as is the transfer of prisoners to and from classes, and we have to be cautious as to who has access to these tools," Lucas says.
Routine meetings with the warden, deputy warden and security staff assure nothing goes awry. And not all inmates qualify for the classes; they must be prequalified by educational counselors and vetted for good behavior by security personnel first, and expect to be paroled or released within five years.
Inmates may take noncredit programs, such as barbering, preparing them to sit for a state board exam, and workshops. Soft skills that enhance employability, such as work ethics, communications, resume writing and interviewing, are also covered as part of the unique re-entry employment services offered by CGTC. No matter what courses they choose, the goal is to assist inmates in obtaining gainful employment upon their release.
"Our purpose is to provide vocational training services that will offer offenders an opportunity to increase their post-release employability," Lucas says. She would like to see the program more widely available, particularly in transition centers in rural communities. "My passion is rural education, and I'd like GCTC to be able to offer our inmates better assistance in getting back into the local workforce and plugging them into the community."
Expansion of the program has its hurdles, not the least of which is allocation of funds. "It's expensive to run these labs," Lucas says. "We have to continually replace broken tools and trucks, and we need more classroom space."
---
Serving More Students
As TCSG's student population expands, the demand for classroom space continues across the state. That demand is being met in a big way with the construction of the new 325,000-square-foot, $100-million Lanier Technical College campus, which is underway in Hall County. When the new campus opens in 2019, it will double the 2,500 students the school's current facilities accommodate with six state-of-of-the-art buildings on 95 acres.
"We understand this is a rare opportunity to build a school from scratch. The campus we have now has served us very well but was built in the 1960s, and this will allow us to employ the latest technology in all of our programs in a modern teaching facility," says Lanier Tech President Ray Perren, who is working closely with design, engineering and construction partners Pond and Co. and Stevens and Wilkinson, in addition to community business, government and civic leaders, on the project. "It also gives us room to expand, and we will be introducing several new programs at the new campus."
Some of those new programs include wireless engineering technology, culinary arts, an associate degree in nursing, diesel mechanics, commercial truck driving and transportation logistics, Perren says.
Lanier Tech celebrated its 50th anniversary in 2016 and serves eight surrounding counties in North Georgia, where it has established a reputation for exceptional responsiveness in filling the workforce pipeline. "One of the things I've said for years," Perren says, "is that if there was a rocket factory here we'd start that program."
There are no rocket factories in Vidalia or Swainsboro either, but the two campuses of Southeastern Technical College are located there. Named the 2016 Sonny Perdue TCSG College of the Year, Southeastern Tech has the highest enrollment growth rate and second highest graduation rate (77.1 percent) of any TCSG system school.
But it's not only such statistics, or its other highly rated performance factors for that matter, that distinguish the educational excellence consistently demon- strated by Southeastern Tech. Rather, it's the caring, convivial ties it has established among students, staff, faculty and the community.
"Our advantage is that we all understand that our No. 1 priority is making sure our students are successful," says Southeastern Tech President Larry Calhoun. "We have great business and industry support. And one of the key things businesses look at when they want to relocate is the available workforce. They let us know what we need, and we have the flexibility to sway our programs toward their needs."
About 90 percent of Southeastern Tech's graduates find jobs in the local area. It's just one example of the ways the state's technical colleges are in tune with the communities they serve.