Please DO NOT DISTURB
Georgia's hospitality industry is thriving but wary of legislation that could do economic harm.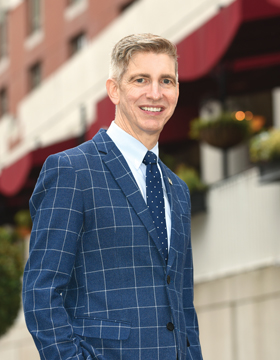 If you're keeping score, Georgia's hospitality industry dodged a potentially lethal bullet from the state legislature last year but took a direct hit the year before. This year, its leaders are hopeful, but watchful.
The industry, which includes restaurants, hotels and other kinds of lodging, and travel and tourism, counts itself fortunate to have avoided disaster, thanks to Gov. Nathan Deal's veto of so-called "religious liberty" legislation passed by the 2016 General Assembly. But the industry is still smarting from being blindsided by the last-minute $5-a-night hotel bed tax, part of the 2015 Transportation Bill.
Hospitality establishments are part of the state's $59-billion tourism industry; by any measure, they fared well in 2016.
"It was a good year for us, " says Jim Sprouse, executive director of the Georgia Hotel and Lodging Association (GHLA). "There's a lot of new development around the state," he says, citing projects on Jekyll Island, in Savannah and throughout Metro Atlanta, including stadium construction and properties coming to the area near Hartsfield-Jackson Atlanta International Airport.
But continued success is not guaranteed. "It revolves around what happens in the General Assembly," says Sprouse.
His organization and other tourism interests are fearful of any attempts to revive religious liberty bills that would discriminate against large segments of the traveling public.
"Look at North Carolina" is the refrain you hear from hoteliers and other tourism leaders, who are mindful of the damage done to that state's image and its economy by its infamous bathroom bill, damage that includes the loss of ACC and NCAA tourneys, as well as industry locations and convention business. Indiana was harmed by a similar bill, and Georgia came close to joining that club.
Avoiding any such legislation in Georgia in 2017 is the top GHLA priority.
"Hospitality as an industry is so perception-driven," Sprouse says. "How people see the state, how they feel about it is a very emotional issue. The governor's veto was certainly welcome. It helped us out a great deal in eliminating much of the harm that could have come. We had a good year, and I think that's directly attributable to his veto."
In Georgia, tourism supports 439,000 jobs with an industry annual payroll of $16.6 billion, according to the Georgia Department of Economic Development. Georgia's 2,294 hotels and lodging establishments, with a total of 178,272 available rooms, account for 47,661 jobs representing $1.6 billion in wages, according to GHLA-supplied data.
Kevin Langston, Georgia's deputy commissioner of economic development for tourism with the Georgia Department of Economic Development, says figures for 2015 show 102.4 million visitors for the year; he expects final 2016 tallies to be even higher, despite the two hurricanes, Hermine and Matthew, that hit the state late in the year.
"All indications are good, including lodging numbers. Revenue was up every single month," he says.
Atlanta is coming off one of its best years, says William Pate, president and CEO of the Atlanta Convention and Visitors Bureau (ACVB). "The convention business since '11 is up 25 percent. That's very significant" in terms of economic impact, he says. The city has seen expansion in both convention and leisure numbers, up from 46 million to 51 million visitors in the last two years.
Savannah had a good 2016 despite weather challenges, says Joseph Marinelli, president of Visit Savannah. Numbers were bolstered by new boutique hotels, new restaurants and a retail renaissance. On Georgia's coast, tourism has had a good five-year stretch, says Golden Isles Convention and Visitors Bureau CEO Scott McQuade, strengthened by a new convention center and new and refurbished hotel properties.
---
Industry Worries
Despite the good news, the industry is worried about attempts to bring back religious liberty bills, although Sprouse says he is "very encouraged" by pre-session reports that Georgia House Speaker David Ralston believes any such legislation should be handled by Congress rather than individual states. (Ralston made his comments in a GPB interview in December.) Still, there are indications that other legislators, including State Sen. Josh McKoon (R-Columbus) may not be willing to let this one go.
Tourism officials are concerned about the discriminatory aspects of such legislation and the loss of business.
"We've been very vocally opposed to the religious freedom bill," says Pate, citing two separate studies his group commissioned that indicated "about 40 percent of our business would be at risk if the religious freedom bill had passed. That's 1 million room nights already on the books, and we'd lose another 1.5 million room nights that would come off the table – people that would no longer consider us for their convention."
"We don't want legislation that would condone discrimination," says McQuade. "We've seen what happens in other states."
Karen Bremer, CEO of the Georgia Restaurant Association, calls any discriminatory legislation a "big threat" to her industry and the more than 438,000 jobs it provides. "Georgia is one of the top states for restaurant growth and job creation," she says.
"We've got good things going on in Atlanta," says Ron Tarson, general manager of the Westin Peachtree Plaza and legislative chair for the GHLA. "We've seen what happens in Indiana and North Carolina – economically and politically. We don't want to be them."
He applauds Gov. Deal's comments upon vetoing the religious liberty bill, in which he called Georgia a welcoming state and said, "I don't think we need to discriminate against anyone to protect the faith-based community." Tarson calls them "brave, thoughtful remarks focused on being inclusive."
"We have to pay attention to religious freedom and bathroom bills," says Visit Savannah's Marinelli. "We can look out the window [to other states] and see the damage done. We don't want to see this happen in Georgia."
It's not just tourism that could be hurt, he says: The state's burgeoning TV and film industry is vulnerable – big names like Disney and its Marvel subsidiary threatened to pull up stakes in Georgia if last year's bill had been signed into law.
---
The Bed Tax
The lodging industry took a body blow late in the 2015 General Assembly session when lawmakers added a $5 per night charge to all hotel stays – whether in a Ritz-Carlton suite or a Motel 6 room – to make the math work for the landmark transportation bill that passed.
The hotel-motel tax also gave Georgia the distinction of having the top four cities in the country when it comes to lodging taxes, according to a study funded by the American Hotel & Lodging Educational Foundation. Columbus is No. 1, with a 22.9 percent tax, followed by Macon (22.7 percent), Augusta (20.2 percent) and Atlanta – at 19.9 percent, identified in the study as having the highest hotel tax rate of any major city in the country.
The $5 tax stunned Georgia's hoteliers, who say they had no indication it was coming. It was projected to bring in $150 million in the first year; the Department of Revenue says $150.7 million was actually collected.
"The tax took everyone by surprise," says the GHLA's Sprouse. "It happened on the next to last day of the session, late in the day," inserted into the bill along with fees on rental cars. Apart from the timing, Sprouse and others were unhappy that it hit the lodging industry so hard; they believe it should have been added to the gasoline tax as a user fee on roads.
"One of the problems we've had with it is explaining it to guests when they check in," Sprouse says. "The average guest sees a charge on the bill that says hotel-motel fee. When they ask what it's for, and we say transportation, the first thing that comes up is, 'What? I took a shuttle or I took MARTA in. I didn't use your hotel van.' It becomes a tough thing to explain for that young front desk agent."
The $5 fee is especially hard on budget travelers and work crews who may stay at motels for long periods of time and on relief workers responding to a weather emergency, he says. And it is a real problem for hotel properties at or near the state line.
"We sit on the border across the river from South Carolina," says Darryl Leech, vice president and general manager of the 372-room Augusta Marriott Hotel, which sees a lot of sports-related business. If traveling teams are booking 30 rooms and have to add an extra $5 a night for three nights per room, they are likely to decide that additional cost would cover a meal and stay on the other side of the river. "Those groups do the math," he says.
Leech thinks legislators mistakenly believed the tax would impact out-of-state visitors rather than Georgians. "But 40 percent of my business comes from within the state," he says, "so 40 percent saw an increase immediately."
Augusta's total 20.2 percent tax on every hotel dollar "is a big hurdle," Leech says. "The $5 fee came out of left field."
---
Hospitality's Response
The surprise tax sparked a reassessment of how the hospitality industry operates in terms of lobbying and communicating with lawmakers. Industry leaders agreed among themselves to sit tight for the 2016 session and come up with a better strategy for 2017 and beyond.
"We took the opportunity to find out how better to work with the legislature," says the GHLA's Tarson, before seeking any modification in the tax. "We also recognized that many legislators were under pressure to get the transportation bill to pass." Some felt pressured into voting for the final law that included the bed tax, he believes.
"We want to operate with facts. That's better than saying, 'This is what we think will happen.' We were advised to wait a year so we would have something to talk about. It's easy to predict, better to have the data. We wanted to make sure we present real data, not what we were afraid might happen."
And what did happen was that the tax, in its first year, raised even more than projected.
Sprouse hopes there is some chance this session to change or mitigate the tax. "We certainly hope we can get some changes in the law," he says. He thinks it's unlikely the entire fee would go away. But perhaps a roll-back, a sunset provision, a scaled fee? "I do believe a reduction is possible," he says, "or some mitigation. I hope there is an opportunity for that."
---
Casinos Coming?
Tourism leaders are alert as well to the possibility of casino gambling legislation, but most say they haven't taken a position on it and aren't likely to until they see what's in any bill that comes up. Still, there are some worries.
The GRA's Bremer says restaurateurs are concerned that casino properties could have 24-hour liquor licenses, which she believes would give them an unfair advantage. "We couldn't get a brunch bill passed," she says, referring to unsuccessful efforts last year to allow alcohol to be served in restaurants earlier than 12:30 p.m. on Sundays. (It's been revived this year as Senate Bill 17 sponsored by Republican Sen. Renee Unterman.)
Sprouse says some fear an impact on the local arts scene – considering the talent the casinos could bring in – and wonder how local entertainment venues could compete.
ACVB's Pate says 44 states have some kind of gaming – successful in some places, less so in others.
A pair of studies prepared for Central Atlanta Progress found legalized casino gambling to be a mixed bag. It has the potential to be a significant source of revenue for the state and recapture much of Georgians' gambling spending in nearby states; but most casino revenues come from the local market rather than tourists, so a new casino may not automatically increase tourism.
Additionally, effects on local communities, including crime or cannibalization of other offerings, are largely undocumented; and it's not clear what size casino or location would be able to capture the potential upside. Study findings also indicate that casinos could mean additional public safety and infrastructure costs for local governments.
---
Strengths, Challenges
While hoteliers stew over legislation, the state tourism division's Langston says he worries about weather – like hurricanes and the drought that fueled last fall's wildfires – and about competition from other states, especially neighboring states that are "well-funded and deep-pocketed."
Georgia's annual budget for tourism marketing is $6.5 million – considerably less than the $76 million that Florida spends on tourism promotion and historically less than the average for all states.
The tourism division has 60 people promoting the industry – including employees who staff the state's visitors' centers.
"We are very smart about our marketing," says Langston. "We rely on teams and having fantastic community projects and social media programs," he says. "There's a lot of science behind the use of social media."
Georgia, he notes, was the only U.S. state listed in National Geographic Traveler's recent Best of the World Destinations.
Langston also likes to emphasize "the interplay between tourism and economic development." Most business relocations or investments start with a visit to the state, he says.
Still, Sprouse and others would like to see Georgia up its spending for tourism promotion – perhaps even using some of the "bed tax" proceeds.
---
Fingers Crossed
Hoteliers have their eyes fixed firmly on the Gold Dome these days. "Our biggest concern is focused on the session," says Sprouse. "The industry overall is in a pretty good place. It's very exciting – a lot of new hotel products, new venues."
Despite the $5 punch of 2015, lodging industry leaders say their relationship with the legislature is good – not adversarial.
"Not at all," says Tarson. "They just made a wrong call. Many legislators told us they were in a tough spot; it was something they had to do. We took a look at ourselves. If we're going to be good industry representatives, what can we do to make things better?"
"Our role as an industry association," Sprouse says, "is to provide the information they need to make great decisions." And members would like to be sure they have input into future legislation likely to affect them.
Overall, tourism leaders are protective of their industry and aware of its economic clout, which they hope will help make their case.
"Tourism is the No.1 business in every city in America," says the ACVB's Pate. "It's a $15-billion business in the city of Atlanta, with a significant impact. It's the gasoline that runs the engine. We can't let it sputter."