Jackson County: Spreading Innovation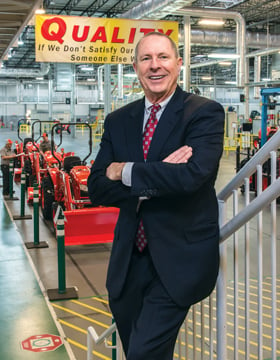 Williams-Sonoma whipped up a fast deal in Jackson County. At least that's how developer Mike Gray saw it when the kitchenware and gourmet food retailer snapped up his company's 1-million-square-foot spec building in Braselton last year.
"They were looking at it as we were finishing up the building. We signed the lease within 30 days of completion," says Gray, president of Ridgeline Property Group's operations in the U.S. "Everything happened very, very quickly. It was a total grand slam, not just a home run, because of that."
Williams-Sonoma moved into the new building in Braselton Commerce Center last spring and expected to create at least 250 jobs.
As of the start of 2017, 3.9 million square feet of commercial buildings were under construction or recently completed in Jackson County. Companies are locating warehouse and distribution operations in Jackson almost as fast as traffic flies by on I-85, which bisects the county.
In fall 2016, Amazon opened a fulfillment center in a 600,000-square-foot building in Braselton, with plans to create more than 500 jobs. Hubbell, a global manufacturer of electrical and electronic products, announced in July plans to create 100 jobs in the Jefferson Distribution Center, a 225-acre business park at Ga. Highway 82 and I-85.
Probably the biggest validation, some say, for future growth and e-commerce in this pocket of Georgia will come if FedEx Ground selects a 1-million-square-foot site in Duke Realty's Park 85 at Braselton for a distribution facility. Rumors have been swirling since late 2016, but no word of a final decision had been announced by press time.
"It's pretty much a feeling here in the county that 2017 will continue to grow, maybe even stronger than 2016," says Tom Crow, chairman of the Jackson County Board of Commissioners and manager of Crow's Lake, a second-generation family farm.
---
Pouring In
In 2016, new companies invested an estimated $140 million into the county, adding 1,100 jobs, says Jim Shaw, president, CEO and director of economic development for the Jackson County Area Chamber of Commerce. That's in addition to $15 million in expansions by existing industries like Huber Engineered Woods, Deutz and Resilux, he adds.
Since Dec. 31, 2014, companies have absorbed close to 2.3 million square feet of industrial space, he says. Amazon and Williams-Sonoma join other consumer brands and retailers including Carter's, HomeGoods, Whole Foods and Bed, Bath and Beyond.
"You've got all these big names, all in Jackson County. You usually see them spaced out a little bit more. They're only continuing," says Larry Ebert, CEO of Northridge Medical Center in Commerce, which was named in 2016 the No. 1 small hospital in the state by the Georgia Alliance of Community Hospitals.
The continued growth of e-commerce – and the demand for second-day delivery from customers – has companies seeking modern distribution facilities, Gray says. Jackson County, located between Atlanta and the Greenville/Spartanburg, S.C. area, still has available properties and land along I-85.
"Location is absolutely a critical factor. Having Interstate 85 right down the middle of the county is certainly beneficial to the county," says Matt Benson, an attorney and 2017 chamber chair. "There's still places to do new business in Jackson County, even given its fairly proximate location to Atlanta, Athens, Gainesville and Greenville."
Shaw says the overarching goals are to continue to grow the tax base but maintain a balance, as well as to provide career paths for high school students and more and better-paying jobs. In May 2016, the county had the state's lowest unemployment rate at 3.8 percent, and in October, it was tied with Oconee County for the lowest rate at 4 percent.
Being in close proximity to the customer base, having a ready workforce and making sure the county and cities are working together are priorities among prospective companies, Shaw says, and it's something Jackson County and its cities can offer. Its economic development council, which meets monthly, includes the county; the cities of Braselton, Jefferson and Commerce; the three school systems; two industrial development authorities; the chamber of commerce; and the county's water and sewer authority.
"It's never a loss to me if somebody is looking at a site in Braselton and Commerce and they choose Braselton, because we all win," says Commerce Mayor J. Clark Hill III. "Not a lot of communities have that relationship amongst cities, but particularly between the county and the cities."
---
Infrastructure and Space
The county's current Special Purpose Local Option Sales Tax (SPLOST) will be extended for six years, starting July 1, and is expected to generate an estimated $55 million. The SPLOST funds will provide more infrastructure, particularly for water and sewer needs – preparations that companies expect.
"When industry comes looking … they don't want to hear you say, 'We're going to have these water lines and sewer lines, we expect to have them in place in the next 10 years,'" Crow says. "They want to hear that they're here and available."
Voters also extended the education SPLOST, a 1-cent tax that is expected to generate an estimated $44.5 million over six years beginning April 1. The funds will be divided among the three school districts in the county – Jackson County Schools, Jefferson City Schools and Commerce City Schools.
While the county is operating in the black, it is continuing to pay down long-term debt, Crow says. Much of the county's portion of the SPLOST funds will be used for debt reduction.
Cities also were moving forward with long-awaited projects. Jefferson, the county seat, continues to work on acquiring land for a new reservoir, which Mayor Roy Plott says will connect to its current reservoir and ensure water supply through the year 2050. The city is trying to keep up with the growth, which Plott says includes 227 new homes in 2016.
An $800,000 renovation to the Jackson County Historic Courthouse also is underway, funded by SPLOST dollars, and the city has invested $200,000 to update the fire suppression system at Crawford W. Long Museum in downtown.
Also in the city, Plott says 2.46 million square feet of spec industrial space has been recently completed or is under construction by Pattillo Industrial Real Estate in McClure Industrial Park, by Trammell Crow in Jefferson Mill Business Park and by IDI Gazeley in the Jefferson Distribution Center.
"We have a huge amount of space coming on the market," Plott says. "Last year, Braselton really tipped the scales with Amazon and Williams-Sonoma … and a bunch of other things down there. They're still building some spec in Braselton, but a bunch of that spec jumped up here as well."
Kubota Industrial Equipment has announced an expansion to its national distribution center in Jefferson and Southeast Toyota Distributors is expanding in Commerce. The combined total of these two expansions will top $40 million.
"It shows that they think they're in the right place and that they have a good, trained workforce," Shaw says. "They're able to operate at the level that they deemed to be successful, and they are quite successful."
Also in Commerce, a 570-acre site on Highway 98 with I-85 frontage is being marketed as another industrial development site by Cushman & Wakefield.
In Braselton, which has the quirk of being split among four counties, development in the Jackson County portion includes the 1-million-square-foot Braselton Logistics Center by Ackerman and Co. Meanwhile, Huntington Industrial Partners is developing Braselton 85 Business Center, a 432,000-square-foot building.
The area's healthcare sector also has experienced updates. Northridge Medical in Commerce, a regional hospital with 90 acute care beds and a 167-bed skilled nursing facility, invested $1.3 million in capital improvements, including emergency department renovations that doubled its size, renovations to private patient rooms and the addition of 15 full-time employees. In the last fiscal year, it experienced a 10 percent increase in admissions and 15 percent increase in surgeries, according to hospital data. Next the hospital will expand its in-patient geriatric psychiatry unit from 12 to 20 beds.
---
Building a Workforce
In fall 2017, Jackson County plans to submit its application to create a college and career academy, which could open for the 2019-20 school year, if approved. The steering committee includes representatives from the Jackson County School System, which has about 7,500 students, University of North Georgia, Lanier Technical College and local industries.
"I see the college and career academy as an amazing way for us to partner in economic development because we plan to be very responsive to the needs of the community and the attraction of new potential industries," Jackson County School System Superintendent April Howard says.
Partnerships already have been formed, such as Kubota's guidance in the design of a welding lab, which is in its first full year of operation at East Jackson Comprehensive High School. Students have the potential to earn industry certifications to land jobs with significant salaries, Howard says.
Plans for the college and career academy would go hand-in-hand with plans for a new high school off Highway 332 in west Jackson County by the 2019-2020 school year. The college and career academy and other initiatives, such as the dual enrollment program the system has with area colleges, would be housed in the current Jackson County Comprehensive High School once the new school is built. Construction is expected to get underway this spring for the new school, which will start with a $12-million to $15-million investment for classroom space, but could increase to $30 million for additional facilities, Howard says.
The county plans to close Benton Elementary School at the end of the 2016-17 school year and repurpose it for Jackson Foothills Charter High School (currently in East Jackson High School) and community outreach efforts. A primary school in downtown Braselton will be repurposed for an innovation academy for middle school students that would add programs such as video broadcasting in hopes of tapping into the need for workers in the state's film and TV industry.
When John Jackson became superintendent of Jefferson City Schools in 1997, enrollment was at 1,900 students. Now, the system has 3,638 students.
"If you had told people at that point that Jefferson today would be over 3,600 kids, I think you would have probably been laughed out of Jackson County," he says.
The system has updated and added facilities the past couple of years, including a new arena, performing arts center and classrooms at Jefferson High School. Now in Class 4A, more seats need to be added to the stadium, where plans also call for expanding the field house and adding soccer, football practice and softball fields, says Jackson, former principal of Jefferson High School. A new science, technology, engineering, arts and math (STEAM) center, between the elementary school and high school, is teaching students skills in 3-D printing and robotics.
"I think we've got three of the top school systems in the state," Crow says. "We see a lot of people moving into Jackson County. We ask them what brought them to the area. Sometimes it's, 'My grandkids live here.' But a lot of them, it's the younger parents and all say, 'Well, we've seen online the quality of the education here in Jackson County, and we want to move here to take advantage of it.'"
---
Downtown Redux
Braselton in 2016 opened a Town Green, which was a major piece of the 20-year downtown revitalization plan that it created in 2003. Its downtown boasts shops, including women's boutiques, antique stores and a day spa, and restaurants such as Cotton Calf Kitchen, a steakhouse. Town manager Jennifer Scott says it's not unusual at dinner to see license plates from Fulton and DeKalb counties.
"[When] people leave Atlanta and come to Braselton to eat, it's very exciting for me," she says.
The first phase of downtown changes were completed in 13 years, ahead of schedule, so Braselton is now working on the next phase: a downtown parking deck with 200-plus spaces and a planned civic center.
A formal master plan for downtown Jefferson is underway, with public and city council input meetings and assistance from UGA's Carl Vinson Institute for Government, says Beth Laughinghouse, Jefferson's Main Street manager. Potential projects range from minor, such as parking signs, to major additions, such as an amphitheater. Already, new downtown businesses include Tranquil Escape Day Spa, while Cream and Shuga, a coffee, tea and dessert shop, recently expanded into the old Jefferson Police Department.
"Our downtown square is where people want to be," Laughinghouse says.
---
LOCAL FLAVOR
Hometown Teams
A Smithsonian Institution exhibit opened at the Arena at Jefferson High School – the school's $17-million indoor athletic and event facility – in early 2017.
The traveling exhibit, Hometown Teams: How Sports Shape America, presented in conjunction with the Smithsonian's Museum on Main Street program and the Georgia Humanities Council, focuses on how amateur and professional sports on ball fields, playgrounds and backyards contribute to American life.
Jefferson was the first of six Georgia cities in 2017 to host the exhibit, which also stopped in six communities in 2016 and will continue across the state through October 2017.
Vicki Starnes, manager of Jefferson's Crawford W. Long Museum, was instrumental in bringing the exhibit to the county, but had to find a place for it because her museum was not big enough.
"I want to bring it to town, but where are we going to put it for six weeks?" she asked herself.
The Arena became the host site for the free 800-square-foot exhibit. Hometown Teams opened in mid-January and ran through Feb. 25 before making its way to other Georgia locations.
"I knew that since it was a sports-related exhibit, that would be really significant to Jefferson because … what we're known for is the sports legacy here with our wrestling dynasty [as well as other sports with state championships]," Starnes says.
Other community events, including a basketball tournament, 5K, disc golf tournament, movie marathon, and opening and closing ceremonies featuring former and current local athletes, were planned around the exhibit. In addition, the Crawford W. Long Museum developed a companion exhibit, Georgia's First Spectator Sports, featuring local memorabilia and history.
"You mention sports in Jefferson, everybody jumps on board," says Beth Laughinghouse, Main Street Jefferson manager.
The exhibit was also seen as a great way to increase exposure for the museum and draw visitors to downtown restaurants and shops.
"Sports was such a perfect fit," Starnes says. – Lori Johnston