2017 Legislative Guide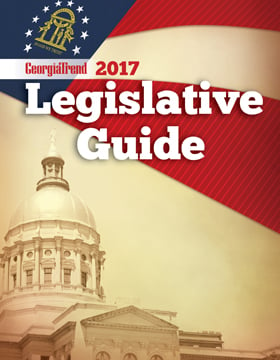 Wait and See
Georgia lawmakers convened Jan. 9, and it could be some good times ahead for the state. However, depending on how it all plays out, there are several controversial matters up for debate in this year's session that could derail the state's forward momentum.
The FY 2017 budget signed by Gov. Deal last May includes $825 million for transportation and $8.9 million for criminal justice reforms. More than $350 million has been set aside for education, which promises to be one of the biggest topics of this year's session.
After the defeat of the Opportunity School District amendment in November, the chance to revisit the state's Quality Basic Education (QBE) funding formula represents a chance to increase funding to underserved districts. It could also mandate teacher raises, increase the ability of the state board to intervene when schools are in crisis and create a fund for impoverished students.
On the other side of the coin, it could damage future funding by underestimating population forecasts in the formula and inadvertently divert funds from the at-risk youth population. Whichever way it goes, something will likely get done this year.
The transportation conversation will continue to evolve as a growing number of state leaders support transit. The governing structure of MARTA is at play, and there is talk of consolidating transit agencies to improve services and find efficiencies. There will be a push for a senior transit network to address aging population needs.
Religious liberty and healthcare are two "wait and see" topics that state leaders may be reluctant to visit before a national agenda is laid out by the Trump administration. GOP leaders are too busy anyway scrambling to replace Tom Price's seat. Of course, Price has been one of the nation's strongest critics of Medicaid and the Affordable Care Act, and his actions as head of the U.S. Department of Health and Human Services might hurt Georgia hospitals.
Democrats and lobbyists will push for Medicaid expansion, arguing the federal reimbursement won't exist down the line. For many Georgia communities, if the hospitals go away, their main source of jobs goes away, too. Any expansion of Medicaid is unlikely, however, and hospitals are in for another rough year. There is a chance to redirect some funding to rural hospitals in crisis, however, and there may be changes in user fees and Certificate of Need requirements.
Other topics coming up this session include direct sales for breweries, earlier alcohol sales on Sunday, rural broadband assets, more alternative fuel vehicle incentives and stronger Department of Revenue data on cities. There could be more legislation on cityhood and T-SPLOST activity and potential spending on rail. There could also be moves to boost the music industry and expand MARTA in Fulton and DeKalb counties. The recently passed Judicial Qualifications Commission amendment promises reform in an arena in which 60 judges have been removed in the last six years.
The provider tax – also known as a hospital or bed tax – will be up for discussion once again, and we could see a different version of the campus carry bill despite a veto by Gov. Deal last year. The governor has also created a task force to figure out how to tackle opioid addiction in the state, a rising problem nationwide.
Gaming and horse gambling will return, but action is unlikely. Democrats will push for this money to be spent on HOPE or at-risk youth. There will be a look at existing gaming and the potential for future casinos, and a larger percentage of taxes from gaming could spur funding for college affordability.
The Legacy Fund could return as a means of supporting conservation, and hunting and fishing licenses may be raised to fund additional staff and means for the Georgia Department of Natural Resources.
Leaders will likely push for a quick session and an early Crossover Day, moving it up to as early as the 25th day of the session. While anything is possible under the Gold Dome, House, Senate and party leaders seem about as uncertain of upcoming federal policy as anyone, and they might not stick their necks out if they don't have to. – Ben Young
---
About the Guide
Georgia Trend's Legislative Guide provides contact information for legislators and other elected officials.
As we went to press, U.S. Rep. Tom Price was about to start confirmation hearings to be the new U.S. Secretary of Health and Human Services, and Republican Chuck Payne won the Jan. 10 special election runoff for District 54 in the State Senate.
Information that was not available at press time is indicted by NA. All other information in the guide was correct as we went to press but may have changed since.
For updated information, go to legis.ga.gov