Stories With an Impact
Not everyone knows about the Peabody Awards – not yet anyway – but everyone, from documentarians and journalists to those in the entertainment industry, wants to win one. And the home of these coveted awards is right here in Georgia.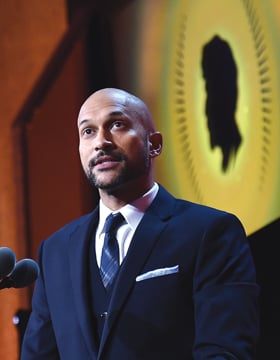 Some of the coolest people on the planet gathered in New York on a chilly night last spring to celebrate achievements in storytelling via electronic media. Not surprising, perhaps, that David Letterman, Jon Stewart, Shonda Rhimes, Aziz Ansari, Steve Martin, Keegan-Michael Key and other luminaries were at the same place – Cipriani Wall Street, a glittery event venue – at the same time. The surprise is that the University of Georgia brought them together.
The occasion was the 75th annual presentation of the esteemed George Foster Peabody Awards, housed in UGA's Grady College of Journalism and Mass Communication.
Jeffrey P. Jones, director of the Peabody Awards, isn't entirely joking when he calls them "the best awards you've never heard of." But that's among the general population, he says. "You ask a journalist, and it's 'Oh, yeah, I know that award.'" It's the one they want to win.
The Peabodys, the Pulitzers of electronic media, are unique in that they recognize work from journalists, from documentarians and from the entertainment world.
"If you're watching the Peabody Awards, what you're looking at is a menu of programming that you should watch," Key told Entertainment Weekly this past June. "It's an awards show that's about stories that matter, stories that can change lives, stories that can inform us, and, this might be more important than anything, it's about stories that hopefully allow us to learn and empathize with our fellow humans."
Grady Dean Charles N. Davis says the awards competition "puts a lens on the entirety of the electronic media." He sees the connection to a prominent academic institution and the impartial judging process as crucial to the awards' stature.
"The judging is done by an independent board of jurors," Davis says. "It's done with a level of integrity and level of passion that insulates it from a lot of the lobbying and some of the chicanery around some of the other awards."
A panel of 16 distinguished media achievers from around the country – including Atlanta's Monica Pearson, longtime WSB-TV anchor – makes the selections. The decisions must be unanimous.
"The Peabodys are totally insulated," Davis says. "The editorial judgments that are made by the board of jurors are sacrosanct, and everybody knows it within the industry and the academy. I hear time and time again from news directors and documentarians and even those in the entertainment industry the Peabody is the most cherished award that they win. That it's the one they most covet."
The late Walter Cronkite, a multiple award winner, famously said, "You count your Emmys, you cherish your Peabodys."
"Stories That Matter" is the tagline created by Jones shortly after he arrived in Athens in 2013 to help brand the Peabodys. It is more than apt and warranted by the history of the awards.
"Look back at any year and see what won," Jones says. "You clearly see in the 1950s and the 1960s shows they are highlighting things they think matter to us as citizens – arts programming, music programming. What the board has always cared about is No. 1 that it matters to us, that it says something about us at a point in time.
"The Peabodys are often innovative, giving an award well before others do, and it has a positive impact on the show. Ira Glass will tell the story – once they received a Peabody for This American Life, it was a legitimating factor, and then they got picked up by lots and lots of radio stations."
The awards reflect considerable diversity and have for some time, a trait especially appreciated by the honorees in this year of the so-called "white Oscars." Winners this year included titles as diverse as Beasts of No Nation, a film set in Africa; black-ish; and How to Dance in Ohio, a documentary about autistic children.
---
The Celebration
The cool factor at the 2016 ceremony was firmly established by host Keegan-Michael Key, half of the comedy duo Key & Peele, which won a 2013 Peabody. (Recent past hosts have included Glass and Saturday Night Live alum Fred Armisen; go back a bit further and you can add Oprah Winfrey and Walter Cronkite to the list.)
Key is smart, funny and clearly appreciative of the work being honored.
The ceremony itself is at once glamorous and inspirational. The winning documentarians and journalists, who do much of their work in obscurity, have a fine moment in the limelight, and the higher-profile celebrities see their work honored for an impact that goes beyond entertainment.
Winners Alexandra Shiva, the HBO documentary filmmaker (How To Dance in Ohio) and Brendan Keefe, the WXIA Atlanta investigative reporter (911: Lost On The Line, about blind spots in the country's 911 system) get the same 30 seconds for thank-yous and acknowledgements as actor and comic Aziz Ansari, whose groundbreaking Master of None on Netflix focuses on second-generation immigrants and millennials.
"You get various facets of storytelling standing beside each other," says Jones. "It's very moving to have some of the best talent today across these genres telling you their stories – and not did they win but why they won, telling you. 'We did this, we overcame that, we're a little production in Scotland [Katie Morag] and we didn't think that anybody was watching our show.'"
Nonetheless, the celebrity component adds a dimension to the awards and the ceremony, Jones says. "It elevates documentarians and journalists who feel they're in one world and entertainment is in a different world. The bright light of celebrity from entertainment shines its light on storytellers in a realm that is much less celebrated. The concept that there are genres and that they are in their separate fields gets blended into 'all these stories matter together.'"
Jon Stewart, accepting the Institutional Peabody Award for The Daily Show this year, saluted honorees from journalism and documentary categories. "We tell jokes on 11th Avenue in front of a green screen," he said. "You actually go to those places to tell stories with courage and clarity and power and brevity. In many ways, you are what we all aspire to be."
The Peabodys this year honored 30 shows or projects – branded "the Peabody 30" – produced in 2015, selected from nearly 1,300 entries. [See the complete list on page 21.] With the exception of the individual awards, given this year to late-night TV icon David Letterman and Civil Rights documentarian Stanley Nelson, the honor goes to the show, not to a person.
"What that says is that it's the story itself," Jones says. "It's not the genius Martin Scorsese who has won a Peabody. His story on Bob Dylan [American Masters: No Direction Home, 2005] won the Peabody."
Winners see the awards as validation of their work. Key's word is "humbling." Shiva calls it "thrilling." WXIA's Keefe describes it as affirmation.
"People who are motivated to produce creative works are also conflicted," Keefe says. "Is my creation valuable to people other than me? So to have that kind of validation of not just this story but all that work played out on a stage with other people who have achieved a level of success in their craft, whether they be documentarians or comedians or actors or writers, it's humbling and also validating."
---
The Beginning
Groundwork for the Peabodys began in the late 1930s, under the auspices of the National Association of Broadcasters, which formed a committee to establish an awards program for radio. Committee member Lambdin Kay, general manager at Atlanta's WSB Radio, looked to the nearby University of Georgia and its journalism school to shelter and administer the awards, which were named for businessman George Foster Peabody, a UGA benefactor. The first awards were given in 1941.
Over the years, the Peabody administrators have been astute about making sure the awards keep up with – and even anticipate – changes in broadcast and electronic media. They were opened to television entries in 1948 and have continued to recognize emerging media. A key decision was expanding the competition to entertainment endeavors.
"Really, 1977 became the watershed year for Peabody," Jones says, "in which it finally and fully would acknowledge that a broad range of network programming could speak to us as citizens. That was the year that Mary Tyler Moore won, that Roots won, that Norman Lear won, that the British Upstairs, Downstairs won.
"Clearly the board that year said entertainment programming can speak to us in a powerful way," Jones says.
"We've always embraced new," he says. "We are the oldest award for broadcasting and electronic media. We moved to cable and recognized cable, moved to the web and recognized that programming occurs on the Internet. When you start talking about the Internet, you have blogs, which we have recognized, viral videos, which we have recognized. You have podcasts, a digital audio piece we've recognized. We've recognized subscriptions' video on demand."
HBO was first honored in 1981 for Nobody's Baby; CNN first won in 1983, earning an Institutional Award for news and informational programming.
"Peabody has recognized that technology changes, but if it has audio and a visual component to it, it doesn't matter what the platform is or where it appears or how it's supported. All we don't do is print and film," Jones says.
"We're an adaptive organization that recognizes it's about storytelling using electronic media. That's how we've changed."
---
What Matters
A big part of successful storytelling is universality. That, Jones says, is what makes the story powerful.
"What is it about a comic book like Jessica Jones [Marvel's Jessica Jones, honored at this year's ceremony] that talks about the universal struggle of abuse, in particular that women suffer? There is something about the ceremony that asks everyone to think about their story as a universal statement about the human condition."
At this year's ceremony, black-ish creator Kenya Barris, whose ABC sitcom about a suburban African-American family often takes its audience to fairly uncomfortable places, spoke of the people – white as well as black – who respond to the stories. Viewers come up to him in airports to tell him, "That's my family." He went on to say, "This award means everything to me."
Jones references the first viral video recognized by Peabody for 2013. The 26-second video, A Needed Response, was created by University of Oregon students and posted to the online site Upworthy, to address the rape culture on college campuses. It shows a girl passed out on a sofa and a young man crouching down beside her, saying to the camera, "Guess what I'm going to do to her?" He proceeds to put a pillow under her head and cover her with a blanket, then says "Real men treat women with respect." The students were at the ceremony to accept their award.
"They stood that year beside perhaps one of the greatest TV shows in history, Breaking Bad," Jones says, "with millions of dollars spent per episode, And here's two University of Oregon students in their apartment shooting a video that is also a story that matters. The board is willing to recognize innovative, smart, intelligent programming irrespective of costs."
---
Momentum
The Peabodys bumped along just under the radar for many years, the ultimate insiders' recognition, revered and appreciated in journalism and entertainment circles, but not generally well-known beyond.
But that has been changing – by design, thanks to the clout and determination of Davis and Jones and another powerful ally, UGA President Jere Morehead.
"President Morehead, myself and Jeff all began our tenures simultaneously," in 2013, Davis recalls. "Jeff came the week after I did. President Morehead started his tenure the same day I did. From day one it's been among the president's priorities to raise the profile of the Peabody Awards."
Much of that involved increasing the visibility of the awards ceremony, for many years a staid weekday luncheon at the Waldorf Astoria with no TV coverage and no red carpet fanfare for the winners.
"We've introduced a tremendous amount of change. Jeff has moved it from a Monday to a weekend, from lunch to night, from not on TV, to on TV. We started the Facebook Futures of Media Award this year," Davis says, to encourage and reward digital innovation. "What you're seeing is a steady increase in public visibility, important themed events – not only the Peabody Awards, but events surrounding it. We want to be on the tips of tongues of New Yorkers for more than just the evening.
"I think the next iteration of coverage of the Peabody Awards will reflect an even bigger national platform," he says. "We are trying to be the forward-looking face of electronic media but also the archival resource." That includes more interaction with the Peabody Archives, which reside in UGA's Hargrett Rare Book and Manuscript Library and represent the third largest archive of electronic media in the world.
Jones likes the fact that the Peabodys are gaining recognition at the same time Georgia's film and TV industry is booming.
"This is a great moment in time for the state of Georgia because of all the team effort that has happened at the state level," he says, centered around the 30 percent tax abatement that has allowed Georgia to become the No. 3 state in the country for film and TV production – and tied for No. 3 of the top film production centers in the world.
"It's kind of soup to nuts," Jones says. "We're a state that produces a TV show like Rectify – shot 16 miles south of Atlanta – and we get to award Rectify, which won for 2014. It helps us to identify that the state of Georgia is where this is going on."
Davis believes the awards are at what he calls "the next inflection point" and will continue to grow in stature. "It's a treasure and an awesome responsibility to be entrusted with," Davis says. "We will continue to raise its profile statewide and nationally and internationally in the years to come."
---
75th Annual Peabody Award Winners
---
Individual Award: Stanley Nelson
Individual Award: David Letterman
Institutional Award: The Daily Show with Jon Stewart
---
Documentaries
• Do Not Track (online)
• Going Clear: Scientology and The Prison of Belief (HBO)
• How to Dance in Ohio (HBO)
• Independent Lenses: India's Daughter (PBS)
• The Jinx: The Life and Deaths of Robert Durst (HBO)
• Listen to Me Marlon (Showtime)
• Night Will Fall (HBO)
• POV: Don't Tell Anyone (PBS)
• What Happened, Miss Simone? (Netflix)
---
Movies
• Beasts of No Nation (Netflix)
---
Newscasts
• 911: Lost on the Line (11Alive in Atlanta)
• Burning Questions: WTAE Investigates Fire Response Times (WTAE in Pittsburgh)
• Desperate Journey (PBS Newshour)
• European Migrant Crisis/A New Life in Europe/The Year of Migration (BBC)
• ISIS in Afghanistan (Frontline)
• Real Sports with Bryant Gumbel: The Killing Fields (HBO)
• The Laquan McDonald Investigation (WMAQ-Channel 5 in Chicago)
---
Radio & Podcasts
• The Case for School Desegregation Today (This American Life)
• Meet the Composer (Q2 Music)
• Secret Mustard Gas Experiments (NPR)
---
TV Shows
• black-ish (ABC)
• Deutschland 83 (SundanceTV)
• Katie Morag (BBC)
• The Leftovers (HBO)
• Marvel's Jessica Jones (Netflix)
• Master of None (Netflix)
• Mr. Robot (USA)
• Transparent (Amazon)
• UnREAL (Lifetime)
• Wolf Hall (BBC)
---
To learn more about this year's Peabody Award winners, go to peabodyawards.com.