Gwinnett County: Technology Takes Hold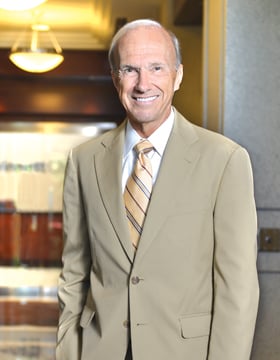 John Voris describes himself as a Silicon Valley vet, but Gwinnett County snagged his attention when thredUP, an online marketplace for secondhand women's and children's clothing, needed a new distribution center.
The San Francisco-based company, with revenue growing about 150 percent annually, is one of a number of success stories that are choosing Gwinnett to expand workforce, grow business and better serve customers. According to Partnership Gwinnett, the county's economic development arm, there's been $240 million in investments and 3,075 new jobs announced since January 2015.
"Our strategy is to get closer to our suppliers and our customers. We knew our next logical place to put a distribution center was in the Southeast," says Voris, threadUP COO. "We landed on Atlanta. From there we did some labor demographic analysis. Gwinnett County and that general area of Duluth really show as the best place."
ThredUP plans to add at least 300 full-time jobs in Gwinnett by first quarter 2017. Voris says he's been impressed by the quality of workers and particularly the number of millennials, who county leaders and cities are working to lure with revitalized downtowns and walkable developments.
Gwinnett, one of the nation's most diverse counties, has nearly 900,000 residents and 16 municipalities.
"We're open to everybody and anybody, as long as they've got the energy," Voris says. "The people that we've hired so far have been very productive. The people in Gwinnett County are just as productive as some of our more senior people in other locations."
Gwinnett County aims to have the workforce, work sites and quality of life to attract newcomers and retain existing businesses as companies – from Silicon Valley startups to Fortune 500 companies (Gwinnett has four) to local entrepreneurs – seek to grow.
"They are feeling more comfortable about the economy generally when you look at these types of expansions. That's a good thing all the way around for Gwinnett and the whole state," says Charlotte Nash, chair of the Gwinnett County Board of Commissioners.
The Gwinnett Chamber of Commerce is also focused on creating and sustaining the entrepreneurial ecosystem, says Dan Kaufman, the chamber's president and CEO.
"We've got lots of small businesses who are creating their niche and growing and becoming successful," he says. "At the same time, we're also attracting major companies from literally around the world."
---
New Companies and Job Sectors
Kaiser Permanente, the nation's largest integrated healthcare system, is investing an estimated $51 million to open a national member services contact center in Duluth that is expected to add about 800 jobs by 2020. The 185,000-square-foot center is scheduled to open this fall. About 200 existing employees will move from Kaiser's Buckhead campus to bring the total of jobs to nearly 1,000.
"We really needed a very, very large footprint, and we needed a workforce that could really help support a national contact center," says Julie Miller-Phipps, former president of Kaiser Permanente of Georgia. "Gwinnett County was able to offer both of those for us."
The contact center is located on 18 acres, about a mile from Kaiser's Gwinnett Comprehensive Medical Center, which opened in Duluth in 1995. The medical center campus, which went through a $52-million expansion in 2012 that added 100 jobs and three other medical offices, provides care for more than 60,000 patients in Gwinnett. Kaiser employs about 400 staff and physicians in the county.
New and expanding businesses are impacting nearly every city in Gwinnett. In Norcross, solar cell manufacturer Suniva plans to create 500 new jobs and invest $95 million in the county. InComm, a leading global prepaid program provider, plans to make a $20-million capital investment to expand its operations and add more than 120 new jobs in Suwanee and Peachtree Corners. Dalton Carpet One expanded into Gwinnett with a location in Lawrenceville and a $250,000 investment. BioLife Plasma Services opened a plasma collection center south of Snellville, representing a $7-million capital investment that will create 50 new jobs.
Although NCR Corp. plans to move its headquarters from Duluth to Midtown, in the past two years, more than 20 companies have opened headquarters and regional offices in Gwinnett County, according to Partnership Gwinnett. Those offices have added more than 1,500 jobs, primarily in the professional services and technology sectors.
Nick Masino, the Gwinnett Chamber of Commerce's senior vice president for economic development and Partnership Gwinnett, sees big things happening in the county's technology sector. Gwinnett is believed to have the state's largest cluster of advanced communication jobs, including fiber, data centers, telecommunications companies and satellite companies.
In May, Comcast opened its 88,000-square-foot Southeast regional headquarters in Peachtree Corners that will house 530-plus local employees and 150 new employees, for a $12.7-million investment. Level 3 Communications, a global telecommunications company, relocated 350 jobs when it moved its headquarters from downtown Atlanta to its 39,000-square-foot facility on four acres in Peachtree Corners' Technology Park.
ViaSat, an advanced digital satellite telecommunications firm, expanded in Duluth in 2015. Technicolor's North American headquarters is on Cisco's campus in Gwinnett.
"That is a major international player essentially in the digital media space," Kaufman says. "That was a major win for us to attract Technicolor."
While the investments are in the millions and job growth is in the thousands, Masino also puts it in everyday terms. Think about pulling up a movie or YouTube video on your digital device.
"All of those pieces have operations or [are] produced in Gwinnett County," Masino says.
---
International Allure
About 130 of the more than 600 international companies in Gwinnett have a headquarters or regional headquarters in the county. As an example, Partnership Gwinnett's data also shows the county is home to 40 percent of the Italian companies in Georgia.
"We continue to be the international leader for Georgia," Masino says.
Geiger Automotive, a German company, last year opened a plastic component manufacturing operation, representing a $600,000 investment and adding 120 jobs. Other international companies with growth in Gwinnett include Linhai Powersports, the U.S. branch of Jiangsu Linhai Power Machinery Group Corp., with a $10-million investment and 80 jobs; Slovakian company Murrelektronik, with a $2-million investment and 20 jobs; and Aluvision, a Belgian company with a $3.6-million investment and 30 new jobs.
In Lilburn, the BAPS Shri Swaminarayan Mandir, the largest stone Hindu temple outside India, has drawn 1.8 million visitors to tour the architectural marvel and attend spiritual and cultural events and celebrations since it opened in 2007. A 10-day youth convention in 2013 brought in nearly 9,000 delegates and 9,960 room nights – the largest recent convention in Gwinnett.
"Certainly these numbers are wonderful," says Jigar B. Patel, media relations coordinator for BAPS. "They exceeded our expectations."
The entertainment industry also is bringing celebrities and crews to Gwinnett to film at locations in Buford and Lawrenceville or venues such as Eagle Rock Studios Atlanta. In its first year, the Norcross studio has been used to film Mother's Day and series including OWN's Greenleaf and Ozark for Netflix.
"We hoped it would be this good," says Doug Nicely, executive vice president of studio operations for Eagle Rock. "The interesting thing is that it's opened up more of Gwinnett County to filming."
The Georgia Film Academy, which launched earlier this year at several colleges across the state, including Gwinnett Technical College, could fill the need for skilled crew members. "Before, [we had] been pulling people in off the street," Nicely says.
In fact, the county's school system and colleges continue to enhance programs to train and develop the existing workforce and prepare new generations for jobs, including Georgia Gwinnett College, which had more than 11,000 students in fall 2015 and has about 100 nations represented in its student body. A 2016 study by the University of Georgia's Selig Center for Economic Growth found that the college created 4,208 full-time and part-time jobs and contributed more than $416 million to the local economy in fiscal year 2015.
---
Sense of Community
The public and private sectors are working to improve Gwinnett's amenities for visitors and residents looking for activities close to home and a sense of community.
"If we want to attract and retain young professionals, frankly, we've got to offer those kinds of activities centers that will attract them," the Chamber's Kaufman says. "That's what excites me, is the extent of the transformation that's taking place throughout the county."
Municipalities such as Duluth are investing in million-dollar improvement projects to transform areas into community centers with events, restaurants with outdoor dining, shopping and more. Gwinnett Place Mall is poised for revitalization, with several projects from the county, Gwinnett Place Community Improvement District (CID) and private development that could reinvigorate the commercial area.
"Redevelopment is hard, and it takes a lot of time," Nash says. "We've got to partner with the private sector. It takes time for the private sector to get comfortable with making plans to do a redevelopment project."
The city of Suwanee in 2015 approved a $46-million mixed-use development by Terwilliger-Pappas with 235 apartments near its Town Center.
In Sugar Hill, the total amount of new investment in its downtown is expected to reach more than $300 million over the next few years. That includes a new $36-million mixed-use development called the EpiCenter and a $3-million upgrade to The Bowl @ Sugar Hill, the city's amphitheater, which will seat about 2,000 people.
"That's a good tool for us to get people downtown," says Mayor Steve Edwards. "It's also a built-in amenity that a lot of developers are seeing as a huge reason to partner with us."
The EpiCenter, which broke ground in June, should take 18 months to complete and is kickstarting other private-public partnerships, Edwards says.
"Our vision is all about becoming a destination city, and I think the EpiCenter will give us that tool to make it happen," he says. "We do not have a downtown, and we're building a downtown. We are creating a sense of place, and in buying some of the property around city hall and in our downtown, we're basically controlling our own destiny."
JWM Ventures plans a mixed-use development with a full-service hotel on 4.2 acres beside Sugar Hill's City Hall, which opened in 2013. Across from the EpiCenter and City Hall, Macauley Investments plans to build a mixed-use development on 7.5 acres. And Trinity Lifestyles Management is building senior housing and retail nearby.
"You also see a lot of cities doing what we're doing … trying to build a sense of community," Edwards says.
---
The Midst of Change
In Lilburn, an $11.3-million project with a new 24,000-square-foot city hall complex and 20,000-square-foot branch of the Gwinnett County Public Library are expected to be completed this fall.
"Lilburn is on the precipice of major change," says Mayor Johnny D. Crist.
The city's Downtown Development Authority expects by the end of the year, he says, to close on the sale of a 7.6-acre property it assembled near City Hall to a private developer who plans to add new homes, shops and restaurants. The project has an estimated $45-million price tag.
Lilburn is one of the areas in Gwinnett that has established a CID. The newly approved Sugarloaf CID estimates $250 million in development is coming to the Sugarloaf corridor. Other CIDs operating within the county include the Gwinnett Place CID, Gwinnett Village CID (Jimmy Carter Boulevard), Evermore CID (Highway 78 corridor) and Braselton CID.
"I think the businesses that have a presence there [along the Sugarloaf corridor] always have seen the good things that have come from other CIDs and decided they would get a head start on pulling themselves together and taxing themselves to do some improvements and enhancements beyond what we're able to provide as sort of a base service," Nash says.
While corporations and public-private partnerships are investing big dollars into Gwinnett, small businesses continue to help fuel the economy. Of the 22,012 businesses in Gwinnett, 75 percent (more than 17,000) have less than 10 employees, according to the U.S. Census Bureau. In Gwinnett, small businesses can create a corporate culture with community involvement and a family-style vibe as key components.
"We treat everyone like family, and you can genuinely feel that leadership is invested in each employee. We wouldn't be in business without our incredible clients, and we wouldn't have a business without an amazing team," says Keith Hicks, president of Baker Audio Visual, based in Norcross. "At the end of the day, why are people coming to see you? Our feeling about that is it's our people."
---
LOCAL FLAVOR
Eating and Entertaining: From new restaurants and mixed-use developments to expanding event space and more hotels, every day there's more to do and see in Gwinnett County.
A new seafood restaurant by one of Atlanta's most well-respected chefs has opened in Peachtree Corners, where its two full-service hotels are undergoing multimillion-dollar renovations and new developments are underway.
Noble Fin, a coastal-inspired eatery with a wine wall and raw bar, opened in May in the former Dreamland BBQ spot across from The Forum, a popular retail area. Owner and executive chef Jay Swift says the demographics were convincing for an outside-the-Perimeter restaurant.
"The area was growing quickly. It was affluent and becoming denser," he says. "The choices were very limited, most of which were chains."
Noble Fin is ensconced in an area ripe with possibility. Aside from the nearby The Forum, there's the newly opened Peachtree Corners Market, a $150-million mixed-used development at the corner of Peachtree Parkway and Medlock Bridge Road.
In January, the city unveiled renderings of a proposed pedestrian bridge over Peachtree Parkway linking The Forum to the new Peachtree Corners Town Center. The bridge would not only create walkability and link these developments together, but also create a landmark – renderings depict a winding cabled bridge with benches and landscaping.
Just 10 miles northeast of Peachtree Corners, Duluth's Infinite Energy Center (formerly the Gwinnett Center) will be seeing some change, too, over the next several years. The county's master plan envisions a multi-use, walkable destination on 30 acres that would expand the center's footprint and add dining, shopping and nightlife. The exhibit hall also would be expanded.
A $30-million Embassy Suites is expected to open on Satellite Boulevard near the convention complex in January 2017. A $70-million, 12-story Marriott is on target to break ground in 2017, Explore Gwinnett executive director Lisa Anders says.
Other new ventures on Sugarloaf Parkway include Uncle Jack's Meat House, owned by Willie Degel, host of Food Network's Restaurant Stakeout. It's just one of many new restaurant concepts coming to the county. There's also O4W Pizza, an intown eatery that specializes in Jersey-style pie that opened a downtown Duluth outpost this summer.
Back at Noble Fin, Swift is surprised by the appreciation of Gwinnett diners."They thank me for coming to the neighborhood [and say], 'We really needed something like this.'" – Lori Johnston