Georgia Fare: Walk on the Wyld Side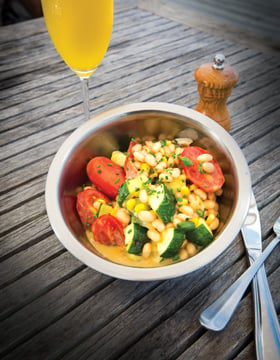 The blast furnace days are behind us now, and the months to come usher in the Georgia coast's most pleasant waking hours. After weeks locked inside, like New Englanders huddling through a winter white-out, we're tired of trying to starve our cabin fever. Now that it's just a cold … let's feed it!
Go Wyld. The outdoor, dockside spot is another sign that Savannah's sleepy dining scene is yawning, stretching and rubbing its eyes. (See also: 39 Rue de Jean; the Victorian district's new The Vault, from veteran Savannah restaurateurs Ele and Sean Tran; Sandfly Bar-B-Q at the Streamliner; Cotton & Rye; and, of course, The Grey.)
About 10 minutes from downtown Savannah, on the Isle of Hope (in the area also known as Sandfly), the former Bonna Bella Yacht Club location opened last year under the guidance of chef/owner Tony Seichrist, who formerly worked as chef for Hugh Acheson at Athens' Five & Ten, as well as Atlanta's Holeman & Finch and the Farmhouse at Serenbe.
There are a few additions – bocce and fire pits, a tarp for shade – but the sturdy, grey-weathered wooden dock overlooking the marshes is still the central feature. Parties still arrive by boat – little fishing boats; sleek runabouts; fan-driven airboats. Families with dogs congregate in a designated section. A tween at a large table studies the incredible brunch selection of fresh seafood, pancakes and huevos rancheros, and asks a waiter if there are hot dogs. No one laughs or sniffs – but there aren't.
It's that kind of place – the food is both crowd-pleasing and uncompromising. In spite of the gorgeous views, it's the real reason to come and as pretty as the vista. Open for dinners and Saturday and Sunday brunches, the Wyld offers both its regular menu and a short brunch list on those weekend days. It's also the best time for marsh wildlife viewing.
We were tempted by neighboring tables' brunch orders of chorizo tacos and pancakes with brûléed bananas but could not resist the crab cakes, shrimp ceviche and pan-seared flounder. All were outstanding: The simple blue crab-heavy cake, with a few coarse grains of salt and fresh arugula leaves, with remoulade and a little pool of hollandaise. The crisp-skinned flounder, with buttery fresh tomato concasse and basil leaves over crisp potatoes. Cold, cilantro-and-scallion-flecked local shrimp, with toasted French bread.
However, the "incidentals" threatened to steal the show from the main event: A bowl of succotash, prepared more like a stew of meltingly tender butter beans with bacon, tomato and bits of okra so rare they looked like herbs. Roasted corn on the cob, with brown sugar aioli, lime and cayenne sprinkles. We were too full for dessert but waited for the magic 12:30 hour to order cocktails: A Hemingway Daiquiri (a brisk, well-balanced refresher of white rum, grapefruit, lime, maraschino liqueur) and a "traditional" whiskey sour – traditional only if you've ever had this bourbon classic of lemon, sugar and bitters topped with whipped egg whites.
There's so much more to explore here, at either meal – the house-ground burger; a "breakfast sandwich" with eggs, cheese and Ossabaw country ham on an English muffin; crispy fish and grits; clam roll; collards with ham hock pot liquor and "chilli van." (The menu changes seasonally, so vegetables especially may vary greatly.) The chipwich and Key Lime pie. The cocktail, wine and brew list that greatly outnumbers the foods.
And I love the menu icon of two small minks clinking glasses ("Dinner and Minks"), a nod to those now rarely seen salt marsh denizens. So we want to come back as the weather cools, the marshes turn gold and the minks raise a toast. C'mon out, they seem to say – the weather's fine.
---
The Wyld
Address: 2740 Livingstone Ave., Savannah
Contact: 912.692.1219
thewylddockbar.com
Hours: Dinner, Tuesdays-Sundays; Brunch, Saturdays & Sundays
Parking: Plentiful in attached lot
Dress Code: Deck shoes mandatory
---
New on the Savannah Scene
Sandfly Bar-B-Q at the Streamliner
Memphis-style BBQ in a 1930s-style diner
sandflybbq.com
---
Cotton & Rye
Gastropub fare in the city's Victorian District
cottonandrye.com
---
The Vault Kitchen and Market
Asian-influenced food in a former bank
vaultkitchen.com
---
39 Rue de Jean
Classic French brasserie cuisine
holycityhospitality.com/39-rue-de-jean-savannah
– The Editors