Georgia project receives national sustainability award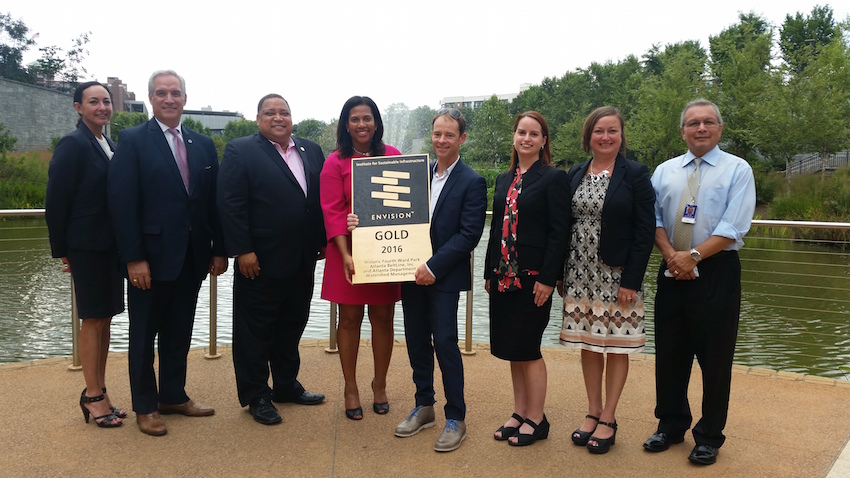 The area surrounding Atlanta's Historic Fourth Ward Park, which runs from Ponce City Market south to Freedom Parkway and the Carter Center, once was made up of unused brownfields subject to massive flooding. Now the greenspace, just off the Atlanta BeltLine, which serves as a model for sustainability best practices around the nation, has another sustainable feather for its cap.
The Institute for Sustainable Infrastructure (ISI) recently awarded the city of Atlanta Department of Watershed Management its Envision Gold Award for the Historic Fourth Ward Pond project. The park is the first project in Georgia to receive this prestigious award.
"The Historic Fourth Ward Pond serves as a functional amenity to the residents in the surrounding community," says Watershed Management Commissioner Kishia L. Powell. "Not only is it a beautiful recreational park that people can enjoy every day, the pond was designed to provide much-needed stormwater drainage relief as well."
Watershed Management partnered with HDR, an engineering, architecture, environmental and construction services firm, to construct the $14-million, 9-million gallon stormwater retention pond that serves as the centerpiece of the park. The pond was built to hold flows from a 100-year storm event and to comply with Atlanta's federal consent decree requirements, while also contributing to the area's revitalization.
Photo courtesy of the city of Atlanta. Left to right: Lynnette Cardoch (HDR Architects), Paul Morris (Atlanta Beltline), Councilmember Michael Julian Bond, Watershed Management Commissioner Kishia Powell, Robby Bryant (HDR Architects), Denise Nelson (ISI), Michaella Wittmann (HDR Architects) and Public Works Commissioner Richard Mendoza