On the Right Path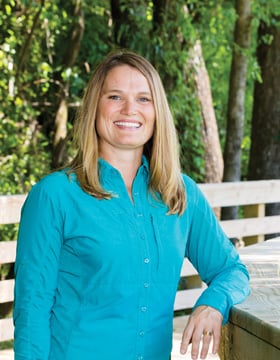 More than just a form of recreation, Georgia's greenways – corridors of protected open space that often follow natural land and water features and include some form of a pedestrian or bike trail – are becoming a viable option for alternative transportation in many areas of the state. Though construction is made possible through a number of funding sources – some private, some public – everyone stands to reap the benefits of trails and greenways through better health and well-being, increased real estate values, and spurred economic development and neighborhood revitalization.
Until now, greenways have been developed in a patchwork of disconnected areas around the state, but the goal is to link Georgia's trail system to maximize usage. Born in 1991 of the desire of three cycling buddies for more pleasant places to ride in Atlanta, the nonprofit PATH Foundation has become the go-to trail developer for cities and counties as they embark on a trail project.
"We've learned how to conceptualize, plan, design and build trails from the school of hard knocks over 25 years, and we've built about 235 miles of trails so far," says Ed McBrayer, one of the founders. "There's really no reason for cities and counties to have to do this. We try to go wherever there's a good group that is motivated, seems to have a source of funding and has interested elected officials."
They've lent their expertise to a number of trail projects around the state and are currently working on trails in Carrollton, Columbus, LaGrange and Newnan. PATH's biggest project, however, in partnership with the state, three counties, four cities and a handful of interest groups, is the Silver Comet Trail, a 61.5-mile rails-to-trails project from Atlanta to the Alabama border.
McBrayer is an Atlanta native who lived in Denver in the late '70s and early '80s when they were building miles of trails. When he returned to Atlanta in the late '80s, "there were no trails, no bike lanes," he recalls. "A lot of Atlanta streets [still] don't even have sidewalks, so pedestrians and bicycles have been totally left out of the infrastructure planning."
Until now.
---
Georgia's Gem
The Carrollton GreenBelt, in West Georgia's Carroll County, is a shining example of how private funding can result in a public project beneficial to all residents. Located in a rapidly growing area, the greenway's role as an alternative transportation offering was central to the overall design, says Erica Studdard, executive director of Friends of Carrollton GreenBelt, which was founded in 2011.
Though much of it has been in use for a couple of years, completion of the planned 16-mile loop is set for the end of the year. Unlike a rails-to-trails project that follows the route of an abandoned rail bed, Carrollton's path was designed specifically for non-motorized travel along a route that maximizes location and accessibility for users.
When it is complete, the trail will be the largest paved loop trail system in the state and will connect the Carrollton City School campus, the University of West Georgia, city parks and several commercial shopping areas with existing neighborhoods.
The greenway is being built with 85 percent private funding and 15 percent public funding, primarily SPLOST.
"When we were building the trail, we knew we'd immediately capture the exercise enthusiasts," Studdard says. "But now we've captured – without a lot of marketing – more families and people of all ages, all sizes and races.
"It really is a melting pot of the community, and it's kind of neat to go out there and see all the different people on the trail," she adds. "But it's not necessarily folks in Lycra on $2,000 road bikes; it's a lot of families, older people, kids. It's been great to see how the community has embraced the project."
One of several distinct design features of the Carrollton GreenBelt is the use of an existing creek culvert for a road crossing. The path was designed to follow alongside the stream as it flows under the road and out the other side. In addition, at Hobbs Farm Park, an innovative disc golf course just opened along one stretch.
"What we hope propels us to the next level is our tie-in with a lot of the city's assets. We tied into the University of West Georgia, we tied into the city's school system so kids can start biking and walking to school again, we tied into existing neighborhoods and places of employment like Southwire and Tanner Medical Center," she says.
Though the path is now predominantly used for recreation, Studdard hopes it will become more of a transportation corridor for Carrollton, where the population swells during the day from 25,000 to over 50,000 as commuters arrive for work and school.
---
Urban Trailblazers
Gainesville is home to two trail systems – the two-mile Rock Creek Greenway and the Midtown Greenway, which will eventually stretch three miles and help connect a 15-mile loop from Gainesville State College to the Rock Creek Greenway.
The $5 million-plus Rock Creek Greenway was funded through private donations and transportation enhancement grants. Completed in 2009, the project began in 1996 when concerned citizens formed Friends of the Parks and joined forces with the city of Gainesville and Gainesville Parks and Recreation to address the restoration and preservation issues associated with a corridor of existing parks that reached Lake Lanier, says Julie Butler Colombini, marketing/communications manager for Gainesville Parks and Recreation.
In 2000, Rock Creek Park, the gateway from downtown to the existing trail system, was developed and additional land was acquired for the final connection to the existing parks in 2002. The greenway connects downtown Gainesville to Lake Lanier through four parks. Features along the path include war memorials, tennis courts, playgrounds, picnic pavilions, historic Civilian Conservation Corps structures, and a put in and takeout site on the Gainesville Upper Lanier Water Trail.
Located in the heart of Gainesville, the Midtown Greenway is a 1-mile multi-use trail and center point for the economic and architectural redevelopment of a highly industrialized neighborhood adjacent to downtown, says Colombini.
"The Midtown Greenway is the first truly urban trail built on abandoned railroad property that successfully completed the Georgia Brownfields Program," which provides oversight for voluntary cleanups of contaminated property, she says. While 10 years in the making, from vision and plan to reality in 2012, the Midtown Greenway has been the linchpin in spurring private reinvestment in an industrialized part of the city.
The greenway will serve as the integral link between the Rock Creek Greenway and the downtown district. It is also part of a much larger trail initiative in Hall County, the Highlands to Islands Trail, which will eventually unite all the different trailways in Hall County together under one name.
The design and location of the Midtown Greenway provides Gainesville with a venue for community-wide special events, educational programming, 5K runs and festivals. The multi-use trails offer safe and accessible opportunities for passive and active recreation.
"With walking and biking trails, greenspace, a stage and a pond, the Midtown Greenway is a valuable recreational asset," says Colombini. The greenway is centrally located to provide easy access from various points in the city, and a stream onsite was restored to maintain water quality and reduce flooding and is an integral part of the city's overall watershed management plan.
---
Trekking Across Columbus
In 2011, Columbus unveiled its Fall Line Trace, an 11-mile east-to-west pathway through the northern section of the city.
"The project started in 2010, but it was one that we had on the books a little while," says Rick Jones, planning director for the Columbus Consolidated Government. The project was funded through a number of sources, including federal stimulus dollars, SPLOST and the Georgia Department of Transportation.
Constructed along an abandoned railroad right-of-way, Fall Line Trace runs between the 14th Street pedestrian bridge and Psalmond Road Recreational Center in Midland. It joins the 22-mile Chattahoochee RiverWalk, a linear park connecting Bibb City, downtown Columbus and Fort Benning. The riverwalk also provides access to the Chattahoochee Valley Railroad Trail beginning in Phenix City, just over the Alabama border.
Though operational for more than 20 years, the riverwalk is technically not complete in that there are two unconstructed sections necessary to create a continuous trail from north to south, says Jones, adding that the final phase should go out for bid this summer. As part of the River Valley region – one of just three regions to approve the 1-cent T-SPLOST in 2012 – Columbus set aside about $10 million for the project, taking the trail from the City Mills site to the Bibb Mills site, "two vital links that need to be connected," he says.
While the trail along the Chattahoochee River is certainly the scenic route, it also means the trail is susceptible to flooding. "But it was designed for that," says Jones, adding that if the river rises enough to flood the RiverWalk, crews come in to wash away the silt and remove any limbs and debris after the waters ebb. In addition, the trail was also part of a combined sewer overflow project to install EPA-approved sewer lines, lending additional funding from the EPA, says Jones.
A third Columbus trail, the two-mile Follow Me Trail in south Columbus, is also nearing completion, says Jones. The $3.5-million path will begin in an industrial area of the city, meander through a neighborhood, and connect to the National Infantry Museum. It will also connect seven schools, a park and restaurants. The final step will be to construct a bridge for safe passage over Victory Drive, a major six-lane roadway.
---
Connecting the Dots
While PATH is known as the builder of trails, the Georgia Trails Alliance aims to be the connector, says Traci Sanchez, director of the recently formed nonprofit that for the past three years was known simply as the Georgia Trails Summit, the name of the annual meeting it hosts. The initial gathering in 2014 brought 150 attendees. This year that number jumped to about 175 and included invitees from neighboring states that "seem to be a little ahead of us," in terms of trail development, she says.
"We want to fill the gap statewide so there's one clearinghouse resource," to help trail advocates access funding resources, for example, or to introduce neighboring counties that might be building trails they weren't aware could connect to one another.
All told, there are about 36 projects at some stage of development across the state, says McBrayer of PATH, including one on the Georgia Tech Parkway in Midtown Atlanta. Construction is already underway to convert the southbound lanes of the road into a linear park trail from Northside Drive to the Coca-Cola headquarters on North Avenue. (The northbound lanes would convert to a two-lane road.) The project also will include a cycle track on Luckie Street into Centennial Olympic Park. Completion is slated for February 2017. The nearly two-mile project is being funded by PATH and Georgia Tech.
Another 5.2-mile trail is being constructed along the right-of-way up Georgia 400 from Buckhead to Sandy Springs. The Path400 Greenway Trail is a partnership between the PATH Foundation, the Buckhead Community Improvement District (CID) and Livable Buckhead. Phase 1, connecting Tower Place to Old Ivy Road, opened in 2014, and Phase 2, which takes the path north to Wieuca Road, is scheduled to open in September. PATH has discussed with GDOT the possibility of taking it through the new Georgia 400/285 interchange, allowing cyclists and pedestrians to navigate that interchange, says McBrayer.
One ongoing Georgia project is the proposed 155-mile Coastal Georgia Greenway, linking South Carolina to Florida through Georgia's six coastal counties and connecting nine of its cities. Efforts have been underway since 2009, and to date, 24 percent of the trail in Georgia has been completed, says Jo Hickson, executive director of Savannah-based Coastal Georgia Greenway Inc.
The Coastal Georgia Greenway is part of the larger 2,500-mile East Coast Greenway initiative, which would create a bike and pedestrian trail linking the entire eastern seaboard from Maine to Florida.
The Georgia project got a boost earlier this year when it was announced that the state is providing $100,000 toward the $60-million project bucket in 2017. The funds are for scoping the work remaining to construct the greenway, including route, cost estimate and phasing. The funds are allocated to the Georgia Department of Community Affairs for administration of the project by the Coastal Regional Commission.
Twenty-five years after the PATH foundation got started, the concept of greenways and the rails-to-trails paths is no longer a fringe idea.
"Everybody is awakened at this point and realizes trails help a city compete for employers and millennials," McBrayer says. "[Greenways are] kind of a staple in the quality of life of the new generation; everybody wants one now."
---
Added Benefits
Thinking of creating a greenway in your area? Aside from the economic and community development that Georgia's greenways and trails encourage, there's another way these types of projects can help a region: by encouraging people to get outside and walk or bike to places they may have previously driven to.
According to the annual State of Obesity report, Georgia now has the 19th highest adult obesity rating in the country, and 79.3 percent of Georgia adults do not meet CDC guidelines for physical activity. Studies show that the closer people live to trails, the more likely they will be active, so providing convenient access to a walking and biking path can help those who want to exercise find an easier way to do so.
And there's monetary savings attached to that, too: According to the American Heart Association, every $1 invested in walking trails saves $3 in healthcare costs. – Christy Simo