Farming by the Numbers
Precision agriculture sends technology to the fields to provide bountiful harvests, cost savings and improved efficiency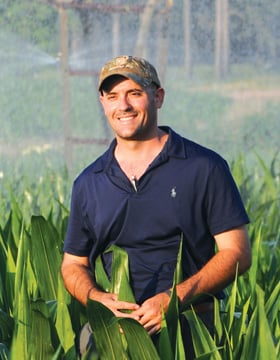 When Georgia's farmers leave home in the morning, they carry the same tools to their jobs – smartphones, electronic tablets and laptops – as office workers in the state's urban centers. And when they head into the fields, the cabs of their tractors are equipped with technology – GPS and touchscreen computers that display field data and maps and send commands to regulate the flow of seed, fertilizer and more – that is on the cutting edge of modern farming.
Technology has fundamentally changed the business of farming in Georgia. The traditional approach – where entire fields were seeded, watered and fertilized with the same amounts and expected to produce a uniform yield – has been replaced by precision agriculture, the use of technology and data to vary the amount of seed, water, fertilizers, fungicides and pesticides across fields as soil conditions change to ensure more successful harvests.
The technique, introduced in the mid-1990s, has enabled farmers to decrease input costs, improve time and resource efficiency, and increase harvest quality and amounts to help ensure the continuing success of Georgia's $74.3-billion agricultural economy.
---
Cloud Cover
Strangely enough, embracing high-tech farming and depending on the cloud for decision-critical data has reconnected farmers with the soil in a back-to-the-future sort of way.
"When farmers plowed the land behind a mule, they understood the variability of their land," says George Vellidis, who leads a research group working on the sustainability of agricultural production systems at the University of Georgia's Tifton Campus. "Precision ag allows them to continue to farm large acreages with big equipment but to make decisions at the scale of their ancestors."
For row crop farmers, those decisions are based largely on fertility, moisture and yield data provided by GPS and soil sensors, which allow them to map a series of field management zones. The data can be used to spread seed, lime or fertilizer, adjusting how much is delivered through a process called variable rate application.
Other farmers use data to pinpoint where their fields are too sandy and stay dry or where the soil is rich in clay and stays too wet, allowing them to reallocate areas that may be unprofitable or can't be farmed.
Using this data, along with new technologies developed by Vellidis and Calvin Perry at the UGA-Stripling Irrigation Research Park in Camilla, farmers are retrofitting their center irrigation pivots to apply water through variable rate irrigation. Rather than spraying water uniformly over the land – think of those sprinklers that wave an arch of water over your grass – farmers are able to target different areas of their fields with different amounts of water.
---
High Yield
Precision agriculture techniques are most frequently used to grow three of Georgia's highest-value crops: Cotton, a $964.7-million farm gate value in 2014; peanuts, $563.9 million; and corn, $264.8 million. Some growers in the state's $608-million ornamental horticulture industry also apply the techniques.
"When combined with a good marketing plan and properly applied, precision agriculture techniques can help growers to achieve maximum economic yields, reduce production variability, reduce economic risk and produce profit," says Alan Lowman, Ag Inputs Section program director for the Georgia Department of Agriculture.
"We currently save roughly 8 percent on water by using smarter irrigation techniques driven by precision ag," says Adam McLendon, who uses variable rate irrigation on his 9,000-acre fourth generation farm in Leary to grow cotton, corn and peanuts. "Equipment maintenance and service savings from using smarter equipment and methods has resulted in maintenance and service savings upwards of 25 percent." He also says smarter irrigation has increased efficiency and crop yields.
Other benefits may not appear on a balance sheet, but they are no less visible. Kyle Sheffield, who grows cotton, corn and peanuts on 2,200 acres at Triple S Farms in Seminole and Miller counties, says that using grid maps to change his seeding and fertility routine "started making the field look more uniform all the way across."
Soil samples and the support of a lab helped him identify clay areas that were causing rot in part of his cotton crop. He estimates these changes in the way he farms have increased his cotton yield 25-50 pounds an acre.
---
Horticultural Savings
Growers who produce container plants for the retail nursery trade also use sensors to monitor the moisture levels of their crops and to determine when and how much to irrigate. Five growers, including McCorkle Nurseries in Dearing, worked with Matthew Chappell, a UGA Extension nursery crops specialist, on a just-completed five-year project to use wireless sensor networks and environmental modeling to more accurately apply irrigation in nursery and greenhouse operations.
McCorkle uses in-container sensors to monitor soil moisture and control irrigation. "The use of smart irrigation technologies provides us with a high degree of confidence [that] water resources are being applied at the right time and in the right amounts," says Chris McCorkle, vice president of operations. However, he adds, "savings and improved yields vary from crop to crop and are difficult to quantify in a meaningful way."
While precise numbers may be elusive, there are other very good reasons to apply precision ag techniques, particularly for field and container farmers in Southwest Georgia's Apalachicola Basin.
"We have all these other entities looking at us with sometimes a lawsuit eye, like the case of Florida where they are arguing over how much water we use," UGA's Perry says. "Beyond even that, the U.S. Fish and Wildlife Service is concerned about the critters that call some of our streams and rivers home. Are we causing issues with them as we irrigate and pump water from our aquifers because they are interrelated with our streams?"
Teel Warbington is among the many Georgia farmers who understand the environmental as well as the economic benefits of precision agriculture. Warbington, who was recognized this year by the Farm Press Cotton Foundation for efficient and environmentally sound cot- ton production practices, grows cotton, corn and peanuts on Warbington Farms outside of Vienna. "We feel like [precision agriculture] is the least costly way to do the best job," he says.
Still, he recognizes that like the centuries of farmers who've come before him, factors beyond his control can impact his harvests. "Everything is highly variable with the climate. No two years are alike."
All this technology helps farmers and ranchers keep up with the growing global food demand, encouraging them be more efficient and productive than ever.
"We do a better job with reducing variability," Warbington says, "and, therefore, we're making a more uniform crop."
---
Next Gen Farming
University of Georgia and Georgia Tech researchers and entrepreneurs – people Calvin Perry at UGA's Stripling Irrigation Research Park in Camilla calls "young star minds" – are pushing the limits of environmental and agricultural science to help Georgia farmers improve crop management. Here's a look at some next-generation precision ag tools that are on the horizon.
Drones. They're not ready for commercial agriculture yet, but they're coming. UGA and Georgia Tech researchers are testing a quadrotor on peanuts and bell peppers in Tifton. It can take images that will be stitched together to build a 4-D map of individual plants that can be used to monitor growth rates and canopy coverage and for early disease detection. Efforts are underway to commercialize the technology. A rollout date has not been set.
Robots. Container growers use them to space pots in rows but, like drones, they are not yet commercially viable for row crops. That, too, will change. The vision is for autonomous vehicles to travel field rows almost continuously, measuring plants for disease and fungus and applying chemicals to plants in which they detect a problem. UGA and Georgia Tech researchers are collaborating on a first-generation robot.
Gas chromatograph. By the time symptoms of pests or disease are visible to the eye, the plant may already be dead or dying and the culprit could have already spread to nearby plants. With a gas chromatograph, a portable device about the size of a 9-volt battery, farmers can detect issues before they spread. Georgia Tech researchers are lab-testing the device in combination with 4-D mapping and other sensors to inspect crops for early signs of these threats, which account for 12 percent to 16 percent of crop losses, and to reduce the use and cost of chemical controls.
Dynamic variable rate irrigation (VRI). This concept builds upon traditional VRI, which determines the different amounts of water applied to fields along an irrigation system, by incorporating soil moisture sensors. The sensors provide real-time information to more precisely adjust the amount of water used in different parts of the field based on weather patterns or other factors that can affect soil moisture condition and crop growth rates. The system was tested in 2015. More rigorous evaluations were scheduled in May on peanut, corn and cotton crops in Southwest Georgia.
Adding fungicide, pesticide functions to center pivots. An entomologist and pathologist at Stripling are working on ways for the 14,000 big sprayers in Georgia to disperse fungicides and pesticides in addition to irrigation water.
Three-in-one sensors. A single probe that can be inserted into the soil to measure moisture, fertility and temperature. Currently, different sensors perform these functions. They can be used in fields or containers and are being tested in four nurseries and a greenhouse in Georgia. Commercial production is expected to begin this summer. – Tom Oder