Military Family Support Center opens in Cobb County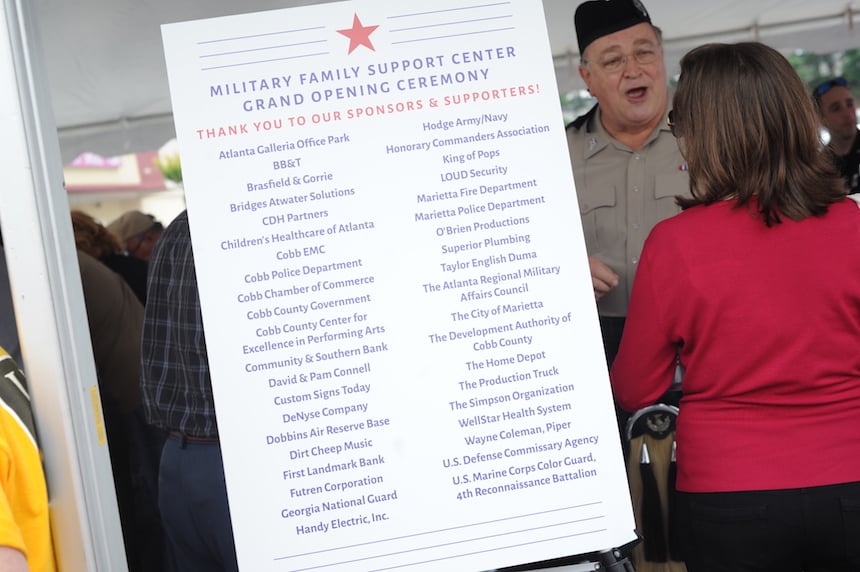 One of the ways many folks in the military and their families help stretch their pay is by shopping at a commissary – a chain of stores operated by the Defense Commissary Agency that provides groceries and other goods to military personnel, retirees and their families at cost plus 5 percent.
Now, thanks to a public-private partnership with the Cobb Chamber, the Defense Commissary Agency, the Georgia National Guard, Dobbins Air Reserve Base and a number of private partners, area National Guard and Reserve members, retired veterans and active duty military personnel and their families who have commissary privileges can receive that same benefit at the new Military Family Support Center (MFSC).
The MFSC is a monthly popup commissary located at 1901 Terrell Mill Road in Marietta. Commissary shoppers save an average of more than 30 percent over commercial prices. These savings can add up to thousands of dollars each year and are considered a core part of military pay and benefits.
"While not a commissary, these sales bring the commissary benefit to the area," said Air Force Command Chief Master Sgt. Stuart Allison, the Defense Commissary Agency's senior enlisted advisor. "That benefit is grocery goods sold at cost plus a 5 percent surcharge, and they feature a stock assortment of about 1,000 items including fresh meat, fresh produce, chilled and frozen items."
In addition to grocery items, the MFSC, located just beyond the gates of Dobbins ARB, also offers a variety of services during the sale dates. For example, in May WellStar physicians and medical personnel conducted health screenings, the Georgia Department of Driver Services provided license and ID renewals and replacements, and the Georgia Veterans Administration had staff members available to answer questions.
"The Cobb Chamber and its partners have led a two-and-a-half year effort to bring this service to our military community as a way to bolster support and express appreciation to the men and women who have served our country and retired and to those who are actively serving today," said David Connell, president and CEO of the Cobb Chamber of Commerce.
The MFSC is set to operate three days each month, with the next sale dates July 14-16. Before shopping, you'll have to present a Department of Defense ID.
Photos courtesy of the Cobb Chamber