Columbus: Seeing the Big Picture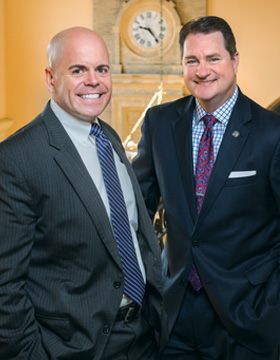 Just because things are going great doesn't mean they can't get better. With every sector of the community dialed in to the recently adopted Regional Prosperity Initiative, 'up' is the only direction Columbus and Muscogee County leaders will consider.
For more than a decade, there has existed a need to define the identity of this city that morphed from a mill town floated on a textile economy to a center for financial data services and advanced manufacturing.
"Columbus has been a city in transformation for a while, some deliberate, some by nature of outside forces," says Brian Anderson, president and CEO of the Greater Columbus Georgia Chamber of Commerce.
Led by the chamber and strategic planning group Market Street Services, local public, private and nonprofit leaders crafted what they've deemed "a holistic community and economic development strategy," which boils down to three guiding principles: a reduction of poverty, increasing prosperity for all, and improving the overall quality of life in the region.
"Through the process, we identified some pretty interesting findings," says Bill Murphy, the chamber's executive vice president of economic development, including the importance of managing population growth (22 percent over the past 45 years). They also determined net job creation has been flat since 2000, due in large part to the recession. With all the findings on the table, the next move is garnering community buy-in of the initiative.
---
Just a TAD
Mayor Teresa Tomlinson, who in 2010 ran for her first term on a platform of revitalization, says Columbus was a little late to the redevelopment game due to a fundamental misunderstanding of Tax Allocation Districts (TADs) by many local voters. TADs stimulate development in blighted areas through issuance of revenue bonds for infrastructure and environment improvements to attract investors and developers. Due to the confusion, a TAD issue on the local ballot failed to pass in 2007.
"Revitalization of blighted areas is more than just revitalization; it affects crime, it affects your school performance, it affects your unemployment rate," she says. By 2014, the TAD issue was back on the ballot and it easily passed, in large part due to educating area residents on the benefits TADs could provide the city.
Late last year, the Columbus City Council approved the city's first TAD, 183 acres designated as Fort Benning Technology Park. In March, three additional TADs received approval – City Village, Uptown and the Liberty District, once the hub of the city's African-American community.
City Village is located in an area that had the city's highest crime rate just three years ago, says Tomlinson. Largely populated with homeless encampments, the 30-square-block tract has a housing stock that is nearly all rental property. The city owns about 50 percent of the property, mostly due to failed Community Development Block Grant projects, she says.
"It sits on top of a bluff that looks into Alabama and has exquisite views of our whitewater course; it's just lovely," says Tomlinson of the area. "By any other standard, it would normally be developed into mansions; that would be the classic use for that type of property."
Instead, the city wants to see development of a "creative village" there, largely accessible to the citizens, with linear parks and economically integrated housing. "It's close to downtown and has kind of a hip vibe, so we want to see more of a creative village with coffee shops and think tanks and makerspaces," she says, noting those types of offerings will be great for talent acquisition and recruitment efforts.
The Uptown TAD doesn't fit the classic concept of blight because the area features two to three blocks of extreme vibrancy both day and night. But there are many vacant and underutilized properties – many of which need to be demolished – sitting on top of very old infrastructure, Tomlinson says, and that's where the TAD will prove beneficial.
There's been a redevelopment plan for the low-lying, flood-prone Liberty District on the books for 25 years, during which time the city spent some $40 million on infrastructure and streetscaping. The TAD approval will open opportunities for some more refined master-planning discussions to take place, she says, with one of the goals being to lift area residents out of poverty. Columbus's poverty rate is significantly higher than Georgia's 14.8 percent.
"We think it's instrumental to reversing our poverty level in this community. … In this country we've talked about poverty too much as a moral issue only, but it's a real economic development issue," says Tomlinson, once again referencing the city's new prosperity plan. "You cannot be a thriving city with a 19.6 percent poverty rate. You just can't be. We've got to get that under control. These TADs are a real opportunity to bring investment together with neighborhood building."
---
Give Me Shelter
Housing is an integral piece of planning in Columbus, chosen last year as one of 71 cities in the country to participate in the Zero: 2016 campaign, a rigorous national change effort designed to help a committed group of communities end chronic and veteran homelessness outright by December 2016. Columbus was highly competitive for the designation in part because of a database of specific info on homeless individuals gathered over the course of 10 years through a United Way of the Chattahoochee Valley program dubbed Home For Good.
The widely successful Zero: 2016 "housing first" model, which originated in Salt Lake City, takes the most at-risk homeless individuals off the street, provides them with a housing unit first and then supplies them with the wraparound rehabilitative health services they need. "Through our decades of trial and error with people experiencing homelessness, we were saying, 'If you'll sober up, we'll find you a house.' It's very hard for an individual who's homeless to sober up when the underlying cause of their homelessness is mental illness," Tomlinson says.
The city reached its 2015 goal of "functional zero," meaning housing all known homeless veterans or having housing units and resources available for all identified homeless veterans. At that time, 86 veterans had been housed, and the city began working to reach functional zero with its 200-250 chronically homeless by the end of 2016.
Boldly going into the city's homeless camps and approaching the camp leaders for cooperation recently resulted in closure of "The Ledge," a large encampment at an abandoned warehouse. The majority of occupants, including the camp "mayor," received housing while others chose to relocate to other encampments. The city has received 280 housing vouchers via various programs, so there are housing units available for all of them, Tomlinson says.
The city's efforts to combat homelessness are boosted by community activists and volunteers such as Neil Richardson, a jail chaplain who works with SafeHouse. A day center open 365 days a year, the facility offers emergency services for anyone in need, including meals and clothing, bus passes, medical screenings and computer use for job searches. Of the 900 individuals served monthly, Richardson estimates 75 percent are homeless, down from nearly 90 percent about 18 months ago.
"Our goal is to build relationships with the folks who come through our doors so we can have the credibility to make a suggestion," says Richardson. "Sometimes people on the margins are a little less trusting of everybody that's – quote, unquote – trying to help them. … When we do get to know their story, we can usually make some recommendations as to how to end this."
Housing offerings are shifting in other areas of the city as well, and preparations are underway in Uptown to welcome the 1,800 plus students that Columbus State University's (CSU) expansion will bring next spring. Seven acres on the river will soon be under construction, adding another 200 apartments, doubling the existing inventory that has a 90 percent occupancy rate, says Richard Bishop, president of Uptown Columbus.
This is the fourth season for the successful whitewater rafting and zipline offerings in Columbus. Focus is now on identifying additional soft adventure offerings, or what Peter Bowden, president and CEO of the Convention and Visitors Bureau, refers to as "second-day activities" such as fishing and birding that make it more likely the typical day visitor will become an overnight guest.
"With the dams removed, the shoal bass are beginning to come back to the area, and fly fishing for shoal bass is really popular," says Bowden, adding that Columbus welcomed 1.9 million visitors last year who contributed $340 million to the local economy.
---
Innovations in Education
From high school to technical college to university, education offerings in Columbus and Muscogee County continue to increase and improve. A rise in the district's graduation rates from 67.5 percent in 2012 to 84.6 percent for the 2014-15 school year placed the district about six points above the state rate. In addition, all sub-groups have also improved. "And the best is yet to come," says David Lewis, superintendent of Muscogee County Schools, where some 32,000 students are enrolled.
The school system is also tied into the Regional Prosperity Initiative, and Lewis is working with the chamber, revisiting and realigning career pathways according to the needs of the community and surrounding area, he says. Nurturing the "educational ecosystem" is a focus of both Lewis and Dr. Chris Markwood, president of CSU.
"We've been in conversations about how we can better partner to raise the level of cooperation and integration of the university and the Muscogee County School District," says Markham, adding that it's critical for increasing student success rates and producing qualified teachers to eventually populate local classrooms.
One potential partnership involves a conceptualized laboratory school at the new Spencer High School slated to open fall 2018 or winter 2019, says Lewis. The lab school would prepare teachers to better understand how to work with students from an urban environment and with a background of poverty, he says.
Markwood calls the public/private partnership between the university and the city "remarkable," noting the Uptown relocation of its education and nursing schools will put CSU in closer proximity to Columbus Regional and other medical facilities, promoting a higher level of integration for students there.
Ever cognizant of specific workforce needs of local industry, CSU recently created a Center for Cyber Defense Education within the university's TSYS Department of Computer Science. TSYS, one of Columbus's largest employers and the donor of $5 million to CSU last year, is experiencing a lack of qualified cybersecurity practitioners, a major challenge facing both industry and government.
While CSU has offered the cyber defense track as part of the master's in applied computer science since August 2003, with nearly 100 graduates since then, the undergraduate program will be starting this summer. "We've chosen to focus initially on the financial services industry," Markwood says. "TSYS needs college graduates who can work in their cybersecurity area, so does Synovus, so does Aflac."
---
Focus on the Future
When it comes to the local economy, talent and workforce is a constant conversation, says the chamber's Anderson. "When you look at some of the poverty metrics we have, then obviously education is the only way to address and/or improve some of that focus when it comes to economic development, recruitment and even expansion. You have to have the workforce those folks need."
Preparing skilled workers for the local workforce is a major focus of Columbus Technical College, says President Lorette Hoover. Working hand in hand with local industry and the public school district, CTC has found great success in a high school intern program with Pratt & Whitney, a jet engine design and manufacturing company.
Now in its sixth year, the dual enrollment program for qualified high school seniors involves one semester of classroom instruction after which six seniors are offered paid apprenticeships of 19 hours a week at Pratt & Whitney during the spring semester. The interns earn well above minimum wage while learning to build jet engines for commercial and military jets, says Tom Bode, general manager at Pratt & Whitney, which employs 1,100 people in Columbus.
About 36 students have participated in the program, half of them hired for full-time positions following graduation, starting at $14 to $18 an hour and qualifying for a full college scholarship to pursue a degree program of their choice after one year of employment. Following Pratt & Whitney's lead, Oneda, Swift Spinning, Columbus Water Works and a federal contractor at Fort Benning also offer paid apprenticeships/dual enrollment programs, says Hoover.
Speaking of Fort Benning, the base is always a priority for Columbus leaders, especially with sequestration and future defense cuts looming. Local efforts continue in preparation for the next round of Base Realignment and Closure (BRAC), slated to begin October 2018, says Gary Jones, the chamber's EVP of Military Affairs, who continues to work with Georgia leadership in Atlanta and Washington, D.C., to develop strategies that not only keep a reduction of Benning troops at bay, but also position the base as a viable military training facility well into the future.
Columbus's future success hinges on embracing the young people who will lead the charge in coming decades, says Anderson. "We've probably got the best and largest group in the country affiliated with the Young Professionals program," says Anderson, of the group's 700 plus members that represent all races and backgrounds. "They look like the community, no matter what event they are attending. They are Columbus."
Telling Columbus's story is key to attracting the types of talented and enterprising residents Columbus needs to uphold the Regional Prosperity Initiative leaders worked so hard to draft, he says. "We've got to tell our story better. This is a great place to live."
---
Local Flavor
Make It Happen: Makerspaces, places where people can gather to create, invent and learn, have become widely popular. In January, Columbus joined the mix by launching ColumbusMakesIT!, a creativity and entrepreneurship center made possible by a grant from the Georgia Technology Authority and a successful $16,000 Kickstarter campaign, says co-founder Frank Braski.
Research and development, experimentation, collaboration – it all takes place among members of ColumbusMakesIT! Makerspace facilities typically have 3-D printers, software, electronics, craft and hardware supplies, tools and more available for members to use. Additionally, the Columbus facility provides education and mentoring that encourages and inspires people to create, says Braski, who first became interested in the makerspace movement when searching for a space in which to fabricate some large Christmas decorations for his brother's fast-food restaurants.
Rallying creativity has already had an impact on the city in a major way. In March, ColumbusMakesIT! partnered with GeorgiaFIRST Robotics to host STEAM:uL8! – a competition based on science, technology, engineering, arts and music, and math. More than 3,800 students and their parents watched or participated in drone racing, competitive three-on-three combat robotics and a MakerEXPO, contributing nearly a half-million dollars in food, lodging and gas revenue to the local economy over the weekend.
While the inaugural event was highly successful, Braski is also stoked about the day-to-day impact and infinite opportunities the makerspace offers its members, which include some area professors. "We're trying to help fill a niche or need," he says. The nonprofit organization is fully supported by donations and membership fees.
By the way, the winner of STEAM:uL8! was none other than a hometown team – Columbus Space Program. The team went on to compete in the Rocket City Regional in Huntsville, Ala., against 52 teams from 11 states and did so well that it won a wildcard invitation to the World Championship in St. Louis. ColumbusMakesIT! indeed. – K.K. Snyder