Southeast: Riding the Waves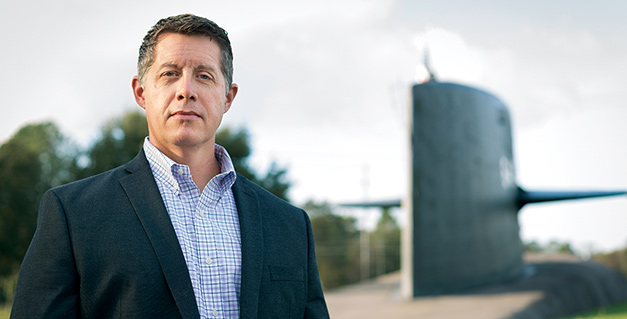 The 23 counties in the Southeast region of Georgia are booming due in large part to the ports and the entertainment biz.
The Savannah Harbor Expansion Project has been the big economic news in the area for the past couple of years, and dredging officially got underway last September. This is the first step in a five-year project to deepen the 40-mile shipping channel and harbor from the ocean to the port terminal in Garden City so larger container ships can make their way into Savannah. Its impact is being felt across the region.
There are a number of exciting economic developments in Liberty County, says Ronald Tolley, CEO of the Liberty County Development Authority, including a $7-million expansion that doubled the size of Floquip's facility in the Midway Industrial Park from 80,000 to 160,000 square feet. Floquip manufactures water-soluble polymers for wastewater treatment plants. An investment in new machinery, equipment and building improvements by Hugo Boss has made its 330,000-square-foot high-end apparel distribution center, also in Midway, more efficient. Meanwhile, the completion of a $9.7-million high-pressure gas line has brought natural gas to customers who need it in the Tradeport East Business Center near I-95 in Midway.
"Economic development is doing quite well right now in Liberty County," says Tolley. "In addition to the industrial expansions and lease renewals, all of our available industrial buildings are occupied, and new retail construction is positioned to do very well in 2016."
In Wayne County, revitalization is well underway in downtown Jesup after a fire destroyed most of a city block in 2014, says Dell Keith, executive director of the Wayne County Development Authority. "A new two-story building with street-level retail and apartments has been built in the location where the fire occurred," he says. Also, the historic farmers market in Jesup has reopened after being shuttered for the past decade.
The 350-acre Highway 341 South Industrial Site in Wayne County has been certified as a Georgia Ready for Accelerated Development (GRAD) site. It is one of only 18 GRAD sites in Georgia with rail access, "which puts us in a different category," says Keith. In addition, NerdWallet recently named Jesup among the top 10 cities in Georgia to start a new business.
Out on the Golden Isles, the tourism industry is stronger than ever before, says Golden Isles Convention & Visitors Bureau President and CEO Scott McQuade. "Last year was 12 percent ahead of 2014's all-time record for tourism and capped five straight years of growth for the tourism sector on the Golden Isles," he says. "And this year is already tracking 16 percent ahead of last year's record."
Fifty-one percent growth in the lodging industry has translated into $66 million in additional revenue on the Golden Isles, according to McQuade. The Jekyll Island Club Ocean Suites, part of the historic Jekyll Island Club hotel, is being built along the island's beachfront. On St. Simons Island, a new Home2 Suites by Hilton is under construction, and a 63-room expansion is being added to The Cloister at Sea Island.
"Our economy is back better than ever, and we're encouraged by this strong economic performance," McQuade says.
In Camden County, the FAA has begun its environmental impact study for the proposed commercial spaceport on 11,000 acres of property along the Southeast Georgia coast. Things are still in the early stages of what could become the Cape Canaveral of Georgia, says James Coughlin, executive director of the Joint Development Authority of Camden County. Eventually, the spaceport could anchor one end of an "aerospace corridor" stretching from Jacksonville to Charleston.
According to Coughlin, the majority of economic activity in Camden County is tied to the Naval Submarine Base Kings Bay, which employs 10,000 people. "We'd like to diversify our economy a little more broadly in the future," he says. To this end, the 100-acre Kingsland Business Park was recently certified as a GRAD site.
"This is an attractive site for commercial and industrial development," says Coughlin. "It's rail-served and located just two miles from I-95 and 20 miles from the Jacksonville International Airport. We're talking to a number of different businesses that are interested in the site."
Ware County continues to serve as the regional retail and service hub for surrounding counties, says Waycross-Ware County Development Authority Executive Director Bob Hereford. In particular, he points to the CSX Railroad switching hub, the largest in the eastern U.S., which he calls a permanent asset for the county's industrial park.
Hereford says the county is using SPLOST money to make improvements at the industrial park so it's more attractive to potential new tenants. Meanwhile, the $160-million Georgia Biomass wood pellet processing plant in Waycross just celebrated its fifth year in operation and is exceeding expectations, according to Hereford.
"Our economic health here in Ware County is strong," he says, "especially in the retail and service areas. We are seeing very positive improvements in our overall economic development efforts.
Jeff Davis County is riding a wave of economic momentum, says Illya Copeland, executive director of the county's joint development authority. He says that new agricultural ventures are in development with the Georgia Center of Innovation for Agribusiness. "Agribusiness is the biggest industry here in Jeff Davis County, so we want to support this industry by bringing new innovation to the region."
Thompson Hardwoods is one of the county's recent success stories. A massive fire nearly destroyed the business – one of the county's largest employers – in the summer of 2014, but it has rebuilt bigger than before. "Not only were no jobs lost, but they added 50 new jobs and built a new storage facility," says Copeland.
In Appling County, efforts are underway to diversify the local economy beyond its "big three" agricultural products of tobacco, peanuts and cotton, says the Development Authority of Appling County's Executive Director Dale Atkins. "We're working on a project that could result in a large new fruit, vegetable and produce processing facility here," he says. "This could result in lots of new jobs on local farms."
Timber is another big industry in Appling County. "Timber prices and pine straw production are both up," Atkins says. "We had a good year in 2015 and are looking forward to an even better year in 2016."
The growth in the film industry across the state – Georgia is now No. 3 for entertainment production, behind only California and New York – is also having an impact on the region. During fiscal year 2015, 248 film and TV productions were shot in Georgia, generating a statewide economic impact of more than $6 billion.
Chatham County is making a significant push to grab a big piece of this entertainment production pie. In 2015, a record $58 million was spent in Chatham County on entertainment productions, says Trip Tollison, president and CEO of the Savannah Economic Development Authority (SEDA).
Last October, SEDA approved the Savannah Entertainment Production Incentive, a package of local incentives, on top of the state's perks, designed to help build a sustainable production industry in Chatham County. "By adding the local incentives, we are positioning Savannah to be the No. 2 location for entertainment production in the state, behind Metro Atlanta," says Tollison.
Among the feature films that have been recently shot or will soon begin shooting in Chatham County are Magic Mike XXL, Dirty Grandpa, Baywatch and The Unknowns. "Our hope is that entertainment production will help further diversify our economy beyond ports, manufacturing, tourism, the military and healthcare, which are currently our main economic sectors," says Tollison.
He adds that Chatham County has joined with surrounding counties Bryan, Bulloch and Effingham to create a joint development authority. "We're trying to remove county lines and work together to lure large projects to our area," says Tollison. "What's good for one of us is good for all of us."
Read About Individual Regions: