Gwinnett County's Movers & Makers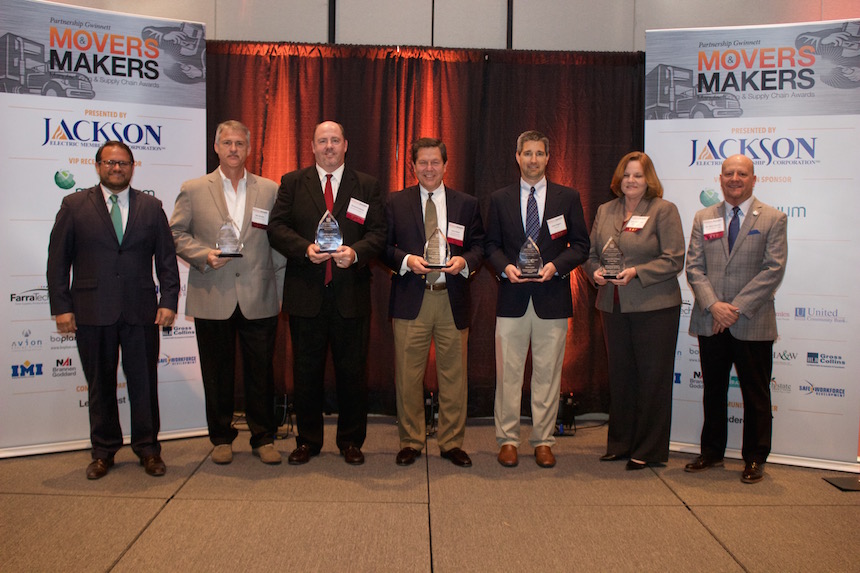 Businesses that manufacture and distribute products are essential components to Georgia's economy. In recognition of the impact such companies have on the state, Partnership Gwinnett, in collaboration with Gwinnett Technical College, present the Movers & Makers Awards each year.
This year's awards were presented yesterday at the Infinite Energy Forum in Duluth.
The three manufacturing winners are:
Small Manufacturer of the Year (1-49 employees): AES Clean Technology
Medium Manufacturer of the Year (50-149 employees): Heatcraft Worldwide Refrigeration
Large Manufacturer of the Year (150+ employees): Hussmann
The two supply chain winners are:
The Most Valuable Provider Award recognized Target Metal Systems for its excellence in service to the manufacturing and supply chain sectors in Gwinnett County.
The awards recognize companies for their economic impact in the community, for corporate responsibility and for workforce excellence programs.
PHOTO left to right: Nick Masino, senior vice president, Gwinnett Chamber Economic Development & Partnership Gwinnett; Winner-Dan Slader, Performance Trucking; Winner-Rick Dobson, AES Clean Technology; Winner-Larry Golen, Heatcraft Worldwide Refrigeration; Winner-Chris Seigert, Hussmann; Winner-Helen Miskowski, Mitubishi Electric; Dr. Glen Cannon, president, Gwinnett Technical College
Photo courtesy of Partnership Gwinnett.