Statesboro | Bulloch County: History Meets High-Tech
Downtown development, an innovation lab and the Blue Mile.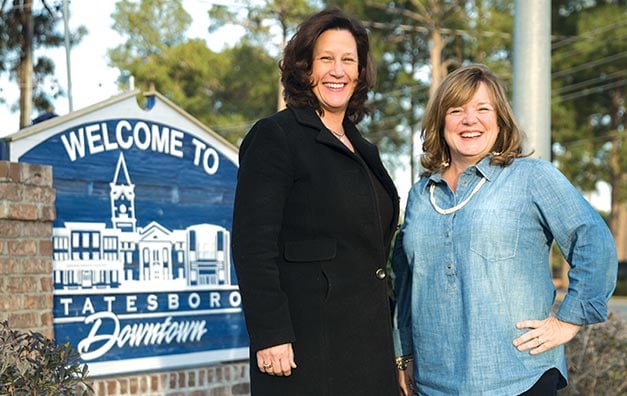 From her office brightly lit by the November morning sun, Statesboro Mayor Jan Moore can view her community's past and its future. City Hall is located in the old Jaeckel Hotel, a building on the National Register of Historic Places in the center of town, yet just next door is Georgia Southern University's (GSU) City Campus, which will house a FabLab, a business incubator for engineering entrepreneurs that will include state-of-the-art equipment such as 3-D printers and scanners, CNC machines (an automated tool that can cut, drill, etc.) and other cutting-edge technology.
According to the mayor, who is also dean of students at Ogeechee Technical College, "They're innovation labs. They're all over the country, and they're typically in association with a university because you have all that innovation and research that comes from the university side to work with the private-sector side in development." The FabLab is scheduled to open next fall.
The GSU City Campus, a city/university partnership, is headquarters for its College of Business Administration Business Innovation Group, an effort to promote regional entrepreneurship, innovation and economic development. It's just one example of how Georgia Southern is deeply entrenched in Statesboro and Bulloch County's economic DNA, beginning back in the earliest years of the 20th century when the state legislature designated Statesboro as the site of GSU's forerunner, the First District Agricultural and Mechanical School, with just four faculty members and 15 students.
Today, some 20,000 students attend classes and nearly 2,000 faculty and staffers are employed at GSU. The university's contributions in terms of athletic and cultural activities are innumerable, and the school's local economic impact as of 2014-2015 was $846 million.
"The university recognizes its important role in driving economic development as an institution and is dedicated to attracting faculty and students to enhance an already impressive lineup of creators, researchers, innovators and entrepreneurs, who in turn will impact the economy and revitalize surrounding communities," says Jan Bond, associate vice president in Georgia Southern's Office of Marketing and Communications. The school partners with the surrounding community to enhance the area's cultural and economic growth through things like entrepreneurship, the arts, volunteerism and athletic events.
Georgia Southern is not the only higher-education opportunity in Bulloch County. Ogeechee Technical College (OTC) works heavily with local officials in job training and economic development. The Development Authority of Bulloch County provided land in an industrial park for a $12.6-million Natural Resources Building that will house OTC programs including agribusiness, fish and wildlife management and forensic science. Enrollment also continues to grow at East Georgia State College's Statesboro campus, where more than 1,400 students attend.
---
Compounding Interest
Success has built upon success for the county. Following the opening of Great Dane Trailers in 2012, two vendors for Great Dane have located there. Thermo King, a refrigeration-unit manufacturer, and Carrier Transicold, affiliated with the Carrier cooling brand, are both testing facilities for units installed on Great Dane products.
"Those facilities test the refrigeration unit and make sure it works, and if there are any problems they'll fix them," says Development Authority CEO Benjy Thompson.
All things considered, says County Commission Chair Garrett Nevil, "We're holding our own. I think we're on track with our goals," especially given the recent attainment of a new manufacturer.
The latest manufacturing win for Bulloch County is Aspen Aerogels, a Boston-based company that announced in November it will invest $70 million in a Bulloch County plant that will employ more than 100. Aspen Aerogels makes energy infrastructure insulation for a range of energy technology industries. This follows the expansion in 2014 of Viracon, an architectural glass fabricator that added 125 jobs in a $2-million investment.
The development authority has about 150 acres remaining in the rail-served, GRAD (Georgia Ready for Accelerated Development) Gateway Industrial Park and is also putting major emphasis on a 200-acre tract it owns at the intersection of U.S. 301 and Interstate 16. Served by water, sewer and natural gas lines, the I-16 site has a tax allocation district (TAD) overlay.
Chairman Nevil says marketing of the I-16/U.S. 301 park will start soon. "It should catch someone's eye," he believes. "We feel the location is very good," given its direct connection to the Port of Savannah about 45 minutes away.
Looking ahead, County Manager Tom Couch hopes to kick off the Bulloch County Index of Economic Indicators, a basic forecasting metric that officials had hoped to implement in 2014 but had to be laid aside "in lieu of a couple of other things. One of my goals is to revive it." The index would take measurements of sales tax collections, building permits, employment statistics and other yardsticks to form a multi-year economic forecasting tool.
---
The Blue Mile
In Statesboro, momentum continues to grow over the Blue Mile project, a grassroots revitalization effort focused on the mile-long South Main Street corridor that stretches from Georgia Southern's main entrance to the county courthouse in the city center. (Navy blue and gold are Georgia Southern's colors.) While South Main remains the focal point, "The hope is, obviously, the revitalization will extend beyond that one street, and it has," Moore says. "It has fueled revitalization a block or two off that."
NeSmith Construction's Keely NeSmith Fennell is actively involved in the Blue Mile, which really started gaining momentum in 2012. With Highway 301 and South Main Street being the primary access to Georgia Southern and so many students and visitors coming in, she felt the community's "front door" needed to be improved.
"I'm excited by the fact that it's not the mayor's project, it's not the development authority's project, it's not me as a business person's project, but collectively we all have a part in this," says the Statesboro native and 2013 Statesboro-Bulloch County Chamber chair, who with 2014 chamber chair Darron Burnette heads up the South Main Street Revitalization Committee to oversee the project. "I mean, everybody from the hospital, both of the universities, business folks, industry, everybody is deciding that this is a focus for our community."
Moore adds that there were two crucial pieces of the puzzle to get started on first. "We had to vote on a TAD overlay, and that allows us to incentivize redevelopment," she says. "The second thing is design guidelines for uniformity in the area for anything new that is built down there. Obviously, what's there is grandfathered in, but new builds will have to meet those guidelines."
The Downtown Statesboro Development Authority is investing in residential redevelopment that complements the Blue Mile project, according to Executive Director Allen Muldrew. In the initiative, dubbed Homes for Heroes, two abandoned houses and one in severe decline were purchased by the authority for rehabilitation with the plan that they will be occupied by public safety workers such as law enforcement and firefighters.
"These are people that give so much to protect us," says Muldrew. "We want to give back to them."
Blue Mile is also one of the reasons Statesboro was named one of 15 semi-finalists and the only Georgia community in the America's Best Communities competition sponsored by Frontier Communications, Dish Network, CoBank and The Weather Channel.
"We didn't have to sit around and come up with a plan. We had a plan, we could communicate our plan, and we said, 'Join us in this plan,'" Statesboro-Bulloch County Chamber of Commerce President Phyllis Thompson says. "That's why I think we got there, and I'm very encouraged about our chances" of making it to the final rounds. Eight finalists, to be named in April, will each receive $100,000 to launch their projects. The winning community will be announced in April 2017.
---
The Right Start
An important way the city has found of demonstrating its business friendliness is with Right Start meetings, implemented through the planning and development office. Potential business operators and developers are invited to join staff from all development-related departments, including engineering, fire, licensing, planning, and water and sewer for a comprehensive and coordinated view of what it will take to get their business underway. The chamber's Thompson says she has been to many business openings where the program was cited as crucial to their success.
Retail development continues to be strong for Statesboro. Working with Birmingham, Ala.-based Retail Strategies, the city created a Retail Recruitment Strategic Plan to help identify appropriate businesses for its retail mix. In addition, leaders invite retail representatives in to look at the community. A Krispy Kreme doughnut shop was recently permitted, and other recruitment efforts continue. Much of the retail development is being driven by the student population at GSU, which adds to Stateboro's strength as a regional retail hub.
Public safety has also been increased as the city, county and Georgia Southern work together on the multi-jurisdictional Statesboro-Bulloch County Crime Suppression Team. In January 2014, says Moore, the city and county formed a task force to reduce and prevent crime, and she approached GSU's then-president, Brooks Keel, about contributing officers from the campus police force.
"It took about six months, because they had not done this at any university around the state," according to the mayor. "Eventually the Board of Regents agreed to it. So Georgia Southern put two of their officers at an expense – the cost of officers, cars and everything else – on the crime suppression team, which has made a huge difference. So the county, the city and the university came together and said we have a problem that's all our problem, and it's been very, very successful in reduction of armed robberies or burglaries, anything like that around the university."
Interim GSU President Jean Bartels, who previously served as university provost and vice president of academic affairs, is an enthusiastic supporter of partnerships with the city and county.
"She recognizes the value Dr. Keel placed on those things [being an ambassador for economic development], and she continues being a very strong supporter of economic development activity," says the development authority's Thompson. "She's been in the room whenever we meet at Georgia Southern as part of those conversations."
Collaboration and communication between the public and private sectors continue to play an integral role in progress for Statesboro and Bulloch County.
"We rely on and work well with each other," Thompson says. "We recognize that we can get so much more done because we're in it together and recognize we're in it together, and you see that being talked up in this community."
---
Local Flavor
Soccer Success: The 155 acres of the Statesboro-Bulloch County Parks and Recreation Department's Mill Creek Park includes seven fields available for soccer, an indication of the sport's rising popularity.
Georgia Southern University also has soccer fields, and last May it hosted as many as 3,000 players and visitors for the Georgia State Cup Final Four tournament. The Clubhouse, a privately owned recreation and entertainment center, also features its own soccer facility.
Now, soccer is raising Statesboro's profile at the national level with the announcement last fall of a new professional league soccer franchise in the city. The South Georgia Tormenta FC will take the field in May as part of the Premier Development League.
Darin Van Tassel, who owns The Clubhouse, is also co-owner and president of the Tormenta. He believes the team's presence will "cut through social and economic borders" and predicts the team, with seven home games on its 14-match schedule for 2016, "will make a significant difference in tourism" in Statesboro.
The city was already on an upward trend, thanks to GSU athletics, the Botanical Garden at Georgia Southern University and the Bulloch recreation department's "Splash in the Boro" waterpark. Now, Van Tassel projects the team will have a $5.5-million impact on the local economy.
To land a franchise, he says, "You have to demonstrate interest and financial means," and it took about a year and a half to work through all the details. "The community buy-in is a really big selling point," says Van Tassel.
"Tormenta" is the Spanish word for storm, representing "the tormenting the club will bring to its opponents and the intense force of nature its players seek to embody," Van Tassel says. The team logo's centerpiece is the glossy ibis, a local bird known for its bravery, "the last to take cover in a storm and the first to return after it passes."
The team will open its season May 13 on the road and play its first home game May 21 at Georgia Southern, which is hosting the inaugural season. – David Shivers