In Good Shape
Six counties launch programs to help their citizens stay healthy and improve their quality of life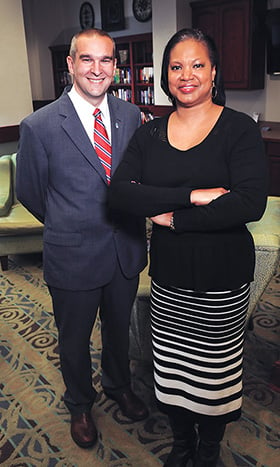 Improving the lives of their citizens is a task most counties take seriously, but it can be hard to know where to begin. In an effort to highlight those counties that are taking the initiative and coming up with creative ways to address local concerns, the ACCG, a nonprofit serving Georgia's county governments, in partnership with Georgia Trend, decided to focus this year's Georgia Counties of Excellence awards program on projects that are improving the health of their communities.
"At ACCG we spend a lot of time talking about health and wellness," says Ross King, ACCG executive director. "Counties truly are an extension of the state network for health and human services and the court system." From providing healthy meals to seniors and establishing a county-wide wellness program to helping citizens rebuild their lives instead of facing jail, establishing a mobile healthcare team and finding shelter for the homeless, the following counties have developed innovative ways to help their citizens stay healthy.
---
Spalding County: Super-sized Senior Service
Eric Mosley was still new in his job last summer as assistant county manager for Spalding County when officials received some shocking news. "The entire staff of the Council on Aging for McIntosh Trail would retire in three months," he recalls. "We didn't see that coming."
The nonprofit group had provided meal assistance and advocacy for senior citizens in Spalding County and its municipalities for almost 40 years. Its unexpected closure meant that the county was suddenly facing the daunting task of providing nutritionally balanced meals through Meals on Wheels and Congregate Meal Service to the more than 100 seniors who had been served by the organization. "We also wanted to make improvements in the services being provided to our seniors," Mosley says.
At first, transferring senior services to the county seemed like an impossible challenge. "The time constraints were the first shock," he says. Another hurdle: there wasn't a fully equipped kitchen in the Senior Center to accommodate this undertaking.
As if those issues didn't present enough pressure, the county was determined to turn its Senior Nutrition program into the best program of its kind in the state. "We want counties coming to us and to use us as a model for their senior programs," Mosley says.
All levels of Spalding County government shared that vision and pitched in to make it a reality. The board of commissioners created a new department to manage senior services. Then staffers from virtually every county government department volunteered their time and expertise.
"I was so impressed with all of our employees," Mosley says. "People stepped up to help even when it wasn't in their job description." Some of those people included the food service director and inmates at the Spalding County Correctional Institute, who helped cook meals.
The Senior Center kitchen was renovated into a full-service kitchen, allowing meals to be prepared and served daily, in addition to meal delivery.
"If the county had not stepped in and taken over the program, many of the seniors in our community would not have access to nutritionally balanced meals on a daily basis," says Rita Johnson, county commission chair.
"We wanted to do something that would have a very positive impact on our seniors," Mosley says. "They've done a lot for us through the years and have been paying taxes for a long time.
"Now, meals that previously resembled TV dinners are more like cafeteria-style meals," he adds, noting that plans are in place to add a community garden with raised beds this year. "Menu items include meats such as turkey and chicken, vegetables, salads, fresh fruits and desserts."
Other counties have begun to notice the success of Spalding's Senior Nutrition Program and to inquire about whether the Senior Center could prepare meals for their seniors. Not just yet, Mosley says. "We want to have a good solid year under our belts before taking on something else." – TO
---
Crisp County: Linking Healthcare to Local Businesses
When business and industry leaders in Crisp County were searching for ways to better serve the healthcare needs of employees and to reduce missed work time due to on-the-job injuries, they contacted the Cordele-Crisp Chamber of Commerce for help. The chamber didn't have the answers but pointed business leaders in the right direction – Crisp Regional Hospital.
The hospital responded by partnering with a national wellness program to implement Crisp Regional Wellness Works, a program designed to link healthcare to local businesses and grow the hospital's patient base.
That was in 2012. Since then, life in Crisp County hasn't been the same for business or industry, their employees, or the hospital itself.
"The objectives have been to keep people healthy so they don't miss work as often as they have in the past and to make businesses more productive because their employees have a better attendance record," says Tom Patton, Crisp County administrator. As a result, he says, "people will profit from the program as much as industries because they will live longer and healthier lives."
Patton is a strong believer in wellness programs and created one for county employees when he came to Crisp County. But, he says, this is Crisp's first countywide wellness program for businesses. "This is much broader because it reaches out to all of the industries in Crisp and surrounding counties," Patton says.
Crisp Regional hired a corporate health consultant who acts as a liaison between the hospital and businesses on a case-by-case need. The program also offers a 24/7 call center staffed with care coordinators who work hand in hand with employers, employees, the hospital, clinics and worker's comp adjusters to streamline those approvals.
In addition, Crisp Regional expanded its Convenient Care Clinic to include worker's compensation and occupational medicine services. Prior to these services, the only option for many people who suffered injuries was time-consuming and costly emergency-room treatment. An additional benefit of Wellness Works is that it assists and encourages all employees to use the program's preventive health and wellness services.
"The wellness program is also important in the broader sense as it becomes an economic development tool to attract more industry and commerce to locate in Crisp County," Patton adds. "We are talking to two businesses now about moving to Crisp County, and they are very much interested in coming here because of the wellness program."
"Without a hospital like this and the services it offers, it would be much more difficult to attract business. Everything works together: businesses, the county and the hospital," says Crisp County Commission Chairman Clark Henderson, pointing out that "lots of cities and counties in Georgia have lost or don't have hospitals like Crisp Regional."
Crisp Regional Hospital's $230,000 annual commitment to the Wellness Works program is also paying off for the hospital. The corporate health consultant works directly with employers to develop relationships with employees from pre-hire through worker's comp, with services such as health education and assisting in making connections with local physicians. As a result, many local employers have changed their worker's compensation panels to include Crisp Regional doctors. – TO
---
Troup County: A New Lease on Life
When President Barack Obama and New Jersey governor and GOP presidential candidate Chris Christie both tout the national expansion of accountability courts, you know you've got a sound idea percolating.
An accountability court is a criminal justice reform initiative that provides an alternative to sentencing nonviolent offenders with substance abuse issues. Participation is by choice; people must volunteer to go through the program.
In 2012, the state created the Georgia Accountability Court Program and has since appropriated more than $38 million to support the implementation and expansion of these types of courts. Troup County is leading the way with three different accountability courts: a DUI/Drug Court, which was founded in 2004, a Felony Drug Court (2011) and a Mental Health Court (2013).
Deal was on hand in 2013 when Troup County's Felony Drug Court graduated its first 10 participants. As of fall 2015, 248 participants had graduated from the county's DUI and Drug Courts.
But Troup County Adult Felony Drug Court coordinator Leann Murphy says it's a mistake to focus solely on the number of graduates.
"Aside from saving taxpayer money on incarceration, you've got someone who's out there working and paying taxes," Murphy says. "They're at home and providing for their family, so there's no DFCS custody to pay for. Many of our clients come from a background of abuse. Their parents used or their brother or sister used. They're choosing to break that cycle. They're not passing that behavior onto the next generation. That's an enormous benefit to our community."
For the addicts caught up in the legal system who opt into the accountability court, it's a steep climb toward recovery and reclaiming their lives. The programs can last up to 18 months, and participants have to attend weekly treatment appointments, self-help meetings and monthly check-ins with a judge. They also must wear a substance detection monitor and submit to weekly drug or alcohol tests and surprise home visits from authorities.
Sgt. Mark Cavender, a member of the LaGrange Police Department Special Investigation Unit, is one of those authorities dropping in unexpectedly.
"With this program, the participants see us in a whole new light. We're not there to put them in jail. We're there to help," he says. "Most of the people we interact with are committing crimes due to addiction, there's mental illness or they're dealing with PTSD."
"This is a rigorous program," says Murphy. "Drug court is hard. You've got to be serious about your sobriety. You've got to want it." But even with the frustrations and setbacks hard-wired into her job description, Murphy says helping Troup County residents pick up the pieces of their lives and start fresh is incredibly rewarding.
In 2014, Troup County crunched the numbers and discovered that in its first decade in the county's DUI/drug accountability court, just 9 percent of program graduates were charged with another DUI. That's compared to 35 percent who do not receive treatment.
"Every day, we see the benefits of this program," Cavender says. "I coach football down here, and I now coach the son of one of our drug court graduates. Instead of interacting with him as a law enforcement officer, we get to talk about football now and he's free to come out and see his son play football. That's what's rewarding about this work. For him, his son, for me and our community." – RE
---
Clayton County: Right Care, Right Time, Right Cost
A new multi-tiered integrated healthcare plan being implemented in Clayton County is drawing praise for its ability to provide better services and save millions of dollars.
"A lot of good people came together and put their minds together in ways to help," says Jeffrey E. Turner, chairman of the Clayton County Board of Commissioners. "We wanted to do more to help our healthcare professionals in Clayton County extend a better system of care."
The new plan was conceived by Landry Merkison, Clayton County fire chief and emergency services director, who was charged by the county commission with finding ways to both treat needy residents and alleviate costs to the medical system.
"We wanted to provide a different level of care," Merkison says. "The ED [emergency department] isn't the best place and is often not where [people] need to be in the first place."
The first tier of the new plan is the community paramedicine program, which identifies those who frequently use the 911 system (some more than 35 times a year) for non-emergency conditions such as high blood pressure, diabetes and asthma.
Workers in the program meet with the chronically ill to determine their needs, then develop a customized plan that encompasses such diverse services as transportation, insurance enrollment, duplicate medications, financial assistance and even job placement for those able to work.
Clayton County partnered with Southern Regional Hospital and Kaiser Permanente, which provided a $48,500 grant, to develop the plan. The new system has reduced the number of 911 calls by 42 percent for those enrolled.
"Mobile integrated healthcare is the way we're headed," Merkison says. "This is treating and releasing patients at home."
The other part of the plan is the community treatment program, which identifies non-emergency 911 callers and provides diagnostic and on-scene treatment. Clayton County has hired eight nurse practitioners and purchased three specially equipped trucks that will be available 24 hours a day for calls that are not life-threatening.
"This is where I believe we'll really see an impact on Southern Regional and the other hospitals in the area," Merkison says. "We can treat a chronic asthmatic for $7.50, as opposed to a $4,000 hospital bill that they aren't going to pay. If you look at the cost to the overall system, those savings can be substantial, and I believe they will be."
The community treatment program is expected to significantly reduce the number of patients treated at Southern Regional's overloaded emergency room. The county estimates it will save the hospital's emergency room more than $14 million in its first year.
"We'll see an immediate impact," Merkison says. "Any change to the system will be beneficial."
Since Clayton County is breaking new ground with the plan, Merkison says his team is recording meticulous details about the program so other municipalities around the country may duplicate it.
"Every community has the same problems we do," Merkison says. "We're not the only ones going through it. The model we're building can be taken to any city, county or state and be successful. We're building a national model you can take anywhere and have it work." – SA
---
Columbus-Muscogee County: Finding Homes for the Homeless
"Housing First" is the innovative mantra at the Home For Good program in Columbus. Unlike other initiatives to end homelessness, Home For Good places a priority on getting those who have been on the streets the longest a permanent place to live.
"The common thinking used to be, 'OK, they have to be clean and sober first and then they'll be ready for housing,'" says Home For Good founder and former Executive Director Christie L. Bevis. "When you put housing first in the equation, you're asking the community to flip the way we think about the issue. What we know is this: When you put someone in housing and give them a safe place to call home, it enables them to begin tackling the rest of their issues."
When Columbus-Muscogee County was selected as the only region in Georgia to participate in Zero: 2016, a national initiative by the nonprofit Community Solutions to end veteran and chronic homelessness by the end of 2016, it added a jolt of rocket fuel to the city's 10 Year Plan To End Homelessness launched in 2009.
"It was the kick in the pants we needed to encourage us to be risk takers and to be more innovative," says Bevis. "Usually, it's the bigger cities that get the recognition for this kind of work. For Columbus to be recognized for Home For Good gives the community credibility at a national level."
The city received more than 250 HUD housing vouchers worth more than $1.8 million to help shelter the city's homeless population, and through this assistance, Home For Good was able to permanently house 100 veterans and chronically homeless individuals by the end of 2015. Over the next two years, Home For Good wants to provide 250 units for the homeless.
Bevis says Home For Good's success represents a truly community-wide effort to reduce homelessness. Hospitals, churches, local businesses, Columbus Mayor Teresa Tomlinson's office, the United Way of Chattahoochee Valley and local nonprofits have pooled resources to help in the initiative.
"The key to success here is strong collaboration," says Scott Ferguson, president and CEO of the United Way of Chattahoochee Valley, which oversees the work of Home For Good. "You've got to get everyone around the table. It's the United Way, along with 16 other service providers and committed people in our city government and business communities with a shared vision of making homelessness in our community atypical and non-recurring."
Bevis says the decade-long deadline of Columbus' 10-Year Plan To End Homelessness is important, but she concedes the name is a bit of a misnomer. "It's not that in 10 years homelessness completely goes away," she says. "It's about what system changes need to take place so that when someone experiences homelessness, we're able to move them back to housing stability in a much quicker fashion. It's about moving from the Band-Aid triage approach to finding and adopting long-term solutions."
Ferguson says in order to reduce homelessness, you have to start by staring the challenge right in the eye.
"I run in and around the Columbus area," he says. "When I encounter a homeless person on a run, I stop, I look them in the eye, say 'Hello' and offer help. We've all got to look these people in the eye and let them know we see them. You never know what's going to happen in your own life. Each person needs to know they matter." – RE