Spotted in Georgia: Raptors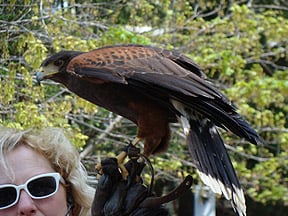 Get close to these fabulous birds of prey at Gainesville's Elachee Nature Science Center Raptor Fest on Saturday, March 12 from 11 a.m. to 3 p.m. The family-friendly program features wildlife and nature experts who will conduct live flight demonstrations – including with a bald eagle.
At the festival you can also see Elachee's resident red-tailed hawk, take a selfie with your favorite bird of prey, learn about falconry and tour Elachee's live animal exhibits.
Admission to Raptor Fest is $5 per person. Elachee members and children under 2 years get in free. Buy tickets online or at the event.
Photos courtesy of Elachee Nature Science Center.