Cordele | Crisp County: Banking On Trains
Logistics, education and tourism.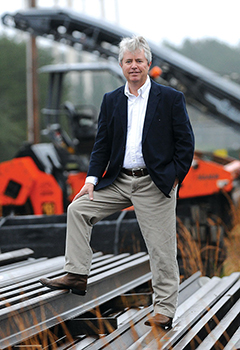 Necessity has certainly become the mother of invention in Southwest Georgia's Crisp County, where economic development and downtown revitalization are both banking on the presence of rails to boost the local economy.
Much of the county's bread and butter still originates through some aspect of the railroad – from existing industries such as railroad crosstie manufacturer Stella-Jones to the expanding Cordele Inland Port to the tourism draw of the SAM Shortline Excursion Train. From transportation to tourism, the railway just might be Crisp's little economic engine that could.
---
The Big Picture
Grant Buckley came on board as executive director of the Cordele-Crisp County Industrial Development Council just six months ago, but he says he's already impressed with how the community continues to invest in itself, particularly through Special Purpose Local Option Sales Tax (SPLOST) revenues.
Buckley, who gave up practicing law to return to economic development, references construction of the $8-million downtown facility for the Darton State College Cordele Center that opened last year and the Cordele Inland Port, which is in the midst of a $1-million expansion.
With the $706-million dredging project to expand the Savannah harbor finally underway, the Cordele Inland Port is anticipating strong growth ahead. The port is privately managed by Cordele Intermodal Services Inc. (CIS), which currently offers overnight rail service three times a week via the Heart of Georgia Railroad and Georgia Central Railroad from Cordele to the Port of Savannah 200 miles away. Officials estimate that rail service will expand to seven days a week within the next few years.
"Being in Southwest Georgia, the majority of what we handle is ag exports such as peanuts, cotton and pecans," says Ed Vaughn, vice president and chief financial officer. The company moved about 10,000 shipping containers in 2015.
CIS, which employs 100 people, continues to position itself as a key player for moving even larger quantities of containers once the deepening is complete. The rail expansion project, scheduled for completion this month, will provide CIS with the capacity needed to accommodate the increased volume expected to follow the harbor project. Funding is being evenly split between the Georgia Department of Transportation and Crisp County.
"Right now we operate on about 1,400 feet of working track, and that will be expanded to 6,000 feet," says Vaughn, adding that the yard will double from seven to 14 acres. "It will allow us to increase our throughput here and speed up our loading and unloading times."
Before expansion, when the Heart of Georgia Railroad brought in 100 cars, CIS could only work 14 at a time. "It will allow us to work more efficiently and not have to tie up their locomotives."
CIS President and CEO Jonathan Lafevers says that while they've had to grow the company incrementally, building as they could afford it and as necessitated, they're excited about this recent expansion. "It will allow us to go out there and sell more aggressively the capabilities of this terminal … to pursue a different demographic of shipper, those who, in the past, we couldn't have even gotten a meeting with."
Growth during 2015 also included the proliferation of relationships between CIS and steamship lines. "We have a couple more of those guys who now keep equipment in Cordele," says Lafevers. CIS's recognition as a "container yard" means shippers will allow a portion of their containers – even empty ones – to stay onsite until needed. The more steamship lines that recognize the Cordele facility as a container yard, the more efficient the process becomes. "That way everyone benefits from better pricing."
While at one time people questioned the viability of an inland port in Georgia, now that the facility has been open for a few years, Lafevers says, the general notion of CIS and their supply chain model has been validated. "Experienced logisticians now look at the model and say it has validity and that it's something they would utilize."
In fact, the Georgia Ports Authority has taken the notion of inland ports and run with it, announcing the Appalachian Regional Port in Murray County as part of the broader Network Georgia. The network, which also includes the Cordele port, will eventually include inland ports in six regions to cover all of Georgia and parts of the southeast.
---
Educating a Workforce
Lafevers contends that while there might not be a lot of people already specialized in logistics within a 100-mile radius of the inland port, there are a lot of people with the capacity to learn. To that end, CIS and other area industries will benefit from a recent announcement by Caroline Fielding, executive director of Darton State College Cordele Center, that the college will offer classes toward a bachelor of science degree in supply chain and logistics management beginning this spring.
That coincides with the University System Board of Regents announcement this past fall that Darton State College will be merging with Albany State University. Once the merger is complete, the new college of 9,000 students will take on the Albany State University name.
In addition to earning a degree, students will also have the opportunity to qualify for several certifications based on the knowledge they gain while enrolled in the program. The combination of the degree, the certifications and the experience the students will get from working with industry partners will enhance their appeal to future employers.
Darton State began offering day and evening classes in Cordele in 2001 and currently has about 300 students enrolled at the new 60,000-square-foot facility, says Fielding.
---
Expanding Industry
"Agribusiness is still very much a driving force here in this community," says Buckley, noting current construction of a new 20,000-square-foot building and a railroad spur by an existing industry, Agri-AFC, which blends ingredients to produce farm products such as fertilizers.
Additionally, with a presence in Crisp County since 1968, Helena Industries recently announced plans to construct a 180,000-square-foot warehouse at its existing location. "That's a good testament; they didn't have to do that here," says Buckley of the $5-million investment and creation of six to 10 new jobs.
Helena's Crisp County location mixes raw materials and other ingredients needed by its customers and packages the products primarily for the agricultural market, but also for the home and garden industry, says Scott Braswell, plant manager. "We don't own the products; we make them for companies such as BASF, Monsanto and Dow to sell to their customers."
Like many companies in the area, Helena benefits from Crisp County's strategic location along a main corridor – Interstate 75 – running north and south, and being home to an inland port "that has the straight away shot to the port of Savannah," he says.
When asked if Helena stands to benefit from the deepening of the Savannah harbor, Braswell says, "absolutely. We do export a lot of product, and we also bring in a lot of raw material and active ingredients from faraway places like China. We're in an ideal location for the southeast."
Helena's Cordele facility employs about 100 people full time as well as a temporary workforce that fluctuates from 60 to 150 depending on the season. "We've always been somewhat space poor, so to speak. This will give us needed space to continue to grow," he says of the project that should be complete by August. It will provide additional space to store the incoming materials and packaging components as well as the finished goods.
While the new warehouse will add less than a dozen jobs, the company will vacate an existing warehouse across town that it will then transform into a commercial warehouse for a new sector of business for the company. The new venture will bring another six to 10 new jobs to the county.
---
Train Tourism
With train tracks running through the middle of downtown Cordele, it made sense to locate the main SAM Shortline Depot there. Train enthusiasts gravitate to Cordele because of the depot and to observe convergence of three railroads at the nearby switching station.
Monica Mitchell, director of Cordele Main Street, works out of offices located under the same roof as the depot, just across the street from the tracks. With tourism already recognized as the No. 2 industry in the county, she hopes to cash in by developing the local railroad tourism, much like they've done in Folkston and Locust Grove.
Plans are well underway to create a railroad museum downtown, as well as an observation deck for the switching station.
"We're working really hard to establish a rail tourism program. We want to embrace our railroad heritage. People already come from all over to take pictures at the switching station, so we're going to build a safe place for them to watch. It'll have an intercom system for the engineers and the trains so you can hear what they're saying," she says.
A new event venue, a mural on the unique 100-year-old water tower, plantings in vacant lots, space for pop-up shops – these projects and more are on the wish list for downtown Cordele.
"The first step is to get the railroad museum open," Mitchell says, adding that funding for the project is being sought from several sources, including local hotel/motel tax dollars and grants from the Tourism Division and Georgia Council for the Arts, both part of the Georgia Department of Economic Development.
In addition, Mitchell is working with graduate students from UGA's Carl Vinson Institute of Business on a Renaissance Strategic Vision Plan (RSVP) for downtown. To date, they've held focus groups and a town hall meeting to gather input. The final plan was to be presented to the city commission for approval at the end of January.
"Instead of it being all these big plans that you have to work through in phases, it's about doable projects like painting railroad stencils in the crosswalks to promote our railroad tourism," she says. "We've got shelves of other plans in there … but they're so big you can't fund them, and so you don't do them. This plan's not like that." Mitchell adds that the Cordele City Commission and City Manager Edward Beach have shown tremendous support of efforts downtown.
A second set of loft apartments is being developed after great success with keeping the first set continuously leased. "We do still have a lot of available properties downtown. The difference between now and two years ago is that people are actually calling about them; they want these spaces."
Unfortunately, she adds, many property owners have increased their prices, with some now asking three times as much as they were before Darton State College opened downtown. "Nobody can spend that kind of money on a building and then sink another $100,000 in it to rehab. That's one thing that's hurting us right now," says Mitchell.
---
A Fresh Appeal
A $3-million renovation just got underway at Crisp County's largest meeting and event space, The Conference Center at Lake Blackshear Resort & Golf Club, located within Georgia Veterans State Park on Lake Blackshear. Built 20 years ago, the center hosts about 75 major events each year, including weddings, family reunions and conferences.
The hotel rooms and villas, which typically do about 10,000 guest room nights a year, will also receive a complete overhaul, as will the lodge, pools, bar and restaurant, says General Manager Bob Johnson, who expects the project to be complete by Memorial Day weekend. The renovation is being funded through the state's budget for the Georgia Department of Natural Resources' State Parks Division.
Building first-class facilities is also a priority for the county, says Bob Evans, city president of Colony Bank in Cordele and a member of the Industrial Development Council and Industrial Development Authority boards. "It takes a lot of capital to build things like great schools and first-class medical and recreational facilities," he says of some of the perks necessary for attracting new industry.
Though it took 21 years to gather funding for new rec facilities, they now host teams from around the state that come to Cordele to play in baseball, soccer and football tournaments practically year round. The economic impact has proven a great return on investment for the community, he says.
Perseverance has paid off for Crisp County time and again. Evans credits a 90 percent plus pass rate on SPLOST, as well as the leadership of Monica Simmons, president of the Cordele-Crisp Chamber of Commerce, for much of the progress in the county. "She's one of the top chamber execs in the state and does an excellent job helping identify our goals and objectives," says the Cordele native.
He also notes the 20-plus years they lobbied for an overpass for school buses and ambulances, and the 14 years it took to get lighted exits into town off Interstate 75, the inland port up and running and Darton College off the ground in Crisp County.
"You just never quit working at it," says Evans.
---
LOCAL FLAVOR
On the Rails
Charged with promoting tourism and economic development in Crisp and neighboring Sumter County, the state-owned tourist excursion train, SAM Shortline Railroad, was established in 2000 and is operated as a "rolling" state park by the Southwest Georgia Railroad Excursion Authority under a management agreement with the Department of Natural Resources' State Parks Division.
With six depots stretching from Cordele to Archery, Ga., the railroad carries passengers in climate-controlled, restored 1950s-era train cars. Riders enjoy the route of the original Savannah, Americus, Montgomery (SAM) Railroad from the 1880s, says Terry Miller, manager of SAM Shortline.
Former President Jimmy Carter was instrumental in pushing for creation of the SAM Shortline, which today delivers visitors to platforms in Plains and Archery where they can explore Carter's National Campaign Headquarters, antique stores, the Plains Peanut Co. and the Plains Inn in addition to Carter's boyhood home and farm in Archery, now operated as the Jimmy Carter National Historic Site.
Other SAM Shoreline Excursion Train stops include Leslie, where riders can visit the Georgia Rural Telephone Museum, and Americus, home to Habitat for Humanity's Global Village and the historic Windsor Hotel and Rylander Theatre among other attractions.
SAM Shortline hosts Georgia's only "Day Out with Thomas" event (of Thomas the Tank Engine fame), attracting more than 14,000 ecstatic children and their families during the last two weekends each October. The event is held at Georgia Veterans State Park, home base for the train when it isn't rolling down the tracks. – K.K. Snyder