Camden County: Deep Water, Deep Space
Navy base, tourism and a space port.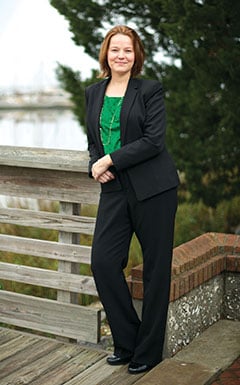 Camden County sits at the extreme southeast end of Georgia where the state ends and the Atlantic Ocean and Florida begin. While it may seem a long drive from anywhere, this coastal county is on the front line of America's national defense and may soon become a gateway to outer space as well.
Most visitors (tourism is big business here) come for the quaint and historic Main Street town of St. Marys and the wild natural beauty of Cumberland Island National Seashore, one of Georgia's barrier islands. Few give any thought to the real economic engine here – Naval Submarine Base Kings Bay. This is the east coast home of the nation's Trident nuclear-powered submarines. These massive boats – known as Ohio class – are armed with intercontinental ballistic missiles and form the nation's nuclear deterrent.
Just how big an impact does this 16,000-acre naval facility have on Camden County? Consider that almost half of the county's population of 52,000 people are connected to the base in one way or another. This includes active duty members of Navy, Marine Corps and U.S. Coast Guard units, as well as civilian contractors and family members.
"Every day is military appreciation day in Camden County," says Sheila McNeill, president of The Camden Partnership, which serves as a bridge between the community and the military.
Officially, the base represents $706 million in economic impact, but that doesn't count the multiplier effect created by all those military personnel, their families and civilian contractors.
"It doesn't consider these people buying houses, renting apartments, buying goods and services," says McNeill. The best estimate is that "over 50 percent of the [economic] impact in Camden County comes from the base," she adds.
In another sign of Camden's good relations with the military, the county was designated the nation's first Coast Guard Community.
The honor reflects the close relationship and ardent support of the military that has been a hallmark of the county since Kings Bay was established in 1978. The base represented the largest peacetime construction program ever undertaken by the U.S. Navy and took nine years to complete at a cost of more than $1.3 billion.
---
Military Education
The Navy has found a welcoming home here on the Georgia Coast, including institutions of higher education eager to help educate people connected with the base.
There's little wonder then that local colleges have focused on the demand for education created by the base. The Brenau University Kings Bay Campus offers its academic degrees to military personnel at the base.
The largest program offered by Coastal Pines Technical College is a Naval maintenance apprenticeship program. A partnership with the U.S. Department of Labor and the Navy, this four-year apprenticeship program currently enrolls 77 students. Keeping submarines fit for sea duty is an ongoing effort and a major component of the base.
"We're also now offering an associate degree in engineering technology, which is one of the Strategic Industries Workforce Development Grant programs initiated by the governor to help fill the needs of the Navy's Trident refit facility," explains Coastal Pines' president, Dr. Glenn Deibert. The program will also turn out trained workers for other companies in Southeast Georgia who need engineering technicians, he adds.
---
Quality Jobs
The town of St. Marys has high hopes that a long-abandoned paper mill site may find new life. Once the area's largest employer, Durango-Georgia Paper Co. closed the mill in 2002. Prior to the Great Recession, it was slated to become a mixed-use development with residential and retail. Those plans never came to fruition, and the land – and the mill ruins – have been undisturbed. Then in late 2014, developers Worldwide Group and Knights of the Green Shield announced plans to acquire the 750-acre property. Now the idea is to convert the site back to industrial use with one or more companies. In fact, its new name is the Port of St. Marys Industrial and Logistics Center.
More jobs would be welcome in an area with few employers other than the military. Yet many here say that the worst of the recession has finally come to an end.
"Since then I've seen nothing but an increase and uptick in developments and activity," says Joel Hanner, general manager of Georgia Power, who serves as chairman-elect of the Camden County Chamber.
"We're focused on creating what we call head-of-household jobs," says James Coughlin, executive director of the Camden Joint Development Authority. "We're looking for industries to provide quality jobs that take advantage of what we consider a pretty unique workforce here in Camden. We've got between 500 and 600 transitioning military personnel who come from Kings Bay every year, and these are highly technically trained people – people who can work on and run a nuclear submarine, which is by all accounts one of the most technically advanced vehicles on the planet."
It's a focus designed to speed the economic recovery here, which, while evident, has come slower than in some other areas.
"The recovery for Camden County and St. Marys has been a very long and slow process," says Mayor John Morrissey. "We had not seen any of the immediate bumps that some communities may have had with industrial announcements or small business growth. It's been very small incrementally. What we're finding is that we are now beginning to see some of the interest that I think other communities have seen one or two or three years ahead of us."
City leaders hope to attract light industrial, high-tech or even commercial development to the site, which offers multimodal capabilities.
"We know looking at that site that it's probably one of the most valuable opportunities for economic development that we've got in Camden County," says Coughlin. "It has waterfront access, barge capability, rail on site, gas and power – all the things that an industry would look for."
To make it more even attractive and generate funds for infrastructure improvements, the city is creating a Tax Allocation District (TAD) on the site. The TAD will be able to issue bonds, which will then be paid off by increases in tax revenues as property values rise within the district.
"There are certainly some logistics benefits, and we've had some manufacturers come and look at it," he adds.
At one time more than 1,200 people worked at the paper mill, and those jobs were a huge boon to St. Marys. While new companies aren't likely to bring that many jobs back, an upsurge in employment would certainly fuel local businesses from retail to restaurants, according to Coughlin.
Camden County is also making good use of its resources. Its lush coast and marshland have long been a magnet for lovers of the outdoors. It's estimated that tourism creates 750 jobs and adds $78.5 million annually to the economy.
St. Marys is a popular destination and the jumping-off point for people who want to spend the day on Cumberland Island. The national park site draws more than 65,000 visitors annually, many who stay in one of the bed-and-breakfast inns or the c.1916 Riverview Hotel that has played host to the likes of John D. Rockefeller Sr., Andrew Carnegie, Cmdr. Chester Nimitz and Willard Scott. The two-story hotel has been owned by the Brandon Family since the 1920s, when Sallie Brandon purchased the Riverview with the help of her two sisters, Semora and Ethel, and it's been going strong ever since.
St. Marys has been the site of big events such as the Bicycle Ride Across Georgia (BRAG), which has drawn more than 1,000 cyclists to town. The most recent BRAG ride through St. Marys took place over the course of five days this past February.
Tourism should also get a boost with the opening of Epic Adventures Resort Kingsland. Construction of the proposed $350-million, 495-acre amusement resort on Interstate 95 is expected to be underway in 2016.
Designed as a regional entertainment resort, the project is slated to create 2,350 jobs in the county. Tentative plans include a hotel, conference center, water park, go-cart track, miniature golf, zip line and ropes course, outdoor amphitheater, bowling lanes, restaurants and theaters, all surrounded by a host of shops and businesses.
---
Working Together
While Kings Bay naval base dominates Camden, the local chamber has been busy nurturing the many small businesses that make up the rest of the economy.
"This has been a rebuilding year," says Amy Hendricks, president and CEO of the Camden County Chamber of Commerce. "We are working really hard to ensure that we're developing a program or reinventing a program that is effective to our current business owners. We want to make sure they have educational opportunities and networking opportunities to help them thrive and grow."
From sponsoring lunchtime seminars on business taxes to organizing ribbon cuttings for store openings to trips to the state legislature to lobby for local interests, the chamber is trying to make sure that members get their dues' worth, she adds.
Outside of the military and government agencies such as the county and school system, there are no large employers. "We do have Lockheed and Electric Board [at Kings Bay], but once outside the gate the mom-and-pop shop private sector piece is very small," says Rachel Baldwin, the chamber's board chair and a career instructional specialist at Camden County High School.
Working closely with the county and Camden's three cities – Woodbine, Kingsland and St. Marys – has been critical to creating an economy in which businesses can thrive. "For the first time in a long time," she says, "I think we have made great strides in working together in terms of pooling resources."
---
LOCAL FLAVOR
To Infinity and Beyond
Folks in Camden County have long looked to Atlantic waters and the U.S. Navy for economic development, but recently they've turned their gaze skyward as well. The buzz these days is that rockets could be blasting off from the county carrying payloads into space from a new spaceport.
The idea of space ships in Camden isn't exactly new. In 1965, Thiokol Chemical Corp. used a local site to launch the most powerful rocket ever tested.
"If you look back at the newspaper reports on the date of that event, Camden County became the gateway to space," says Camden County Administrator Steve Howard, who serves as project leader of Spaceport Camden. "What an opportunity to again pursue this project."
The county is assembling a tract of land that will eventually include 11,000 acres that was once the site used by Thiokol for its rocket launch and, more recently, the home of Bayer CropScience, which closed its insecticide production plant at the site in 2012.
"At one time there was up to 700 people working on that site and a more than $10 million payroll," says Howard. "That doesn't exist anymore." By bringing in space-related companies, at least some of those jobs can be restored, he adds.
The federal government is in the process of discontinuing its space shuttle program and plans to discontinue operation of the International Space Station in the 2020s. Astronauts and billion-dollar payloads bound for the station are even now traveling aboard Russian, not U.S., rockets.
To fill this gap in America's waning space program, a number of private companies are gearing up, and some could find a spaceport here an attractive base of operations. With rocket trajectories over the Atlantic Ocean, spacecraft could be launched without flying over population centers.
"I think you create a catalyst opportunity with the spaceport," says Howard. "They tell me Georgia graduates 200 aerospace engineers a year in their programs. Typically I think many of them are exported out of the state. This creates an opportunity to keep them in the state."
Along with inquiries from various space companies, several universities have discussed the prospect of setting up shop close to the proposed spaceport, he adds.
Camden's location means companies can easily transport products to any of the three ports along the coast – Savannah, Brunswick or Jacksonville, as well as reaching other space ports such as Florida's Kennedy Space Center and the private Mid-Atlantic Regional Spaceport on Wallops Island in Virginia. – Randy Southerland